Not everyone is going to purchase a prebuilt computer desk for their office spaces. There can be a host of reasons for this, including budgetary concerns or a strong desire to go the DIY route using a metal desk frame. In other words, circumstances necessitate some people to build things on their own, while others choose to do so. 
Whichever camp you fall in, you need the right equipment and elements if you are going to get the job done the way that you want to. After all, a metal framed desk is a long-term investment, so it's hardly something you want to get wrong the first time since replacing it can be a bit of a challenge. 
One of the first things you want to do is think about the kind of table you are going for. For example, is it meant to be a DIY standing desk or a traditional office desk build? If it happens to be the former, what would you want the standing desk legs to look like? 
When you answer these questions, you start to get an idea of what you're looking for. The only question you may get stuck on is, what's the best place to find it? Under normal circumstances, it would be quite difficult to do so. However, you do happen to be on the path to finding out about some of the best DIY metal frame options on the market. 
Apart from this information that's sure to jumpstart your desk building adventure, you're encouraged to check out all the information provided on the Autonomous employee purchase program, considering the convenience on the side of the office worker and the savings on the side of the business.
6 Best Metal Desk Frames You'll Love
1. Autonomous SmartDesk Frame
Here is the first option to form the base of your metal office desk. There are many height adjustable frames out there, but not many of them can claim to have length adjustments too. The metal desk frame from Autonomous can make this claim.  
While the frame can be 40 inches and accommodate tabletops of that size, it can also extend to a whopping 73 inches, for those who may be looking for standing desk legs that can support huge DIY projects. 
If you're familiar with the Autonomous SmartDesk series, you are getting a metal desk leg that leans on that kind of technology. So, it's an industry-standard frame, and you get to choose what the tabletop looks like. 
There is a lot of flexibility here, whether you are tall, have a lot of equipment, etc. One of the points to note is that it's not just about rectangular designs. If choosing a desk frame means you must get an L-shaped design, there is nothing to worry about. That's because there is a corner version of the DIY metal frame.
Note that the design is quite durable, being made from SPCC steel. There is electric height adjustability with a powerful yet quiet motor in the mix. 
It takes only minutes to assemble the unit, especially since the package is shipped with everything that you need to get it started. If you're worried about durability, then you can rest with some level of assurance since the product has gone through BIFMA, UL, and EMC durability ratings. 
2. iMovR Lander DIY Standing Desk Frame
Like the Autonomous SmartDesk Frame, the I'm iMovR Lander is also available in a standard or an L-shaped version. It's not like you're dealing with a random vendor here, as iMovR is well-known in the adjustable standing desk market. 
While there wasn't initially an intention to sell the base of one of its desks this way, the DIY crowd managed to persuade the manufacturer, considering that they want to capitalize on the stability and the built-in technology. 
The weight capacity here is up to 365 pounds, and precision quiet motors are used for easy transition between different heights. One of the most sought-after features, which would indicate why this design is so popular is their inclusion of a high-res display, as well as Bluetooth synchronization.  
Of course, with the Bluetooth connection at play, the Lander becomes a much smarter device and requires less manual intervention. 
3. Jiecang Electric Standing Desk Base Frame
Again, you have another set of metal desk legs that are offered in both standard and L-shaped variations. What's interesting about this base is that you've probably seen it if you've been checking out the options from some of your favorite manufacturers, including Fully and Uplift. 
That's because the frame is none other than the Jiecang base from China, which is the one being covered here. Of course, each manufacturer puts a bit of a spin on it and makes customizations to differentiate theirs from the rest. 
There is length adjustability here, which means you can use it to fit a series of different table top sizes. Here, you can get anywhere between 48 and 72 inches. While the bases can technically go beyond the 72-inch mark, unless you're going to be using the desk at a height of around 40 inches all the time, expect to deal with some serious stability issues. For reference, the height goes all the way up to 49.5 inches. 
4. Vivo Standing Desk Frame
Vivo is another well-known name in the standing desk world, so you would think that its metal desk legs would be sought after. However, its inclusion on this list is more revealing a potential budget option that buyers may consider.  
If your office equipment is going to be drifting on the high-weight side of the spectrum, then it would be in your best interest to go with another design. However, if you have a medium-sized load and your budget is not the largest, then this design from Vivo may be appropriate. 
Though not shipped with the unit by default, you can add a monitor arm and a keyboard to try to make things more ergonomic. While this should work in theory, when you adjust the desk to its standing height, things get a bit wobbly. 
It's not necessarily that the construction choices are bad, but for a budget design, it's what you expect. 
5. Fezibo DIY Standing Desk Frame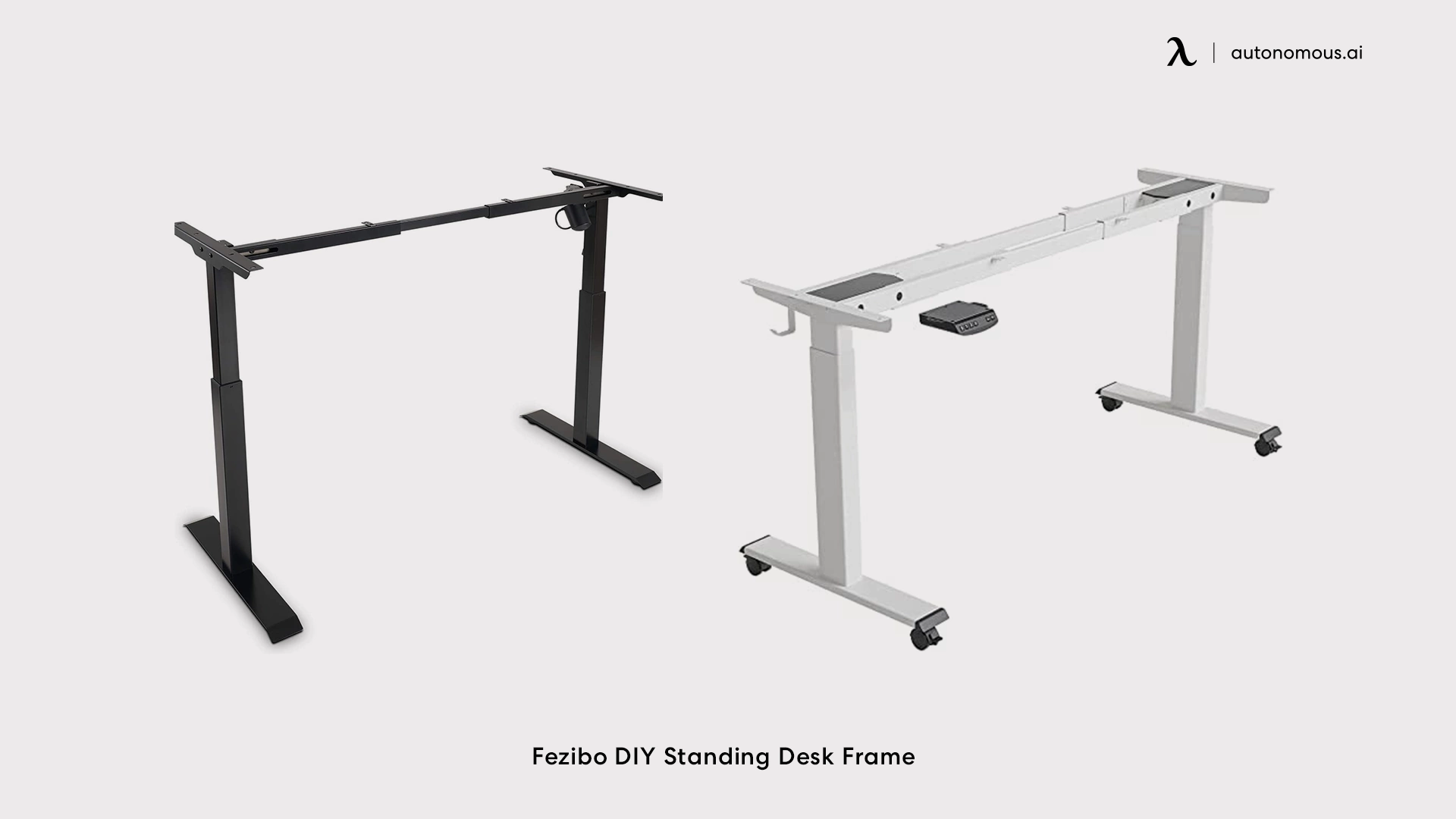 Fezibo, while it has produced a couple of respectable office desks, the frame here is not too far removed from the Vivo option above. In fact, it is even cheaper. Therefore, if you have a low budget to work with, it may be the metal desk frame model that you're choosing.  
Of course, this would mean that your equipment load is not too much. Again, you can add a monitor arm and a keyboard tray if you so desire. However, stability at higher heights is not the best, especially in the absence of a stability bar. 
You also want to bear in mind that your purchase is essentially final since it is not paired with any warranty support.
6. IKEA Idasen DIY Standing Desk Frame
Typically, the IKEA brand is known for cheap designs that achieve what they set out to do without any bells and whistles. While the IKEA Idasen is not expensive, it would also be an injustice to describe it as cheap. 
However, it would be unfair to say that it's not worth the price. One of the things that stick out immediately is the fact that this is a metal desk frame through and through, in the sense that a lot of the components are metallic. 
The wide leg base for the metal computer desk helps to provide stability to the unit, though it may slightly limit the mobility you have as you sit. The ideal tabletops are on the narrower side, especially since the largest possible supported one would be 63.5 inches by 31.5 inches. 
You also want to bear in mind that the maximum weight capacity is 165 pounds. While this can handle a fair amount of equipment, you would not want to overdo it. 
7. Pipe Décor Modern Home Office Computer Base Kit
DIY steel desk frame designs allow for quite a bit of flexibility, meaning you often see some designs that can only be described as incredibly creative. Pipe-based compositions often fit this bill, and this frame yields that aesthetic. 
The cast-iron pipes have a black finish, and they happen to go with a variety of styles. If nothing else, you are going to be drawing the eyes of those who visit your office space as they wonder where you managed to get such a desk, only to find out that you assembled it yourself. 
This is not an adjustable metal desk frame design, so you're going to have to make peace with whatever initial height you purchase it at. Thankfully, you don't have to worry about stability or durability. After all, these are authentic iron pipes and fittings, so don't expect them to deteriorate anytime soon. 
Note that while the assembly is not necessarily super straightforward, step-by-step instructions are provided, as well as the screws and fittings you need to put everything together. 
8. Minneer Metal Table Legs
These Minneer metal desk frames are quite interesting in the sense that they represent the first unit that is not a single piece. Instead, the pair of carbon steel legs are separate, with each being an X-pattern design bearing a flat area at the top for you to place your desk. 
They're built to support all sorts of tabletop materials, and their black finish means that they can fit in super well. The combination of the material used and the decision to go with an X-pattern means a whopping 2,425-pound weight limit, which just about anyone in an office space is quite unlikely to use. 
As you'd expect with this kind of metal desk frame design, installation is no inconvenience at all, and it can be completed in five minutes, especially since you get everything you need. 
9. Yahpetes Table Legs
The final entry here puts a bit of a spin on the option above, creating more of an hourglass shape with no curves present. However, the detached pair of legs makes a return here instead of one complete metal desk frame. 
The bearing capacity is incredible and translates to a maximum weight limit of 440 pounds. The fact that the feet are adjustable should be mentioned, though there is only about an inch of adjustment available.  
What is impressive is the range of applications that can use these as it includes computer tables, nightstands, coffee tables, etc. 
Why Not Use the Autonomous Employee Purchase Program?
Now it's time to explain the Autonomous EPP that you heard about before. Whether it's an adjustable standing desk, an ergonomic office chair, a filing cabinet, etc., businesses tend to have a responsibility to ensure that their workers have the tools they need to be efficient in the workplace. 

Sometimes, this statement speaks to the traditional office as you would expect. However, it can also refer to getting fixtures and equipment for staff members that may be working remotely. 
When a company becomes a part of the employee purchase program, it enables two kinds of access to a dedicated area for that firm. The first type is that of the employee. These people would be the ones browsing the custom site area and choosing the items that they want.  
The second type of access is administrative and is usually held by HR, business owners, or management. The idea here is that these people review the requests sent in by the staff members and handle the approval process. 
Provided approval has been granted by the necessary parties, Autonomous handles the transportation of the items to the designated address, regardless of if this is a standard company location or a delivery to one of the remote workers.  
You should also note that purchases made through this program attract discounts. Therefore, you could say that there is a big victory for the EPP on both ends of the spectrum. Employees can have their items easily processed and delivered to them, while the business gets to save from the discounts afforded through the program. 
Final Remarks
A steel desk frame is a great starting point for a DIY metal computer desk frame. However, selecting one is not the easiest thing in the world to do. Furthermore, even finding a decent listing can be tough. 
However, you got introduced to some of the best metal desk frame options on the market above. Additionally, you got introduced to the Autonomous employee purchase program, which happens to present quite a bit of convenience.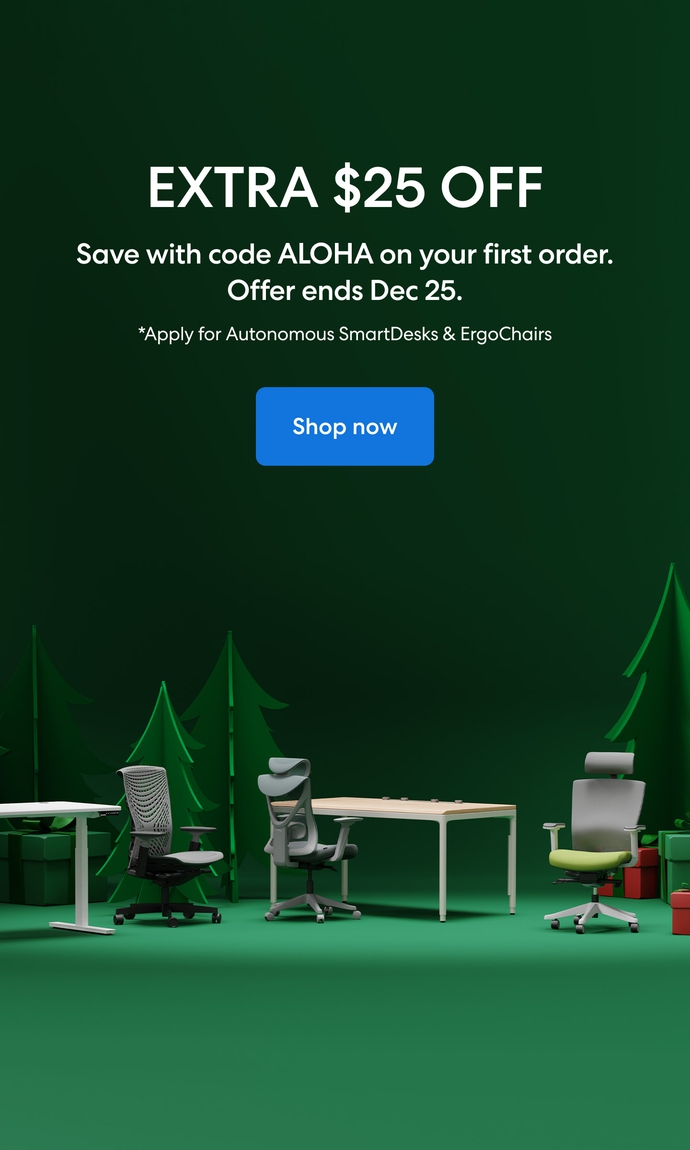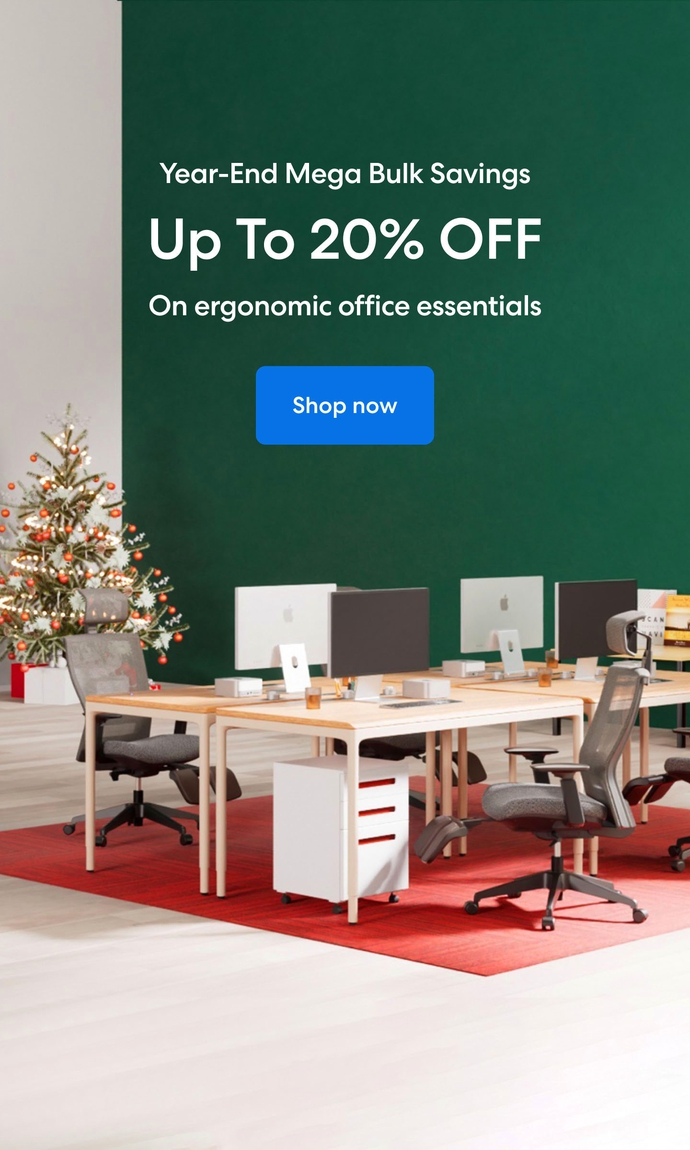 Subcribe newsletter and get $100 OFF.
Receive product updates, special offers, ergo tips, and inspiration form our team.