Time management can be a tricky affair, especially if your goals are not aligned with your efficiency. If you plan for work that is out of bounds after understanding your efficiency, it will lead to a lost cause. The trick to a doable time management plan lies in being honest to one's oneself. You can do this by analyzing your work regimes and then jotting them down to create a rational strategy.
What Is Time Management?
Time management is the art of unleashing your true potential by optimizing your efficiency in time brackets. Your time needs to be bifurcated according to the goals that you have in mind. The success of the plan lies in your dedication and also in the way you align your existing resources.
There are a lot of ways to achieve your desired goals by managing your time efficiently. You can also take the help of many time management tools that are available at your disposal. These tools will correct you at several possible junctures so that you can streamline your operations.
Why Do You Need To Manage Time?
Time is a precious resource that acts as an opportunity cost in every avenue that you explore. If you do not manage your time responsibly, you will fail to derive outputs from the efforts that you put in. This will lead to diversions and might eventually derail you from the goals that you have set.
There are various techniques that are handcrafted so that you can get inspired from them. You can have a look at these time management techniques in order to have a starting point for your journey ahead.
How Do You Move Ahead?
Time management goal setting can be a bit daunting in the beginning of a time management plan. But, as you strive forward, you will get accustomed to the routine that you have created for yourself. You can also refer to the ways that we have mentioned below. It is not a compulsion to accommodate all of them in your regime. You can mould these suggestions to have a personalized approach towards your goals.
1. Clarity In Goals
Your processes have to be clearly defined in order to realize a goal. If the destination is not laid out specifically, you might face a lot of deviations in the way forward. The best way to clearly establish a goal is to write it down and then make an action plan.
This action plan can be stretched in a span of several days so that you do not face a voluminous amount of work at a fixed point in time. It can be smartly divided so that you are adding value everyday while working efficiently on multiple tasks.
The key to enhance your productivity is by smart goals setting in time management. Smart goal setting is an extensive process that is imbibed as soon as you start taking initiatives.
2. Assessment Of The Current Reality
If you do not start picking out loopholes in your current timeline, the room for correction will be uprooted from your mental mechanism. It is imperative to analyze your own actions and then work towards the key result areas (KRAs).
There are many things that go wrong while following a time management plan. The plan can be very rigid or very lenient. It can also be over ambitious, which often results in disappointment. You can go through these common time management mistakes that people commit in the implementation stage. Once you know the problematic domains, it will be easier to improvise them.
3. Priority Setting
You will have many tasks in a single day, but they will differ in the returns that they give. You should not put your tasks in a common pool because this will make you lose track of urgency in implementation.
There will always be some tasks that are more important, and therefore you should always place them on a higher pedestal. Once you start dividing your functions in this way, your net value addition every day will see a spike. You will also end up applying your efforts in a more efficient way that will yield better returns.
4. Know When To Quit
The idea of working hard in the time management plan to achieve something involves acceptance. If you have analyzed that your goal is not deriving the outputs in the way they should have, you must leave it. This will help you to divert your attention towards the next more important thing, which might give out better outputs.
You can also work simultaneously according to the kind of work that you do. It is always better to have a backup plan rather than working for a cause that is impotent to shell out results.
5. The Right Ambience
There is a certain way in which your mind functions at the peak of its productivity. You have to maintain an active stance with the proper posture so that you do not take unprecedented breaks. It is crucial to take pauses, but you should not deviate from the chain of your thoughts.
Having the right set of modern office furniture like ergonomic office furniture order accompanied by adequate lights is vital to a person's efficiency. You must always choose the elements that complement your work style. If your electric standing desk is cluttered and is filled with stuff, your mind will replicate the same energy, which will decimate your outputs.
6. Striking The Balance
Even the most successful workaholics need to take some time off. Your time management plan should always have some room for recreational activities. Just like every other organ in your body, your mind also needs ample amounts of rest.
You must have your sleep cycle in place and ensure that you are having your meals on time. This will energize your body to work better and will also give you a better mind space to think and ideate.
Final Words
These ways have been tried and tested in order to offer you full proof suggestions of time management and achieving goals. The change in your time management style will not occur in a day. You have to stay put with conscious efforts to see your plan becoming a reality!
Video ads for product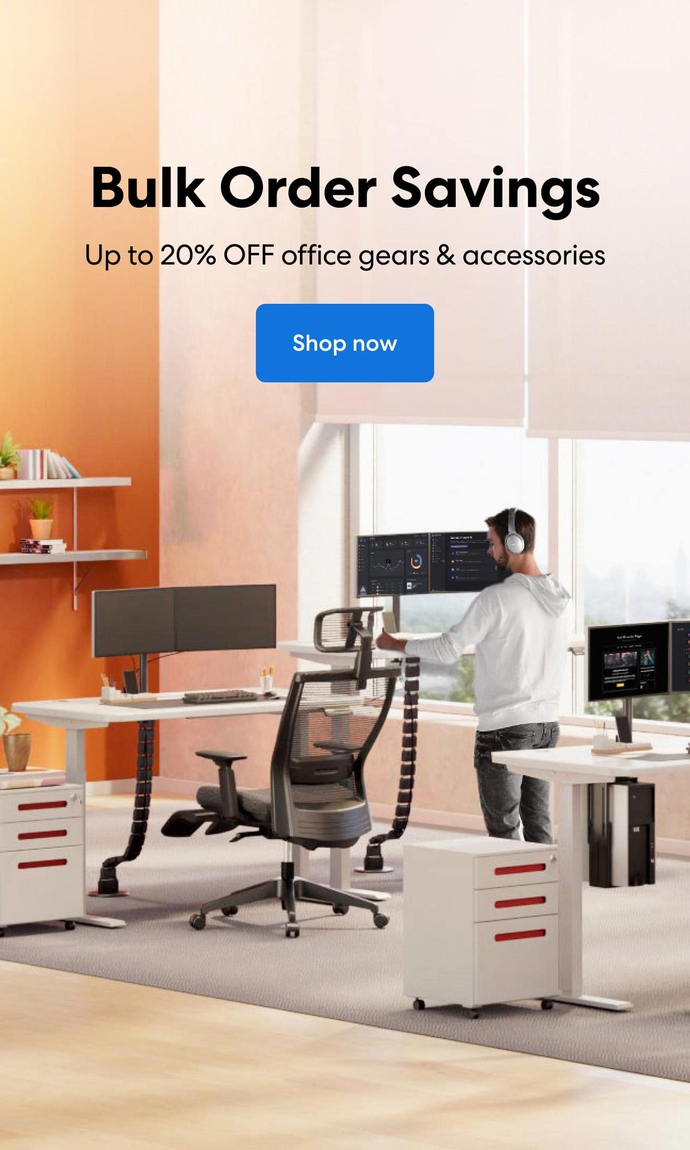 Subcribe newsletter and get $100 OFF.
Receive product updates, special offers, ergo tips, and inspiration form our team.