Smart Products
The 7 Best Air Purifiers for Small Room
895 Views
A home air purifier is a smart invention of science and technology that focuses on cleaning the air you breathe. With indoor pollution increasing every day and our environment becoming more contaminated with pollutants and various allergens, we consider the home our safe space. But are our indoors even clean?
Many studies prove that indoor air is five times dirtier and polluted than outdoor air. And if you have pets or a habit of smoking, then your indoor air leads you towards many health and respiratory issues. That being said, you need to pay close attention to the quality of the air you inhale each second the whole day.
This alarming discovery calls for an air purifier but let's be honest, with homes and rooms that are only tiny, can you afford a huge air purifier? Hence an air purifier for a small room. The best air purifier for a small room works quietly and gives you proper air to breathe. It is also a great purchase for people who suffer from allergies and difficulty in breathing while sleeping.
If you are also planning some small office layout ideas, then an air purifier small space will also count as a home office essential. Thus, keep reading to find the best air purifier for a small room.
Top 7 Air Purifiers for a Small Room You Should Have
1. X3 Airdog Air Purifier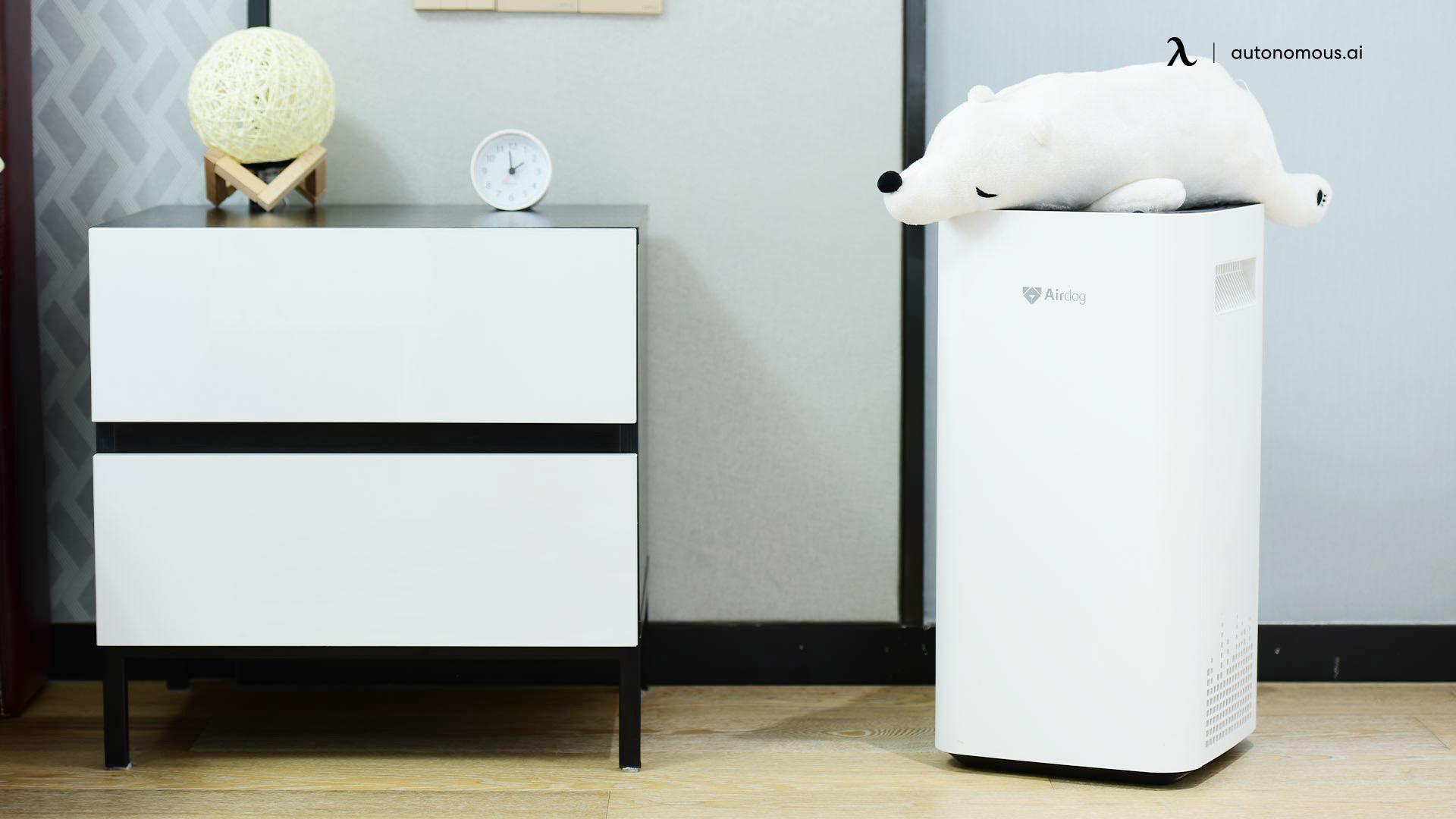 This air purifier is well suited to combat pollutants and allergies in a small room. The X3 Airdog Air Purifier offers super filtration performance combined with a reusable filter with patented TPA technology. It is small in size, but it is very affordable for people who cannot afford love home air purifiers.
You will also enjoy the aerodynamic design that makes this product compact enough to be kept anywhere, the convenient app control makes it easy to operate right in your bed, and the low noise operation will only add to your peaceful sleep at night.
2. X5 Airdog Air Purifier
The super filtration performance offered by the X5 Airdog Air cleaner with a patented TPA technology is a special quality of this air purifier. You can use the easy to wash filters which make this air purifier a one-time investment. Although perfect for medium-sized rooms, this air purifier will also work great for small room settings if you want to achieve extra clean air.
The HEPA filter operates with a low noise operation, and the auto-adjust features work according to the amount of dust and particles in the environment. This air purifier can also fight various air-borne viruses.
3. Medify Air Purifier
When it comes to an air purifier for a small room, you might be searching for an option that is both efficient and convenient. And oh, if it's affordable, then that's the cherry at the top. This HEPA home air purifier from Medify is known for all the three mentioned qualities.
Ideal for the smallest of rooms to up to 500 square feet of spaces, the size is smart and compact enough for any room size. The three-stage filtration process supports deep cleaning and sanitization of the surrounding air.
The Pre-filter traps the dust particles in the largest size, the big dirt molecules and hair. The second layer, the HEPA filter, captures up to 99.99% of particles which include pet dander, allergens, mold spores, and other bacteria. Thirdly the activated carbon filter smartly removes the odor and breathes freshness into the air.
Moreover, unlike other air purifiers that draw air in from the front, this one draws air in from both sides of the unit. This design improves the efficiency and speed with which it cleans particles from your bedroom.
4. Coway Air Purifier
Because of its low noise levels, high-performance capabilities, and extensive feature set, the Coway AP is an excellent air cleaner for bedrooms.
This air purifier has three fan speeds, with the lowest setting producing 24.4 decibels of noise. Even at maximum fan speed, the device's noise level does not surpass 55 decibels.
With a four-stage air filtration system, you can rest assured that all particles in your bedroom will be removed. The air is first filtered through a washable pre-filter that traps big particles such as human and pet hair and mold spores.
The air then passes through an activated carbon filter, which deodorizes and keeps your bedroom feeling fresh. Followed by a HEPA filter responsible for trapping large dust and allergens and other tiny particles that can damage the respiratory system in any way.
5. Winix Air Purifier
Although the Winix is not the cheapest air purifier for a small room on this list, it provides excellent value for money without compromising any important features.
The pre-filter traps pollen and pet dander, while the True HEPA filter captures smoke particles and other allergens to improve your indoor air quality. Finally, the activated carbon filter works in conjunction with the Plasma Wave filter to remove any odors, cigarette smoke, or contaminants from the air.
Furthermore, the carbon filter is washable rather than disposable, which is both environmentally and financially beneficial.
6. Levoit Air Purifier
One of the best air purifiers with a compact size and a job much greater than its size, this air purifier is highly durable on the market. It's powerful, but it doesn't take up a lot of room, and customers claim it's silent. The Levoit H13 True HEPA Air Purifier contains an EPA-recommended HEPA filter that removes pet hair, smells, dust, smoke, mold, and pollen. It is rated as one of the best air purifiers for allergies in small rooms.
As soon as you turn it on. The upsurge of fresh air will make you sleep better and experience better mood levels when you wake up each morning. Worth a purchase – compact and functional.
7. BlueAir Air Purifier
On high, the Blueair decreases smoke levels by 99.9%, and on medium, it reduces smoke levels by 95% in 30 minutes. Its auto mode monitors the air quality in workplaces and adjusts the fan speed accordingly. It also offers other characteristics, such as exceptionally silent operation, excellent energy economy, and a control panel that instantly dims after changing the settings.
With a washable cover in a variety of muted hues, this model is also especially appealing. There are two small flaws in it: Only when the machine is on its slowest setting does the air-quality indication lamp, a bright blue LED, turn off, and Blueair suggests replacing the filters every six months, which increases the cost.
Keep up with Autonomous news
Stay informed, stay inspired with our new blogs.
WRITTEN BYAutonomous
We build office products to help you work smarter.