Gaming Setup
7 Best Black and Orange Gaming Chairs For Your Playing Station

Autonomous
|
Nov 4, 2022
954 Views
Now that you've got your gaming PC and gaming desk, all you need is an awesome black and orange gaming chair to complete your battle station. The key to successful gaming is to stay comfortable. If you're constantly changing positions, you won't be able to concentrate on the game. 
Gaming chairs offer serious comfort for long hours in front of a screen, whether you're working or relaxing. With some of the best black and orange gaming chair options, you can use it as a throne for gaming, or you can use it as an office chair or a study seat, and they often come in a range of colors so that you can customize your space according to your tastes.
1. Vertagear SL4000 Gaming Chair
There are some similarities in design between the SL4000 Racing Series from Vertagear and several racer models of DXRacer, but the series stands out from the competition because of its exciting color combinations. 
You don't get your money's worth when you buy the SL4000 chairs of Vertagear for less than two hundred dollars. The quality of construction of the chairs is outstanding, and they are comparable, if not enhanced, than similarly priced DXRacer models. This is due to the first-rate aluminum alloy used in their construction. You can adjust your height easily with the height adjustment (pneumatic), which is pretty powerful. 
Vertagear pays great attention to comfort, its leather padding is great, as well as the chair is ergonomically designed to be as comfortable as possible. There is complete height adjustment on this Vertagear reclining office chair, so most gamers can comfortably fit in. It comes with a prodigious and somewhat gigantic lumbar cushion and a convenient head cushion with a ventilation hole.
2. Anda Seat Fnatic Edition
Whether you are a big league or a small gamer, the Anda Seat Fnatic Edition is the perfect gaming chair for you. This black-and-orange gaming chair is upholstered in scratch- and stain-resistant PVC leather over memory foam, and its aluminum five-wheel base is extra-large. To prevent floor damage, it includes generously sized caster wheels covered in polyurethane (PU). Quality is evident throughout, from the design of the white and orange gaming chair to the branding on the pillows included with the purchase. A person standing up to 6 feet, 8 inches tall, and weighing 440 pounds can use it.
3. Secretlab Titan XL 2020
In addition, Secretlab's Titan XL 2020 can support a maximum weight of 390 pounds (176 kg) and is recommended for people with heights between 5'-11" and 6'-10" (1.8 to 2m). With a starting price of $559 (currently marked down), the Titan XL is only bigger in price. No matter how large Titan XL chairs are, they have the same setup as other computer chairs. Due to its bigger and heavier parts, the Titan XL takes up more space and requires more time to assemble.
4. DXRacer Master Modular Gaming Chair
It looks like something out of a sci-fi film or in the dentist's office when a fully loaded DXRacer Master Modular gaming chair is set up. Although it may not look appealing, this $430 office chair is extremely comfortable and useful, especially if you are gaming and working simultaneously. 
In addition to its microfiber leather cover, the orange gaming chair with a footrest has a sturdy aluminum base that supports people weighing up to 275 pounds (124.7 kilograms). It's ideal for taller people but can accommodate people as tall as 6 feet 6 inches (1.9 meters) and weighs just under 70 pounds.
5. DXRacer Racing Series OH/RAA106/NR Chair
There can be no doubt that DXRacer is a brand synonymous with gaming chairs. There aren't many gaming chairs that can compete with this brand. They have pretty much built the market for gaming chairs. Although they are more expensive than most competitors, they are usually compensated by a great design and the highest quality images. 
A great example of a reasonably priced product that delivers the best possible quality is the DOH Racing Series Newedge Edition. In terms of price, the DOH series is a premium product with a price tag of nearly $300. Many DXRacer products are similar, and most benefits and caveats apply to all models.
6. Merax Racing Gaming Chair with Footrest
In spite of its lower price point, the Merax Racing Style gaming chair has the appearance of more costly gaming chairs, with a vigorous mix of plastic and leather, flashing colors, and a headrest. The first thing about the Merax chair is that its height is a bit higher and can accommodate users up to 20.5 inches tall. The chair frame is constructed from rock-hard steel with many PVC elements, including the armrests. 
However, the armrests' comfort could be improved since the PVC doesn't quite match the comfort of superior-quality materials. Some similar-priced competitors have the edge in this area, and while it's better not to anticipate any surprises from a low-priced chair, some build quality isn't great. Several combinations are available, most of which have a secondary color, including yellow, orange, blue, or green.
7. X Rocker Extreme III 2.0 Gaming Rocker Chair with Audio System
A console gaming chair, which is often referred to as a rocker chair or gaming chair, offers more comfort than a handheld or console gaming ergonomic chair, where you only have to hold the controller. 
The 51491 Extreme III 2.0 by X Rocker is an eccentric rocker chair, which is affordable but offers decent quality. Their naming customs aren't particularly appealing, but their products impress. Chairs like this one are fairly versatile gaming furniture and have a relaxed feel. 
A sound solution is also integrated into the gaming rocker chair, as is the case with most rocker chairs for gaming. It's not exactly a surprise that this X Rocker computer ergonomic chair comes with a stereo speaker resolution built into it, as the name of the product implies. Because it produces sound directly on the sides of the chair, it offers a better surround experience, but the sound quality shouldn't be expected to be good. Although it's not as good as television audio, it's an improvement over headsets or home theaters.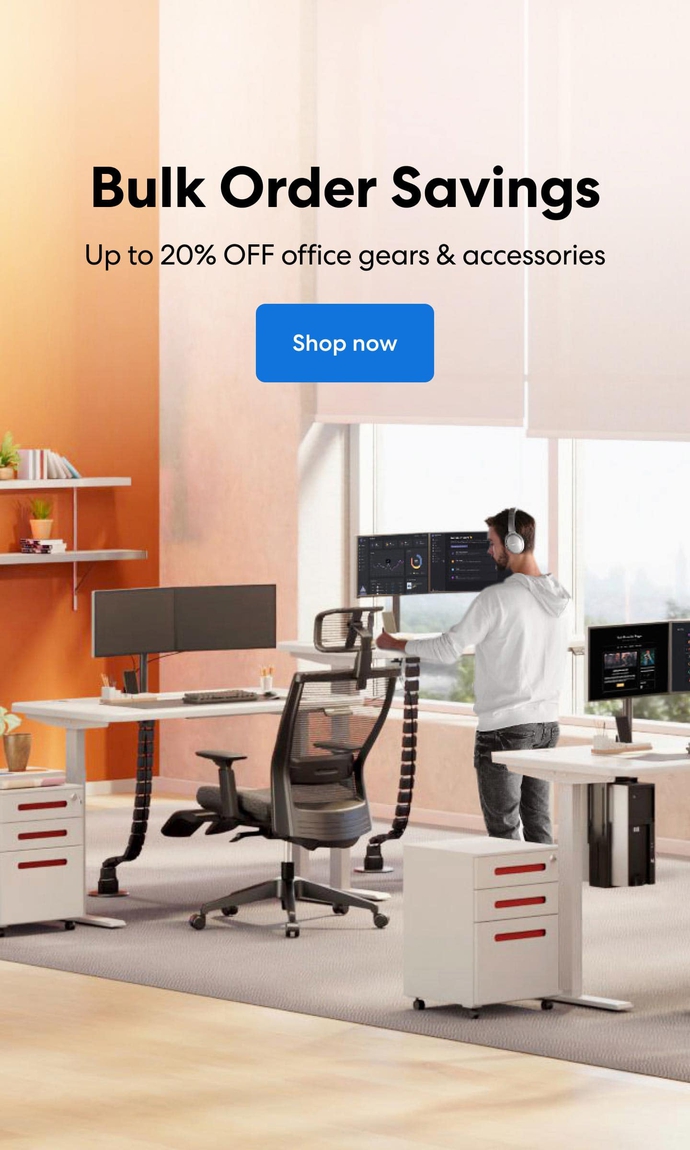 Subcribe newsletter and get $100 OFF.
Receive product updates, special offers, ergo tips, and inspiration form our team.