Smart Products
The 20 Best Office Chairs Rated over 300 Lbs. (2023 Updated)

Autonomous
|
May 14, 2021
7,415 Views
A custom chair for each employee and guest is the best way to ensure their safety and the longevity of your office chairs. A standard computer office chair for 300 lbs can comfortably support about 250 pounds. Chairs that weigh 300 to 800 pounds, however, tend to handle big and tall people.
We have different weight limits for our big and tall chairs based on the model you are looking at. When you filter by weight capacity and read over the office chair for 300 lbs specifications, you'll find the details of the weight limit. You may not know where to begin your search for big & tall products but start by browsing the best-selling chairs on the web.
Do you need the best list of office chair for 300 lbs.? You're in the right place, so ensure you take note of everything you read.
What to Look for in a Big Office Chair
Even though you're probably looking for a perfect tall and heavy chair, you should keep in mind that everyone has unique characteristics.
You're different from other large people, so you should research the best features that a chair must have to ensure maximum comfort.
Likewise, take a look at each chair's characteristics, dimensions, and weight capacity. That way, you can get the best office chairs with 300 lb. weight limit or more.
Best Office Chairs with a Heavy-duty Capacity
Finding office chairs rated over 300 lbs. persons can be daunting if you don't even know where to start. Check out the best ones in the following list.
1. ErgoChair Pro
The ErgoChair Pro has it all: it's completely supportive, adjustable, and comfortable. The unit is a great example of an office chair 300 lb. weight capacity.
With the ErgoChair Pro, you can get a unique model that adjusts to your body and gives you the best in comfort. Its design brings you intuitive support with slight movements so you can customize it to your needs.
Additionally, it has a C-shaped headrest that you can adjust so your neck sits comfortably. Your work experience can be enhanced with a chair such as the ErgoChair Pro.
2. ErgoChair Plus
With the ErgoChair Plus, you can get a one-of-a-kind model designed for unhindered movement and maximum stability.
It is specifically designed to support the spine and allow your back to breathe. Besides, you can pay it off over time if you wish to commit to monthly payments.
It has a 300 lbs. capacity, natural support, a five-year warranty, and a design that can upgrade your office's look. If you buy the ErgoChair Plus, you get a chair that's perfect for your spine and has different adjustable functions that allow you to customize it to your needs.
Lastly, it's only made out of recycled TPE, which means that you don't have to worry about harming the environment if you choose it.
3. Autonomous AvoChair
You can choose from four different office chairs 300 lbs weight capacity color options for AvoChair's egg-shaped design. The ergonomic features, including adjustable tension, backrest, and height, make it popular with users. In addition to nylon-plastic, recycled polyester fabric is used for the remaining office chair for over 300 lbs parts. The chair is made of recycled materials designed for use with up to 250 pounds. The patented elastomeric mesh covers the molded foam interior of the backrest and seat, mounted on an aluminum alloy base.
4. Gaming Chair SL4000 by Vertagear
It has adjustable office chairs with a 300 lb weight limit and height and is equipped with silent glide wheels that don't make any noise while moving. The chair seat has only red, blue, white, green, and black colors, while its sides have black, blue, red, and green.
A headrest is built into the chair for when you lean back. There are also several adjustments on the Vertagear SL4000 chair. With the adjustable armrests and headrests on these gaming office chairs rated over 300 lbs, you can adjust the seat height, angles, and backrests to your comfort level throughout the game night.
5. ZipCode Design Hirst Mesh Drafting Chair
The ZipCode Design Hirst Mesh Drafting Chair is one of the best options for tall people. It's simple, cheap and reliable. Thus, it's a great option if you're looking for a quick way to enhance your office.
With a comfortable mesh back and four colors to choose from, the model offers tall people a good option that can protect their spine, neck, and shoulders. However, keep in mind that this office chair for over 300 lbs. capacity is not the best for short and heavy people.
6. Everly Quinn Task Chair
If you're looking for a heavy duty reclining chair, you might want one with a premade seat instead of an adjustable one. If that's your case, Everly Quinn is a good option for you.
With an over 350 lbs. capacity, the Everly Quinn is a bulky and stable model that can fit your work needs. Additionally, you can get it at an affordable price and can choose among eight different colors. Although finding good office chair for 300 lbs. might be hard, this model is unique and useful.
The Everly Quinn has a design that can give your office a completely different feeling than any other chair has before. Thus, besides supporting tall and heavy people, it can improve your workspace.
7. Starspace Ergonomic Chair
If you need a cheaper option of office chair for 300 lbs., the Starspace ergonomic chair might be what you're looking for. It has basic ergonomic properties and can protect your back's health.
It can support up to 400 lbs. and is designed with extra padding in specific spots to always ensure that you're comfortable. Even though you only have two colors to choose from, you can get a handy model if you buy the Starspace.
8. Inbox Zero Executive Chair
This 350 lbs. plus capacity ergonomic chair is a great example of an executive style that can take your breath away with a beautiful design and comfortable fit if you're tall and heavy.
The Inbox Zero supports up to 400 lbs. and you can often buy it with a discount, which is very convenient if you have a tight budget but still need a comfortable place to sit. It's a great option if you're looking for a good office chair.
9. Symple Stuff Common Executive Chair
The Symple Stuff Common Executive Chair honors its name – it's a classic model that's not flashy at all. However, it can bring you some ergonomic properties if you're tall and heavy. It is one of the best office chairs rated over 300 lb. for you to choose.
When you're looking for an ergonomic chair with a 300 lbs. capacity, you might want to give this one a second look. With an affordable price range and a one-year warranty, you can choose the model you like and enjoy all the features it has.
10. Reficcer High Back Chair
Thanks to its 400-pound weight capacity and large seat and backrest, large users will find it comfortable. When you're heavier, finding a chair that won't sag quickly and can support your body adequately isn't easy. This office chair is one of the broadest and deepest available. It measures 22.8" wide by 24" deep. You can rock back and forth on the tilting mechanism, but it does not lock into place.
11. Sadie big and tall chair
A good ergonomic chair will have most of these features, as will the Sadie, but in a heavy-duty package that supports weights up to 350 pounds. A gentle contour on Sadie's backrest works well for the spine, while the adjustable lumbar allows you to further target your lower back for extra comfort. The mesh backrests aren't as comfortable as padded ones but are more ergonomic and have superior heat dissipation during extended use.
12. Anda Seat Kaiser II Gaming Chair
This office chair for 300 lbs is available in three editions: Kaiser, Dark Knight, and Dark Wizard. The only difference is the color. It is ideal for someone under 441 pounds and between 5'9" and 6'9" in height. You might be eligible for this gaming chair if you fall into that range. One 6'8" tall and 300+ lb owner extols the virtues of this chair's ultra-high backrest and deep seat.
13. Komene Mesh Office Chair
This Komene mesh chair isn't the largest chair available, but it's capable of accommodating people up to 250 pounds. Great for people with a tendency to get neck fatigue sitting down. In the Komene, the neck rest measures 11′′ wide, and it pivots in and out. If you are sitting up straight or laying back, this will allow it to conform to your neck's curve. The lack of a robust recline mechanism is the main issue with Komene mesh. Only 110 degrees can be tipped back; however, it does lock into place.
14. YAMASORO Ergonomic High-Back Chair
Yamasoro's ergonomic tall adjustable office chair has a cushioned seat that is soft, water-resistant, and will not fade. The seat is the true highlight of the chair. A combination of high-density foam and spring coils in the seat provides just the right balance between softness and resistance to match the needs of even heavy users. It can recline backward 45 degrees, and its angle can be locked. 
15. HON Wave Mesh Big chair
It has a weight capacity of 450 pounds, so it is ideal for taller and bigger people. This HON chair is also ergonomically designed for comfort. With its adjustable recline, armrests, and pneumatic height adjustment, it has customized lower back support. Thanks to the five-star resin base and durable wheels of this high back office chair, you'll have a great sitting experience during your workdays.
16. Steelcase Gesture
There are several adjustment options for the Steelcase Gesture chair, including seat depth, arms, seat height, reclining tension, and four positions of reclining. Overall, we found the chair to be the most comfortable of all the ones we tested. Unlike regular office chairs that usually support only 250 pounds, this big and tall office chair can support up to 400 pounds.
17. OneSpace Taft Mesh Back Oversized Chair
Among the best big and tall office chairs on the market, OneSpace offers one of the widest seats (30,5 inches). If you're large, tall, or both, this chair could be the best choice for you. This pocket coil cushioned seat adjusts to any body shape and has an adjustable backrest. Besides a breathable mesh back and cushy leather seat, it has a suspension mesh back. Its thickly padded armrests can be flipped upward and downward for easier entry or adjustment of the chair's height.
18. AmazonBasics Big and Tall Office Chair
There's something elegant about this brown leather large office chair, but, more importantly, it's suitable for people who are taller or bigger than average. If you want to feel comfortable at work, this office chair for 300 lbs comes with a 30.25" wide seat.
Although it does not have a fashionable design or adjustable armrests, it is the best heavy-duty office chair on a budget. A curved armrest and adjustable lumbar mechanism are also included in AmazonBasic's big and tall office chair.
19. Vinsetto Ergonomic
This sturdy office chair features a wide seat and back for maximum comfort for big and tall people. Additionally, a padded seat and a spring package will make this chair much more comfortable to use for long periods. Vinsetto chair can support people up to 500 pounds, making it a good chair for people with big or tall frames. Another advantage of this chair is the padded armrests.
20. High back gaming chair from Von Racer
This is the best chair for a herniated disc that can accommodate up to 400 lbs so that you can use it both as a comfortable office chair and for gaming. The existing seat cushion and lumbar pillow will be topped with a memory foam cushion. You will also find that the tall back and wide armrests make the chair the most comfortable chair you have ever sat in.
This big and tall office chair features a 21-inch seat height, adding to its charm and style. The dimensions are 7 inches by 20 inches.
Pros and Cons of Buying a Heavy-duty Chair
Going through office chair for 300 lbs. can be daunting if you don't know anything about how to pick the best one. So, check out the following pros and cons of buying office chairs with a 300 lbs. weight limit.
Pros of Heavy-duty Chairs
It can support your back effectively.
It can ensure a good posture.
It can increase your comfort levels.
It can make your office look better.
Cons of Heavy-duty Chairs
Some models can be costly.
If you get leather, it might be hard to clean.
Even though there are a couple of cons, the pros surpass them because getting a proper chair is vital to ensure your mental and physical health are protected. Doing so also serves to boost your work productivity. Thus, make sure you select a good office chair for heavy workers and read the model's specs. That way, you can choose the one that fits your needs the most.
Final Thoughts
Finding a good ergonomic chair for over 300 lbs. can be difficult if you don't have a list of the best models. However, now that you know some of the top picks, you can choose the one that's best for you!
Video ads for product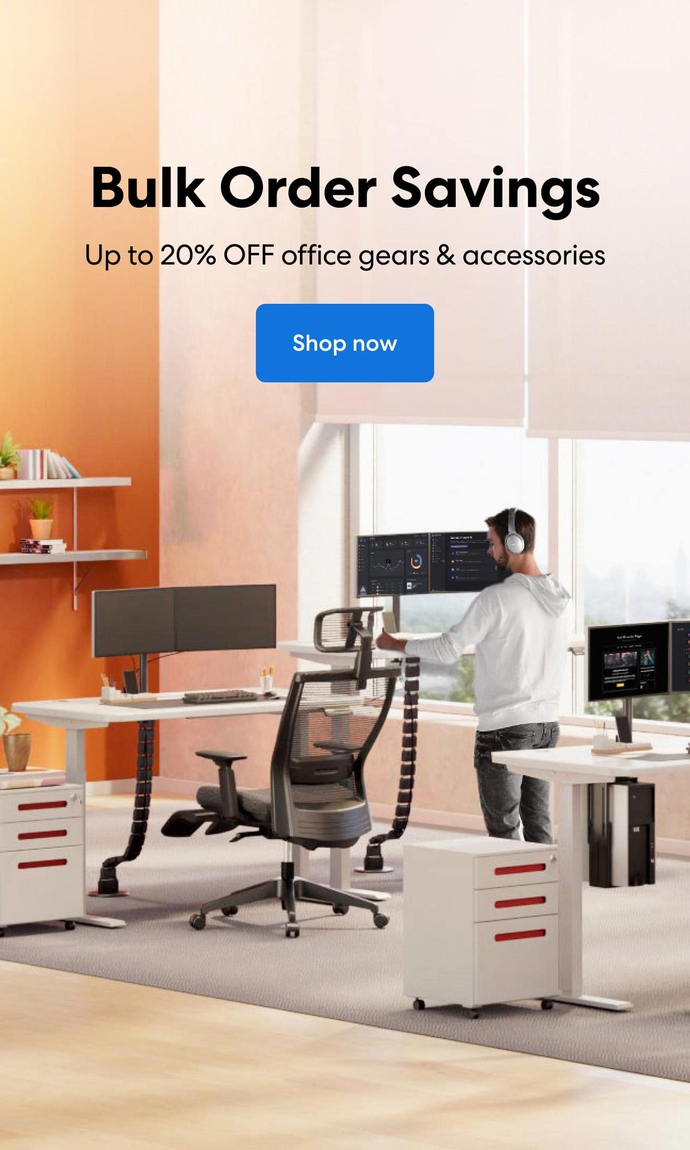 Subcribe newsletter and get $100 OFF.
Receive product updates, special offers, ergo tips, and inspiration form our team.