Students need ergonomic chairs just like office workers do. Especially for long hours and late nights of studying, it's important for students to work with the best, most comfortable tools to perform their very best and get the high marks they need to succeed. Here are some of the best ergonomic chairs for students in 2022.
Studying has a substantial effect on your body. According to one study, over 74% of college students suffer from lower back pain. Besides moving regularly, a good study chair can also help significantly. A good study chair can encourage good sitting posture and it can support your body better while you study.
What's the Best Type of Chair for Students?
From an anatomical and practical standpoint, some chairs are better than others for students. Here are 7 best types of chairs for students:
 1.   High-Back Office Chairs with Headrest
A high back office chair with a headrest is ideal for long study sessions. That's because this type of chair supports all the major parts of your body that fatigue after extended periods of sitting. These include your neck, shoulders, and lower back.
Thus, if you study for extended periods, a high back office chair with an adjustable headrest is your best bet. It provides the best full-body support, especially if you configure it properly.
The ErgoChair Pro from Autonomous is one of the best ergonomic high back office chairs with an adjustable headrest in the market. This ergonomic office chair is fully customizable, and it provides maximum back support. Also, it prevents back pain and improves your sitting posture. The ErgoChair Pro's headrest is both height and tilt-adjustable, which prevents neck pain, promoting a comfortable sitting experience.
You can adjust the ErgoChair Pro's headrest and you can also lift and lower it entirely to cradle your head and neck in the right spot. Apart from lifting and lowering, you can tilt the headrest up or down to meet the natural curve of the back of your neck and head. Also, you can push the headrest forward or backward, which reduces the stress on your neck and eases neck pain, increasing blood circulation to your brain.
2.   Mid-Back Mesh Office Chairs
Mid-back mesh office chairs are perfect for short to long study sessions. From a décor standpoint, a mid-back mesh office chair is visually less imposing, and it can make your space appear more spacious compared to its high-back counterpart. If you're a student living in a dorm or an adult with a small office, the psychological effect is worth considering.
A good mid-back office chair is almost as ergonomic as a high-back office chair for short to medium sitting sessions. The best one should be highly breathable (mesh) and it should tilt and recline.
Also, it should have a backrest that supports your shoulders. According to one study, the best backrest angle for comfort for students when studying is 15 degrees from upright. This means a mid-back office chair that lets you recline and lock in the backrest's angle instead of just tilting, is your best bet.
The AvoChair by Autonomous is one of the best ergonomic mid-back office chairs available in the market. It features an airy elastomeric mesh back, which offers a great deal of spinal support. Also, it supports your shoulders encouraging a comfortable sitting experience.  
3.   Forward Tilting Office Chairs
Another type of chair that's ideal for studying is a forward tilting office chair. For students, studying typically entails reading a textbook or taking notes where the gaze is usually fixated downwards on the desk surface, versus looking straight ahead at a computer screen for office workers.
Thus, an office chair with a seat that can tilt forward can be a tremendous bonus for most students. This natural sitting posture naturally directs your gaze slightly downwards, and it has been proven to reduce back pain.
4.   Sofa Chairs
To maintain a good posture while studying, a good sofa chair can come in handy. However, finding a good sofa chair can be a daunting task. Often most sofa chairs are overstuffed with plush cushions and designed more for appearance over feel. Thus, they can wreak havoc on your back, especially when studying for extended periods. Thus, when you find a sofa chair, that's ergonomic and comfy, get it if you can and pair it with your desk.
5.   Rolling Chairs
A rolling chair is best for those working in an enclosed space, such as a home office or a library room. It lets you roll with the punches, literally. With a rolling chair, you can reach for a stack of papers here, or filing cabinet there—all in swift time and without leaving your desk. This type of chair makes multitasking effortless.
6.   Active Sitting Office Chairs
These types of chairs are ideal for short to medium study sessions. Active sitting chairs fight health issues associated with sitting for extended periods, by encouraging micro-movements as you sit, or positioning your body in a way that deviates from the normal sitting position.
For best results, switch between an ergonomic office chair and an active sitting one so your body isn't restricted into the same posture for too long. The ErgoStool from Autonomous helps you stay active while sitting for extended periods, which promotes better blood circulation. The ErgoStool features a weighted base that provides great traction on a variety of surfaces, allowing for a wide range of motion while you study. Further, it encourages active sitting, which emulates the frequent posture changes you make while standing. This increases your movement and energy levels. This stool is height-adjustable within a 10-inch range. And you can also use it with a regular desk.
7.   Flip-Up Arm Office Chairs
A flip-up arm office chair is ideal for short to medium study sessions and for small spaces, including dorms and small offices. These chairs feature dismissible arms, thus, they're perfect for tight spaces, something teens and college students will appreciate. Further, you can tuck an office chair with flip-up arms under any desk easily, or create a more lateral space for yourself as needed, such as when you're playing the guitar or when you need to use the chair's seat as a makeshift dolly.
The drawback of an office chair with flip-up arms is that the armrests aren't adjustable in any way other than being dismissible. This means these armrests won't support your arms well as other types of study chairs mentioned above, especially during extended periods of sitting.
Video ads for product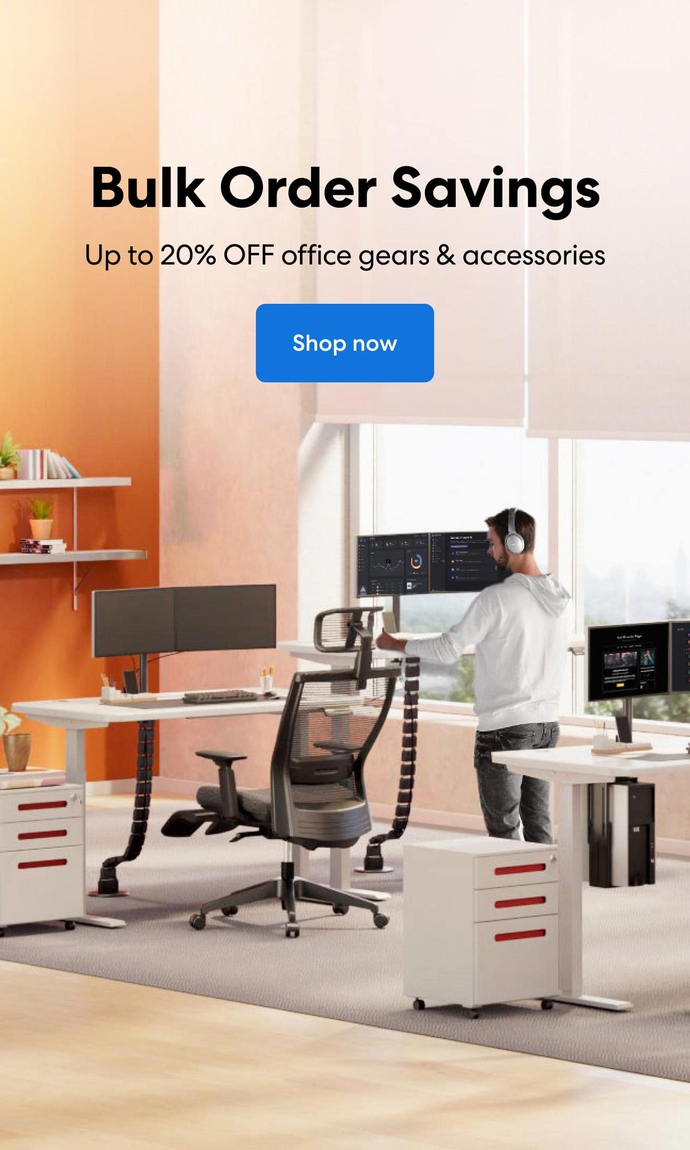 Subcribe newsletter and get $100 OFF.
Receive product updates, special offers, ergo tips, and inspiration form our team.