Workplace Inspiration
7 Bedroom Office Ideas with Best Desk Solutions - Stylish & Practical

Autonomous
|
Feb 13, 2021
5,435 Views
In professional offices, many prefer a feng shui office layout nowadays. However, we are here for bedroom desk ideas for people who work for him. You may have recently come to the realization that owing to specific limitations imposed by your living conditions, it is rather difficult to maintain a separate study space or home office. If you find yourself in a situation where you are required to work from home, creating an office layout in the bedroom can be essential.
Sometimes the most ideal place to work from home is your bedroom. You may not have a study room or spare bedroom, and, understandably, the house is abuzz with activities and interruptions during the day. You may have some free space in your main bedroom or a neat corner that you can turn into a home office. You've been working from your bedroom, but recently, you find yourself curling up in bed and taking one too many naps. Why not create an exclusive work desk for bedroom with some ingenious solutions for creatively positioning an office desk in a bedroom? Read on to learn different bedroom office ideas and office design ideas. 
How Do You Get Started?
Firstly, before you purchase your office desk in the bedroom and start creating that much-needed home office in the bedroom arrangement, begin by sitting down to think through and imagine what you want the final result to look like. Consider your current bedroom setup, color scheme, and design theme.
What Are Your Needs?
Many factors need to be balanced out to create your best home office. Consider the type of aesthetics you want, ergonomic considerations, space requirements, the nature of the work you do, and your budget. What you really want is an inspiring, organized, and productive workspace that puts you into a working gear once you sit down at that newly placed computer desk in the bedroom.
By the same token, you do not want to create a productive office space that is going to be overly imposing, making you feel guilty and stressed every time you need to rest and relax in your bedroom. Your bedroom office space should be functional while still providing a comfortable space for you to put your feet up and retire for the night.
Another guiding principle to creating the perfect workspace in your bedroom, is to decide whether you are going to buy a new desk, or if you are a more hands-on person, try out a new DIY furniture project. You can go for a simple office desk design or give yourself a challenge with a DIY corner desk idea.
Finally, try to maintain a homogenous arrangement for your bedroom with an office desk. Use warm and subtle tones or bold statement colors that add to your current bedroom ambiance and color scheme. Ensure functionality, i.e., comfortable desk dimensions, ergonomic for correct posture and back support, lighting, location of power points, storage options, and adequate top desk space. Here are some bedroom desk ideas to inspire you and get you going with your bedroom work area.
1. Fit a Corner Desk
If you do not have a lot of desk width space available in your room, you can go for an elegantly styled L-shaped office desk. You can fit it snuggly in your room, taking advantage of your corner wall to maximize the surface available to you. Add some chic storage bins where you can store your files, books, and documents to declutter your desk and maintain a clean workspace that is also desirable when you are resting or sleeping once your work is done.
You can also choose an L-shaped desk that comes with built cabinetry but try to select subtle and less intrusive work office styled drawers for your office desk in the bedroom.
2. A Fitness Boosting and Healthier Bedroom
Perhaps before you started working from home, you were pushing an eight to five job, and now honestly, that hasn't changed. The only thing that has changed is that you are now completing your daily grind from your 12th-floor studio apartment, but you are taking a little longer to complete the work because of all the home comforts and distractions.
An amazing innovation that can increase your work efficiency is a home standing desk. A standing desk does not only boost your productivity but increases your fitness levels by breaking up your long working hours into sitting and standing stints. Staying active while working can keep you energized throughout the day.
Create a dedicated workspace with an Autonomous Smartdesk Core, which is a high quality and cost-effective option for equipping your bedroom with an office desk. Made from heavy-duty steel, it has a dual-motor for adjusting the desk height for both sitting and standing positions. The Smartdesk Core comes with an impressive 300 lbs. weight capacity.
Another benefit of adding a home office in the bedroom is seen in how an office standing desk can significantly improve your posture, a key element in combating long-term back pain and other health problems associated with long hours of sitting.
3. Compact Computer Desk in Bedroom
Nowadays, the tech industry is growing, with many tech professionals working from home. The bulk of their work is on a desktop computer or a laptop together with accompanying digital equipment. They have little need for extensive cabinets to store files, books, and documents. Many of their operations are paperless.
In this case, all you need is a home office computer desk that fits your home design and space.  Make sure you choose dimensions that are the best fit for the type of digital equipment and accessories you use. The weight capacity of your desk is also a critical measurement you need to take into account. Consider the weight of the office desk accessories, such as computer screen, CPU, printer, speakers, and other accompaniments, before making any purchases.
You can look for some useful features when hunting for a computer desk that includes: a hutch for all your electric cables and extensions, a slide-out keyboard or accessory shelf, CPU caddy, space saving design elements, and storage cabinets, and rolling wheels if movement is necessary.
4. Rustic Styled Bedroom Office
Perhaps you are a creative person and work better in a well-designed and stylish work area. You may not want your workspace to look like a formal office space. It would be best to have a carefully configured office layout that incorporates various design elements such as a theme, distinctive storage solutions, an exciting color scheme, unique furniture pieces, and decorative embellishments.
To create a modern and appealing rustic office and computer desk in the bedroom, look for deep, warm red and brown colors to achieve a rustic color palette. Use an accent wall or eye-catching backdrop to delineate your office area and hang some rustic embellishments, frames, and shelves.
You can create a really warm and cozy atmosphere that is highly motivating when you sit down to work. Take time to select an exclusive desk and chair that accentuates your rustic theme. Don't forget to look for furniture options that promote a good posture and healthy working space. You can also personalize your space with portrait pictures and DIY crafts or artwork that you have done yourself.
Ultimately, your home office in the bedroom is not just about functionality. It should speak to what keeps you motivated and inspired. Whether you want traditional décor, a fun and playful color palette, elegant and stylish furniture pieces, vintage, or futuristic themes, it is up to your imagination. The more comfortable you are with your home office's overall look in the bedroom, the better your work performance.
5. Foldable Home Office Desk
Maybe you are not looking to make huge changes to your bedroom to create a workable space. You only need a working space for a few hours over the weekend or a few days in the week to work at your home business. All you need is a simple office desk in the bedroom that is affordable and a quick solution. A foldable desk may be just the alternative you are looking for to get those assignments done. It is light, portable, retractable, and a budget-friendly option.
Once you have found a comfortable spot to place the folding chair in your bedroom, you can fit your laptop computer, stationery, paperwork, and you are all set. With the right chair and sitting arrangement, you can work for a few hours with standing breaks in between to prevent excessive body strain.
This desk can be easily folded up and tucked away under the bed or in a closet leaving your bedroom clutter-free and ready for you to relax and refresh. A foldable desk is a convenient and cost-effective option when you do not have a lot of room in your bedroom for a permanent workspace or you do not need a work desk regularly. If you are working for many hours during the day and have heavy office equipment, the foldable desk may not be the best solution for you.
6. Hidden Office Desk
Choosing a hidden office desk is an innovative way to create a functional workspace while maintaining a beautiful bedroom space. There are several options available to choose from for this clever home office hack. The main idea is to install a furniture piece that blends in with your bedroom décor to hide your office station when you are not working and conveniently open up once you want to get busy with your work. You can have a built-in hidden closet, a moveable armoire, or a hidden cabinet.
One moment your bedroom is a typically warm and appealing rest area, and the next moment you open your closet door, and you have a complete bedroom with an office desk. Your computer and work accessories are all laid out, ready to get started on that new project you've been working hard to complete.
This creative home office space is an ingenious way of separating home from work both physically and mentally. Having a closet door that you can shut when you are not working makes it easier for you to relax.
7. A DIY Office Desk in Bedroom
If you are one of those people with a natural talent for DIY home improvements and interior design, then you don't have to look very far when you want to create a home office in the bedroom. The great thing about DIY projects is that you get to tweak your design and color palette to exactly how you imagine the finished product. You may have to practice a new skill or blend several shades of color before getting the right one for you, but you can usually find the correct technique after a few practice runs.
You can decide to create a complete office and computer desk in the bedroom from scratch, upgrade an old desk, decide on making your own standing desk, install a simple floating window desk with a great view, or simply repaint  a used desk with your favorite shabby-chic color combinations. When you complete a DIY project, you get an original and unique furniture piece and a huge sense of accomplishment.
A home office standing desk is one asset that can make your bedroom office a more ergonomic workspace that caters to long working hours. You can make your own standing desk from scratch to compliment your current sitting desk arrangement with all the unique features and attributes that blend with your style and bedroom design.
Creating your own standing desk together with a sitting desk for your bedroom office might not be feasible for you with the current space you have available, or you may not necessarily want to have two work areas in your bedroom as a constant reminder of work.
Another way to create your own home office with computer in the bedroom is to purchase a DIY standing desk frame. The frame comes as part of an Autonomous DIY frame kit that you can use as a strong base and support to create your own distinct tabletop that fits with your bedroom design aesthetic. You no longer need to create two working stations as the desk frame is motorized with four programmable height settings for your sitting and standing requirements. The Smartdesk kit is reasonably-priced, quick, easy to assemble, and has a five-year warranty.
Setting up a modern bedroom desk is one way to create a functional space to boost your focus, back health, and overall productivity. However, your home office does not have to resemble your work office. Even if space and affordability are an issue, there are still several options that can work for your individual home office desk in the bedroom.
Tips for Bedroom Desk Ideas
Workstation Next to Bed
If you're pondering where to place a desk inside a bedroom, a spot immediately next to your bed can be excellent. You may feel at ease while working here since it is one of the most accessible locations. This, however, may be a bit distracting since you could feel the desire to stay up later or work excessively, disrupting your sleep cycle. 
Across from the Bed
It is simpler to put your workstation next to your bed if your bedroom is roomy. Even a standing desk for the workplace is possible in these bedroom office ideas. This will not only take up less area in your bedroom, but it will also provide you with more chances to make your décor more versatile. Adding floating shelves to your desk might be a creative solution to increase productivity. This is one of the best bedroom desk ideas. 
In a Corner
This is one of the best bedroom office ideas. You may arrange more items on your desk if you have a simple L-shaped desk in the corner of your bedroom. For individuals who are easily sidetracked, having a desk in the bedroom allows them to manage their workstations comfortably in a corner. However, you can also use a standing desk converter.
Closet Hidden Desk
If you want to avoid having work intrude on your leisure time, think about how you can skillfully hide a desk in your bedroom. Sliding and other models of hidden desks are available from companies that install custom closets in homes, now you can use your computer in your bedroom for office use with ease. It is one of the top bedroom desk ideas. 
Types Of Office Desks You Can Use In Bedroom
1. Compact Desk
Finding a workstation as functional as these desks will be challenging. They may fit into a very tiny space in your bedroom because of its modest size. 
2. Rolling Standing Desk
This compact Electric Mobile Desk is a great option when saving space is a top concern. Because of its ergonomic design, this little modern bedroom desk for the bedroom is able to fit a lot of useful features, such as a height-adjustable keyboard, and a flexible keypad, into a compact space.
3. L-shaped Desk
This L-shaped standing desk is twice as big as the standard SmartDesks and features two detachable pieces. For a perfect fit in any corner, flip the shorter side from left to right. This desk is the perfect option if your bedroom corner has a considerable amount of free space. 
4. Computer Desk with Drawer
This computer desk from Autonomous is among the finest since it has improved sensors that respond to the surroundings, built-in drawers for extra storage, and a handy app with easy, intuitive settings. If you value comfort and convenience, the SmartDesk Connect Pro is a desk you must have. Use the computer in the bedroom with ease.
5. Desk with Cabinet
It is a contemporary desk with drawers for a home office. The bottom drawer serves as a file cabinet and even has metal rods for letters and legal-size formats, while the top drawer is used to store office supplies like stationery. A desk with drawers is really good for office storage and organization.
Video ads for product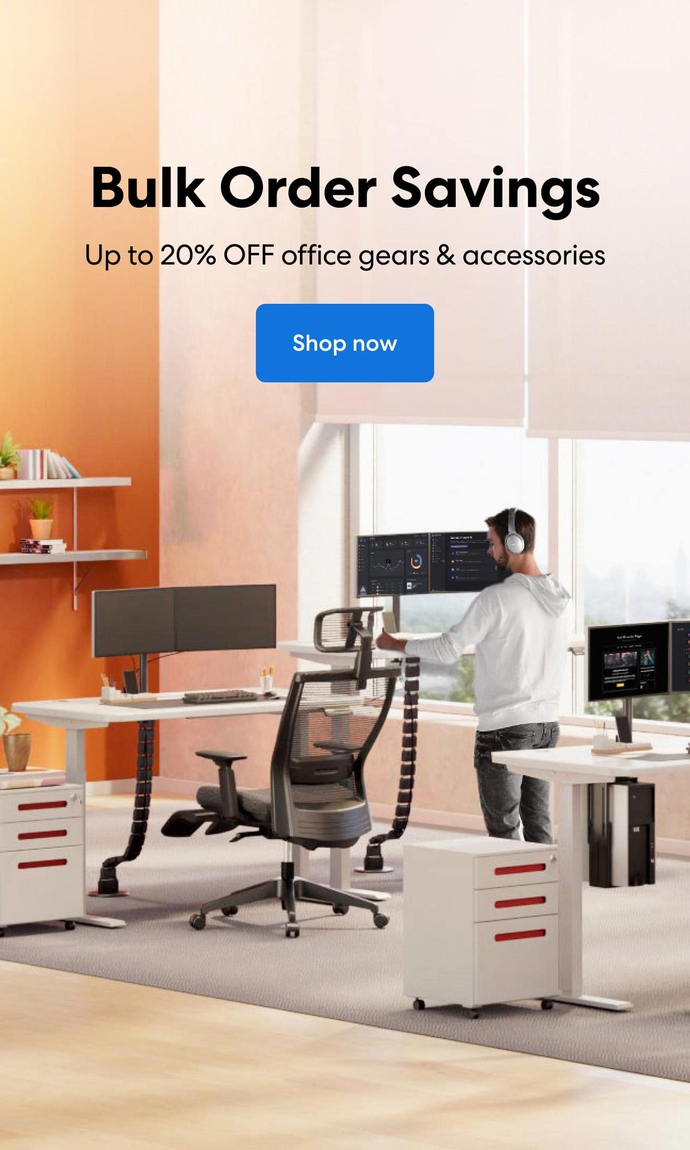 Subcribe newsletter and get $100 OFF.
Receive product updates, special offers, ergo tips, and inspiration form our team.