Now stay at the top of your mood and increase your productivity when at work or otherwise. Your desktop says a lot about your personality to yourself first before others! Set up yourself for success as you prepare your desk with accessories that benefit you when at work! Aesthetically set up your desk for form and functionality.
Here are our top recommendations for essential white office desk accessories.
7 Essential White Desk Accessories
As you explore some of the best and most essential whites desk accessories, here are our recommendations.
1. Oblio Charger by Lexon
Now break free from all cords and wires restricting your mobility as your phone gets charged. With the Oblio Charger by Lexon, you get a UV sanitizer and wireless charger for your white desk set. Keep yourself free of all viruses and bacteria with the UV light as your phone gets charged in this beautiful-looking vase. 
It offers you a 10 watts mega charge for all Qi-compatible smartphones. This vase-shaped object d'art has to be on your desk soon! Get the Obliio Charger made from ABS and finished in rubber. You have a choice of two different colors for your likings!
Definitely a conversation starter; these white desk accessories are worth adorning your collection!
2. Topographic Desk Pad by Deskr
Now protect your white desktop with a desk pad and prolong the desktop life. This easy-to-install and elegant look, Topographic Deskpad by Deskr, is yours for the keeping. 
It is made from the best combination of polyester and eco-friendly rubber. Designers have provided this design after inspiration from the Grand Canyon. Now make your work area comfortable and add an aesthetic designer touch! Whether gaming or working, the smooth surface makes working easy.
This white topographic desk mat protects your white desktop as you spread this polyester topped desk pad that is thick enough (0.15") as needed. Moving your external mouse on it doesn't feel difficult. Don't miss the anti-slip rubber base that holds the desk pad in place and prevents any slipping.
Get, set, go as you stake a crack at your workday!
3. Stella Go Wireless LED Task Lamp by Stella Lighting
This is one of the interesting white desk accessories for you. Now lighten up your working area and take care of those strained eyes looking at all the blue screens of the computer system or your cell phone. Get ample lighting with the best lamp from Stella lighting; the Stella Go portable LED lamp.
Take it with you if you are traveling as a battery charges it.   This battery-powered LED lamp can go on endlessly to last you an extended workday up to eleven hours with a single charge. You get to choose from various lights like warm, natural, or cool light. Thanks to the tri-spectrum technology that allows you a choice. Increase or decrease up to ten brightness levels to adjust to the needs of your eyes.
Reduce your power bills as this LED lamp consumes low wattage. There is minimal heat transmission and absolutely no UV lights that are transmitted so that you stay safe.
It also includes a beautifully crafted pocket as a Qi-certified charging pad for Qi adaptable phones. Don't miss the 2-year warranty that you possibly won't even need!
4. Ergonomic White Office Chairs
Explore a range of ergonomically designed chairs as you get ready to use a white work desk.   While you may have already explored various chairs, don't miss our recommendations of the top 20 ergonomic white office chairs.
Ergonomically designed office chairs support your back by maintaining the S-shaped spine. As the S-Shaped spine stays in place, it becomes easier to hold the upper torso in place. As a result, you feel comfortable sitting even for long hours. Always look out for a chair with one of the finest adjustable lumbar systems. Say goodbye to all aches, pains and a stiff back with ergonomically designed office chairs. Get hold of your white desk supplies at Autonomous.ai.
5. Filing Cabinets
Feeling short of storage space on your work desk? That's okay, as most ergonomic white desks are designed to go along with white office accessories. They offer you convenience and comfort by cutting out the drawers that go with them. Why is that? Well, your legs need to feel free and relaxed. Additionally, once your desktop is raised for you to stand and work, the space underneath would look odd with storage racks. 
The best solution is to get yourself a filing cabinet made from the best steel. These filing cabinets come with an anti-rust finish and last you longer. Store them under your work desk or away from it. It evenly makes an independent table to place objects d'art or memoirs on top of it.
6. Carpio Ergonomic Wrist Rest by Deltahub
Are those wrists hurting? Do you wish you could have placed them on a soft pad as you clock away on your desktop? Well, don't be sad any longer. No more crying in pain with tired wrists. Solution?
Get yourself a Carpio Ergonomic Wrist Rest by Deltahub. Really? Yes, of course! These specially contoured silicone-based wrist pads come in a pair as a single item. Now improve your play at your games or just continue to draw or draft out typed letters. Take major decisions or minor ones, all within the comfort of your home as you rest your wrists.
The best part is that there are specially designed ones for left-handed folks. Finally, someone understands them too! You can easily carry them with you to any place you are going.
7. Blue Monaco's White Wood Desk Organizer
This item should be included in your white desk accessories list. Now stay organized at your workplace with a chic and fashion-savvy organizer made from white wood. Adorn your white desk decor with this mail basket organizer so that you can be productive as you locate much often used stationery items. This antique-looking white desk organizer is the best for storing most of your durables in one place.
It has multiple shelves and drawers to be the powerhouse of your white work desk!
Wrap-up
As you explore various white desk accessories to uplift the aesthetics of your work desk, remember to keep them functional too. After all, you don't want much clutter on your table. Do you? Keeping things simple yet functional is the best and a minimalist design. Happy working!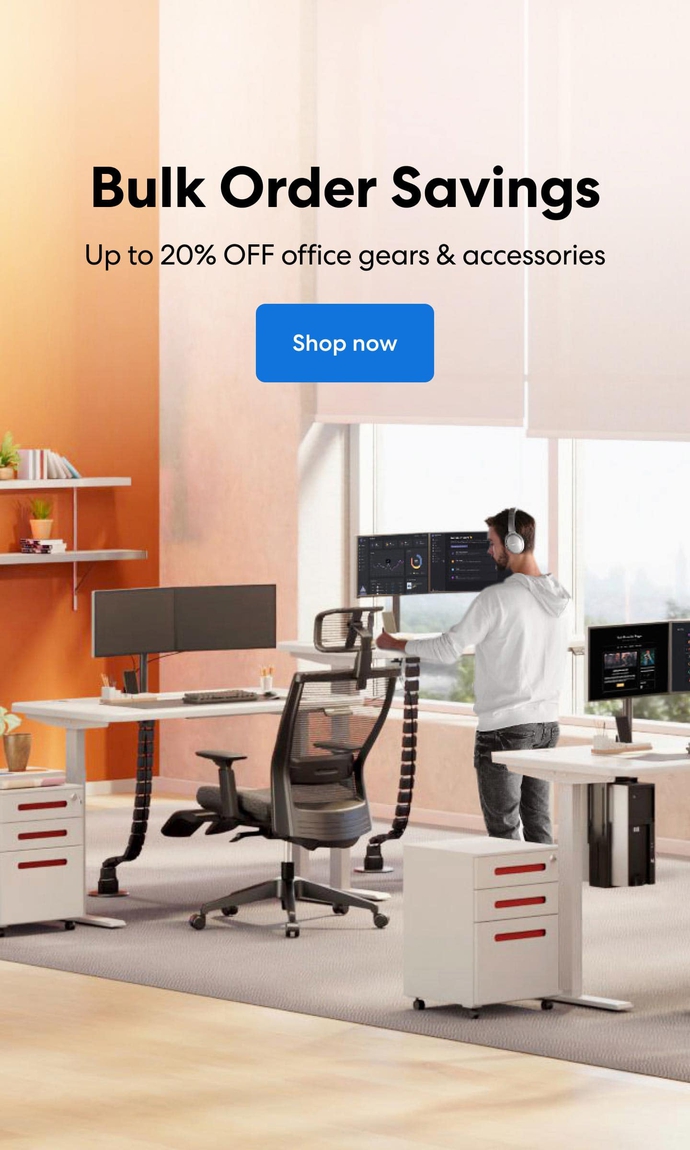 Subcribe newsletter and get $100 OFF.
Receive product updates, special offers, ergo tips, and inspiration form our team.