Workplace Inspiration
7 Ideas to Create a Multipurpose Office Space for Work

Autonomous
|
Sep 15, 2022
667 Views
The concept of a hybrid work model and the remote office is increasingly gaining traction with the passing of time. What do you wish to have while working remotely? You demand multifunctional spaces so that you can work on multiple ends at a time. Nevertheless, it is quite challenging for remote workers to make their workstations more functional.
A multipurpose office space helps you save time and improves your productivity in situations where you find it compatible to run certain functions collectively. Nevertheless, many office workers mention that they easily get distracted if they try multitasking. The reason for this is that they are unaware of the right ways to utilize an outdoor home office.
You might have started working from an outdoor workspace, thinking it will help you focus on your tasks. However, only knowing the right tips can help you use this space for multiple purposes without affecting your productivity.
Today, we have come up with an insightful blog on multifunctional room ideas that will help you use your workspace to the fullest. You will learn how you can create a multipurpose home office in a limited space as you go through the tips that we have shared here. So, let's have a look at the tips we have for you! 
1. Use the Autonomous StudioPod
The Autonomous StudioPod is the one-stop solution for people who are looking for a multipurpose office space. If you have been struggling with a workspace inside your home, it is the right time to plan your office in your garden by investing in a pod.
A pod like the Autonomous StudioPod makes it easier for you to accommodate your living space, outdoor home office, playing area, TV stand, cupboard, and bookshelf under one roof. So, multitasking is not a problem anymore. There is even a sofa bed that can be extended for additional comfort whenever you need to take a power nap between work.
It's easy assembling procedures make this pod one of the most flexible workspaces for remote work. All-in-all, the makers have used durable materials for building the exterior and the interior so that you can use this shed for multiple purposes throughout the year. That's why getting the StudioPod which is one of the Autonomous Pod ADU, will be a great choice for your work. 
2. Make Use of Your Wall Space for Storing Things
Even though your room might have shelves and cupboards for storing office stuff and other important accessories, having floating shelves is always a great idea. Multipurpose office space is the one which has some room for everything. The floating shelves help you add that flexibility to your home office.
Nevertheless, there are other ways to increase your room space too. A thoughtful way of doing that is to use murphy beds. Murphy beds can be folded up against the wall when you are not using them. In this way, you can use that floor space for your office work too. The sole purpose of using walls is to have greater floor space for multiple purposes. 
3. Increase Your Furniture's Mobility
It is better to have office furniture that is mobile when you are trying to have a multipurpose office space. A good way to do that is to invest in office accessories and furniture like filing cabinets, chairs, and desks with casters. If these furniture pieces and accessories have casters, you will be able to move them around without any hassle and change your location conveniently. 
4. Combine Functions that You Find Compatible
Remote workers often have a habit of combining their office work with house chores that they think will go together without distracting them much. These people don't need a quiet and calm place to work and can easily work in the middle of the house too.
If you are one such worker, chances are you are doing this to keep an eye on your kids as well. So, you will need multifunctional spaces for office work. Dedicating a corner of your mudroom to your office desk and chair can be a great way of keeping an eye on your kids and multitasking at home. 
5. Avoid Clutter
No matter which corner of your house you select for your multipurpose home office, you must ensure that it is tidy and avoids clutter. Clutter is very bad for a multipurpose office space.
So, you must be selective in putting up things in your office space. You should only have those desk accessories around that are vital for your office work. Otherwise, this space may look messy. In short, staying minimalistic is the key to better productivity at work. 
6. Place Your Office Shed In the Garden
If you are a fan of quiet places and enjoy working somewhere where no one can distract you, you should think of placing your office shed in your garden area. Your garden is a place that is close to nature; that's why it provides you with a nature immersive work experience.
Such a work environment will be great for focusing on your task. You may even use this space for relaxing or working out if you have enough room. The best way to do that would be to get the Autonomous StudioPod in your garden. 
7. Select Ergonomic Office Furniture
Lastly, it is important to have ergonomic office furniture in your office space to make it multifunctional. Ergonomic multipurpose office furnitures are mobile and are designed to offer you immense comfort. That's why you will always find such furniture in multifunctional spaces. In order to make your office space multifunctional, you will have to get some for your workspace too.
The Autonomous store also has a vast collection of office furniture, so you may consider buying the most durable ones at the most reasonable rates here.
Video ads for product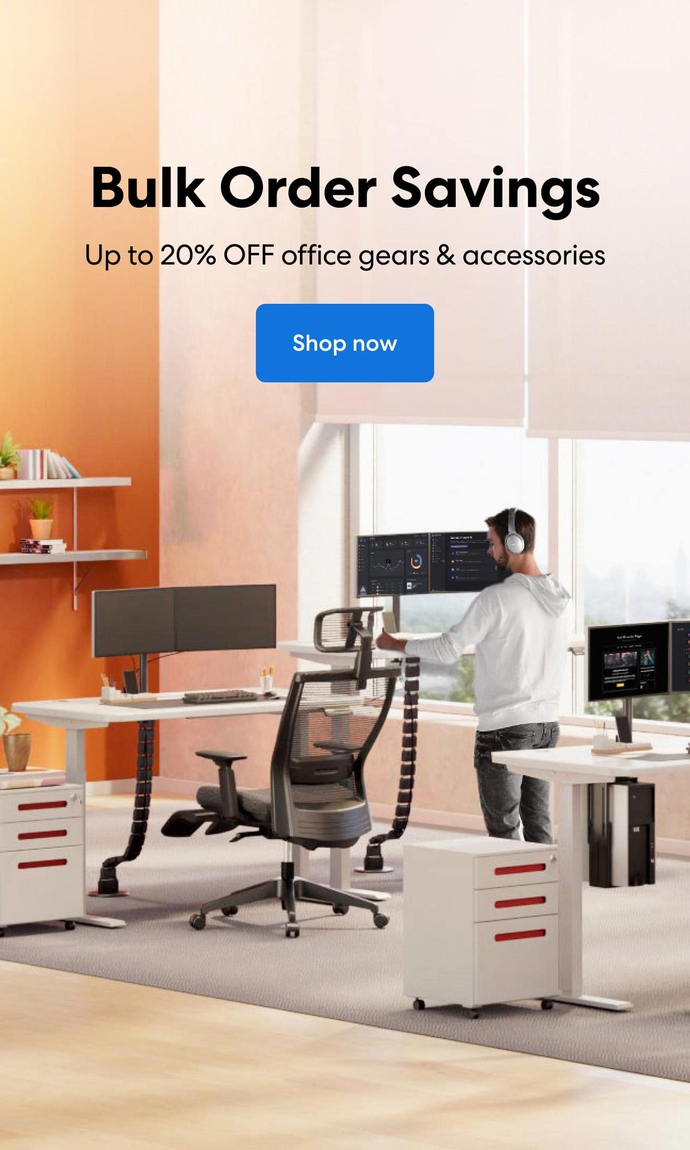 Subcribe newsletter and get $100 OFF.
Receive product updates, special offers, ergo tips, and inspiration form our team.