A top-quality standing desk can reduce the adverse outcomes of the sedentary work lifestyle. If you need to spend a lot of your time at work or the home office, consider getting a large standing desk. The suitable desk could make all the difference to the way you work. You can take breaks, move your legs and keep your body more active. We thought about rounding up some of the best productivity stations available online today. Whether it's elegant, premium, affordable, or for gaming – choose the large standing desk that's good for you from this list.
1. Autonomous SmartDesk Core
Our SmartDesk Core lets you stay active as you work. The standing desk has a motorized frame so you can sit or stand as you like. You can choose from a range of desktop finishes made of MDF wood or natural bamboo in walnut black, white oak, and plain white. The frame comes in white, grey, and black with rounded edges.
The dimensions for the classic top are 53 inches x by 29 inches, while the extra-large tops are about 70.5 inches x 30 inches. All tops are scratch-resistant with a matte finish, but colors vary according to the type of top you choose. The extra-large top comes in black and white, while the classic-sized top comes in white, dark bamboo, black and green.          
2. Autonomous SmartDesk Pro
The SmartDesk Pro measures 53 inches x 29 inches and is super stable. It may not look like a fancy premium option, but you have loads of space and stability. The top has a matte finish that is scratch-resistant and is fitted on a steel frame. The white standing desk is the most popular option, but you can get the desk in other colors as well.
As for that frame, it comprises two leg segments with a cross beam for support. The lifting system does make a soft humming sound but is very smooth. This wide standing desk may be too large for a smaller home office, which is why we recommend measuring your office space first.   
3. Uplift's V2 Standing desk
Uplift is known for its premium collection of desks, but the V2 is the large sit stand desk that stands out. This office standing desk has got the performance and the features that impress. For example, it has a very responsive control pad with customizable keypad designs. Then, it produces the least wobble even when adjusted to the highest heights, making this large stand-up desk ideal for designing, typing work, etc.
More importantly, the size of the desk is big enough to accommodate the average man or woman at the sitting and standing heights. However, if you're on the shorter side, then you need a footrest. The curved bamboo laminate desktop on the V2 is attractive, smooth, and around an inch thick. You can change the wide-standing desktops to any of the twenty desktop options available. The frame comes in four colors, three grommet and keypad colors, and a host of add-on accessories.    
4. Large gaming desk from Mr. Ironstone
This large adjustable height desk is big enough for triple monitors. It has a sleek design with metal legs and a curved top. The desktop also features a water-resistant microfiber cloth, a cup holder, three cable holders, and a headphone stand. On the top, you have a 63 inch W x 32-inch surface that is made of laminated MDF PVC that can be divided into three sections for easier transport. The metal legs have an R-shape that gives you lots of support, stability and prevents wobbling. 
5. Fezibo adjustable standing electric desk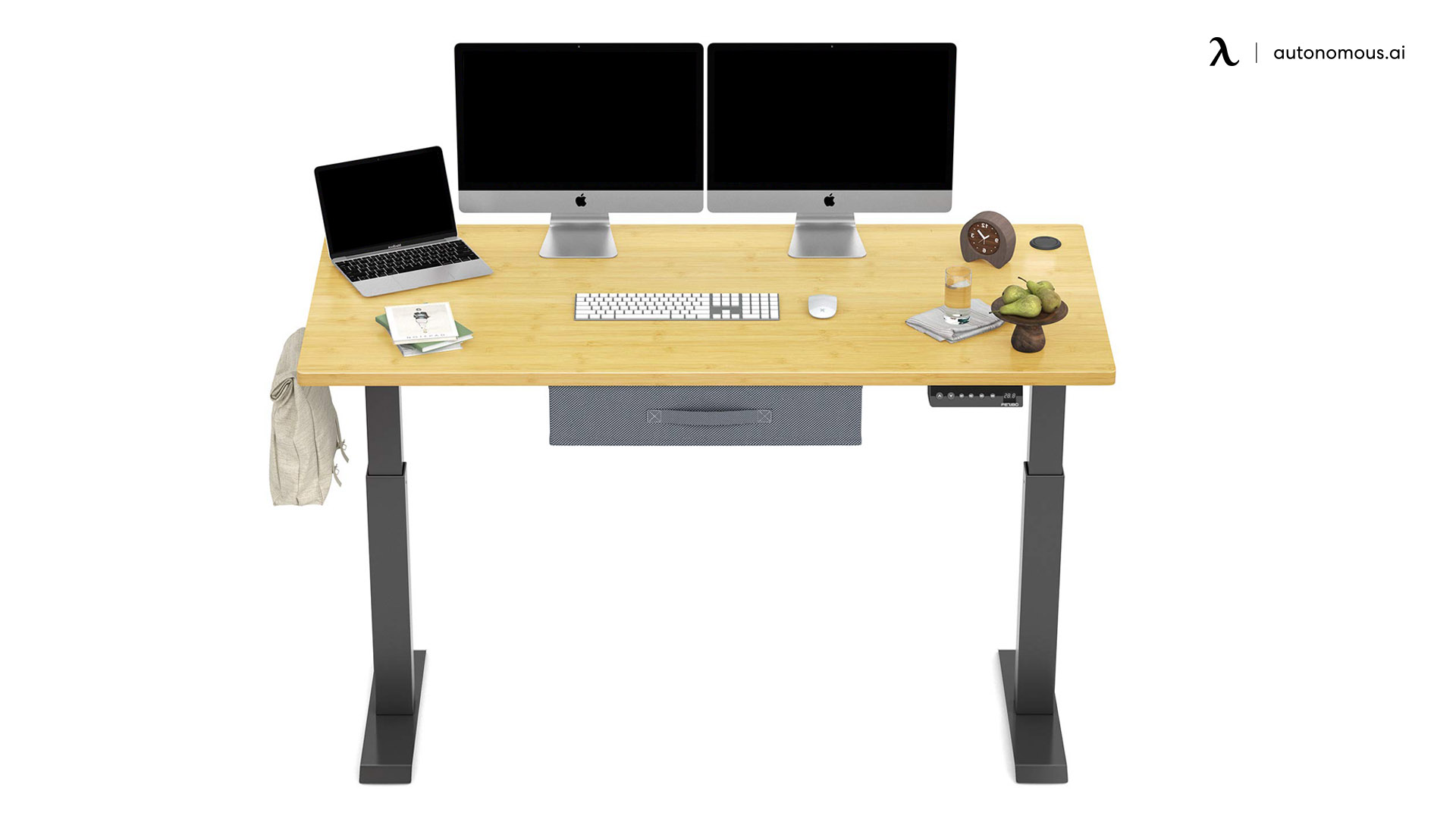 You can fit a lot of things on this 63 x 24 inches surface. Some users have claimed that they've easily added a laptop, tablet, three 24-inch PC screens, desk lamp, and a phone. They've also claimed that adjusting the ergonomic standing desk is an easy and quiet task. It is an affordable large standing desk made up of top-quality components.
You can choose from any of the four preset modes that range from 28.36 inches to 46.06 inches for height adjustability. The desk features a pull-out under-desk fabric drawer and an electric lift system made out of steel.   
6. Branch standing desk
This home office standing desk goes up to very high levels and is perfect for taller people. It has a melamine surface that can withstand impacts and stains. The lifting system is smooth as it is powered by dual motors and a 3-stage column system.
For adjusting the large standing desk quickly, you can program the four memory presets and settle excess wires using the cable management sections. You can get some valuable extras attached to the desk: power outlets, USB ports etc. There is the Executive desk and the Team Plus model; both have the same depth, but the Executive desk is wider at 60-inches.    
7. Steelcase Ology
Steelcase's Ology connects up to your phone and features the Active Touch system from Steelcase. This system has an OLED screen used for controlling height and can even be programmed to remind you to change your posture. Active Touch can be managed using an app and Bluetooth to give you your desktop analytics: time spent at the large standing desk, how much of sitting or standing accomplished, height presets, and activity goals.  
The Ology stops height motion when it detects obstacles. The desktop can be fitted with customizable extras like cable management, storage options, modesty panels, etc. The desk comes with a very steep price that gives you more value and has a 12-year warranty.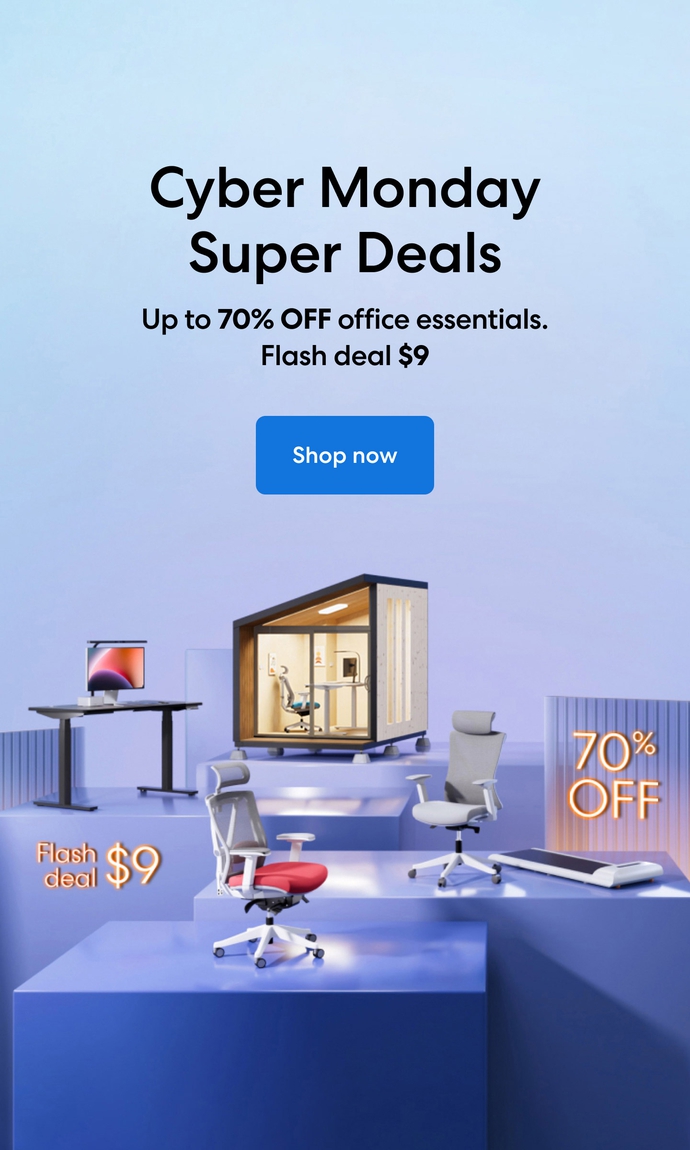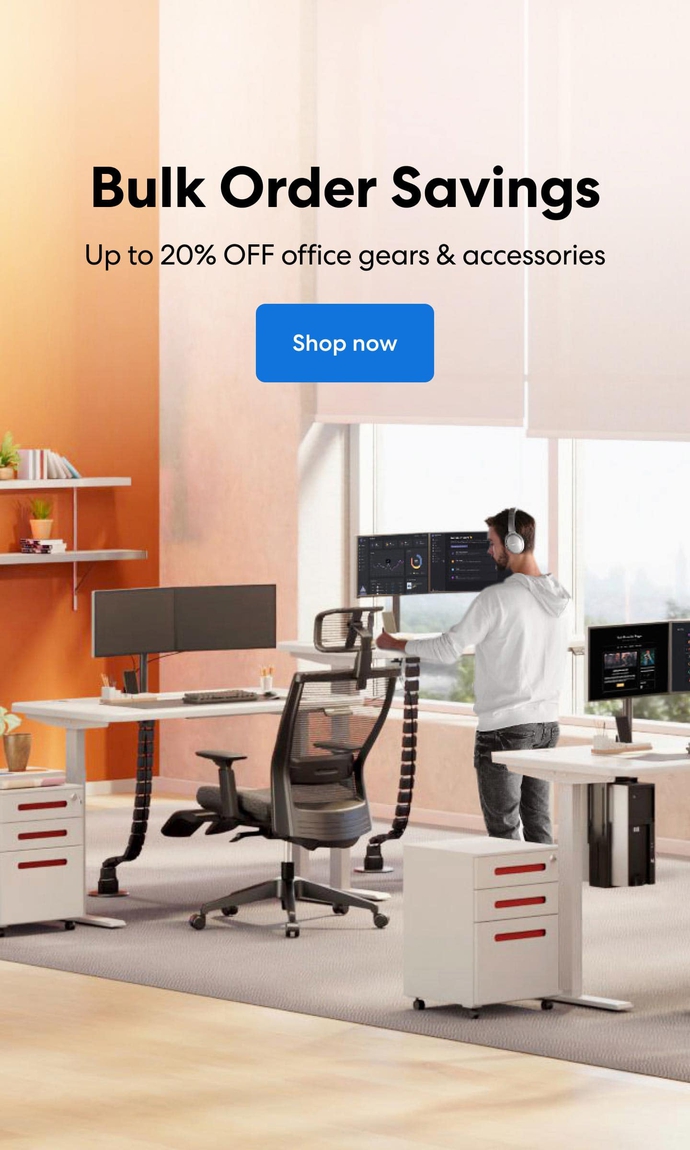 Subcribe newsletter and get $100 OFF.
Receive product updates, special offers, ergo tips, and inspiration form our team.