Workplace Inspiration
7 Most Important Features for Your Smart Office

Mala Srivastava
|
Jun 15, 2020
5,189 Views
A smart office uses technology to connect your employees, no matter where they are. It allows them to work smarter, better, and faster.
Nowadays, organizations and businesses are integrating automated systems to make their offices highly efficient, reduce operating costs, and build a connected and comfortable working environment for their workforce.
In fact, research has found that the total market size of smart offices will reach $46.11 billion by the year 2023.
So, what are the features and benefits of a smart office? Let's find out here.
7 essential features of a smart office
1. Video monitoring
Video monitoring helps you gather data to evaluate how the workspace is being used.
Video monitors come with low-light capabilities, zoom features, and wide-angle views. They allow you to keep an eye on several locations simultaneously with split-screen viewing and access from your computer or mobile device. You can download the pictures that are stored in the cloud to your desktop whenever required. And you can search these images by time and date.
2. Internet of Things (IoT) sensors
Internet of Things (IoT) sensors are devices that detect motion using microwave, ultrasonic, or infrared technology. They gather data and interact with other platforms to provide valuable insight into office usage.
By using IoT in your office, you can make your working environment more comfortable and safer for your workforce, streamline daily tasks, and boost workplace productivity.
3. Indoor wayfinding platforms
Indoor wayfinding platforms allow visitors and employees to navigate floor plans and quickly find their way to their destination within the company with their mobile devices.
Users of indoor wayfinding platforms can search by amenities, workstations, or meeting rooms with a few taps on their phone screen and get directions to their point of interest.
All in all, indoor wayfinding platforms eliminate time waste and make your employees happy.
4. Intelligent climate control 
Smart climate control systems and technology enhance the comfort, wellness, and health of your workers by improving indoor air quality in your workplace.
Smart heating, ventilation, and air conditioning systems (HVAC) detect usage patterns within an office building and control temperature automatically. This decreases the carbon footprint and enhances the efficiency of the system while improving employee comfort.
5. Smart desks
Over the last few years, smart desks have become popular because they can increase productivity and decrease sedentary behavior as well.
Most smart desks come with an adjustable height that allows you to either stand or sit. Switching between standing and sitting positions during your active working hours is crucial in preventing back pain and injuries at work.
Sitting all day can take a tremendous toll on you both physically and mentally. According to a study reported in the British Medical Journal, sitting for a long period of time can increase your risk of chronic diseases. On the other hand, using a smart desk can have a positive impact on your psychological health and job performance. A study found that participants who used sit-stand workstations for about a year reduced their sitting time by over an hour per day, with potential health benefits.
6. Intelligent meeting rooms
Smart conference rooms use smart whiteboards and integrated technology to make your staff meeting as efficient as possible.
They promote active collaboration through multimedia capabilities and interactive whiteboards. You can quickly share your thoughts and ideas with other meeting attendees, brainstorm creative and novel solutions, and convey information clearly and simply in this environment.
What's more, smart meeting rooms make it easy to connect busy executives and remote workers for a meeting without burning through the corporate travel budget. They allow employees to get together, work together, and collaborate synchronously irrespective of their location.
These intelligent meeting rooms offer a scheduling system that shows the future availability of the room and whether it is booked, and creates directions to the room.
7. Smart LED lighting
Light-emitting diode (LED) lighting products are known for their durability, energy efficiency, and performance. In fact, installing good quality LED lights boosts employee productivity and creates a healthy work environment.
Proper lighting is essential for your workplace productivity and often influences the performance, mood, and perception of your employees. According to many studies, insufficient and harsh lighting reduces daily productivity. You can create a healthy work environment and enhance your employees' productivity by opting for LED lights that imitate natural light.
Also, according to a NASA study, LED lighting suppresses the sleep hormone melatonin, which results in better management of the circadian rhythm (a sleep-wake cycle) in your body. This directly reduces the risk of sleep deprivation, insomnia, and other sleep disorders.
Benefits of a smart office
Here are some of the benefits of a smart office. 
Retention of employees
Smart office solutions allow you to establish a healthy work culture that promotes harmony amongst your employees and helps in retaining top talent. A positive workplace culture fosters a sense of loyalty in the workforce. Your employees are much more likely to stay with you when they like going to work daily and feel they are treated fairly.
Time-saving
Time management is an important element that determines a firm's failure or success. With the incorporation of state-of-the-art devices, you can devise efficient schedules and plans and accomplish your business targets on time.
Improved work environment 
The wellbeing of your employees is essential to your organization's performance. A good working environment motivates employees to deliver their best performance.
Leveraging IoT and smart technologies can help to create an improved work environment. It can help to create a robust office culture by bringing more workers together. The work-life balance can be achieved easily, and it can help to encourage creativity. And a good balance between life and work can improve your employees' mental health and increase productivity in the workplace.
In a nutshell, smart office technology will make your employees' work-life easier and better.
Improved communication
Poor information flow and a lack of proper interaction are the reasons for poor performing companies. As a matter of fact, poor communication can lead to low morale, lack of teamwork, poor performance, and reduced profits. Using smart offices and modern equipment allows streamlined communication and stability within your company.
Smart offices integrate many different platforms that offer smooth communication across all functions in a company. In fact, within a business, streamlined and concise communication is crucial for employees' output and productivity.
A study has found that organizations with effective communicators are 3.5 times more likely to perform better than their rivals.
Conclusion
Smart offices make employees work faster, smarter, and better. They are also equipped with technology-enabled features that help your workforce make the best use of their time in the workplace. The smart office brings with it an array of tangible benefits for you and your employees alike. All in all, smart office technology makes your office more enjoyable, modern, safer, and energy-efficient.
So, what are you waiting for? Transform your office into a smart office now.
---
Read more...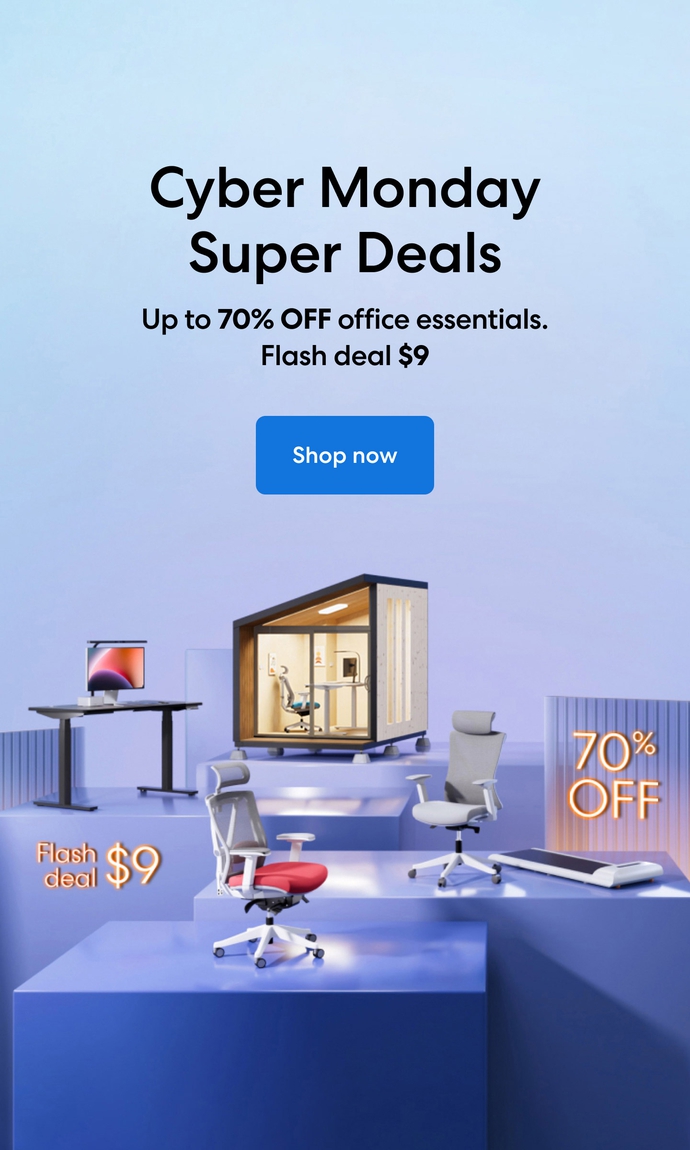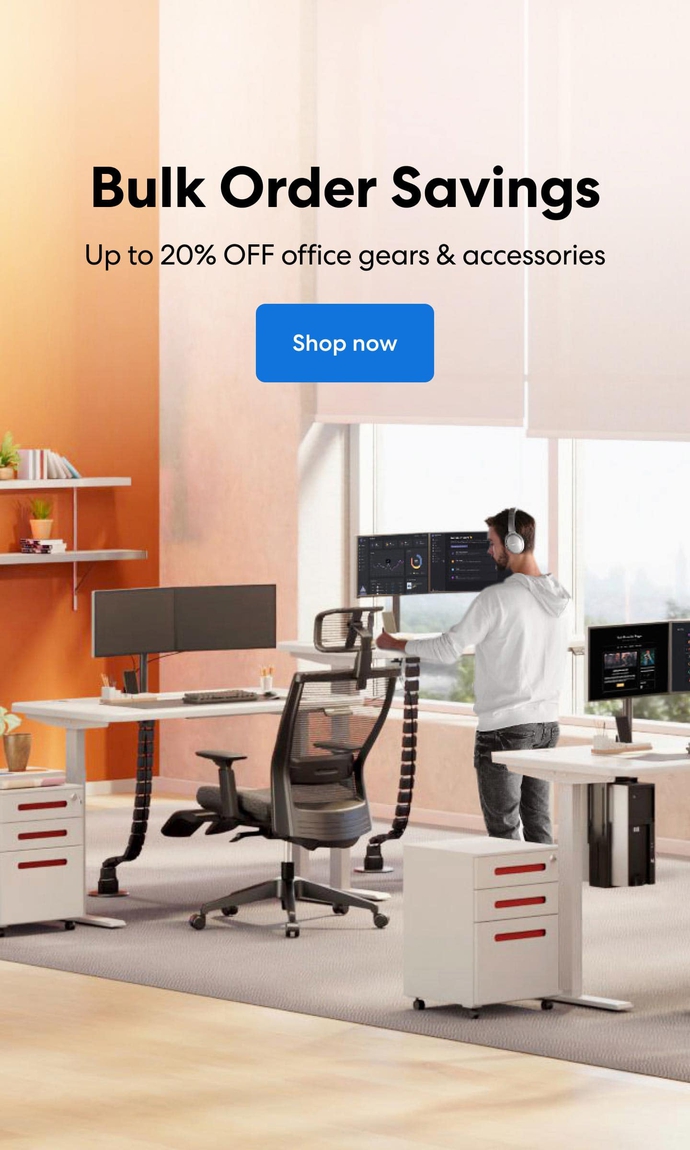 Subcribe newsletter and get $100 OFF.
Receive product updates, special offers, ergo tips, and inspiration form our team.