Living in enclosed spaces doesn't have to be a disadvantage. You can use a black compact desk to build a comfortable ergonomic gaming setup or perhaps a workstation.
A considerable number of workers are now working from home, and not all of them have enough space to fit large desks. If that's your case, a black compact desk can help you build a comfortable and productive workstation with everything you need to complete your daily responsibilities.
Black Compact Desks – Top 8 Choices in 2022
Here we describe some of the best options you can choose for a small black desk. There are desks for all users, so you can be sure that you can find a desk that matches you perfectly.
1.  Autonomous x Timotion Small Standing Desk
The Autonomous x Timotion collaboration has brought us one of the best black desks for small spaces you can choose. Besides allowing you to build a comfortable workstation, it also allows you to alternate between switching and standing whenever you find it most convenient.
Regular desks are typically between 29 and 31 inches, which is not suitable for most users. However, the Autonomous x Timotion small standing desk allows you to modify the height from 25 to 45 inches, covering the needs of people with heights above or outside the norm.
2.  Compact Gaming Desk by Benzara
This desk is the perfect option for gamers. This is a gaming desk with shelves and multiple storage options, helping you keep your battlestation organized and clean at all times. It includes a cup holder for secure placing, and a headphone holder for more organization. Also, it already has an elevated monitor shelf so your display can be at the optimal eye level. It also includes one tablet holder so you can have all your devices in the same place.
Furthermore, the carbon fiber 3D texture PVC-coated shelves will ensure its durability throughout the time. Also, its metallic red legs have a nice finish and are quite sturdy.
3.  Black SmartDesk Core – 53"x29"
The Black Standing Desk by Autonomous is a good option for remote workers. This black computer desk has enough space for you to fit all your peripherals but is small enough for it to fit in enclosed spaces. Thus, you will be able to create a comfortable workstation with it.
As a height-adjustable desk, the Black Standing Desk by Autonomous allows you to modify its height between 29.4" and 48". It comes with four programmable settings and is capable of lifting up to 265lbs easily. The solid steel frame will ensure its preservation throughout time.
4.  Autonomous x Wistopht Small Office Standing Desk
The Autonomous x Wistopht Small Office Standing Desk is another good option you can choose, regardless of whether you're a gamer or an office worker. Its weight capacity of 265lbs allows you to work comfortably, regardless of whether you prefer a fully-loaded setup or a minimalistic workstation.
Furthermore, this black desk for small space has an even wider range of height adjustability, so it is possible for you to configure it from 25" up to 51". You will be able to switch between different settings easily and quickly, as it has a speed of 1.6" per second. This is one of the best black compact desks you can choose from in 2022.
5.  Simple Living – Como Modern Writing Desk
This black small desk has a modern look and is available at affordable prices. It is made of MDF and contains several storage options, including one file drawer, two accessory drawers and one desk. It will fit nicely in your home office workstation setup.
Its asymmetrical structure gives it a unique contemporary aesthetic. It is a good option for both gamers and office workers.
6.  Ameriwood Home – Parsons Desk with Drawer (Black)
This black desk for small spaces is quite simple. It works in pretty much any angle and space you decide to place it, helping you work comfortably throughout the day. It has a height of 30 inches, while its width is 39 inches and the depth is 19.7 inches.
It has a beautiful black finish, almost as if it was made of plastic. Don't let this fool you – this desk is actually made of engineered wood, ensuring its durability throughout the time. It works better if all the peripherals you need in your workstation are your laptop and a mouse, possibly a notebook and a pencil too.
7.  Furinno Econ Multipurpose Home Office Computer Writing Desk
This small home office desk takes space maximization to another level. Despite its small size, it has a keyboard tray and one cabinet and, if you're a CPU user, you'll be glad to know that it has storage space that fits most CPU brands. It is quite functional and grants you the surface space you need to be comfortable.
This desk is made of engineered wood, ensuring its preservation over time. It can work perfectly for gamers and remote workers. It also has some areas for decorative items. You can get creative and build good-looking workstations even if you have limited space.
8.  Cubiker Computer Desk 47"
The Cubiker Computer Desk 47" has a modern design that is spacious enough to place all your items and contains one storage drawer to organize your workstation better. Thanks to the iron bars that compose its legs, it is stable and quite sturdy. Thus, it is suitable for gaming, working and studying.
Like many of the options mentioned here, it is made of engineered wood, which means it is quite durable. This factor, plus the integration of iron bars as legs, makes the Cubiker Computer Desk one of the best options you can choose for a small black desk.
Conclusion
There are tons of black compact desks available in the market. These desks are excellent for people with enclosed spaces or those who want to maximize their homes' space usage. It's easy to find a good piece of furniture if you know where to look.
The options provided on this list are based on what users prefer. Hence, you can be sure that you'll be satisfied with your new workstation once you get your black compact table.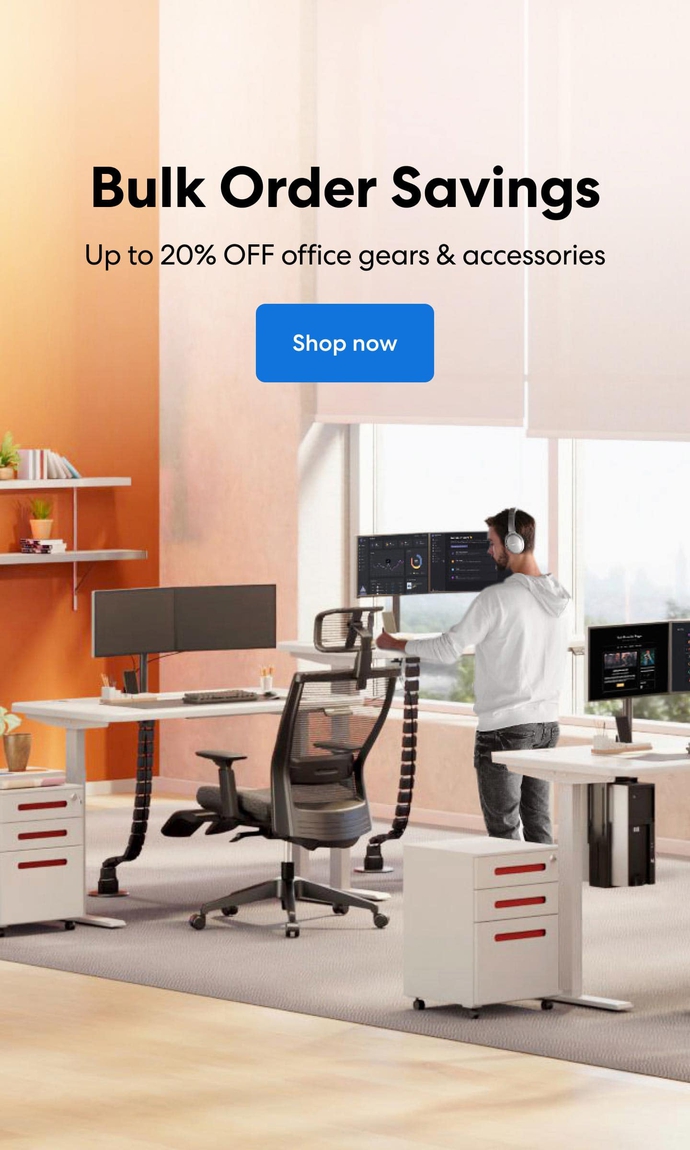 Subcribe newsletter and get $100 OFF.
Receive product updates, special offers, ergo tips, and inspiration form our team.