People with left-handed desks prefer to have the file cabinet on the left of their desk since it is the dominant hand in their body. Placing computers and other office essentials on a left return desk might prove to be more convenient and efficient to grab files and folders.
What is Desk Return & Left-Handed Return?
Among desks, the "return" refers to a wing portion that, due to its connection with typewriters (carriage return), is called the "return." Desk returns typically come in three varieties- a left return desk, right, and reversible. Left and right are determined depending on how one sits at an office desk.
Depending on how you configure your office, you can change the return to the left or right depending on the reversible desk. It's important to ensure that a fixed-configuration executive desk with return that will fit in your space before ordering it since you can't change it once it's been delivered.
When purchasing office furniture, it is sometimes hard to determine whether a certain L-shaped left-hand return desk has a right-handed return or a left-handed one. Having left-handed access to an L-shaped desk will have the main office desk with a left return portion in front of you, as well as the return on your left. Returns are usually equipped with drawers large enough to hold hanging files (file pedestals). An L-shaped desk with a left return or "right-handed returns" is the opposite - the returns will be on the right-hand side.
How Do You Choose the Right Desk Return?
Your office layout will also play a part in determining whether you choose a right or left corner office desk. People often prefer to return on the same side as their dominant hand, but space constraints make this impractical. Before purchasing a large L-shaped desk or U-shaped desk, carefully measure your space and consider your office layout.
Choosing the right white L-shaped desk for your space will be easy when working with Modern Office. Whether you prefer a U-shaped or L-shaped standing desk is an important consideration. In some cases, U-shaped tables have more depth than rectangle tables, but they may take up more space.
You may want your return to have space for chairs across from it if you and your colleagues want to hold small meetings there. You may require a corner or a wall for your return. To make the most of your office space, you'll need to plan it out and discuss your options.
List of 8 Popular Left-Handed Desks
1. Autonomous SmartDesk Corner
Although the SmartDesk Corner might be a large, heavy desk, it offers the best value for the price. To begin with, you get plenty of space for your devices to be placed and find a place to work. The corner desk's length and depth are two other areas that don't disappoint. If you prefer to have plenty of space between you and your computer screen, then this desk would be ideal for you. Left-handed users will benefit from the other side of the desk. You can place it in the right orientation to facilitate comfortable working or gaming.
2. Ikea Bekant
It is adjustable between 65 and 85 centimeters with the non-motorized version. The rectangular top and bigger dimensions make for sitting; however, it is easily modified with different tabletops for your comfort. The Ikea Bekant's legs take some time to adjust correctly. The legs of this left hand return desk need to be adjusted manually using a lever. It would help if you made adjustments the first time correctly, so you won't have to keep changing them, and having a desktop and leg that can be customized means that it fits left-handed setups easily.  
3. Slim L-shaped Model #C-1034 desk from Ashton
The desk's dimensions are 61 1 2 inches wide x 61 1 2 inches deep x 30 inches high. Besides the legroom, the desk also includes a keyboard tray on the left side. Everything is reversible, including the desk. It has even more space on the top to easily use all of your devices. There is only one disadvantage to the desk: it cannot be adjusted in height.
4. Uplift Gaming Desk 950
This left return desk is a very common solution for persistent lower back pain. It looks like any other height adjustable desk with linear actuators that move the desktop. You can fit the Uplift 951 three-leg frame with any top you have.
5. Custom laminate L desk from Uplift
Five sizes and six HPL colors are available on the Uplift 951 L-desk. In addition to the different colors and sizes, there is a radiused inside corner where the two desktops meet instead of a classic 90-degree inside corner.
6. Mode-E Pro L Desk from MultiTable
MultiTable's Mod-E Pro Electric L-Desk is available in four sizes and five colors and is priced at USD 1,369. The HPL top is 3/4" thick. However, we know the base is manufactured in Asia, even though the L-desk tops were manufactured in America in the past. With few options and few options, the Multitable is as basic as you can get for an L-desk, and it isn't as easy to assemble as its Jiecang-based competitors.
7. Lander iDesk from iMovR
We hear that real wood and other desktop options will soon be available for the iMovR Lander L-Desk. It offers 1,920 size and color combinations in its surfx(3d) laminated tops (we hear that real wood and other desktop options are on the way) and is the newest, state-of-the-art, standing left return desk on the market. Not only are these ergonomically designed tops aesthetically superior to any other lamination technology, but they're also more durable and can even withstand harsh cleaning agents. These tops seem to have been carved from natural wood, even completely laminated the grommet holes.
8. Jarvis L-Desk from Fully
Jarvis L-Desks Fully utilizes the Jiecang base for their construction and is reinforced with low crossbars to increase stability. Three colors are available (black, walnut, or oak), and three sizes are available. Two sizes of bamboo are also available. Starting at $1,249, they are a great value. On their website, Fully also offers a similar left return desk at an even lower price with powder-coated (spray painted) tops.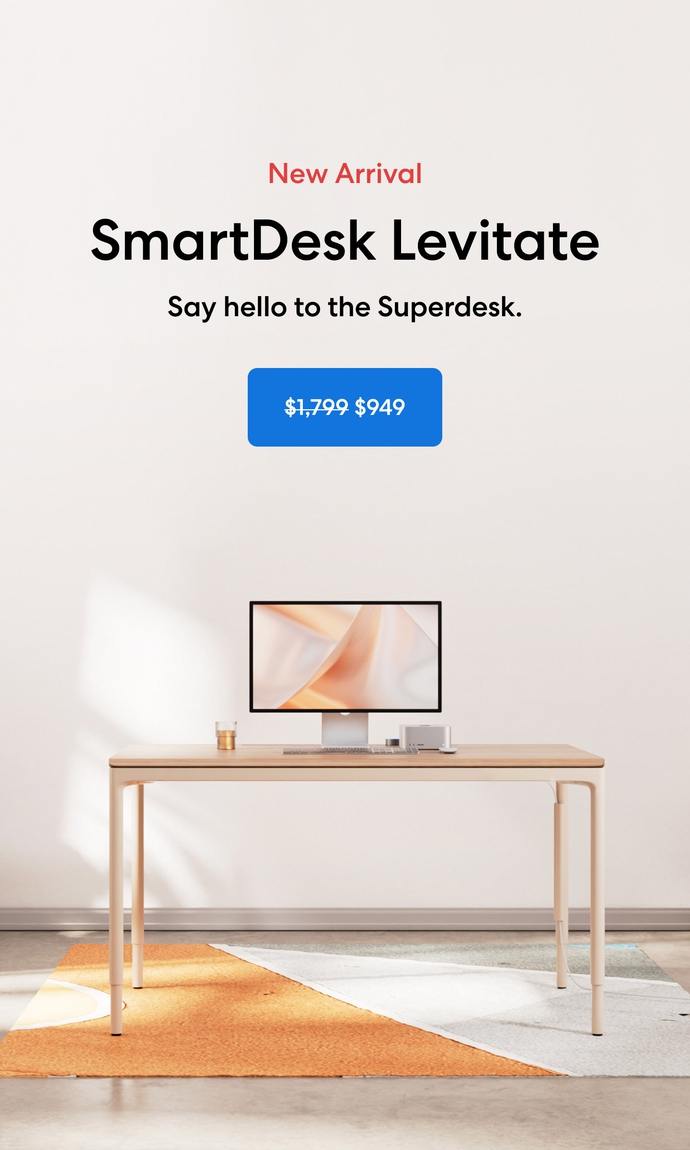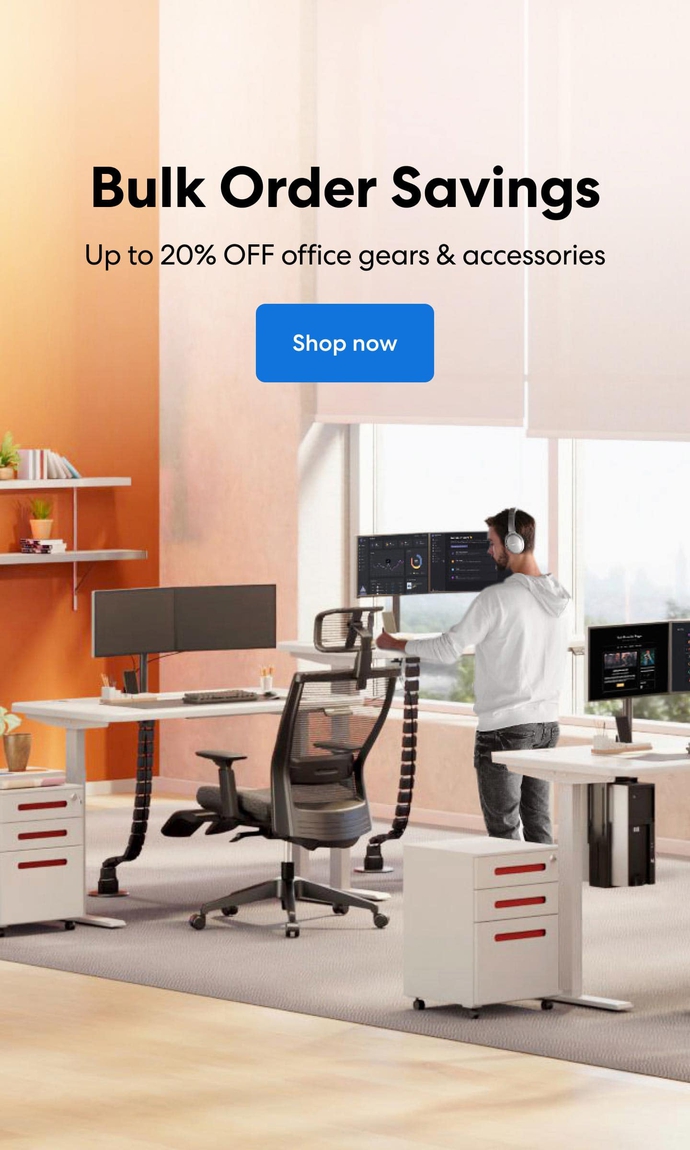 Subcribe newsletter and get $100 OFF.
Receive product updates, special offers, ergo tips, and inspiration form our team.