Smart Products
8 Best Reclining Computer Chairs with Footrest (2023 Choices)

Autonomous
|
Apr 4, 2021
3,610 Views
A reclining computer chair may not be the first thing on your agenda when shopping for modern office furniture, but having one in your office space is more beneficial than you may think. This is especially true if you can get your hands on a computer chair with a footrest. Depending on your line of work, you can't avoid sitting, even if doing so for long periods poses health risks.
Thankfully, manufacturers are improving ergonomic chair designs, which means those long work sessions no longer need to be associated with chronic strains or pains. It goes beyond the design of the chair and the lumbar support it may provide as you sit and work. Reclining is a solid feature that can go a long way in helping you from a health and functionality perspective. 
One of the problems that cause the chronic issues seated workers go through is the lack of position shifting. You may not know this, but the design of the human body is one that was made for somewhat consistent moving. That's why remaining in a seated position for so long can be a dangerous thing. When you have an ergonomic chair with a footrest or a reclining computer chair with a footrest on your side, you can switch your position to a reclining one.
That way, you don't need a waterfall edge design to prevent you from going through blood flow issues in your legs. Instead, you can extend them on demand and relax a bit before diving into your work. You may even find that sitting in such a manner is conducive to a more fruitful thought process too.
Some people have even found that sleeping in a reclining office chair feels just as good as doing so on a bed. Don't take that as permission for you to start sleeping in the middle of your workday because you have a comfortable reclining computer chair. 
So, which computer chair recliner are you expected to choose? So many options are out there, and every manufacturer wants you to believe that its designs are the best reclining office chair. Today is your lucky day, as you don't need to worry about doing all the research to find one of these chairs for your office needs. Instead, take advantage of the information compiled below and select from the best such chairs that you can get your hands on.
1. Autonomous ErgoChair Recline
Autonomous' bid to create a reclining computer chair with ergonomic features that is affordable on a budget was well thought out and designed. The result is the Autonomous ErgoChair Recline chair, which is designed to give you comfort from the Crown of your head to the sole of your feet. It's available in two neutral colors, which are black and grey. None of these are incredibly bright or likely to clash with anything, so no matter what your office design looks like, you should be able to bring a ErgoChair Recline into the mix. 
The design here includes an adjustable headrest and an extendable footrest. Both contribute tremendously to your sitting for longer periods without encountering the usual potential health complications from doing so. The tilt tension mechanism is seamlessly rolled into the design, so there's no need for you to worry about your motion becoming limited.
There is a breathable mesh design for the chair's backrest, so you get the perfect amount of support as you sit. The weight capacity is 250 pounds, so most office workers are going to be perfectly fine using the ErgoChair Recline. You are not going to believe that such an incredible option is available at such an affordable price. 
2. Autonomous ErgoChair Pro
This ergonomic chair is hands-down one of Autonomous' top offerings. Apart from the extendable footrest that complements the reclining feature well, there are layers of customization to help you sit comparatively and healthily as you work. It is one of the most comfortable office chairs for your office with many adjustable features. Adjustments include headrest height, headrest tilt, back tilt, back tilt tension, seat tilt, back tilt angle, armrest height, armrest direction, and seat height. 
In terms of color availability, the ErgoChair Pro goes beyond the neutral colors of black, white, and gray. So, while you can get the simple colors that are universal, you can also get your hands on red apple, baby blue, and evergreen, which should appeal to many people who want to bring a different kind of flair to their workspaces.
The maximum weight capacity here is 350 pounds, which means only a small subsection of office workers is not going to be able to use this seating option. This chair is one of the best heavy duty reclining ergonomic chairs. The tilt tension mechanism is Italian designed, and it's a testament to quality. Additionally, the Korean mesh backrest design is incredibly responsive while offering the usual advantage of coolness, so there is no worrying about sweating as you work. 
The material composition includes a polyester fabric, durable nylon plastic frame, foam interior, and PU armrest pads. All of this is backed by a two-year warranty for any defects that are beyond your control. It is such an indispensable reclining computer chair for your office.
3. Merax Leather Executive Office Chair
This reclining office chair looks like something directly out of an interplanetary movie set in the future. It's designed to be a full-body fitting chair, and you get that impression from looking at it. The only problem is that there is a hard limitation on who can use the chair because of its weight capacity and size. It can handle up to 242 pounds, which is sufficient for many office workers, but many are also going to be left out. Additionally, you only get about 2" of height adjustment, so taller persons may have an issue.
If you fall into the category of persons who can use the chair though, expect to have a tremendous and comfortable experience. The included cushioning feels divine and provides support to your legs, lower back, and even your head. Feel free to lift or lower the lumbar support as needed, so you can work productively and efficiently. The expectation is that you're going to be using this chair for long hours on many days, and the materials used in the design were made to stand up to heavy use.
Leather is often associated with heat, meaning you sweat and get very uncomfortable as you work. Note, however, that you are not going to be experiencing that with the smooth PU leather design. As far as the reclining feature goes, there is up to a 170-degree angle, and it's complemented by the adjustable footrest. 
4. Duramont Reclining Office Chair
Duramont was intent on building an office chair that provides adequate support and comfort, whether you're going to be working for short hours or long ones. There is a high-back composition at play, and it's well complemented by soft padding, which means you can sit in a natural position consistently. It is a reclining computer chair for you. Many of these chairs only support the lumbar area, so it's always nice to see one that ensures the entire back is taken care of. However, the manufacturer understands the importance of lower back support, so there is still a dedicated focus on it.
Thanks to the waterfall seat edge, you don't have to worry about thigh pain, nor do you have to think about impeded blood flow that could cause various health issues later. This ergonomic chair with a footrest is completely covered in PU leather, which lends itself to a smooth feel and a functional workday. The maximum weight capacity is 250 pounds. While this is not going to accommodate every office worker, it takes care of a large subsection of them.
The arms and head are supported by additional padding in the relevant areas. At any time, feel free to extend the footrest and lock in three different reclining positions along a 155-degree angle range. 
5. Ticova Executive Office Chair
You may be one of those office workers who aren't satisfied unless there's a heavy duty reclining ergonomic chair in the mix. If you do happen to have that perspective, Ticova has you covered with this reclining computer chair design. The only word that can be used to describe the extent of padding present is "heavy." The design sits on the principle that proper comfort requires thick padding.
While you may have a different opinion and see that as debatable, it's hard to not be convinced based on how well Ticova put this principle into practice. As you sit on it, you're not going to be feeling any pressure on typical problem areas, such as your back, legs, and buttocks. Why is that a good thing? Well, if you find yourself in a position where you can't help but sit for long hours, it's not going to feel like you're setting yourself up for a trip to the doctor's office.
There's a high-density foam behind the scenes, and it is incredibly resistant to deformities. Expect the chair to retain its natural shape for a very long time. If that wasn't enough, the leather that makes up the design is both fade and scratch resistant. 
Adjustability is the name of the game, and this comes out in several different areas. One of these is the reclining mechanism that allows you to adjust the chair anywhere between 90 and 155 degrees. You are also going to find that when compared to most standard reclining computer chair options, this one has them beat in height and width.
6. Hbada Reclining Ergonomic Chair
This comfortable reclining computer chair has what you can call a neutral look. In other words, you can fit it into just about any office aesthetic present without worrying about clashing or an overall unappealing look. Whether you opt for the black and white or all-black design, you're going to love the vibe that this chair brings to your office by doing nothing more than being in it. 
Neck and head support are also in the cards, thanks to the fantastic headrest, which does an excellent job of supporting both places. A breathable black mesh design is present here 2 helps you keep cool, as no one wants to be working while being all sweaty. Naturally, based on the list you're reading, reclining makes a return in this chair. You get up to a 150-degree angle, and the extendable footrest allows you to truly relax and feel the blood flow coursing through your legs. 
7. Liccx Ergonomic Chair
Upon looking at this comfortable reclining computer chair, you're not going to have a clue that it even has such a feature. It strikes you as a standard office chair that's designed to keep you in an upright position. Both the seat and backrest have a fabric design, and the lumbar support lends itself to adequate back positioning. It's not the greatest on the list in that department, but your lower back is still going to appreciate you for going with such a design.
Armrest adjustment is completely independent, and you can change your seat height as required. However, those who are above 6'4" are going to have some trouble since the maximum seat height may still not be enough for you. There is also an adjustable headrest, to keep your neck and head in the perfect position as you work. No matter where you adjust it, it can lock in place, offering you well-needed stability.
You'd make no mistake in saying that all features of this office chair are completely adjustable. The icing on the cake is a maximum weight capacity of 440 pounds. You're not going to find many office workers exceeding such a number, meaning that it can effectively support a massive cross-section of people. Why don't you buy this reclining computer chair with a footrest now?
When you're ready to recline and pull out your footrest, you can do so up to a cool 135-degree angle. 
8. Flash Furniture Multi-position Recliner
Flash furniture did an amazing job with this one. On first look, you'd think that is something right out of a massage parlor. The entire design from top to bottom is plush black leather that is going to be keeping you unbelievably comfortable. It's the only option on this list with a footrest that ships as an independent piece. Integrated headrest and armrest designs may not provide you with the adjustability, but the amount of padding presents lends itself to tremendous comfort.
A ball-bearing swivel base means minimal effort to swivel in whatever way you choose. There's also a durable design present here, so expect to have this chair for a long time to come. As a reclining computer chair, you can also get in a wonderful lean when you are ready while rolling out your Ottoman.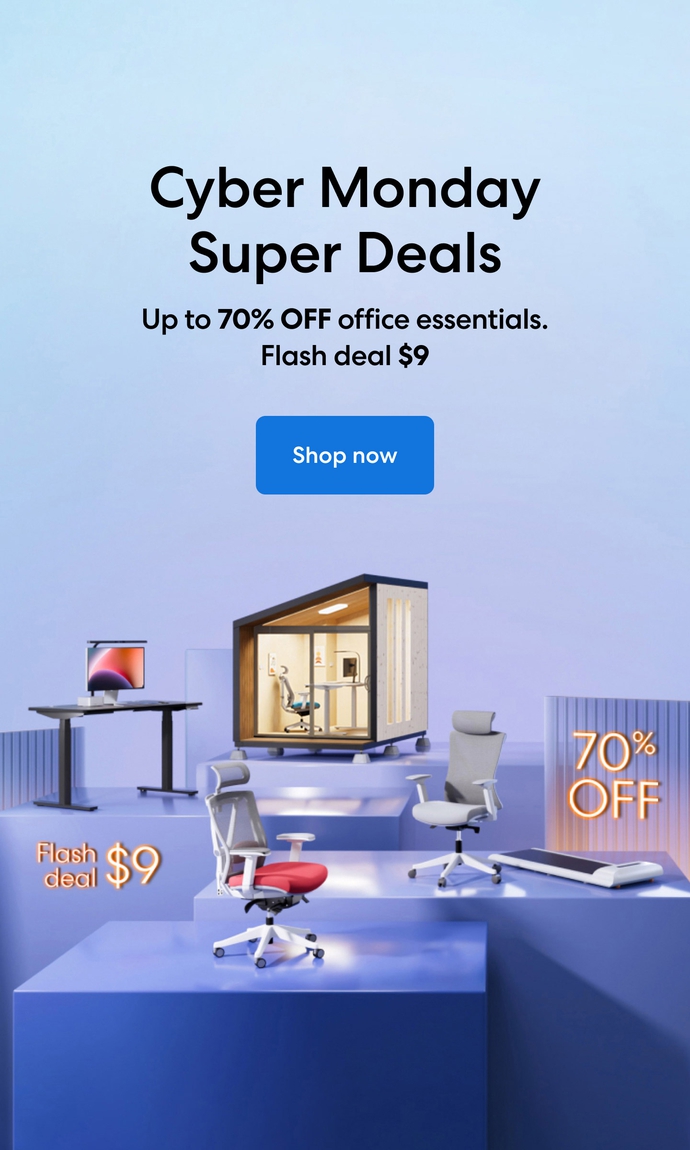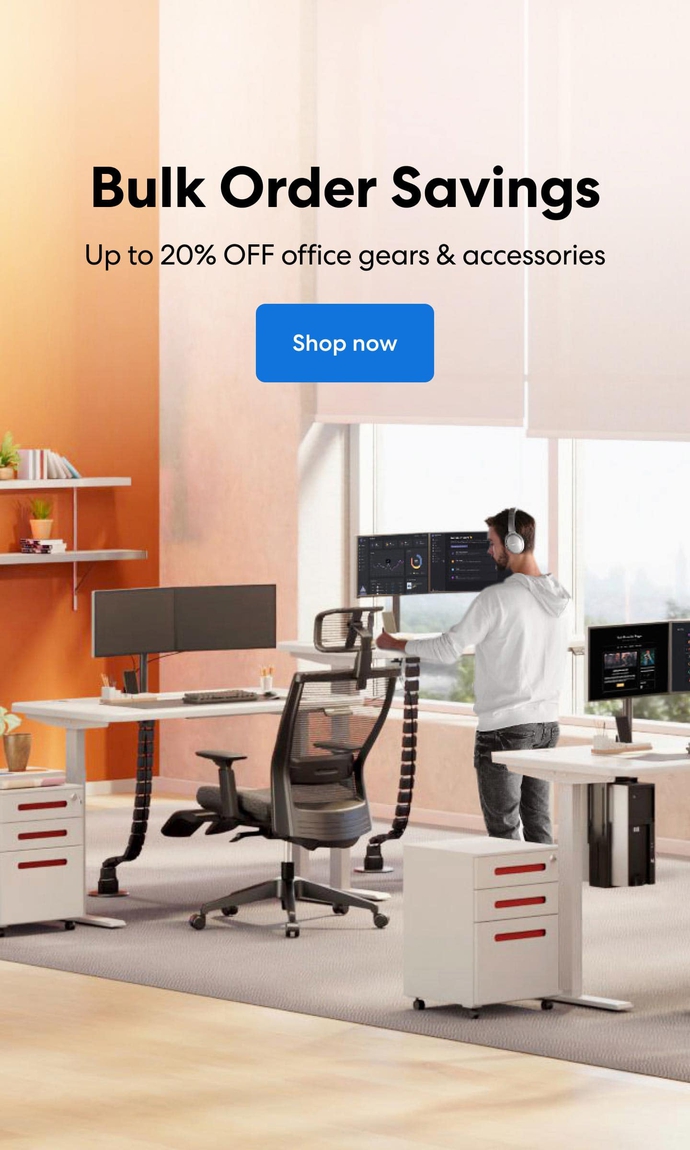 Subcribe newsletter and get $100 OFF.
Receive product updates, special offers, ergo tips, and inspiration form our team.