Smart Products
8 Best Smart Gardens of 2023: Click & Grow, Ingarden, AeroGarden

Autonomous
|
Mar 17, 2022
1,830 Views
An indoor smart garden can be ideal for you if you want genuinely fresh herbs, produce, and plants easily accessible to you. There's a strong chance you may have to make an extra trip to the store if a recipe calls for a sprig of mint or fresh basil. No matter where you live or what season it is, a smart garden allows you to cultivate a variety of greens and even veggies. 
Smart gardens demand almost no care or supervision thanks to LED grow lights as well as self-watering devices. Many of the leading smart garden providers send seedlings or plant sprouts to your smart garden at any time to keep it blooming indefinitely. Smart gardens such as Click & Grow, AeroGarden, and Ingarden now create gardens in a range of sizes and are intended to grow various sorts of produce. There are big smart gardens for growing entire tomato plants and compact smart gardens for growing lettuce, microgreens, or herbs. 
The majority of pod gardens, such as the Click & Grow Smart Garden 3 or the Aerogarden Bounty Elite, are incredibly easy to use. They're also compact and lightweight, making them easy to transport around the premises. Others, such as the Rise Garden and the Lettuce Grow Farmstand, require more space but can accommodate up to 36 different plants at a time. Indoor gardens for cultivating vegetables and herbs and others that prioritize design and simplicity over sophisticated mechanics and smartphone app integrations are also available. 
We put various producers' products through trials to find the greatest smart garden in 2022. All of these smart home devices all have one thing in common and that is the fact that you never have to raise a shovel or scrape dirt from underneath your nails.
8 Best Smart Gardens of 2022 You'll Love
1. Click & Grow Smart Garden 9
You can use this particular unit, and it's a great size for propagating important plants like cilantro, mint, and onions, as well as salad greens. Including self-contained seed pods, LED growing lights, and a water reservoir that only needs to be filled every two to three weeks, it couldn't be easier to use. For those with a less-than-green thumb, this is the ideal beginner herb garden. 
This Click & Grow Smart Garden 9 comes with several basil pods, but for a few dollars apiece, you can purchase any quantity of salad greens, vegetables, and fruit seed pods from the internet. With space for quite a few plants, this garden is rather large and can be used to cultivate large plants, and also herbs, and lettuce. If your gardening aims are just aesthetic, there are plenty of flower pods to choose from. 
This garden is perfect for anyone who wants to grow a large variety of different plants. It has ample space for you to explore all your gardening ventures. Choosing this smart garden is the perfect choice for those who are itching to easily grow the garden of their dreams. 
2. Aerogarden Bounty Elite Artisan
The AeroGarden Bounty Elite Artisan is a rather modest indoor growing system that manages to fit nine plants of your choice right out of the box. With this, the possibilities include herb mixtures, peppers, flowers, and tomatoes. 
This has an adaptable LED light fixture, which can reach a height of 24 inches, and it has the ability to expand with the plants. Plant nourishment is provided, and it comes with an optional trellis solution for tomatoes and other crops that need to be supported as they develop. 
Right now, you may be in the process of cultivating some wonderfully fragrant plants, and should this be the case, the AeroGarden can make the procedure quite straightforward. The instructions lead you through the start up step by step, and the monitor notifies you when additional plant food is needed. 
The AeroGarden employs a pump to distribute moisture, but the Click & Grow devices have a reservoir that pulls liquid up into the ground pods. Thankfully, the pump makes a mild dripping noise rather than anything too annoying, which makes this one a good option if you are looking for the best office plants. 
3. Ingarden
Microgreens, according to a dietitian, are an underutilized source of nourishment. As an added plus, they're relatively simple to produce at home. Ingarden is a novel streamlined smart garden that does just that, and it's small enough to be placed on any bookshelf or windowsill. 
The Ingarden doesn't have any soil, yet rather pulls water up into the seed pods above a tank. Under the handle, LED cultivation lights on a timer preserve the growth of the microgreens and speed up the process. In a few days, you should have sprouts, and in about seven days, you should have full-grown microgreens such as radish, mustard, and broccoli to scatter over salads and sandwiches, as well as sauces and soups. 
Most users' favorite feature of the Ingarden is the clean, straightforward design, which is constructed entirely of ceramic and metal with no harmful plastic. It's the ideal smart garden for anyone just getting started with indoor gardening because it's small, clean, and simple to use.
4. Smart Growhouse
The Smart Growhouse is among the simplest indoor gardens on this list, but we adore it because of its elegant brass façade. It doesn't have seed pods or self-watering like some of the other systems, so you have to take care of that yourself, but it does include full-spectrum LED lighting on a timer for the best growth. This means the garden can be displayed everywhere in the house, not simply near a window. 
5. Rise Single Family Hydroponic Garden
The Rise Single Family smart hydro garden is an excellent choice if you're searching for a fashionable indoor garden that merges seamlessly into your living space. There are no dirt pods to deal with in this self-watering garden because it is totally hydroponic. It includes a 5-gallon water reservoir and LED grow lights, which can all be controlled and monitored via a smartphone app. Water levels, light settings, and nutrition levels all have integrated sensors that provide data back to keep everything running well. 
You can add levels to the Single Family smart garden to enhance the shoot potential for a consistent supply of new greens, herbs, flowers, and even tomatoes. Sprouted seedlings are sold in packs of four for a reasonable price. 
The sturdy heavy-gauge metal and solid wood construction that makes Rise look so much like a contemporary piece of furniture, in many users' opinions, is what really sets it apart from the competition. The Rise Garden may be utilized as a trendy bookshelf or side table and a garden when it is placed behind a sofa or against a wall. It is perfect for office plants. 
6. Lettuce Grow Farmstand
Many who have used this indoor and outdoor smart garden can attest to the fact that it's well-designed and simple to operate. Water filled with nutrients is pumped up from the base of the Lettuce Grow Farmstand and flows down over seed pods inserted into the walls.  The LED ring lights can be used to make a huge difference. You can reduce the amount of grow lights you use because plants can start growing too quickly.  The water pump and LED light rings are both controlled by timers, requiring almost zero weekly maintenance. 
It's worth noting that the watering system creates a reasonable amount of noise for around 15 minutes every few hours, similar to one of those meditative water fountains. It is initially bothersome, but you quickly get used to it and can find it relaxing. The frame is also quite heavy once filled with water, so it's not anything you want to move about very often. It's also large, but as the foliage blooms, it brings a lot of vitality and mood to any room. Even so, it's probably not ideal for a small house or apartment. 
The base Farmstand is averagely priced and contains 12 shoots, but you may upgrade to a Farmstand with a capacity of 36 shoots by adding levels. Ring lights are available as an add-on for around $200 for the base two-ring bundle and around $50 for each extra ring. You also need to purchase sprouting seedlings, which are very inexpensive and should be replaced every few months. 
7. Chef'n Microgreen Grower
This cute little smart herb garden is made for microgreens, which are perfect for garnishing soups, salads, and other gourmet dishes. It's always pleasant to have a splash of color on the countertop, and this device takes up very little space. For about $30, you can get a microgreens garden kit that includes a planter, soil, and seeds for your initial round of plants. It can also be used for office desk plants or feng shui plants. 
This type, unlike the Ingarden, lacks LED lighting, so you have to maintain it in direct sunshine most of the time. 
8. Gardyn
Another hydroponic garden alternative, although this one is much more suited to a little space, is the Gardyn. The Gardyn vertical grow system can hold up to 30 plants while only taking up 2 square feet of space. The reservoir and pump, which distributes water on a schedule, water individual shoots, and then photosynthesis is triggered by built-in LED lights that are also on a timer. With sensors and genuine cameras, the Gardyn system self-monitors, so you don't have to do anything other than clean and replenish the tank every month or so. 
Many believe this system to be the best hydroponic garden due to how well it manages to cultivate plants. This smart indoor garden is suited for everyone from beginners to those who have been growing plants for years. Regardless of your needs, you should have little trouble using this streamlined system to grow your plants. 
Pros of a Smart Garden
While there are numerous benefits to having an indoor smart garden, one of the most fundamental is the natural decoration it provides. Your home can have a combination of modern and bohemian design thanks to the smart gardens. 
Cities are becoming increasingly crowded, making it difficult to locate land on which to cultivate your plants. This problem can be solved with a smart indoor garden.

It is better to grow your own organic foods to ensure that you get enough nutrition. Small herbs can be grown and cooked with.

Taking care of plants is widely seen as a stress-relieving activity. It's a great way to disconnect from the rush and bustle of city life and reconnect with nature.

 
Cons of a Smart Garden
Although there are numerous benefits to having a smart garden, they are not without their flaws. It does have to be said that the pros do far outweigh the cons. The cons are listed below. 
Some of the gardens are excessively expensive meaning that not everyone can afford them. This can prove to be rather annoying for some individuals.

There are a few gardens that take up a lot of space meaning that if you live in an apartment, they may not be suitable for you.

The pumps of some smart indoor gardens do make some noise which can be bothersome at first.

 
How to Use Your Smart Garden
Do you want to discover how smart gardens work? A smart indoor garden's programming and use are quite straightforward. To learn how to set up a smart garden indoors, carefully follow a few steps, and your gardening system will be ready. 
Open the box to your smart garden.

Begin assembling the lamp by extending it one level.

Place the seed pods in the designated cavity-like space before replacing the lid.

Remove the germination lids from each garden pod once sprouts have appeared.

Fill up the reservoir with water and connect the garden to the outlet, and you're ready to go. 
The Bottom Line
Smart indoor gardens are ideal for city living. Even if your room is limited and you don't have a huge amount of time to care for it, you can still get one for your home or add good luck plants for the office. It's computer-controlled, so your plant should never go without water or light when it needs it. Growing your herb is also advantageous in terms of health and cooking. You can also grow some of the best office desk plants.
Video ads for product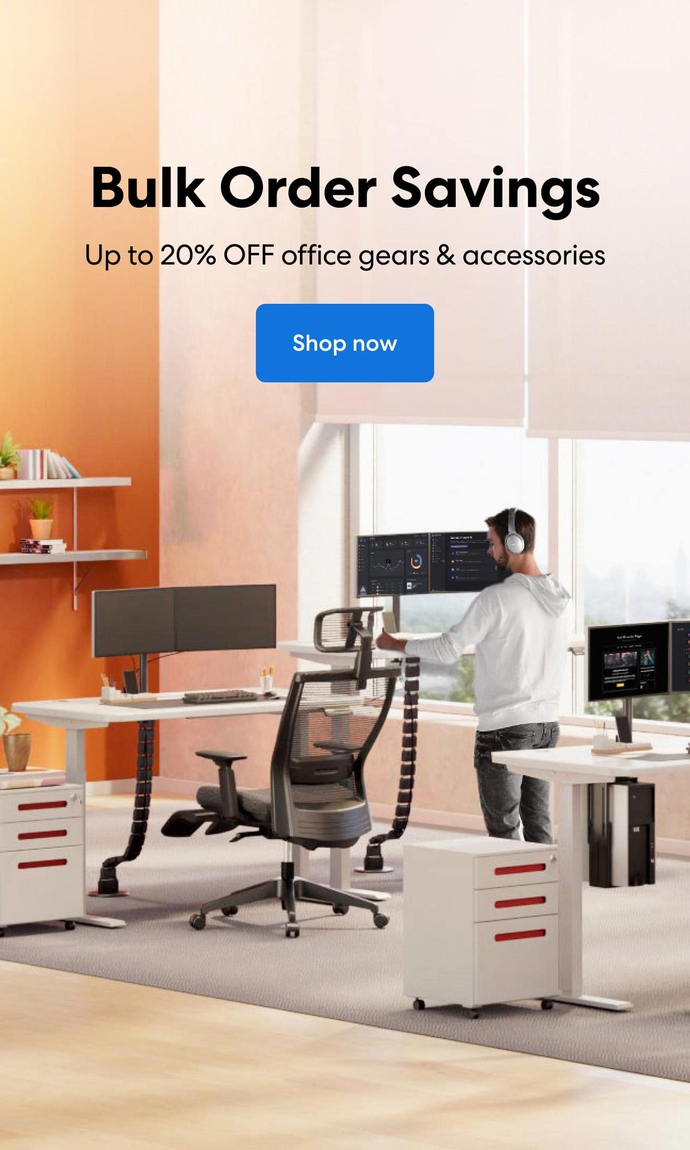 Subcribe newsletter and get $100 OFF.
Receive product updates, special offers, ergo tips, and inspiration form our team.