When you hear the term office desk, large bulky office furniture that comes once and isn't movable for the next decades comes to mind. The heavy wooden desk even chips at the corner and has many drawers that are usually more of a fuss than a help. You can take a breath of relief with modern office furniture because a modern or a futuristic office desk could not be any different from an old bulky desk.
A futuristic work desk differs in many ways from the desks we are used to seeing, and while this might confuse some people that a modern futuristic desk might not provide enough work area or could be a heavy investment, the truth is there are several benefits of a modern futuristic desk over a conventional desk.
Such desks are the best pick for a modern office room or even a modern home office because, as opposed to the contrary, they don't occupy a large space and are very useful with maximum benefits of minimum square footage. And while you are all wondering and excited about getting a futuristic home office desk with all the modern features, you are likely to come across many choices which will confuse you. Below are our top picks for a futuristic desk design in a modern workplace.
1. SmartDesk Corner
An L-shaped desk is pretty much the future of a modern workplace because L-shaped desks or corner desks such as this from autonomous have numerous benefits. Besides providing an extra corner to work with a protruding edge, L-shaped desks are also highly suitable for giving you a private work corner without ripping you off of precious space in the home.
A corner desk can gracefully reside in the corner and provides an optimum viewing angle for a multi-screen setup. And if a corner futuristic office desk is height adjustable, you get the best ergonomic workstation for you. Triple motors power this height-adjustable desk to support its large size, and the desk comes in three colors black, white, and walnut, all made from fresh wood.
2. SmartDesk Pro
A smart office desk such as this one as SmartDesk Pro provides more height adjustability range and greater precision with the ergonomic height. The desk offers height adjustability from 26 inches to 52 inches, making it suitable for a shorter to the taller crowd. You will also find it smooth to move because of the whisper-quiet motor operation.
SmartDesk Pro is functional with ergonomic features, but it also has a very pleasant natural wood top classic finish paired with a metal frame.
3. SmartDesk Core
One of the best home office desks, the smart desk core is a classic wooden top desk available in multiple finishes. This desk is the perfect depiction of modern office furniture because of its various ergonomic features. It is powered by dual electric motors and has a two-stage frame for maximum durability and quick height adjustment.
The desk also comes with a built-in keypad control for easy control, and you can work with the four preset memory settings. Smart desk core comes in three different desk dimensions to choose an option as per your desktop size and needs.
4. SmartDesk Connect
Smart desk connect is a route to the future with just a compact and wise purchase. This standing desk connect from autonomous is a modern office desk that connects to your phone for easy and hassle-free control. The desk works with a convenient application on your phone and can remind you when to switch between the sitting and standing positions.
This futuristic office desk to a height-adjustable desk controlled by electric motors. It offers a choice of three different frames that can be paired with over five different tabletops. The anti-collision design ensures the desk has a smooth surface making it suitable for home office uses. The desk offers a load capacity of 300 pounds.
5. Compact Desk by Wistopht
If you can get a desk that takes you in the future with a reasonable amount spent, then his adjustable standing desk with a drawer will top your list. The compact desk by Wistopht is blessed with many features, such as a tempered glass top which looks solely for looks but also adds to the functionality. You can control the desk with just your work surface and enjoy the classic modern digital touch control keypad.
The desk surface also acts as a built-in wireless charger, and you can purchase it in two colors, black and white. The compact desk by Wistopht also has an embedded drawer for minimum storage options, and you will also find an easy to use power outlet.
6. Flexispot Adjustable Desk
The ergonomic standing desk's unusual design is what sets it apart - because it's shaped like a U (rather than a rectangle), it'll be much easier to interact with all of your monitors without having to change your seat constantly.
However, this makes it more difficult to accommodate this desk in a room. But once you find a reasonable fit for this futuristic office desk, you will love the double platform, which can be height adjusted for an ergonomic position. The two surfaces can be used for monitors individually, or the second platform can be used for keyboards or other desk accessories.
7. Uplift V2 Office Desk
The Uplift V2 desk works with a motorized option to make it easier for you to move the desk up and down with just a push of buttons. This desk plays a vital role in improving your posture, controlling your health and provides an easy to manage height setting.
If you want to take the standing desk method, the Uplift V2 is the best option. In contrast to some standing desks, which can become unsteady when completely stretched to their utmost elevations, this futuristic office desk exudes quality and is rock-solid robust. Its motorized motion is smooth and silent, and it comes with a wide range of desktop size options and cable management capabilities.
8. ApexDesk Elite
Simple, elegant, and simple to use. The ApexDesk Elite is a stunning piece of equipment. Look no further if you're looking for the ideal ergonomic workstation configuration.
This electric standing desk appears to be more expensive than it is. The solid wood top finish, oblique edges, and single-piece steel frame add to that point. The dual-electric motors make switching between different sitting and standing heights extremely quick and quiet when it comes to adjustments.
Video ads for product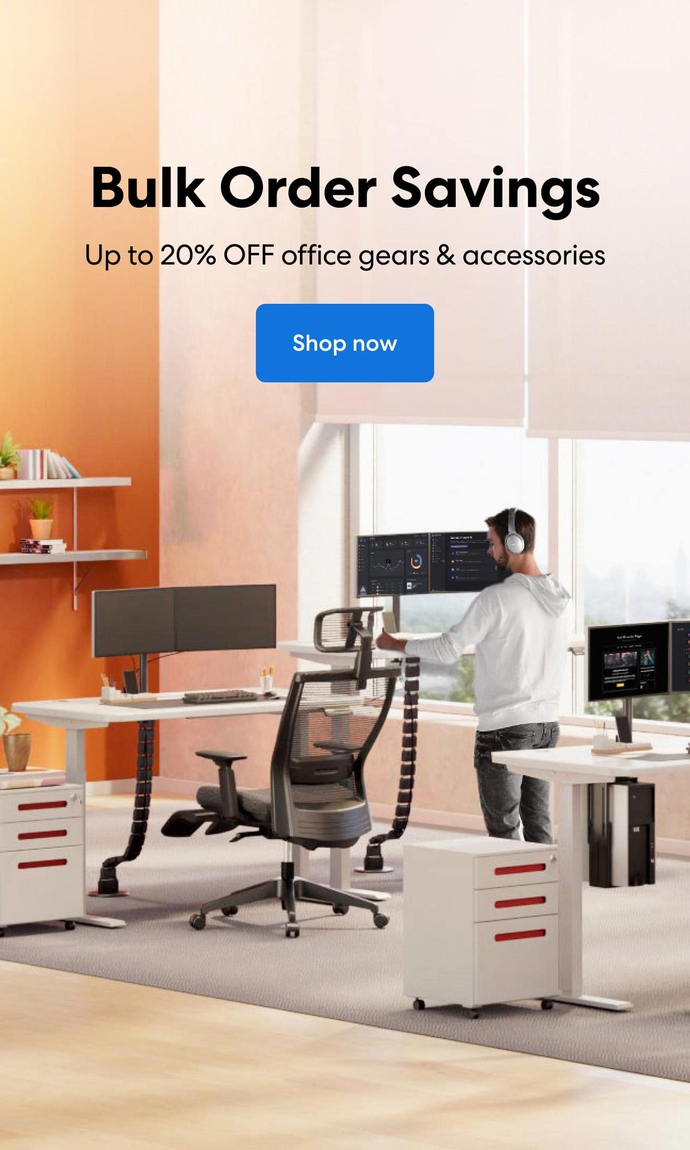 Subcribe newsletter and get $100 OFF.
Receive product updates, special offers, ergo tips, and inspiration form our team.