Remote Working
8 Reasons Why You Should Consider Working From Home

Charles Ataya
|
Jul 2, 2020
3,550 Views
While working from home is not a new concept, it has gained a lot of prominence lately with the current worldwide COVID19 pandemic. And that has spawned a huge debate revolving around whether working from home improves productivity among workers. 
Most managers have a low opinion on output from employees working from home. They picture a worker taking numerous breaks, and getting distracted by TVs and tending to endless home chores. But that is far from the truth. In fact, working from home has a huge boost in employees' productivity. According to a study conducted at Stanford University, Professor Nicholas Bloom found a huge productivity boost attributable to motivating factors associated with working from home. Let us explore some of these benefits which may make you consider working from home.
1. You can work from anywhere
Working from home shouldn't mean you are confined in your house. If you are an outdoor person you can pack your gears and head over to your nearby recreation facility unpack some snacks and hack away at your laptop. All you need to do is carry a back of power source, other accessories, and some refreshments. Another way is to visit your favorite coffee shop where you can sip away some coffee as you work and send your reports to your supervisors. Unlike the formal settings, the locations of working can only be limited by your imaginations.
2. Reduced expenses
Working from the formal office involves a lot of daily expenses. Some expenses may appear minor but they rack up over time. Research by Career Builder found that an average worker spends approximately $3300 on working expenses. The study covered expenses that required preparing for, go to and keep them on the job every day. Therefore, by working from home you will make savings on most of the following expenses;
Driving to work

Public transport

Expensive hotel meals

Pet care expenses

Daycare expenses

Buying Working Clothes
3. Healthier lifestyle
Stress is one of the leading causes of life-threatening health conditions such as type2 diabetes and heart diseases. And there are numerous factors that can be associated with working from an office, such a stressful commuter system, office politics, and threats of job loss. Moreover, in a flexible home environment, you can spare more time for other health-building activities such as the following;
Eating healthier foods compared to eating in restaurants when in the office.

More time to do mental nourishment through yoga

Spare some time for jogging
4. Lower attrition rate
The attrition rate in human resource lingo means employees leaving the company for various ranging from getting laid off, resignation, or retirement. Though the reasons for this are varied, it doesn't augur well for the company. It reduces the morale of the other employees and eventually the overall productivity of the company. One of the best ways to reduce this is to recruit home-based workers. According to research findings published on Forbes, companies that hire remote workers have higher employee retention. They found that such workers are more likely to;
Have better job acceptance

Less stressful work

More Productivity
5. Better work/life balance
In a survey published on Statista, about 91% of American workers cited healthier work-life balance as the reason why they want to work remotely. And it is not hard to see why. With the regular office work, you will have your manager breathing down your neck throughout the working hours. You may be denied off day to take your sick child to hospital or their valuable one-time school event performance. Working from home allows you to make your own schedules. As long as you are able to deliver results you should be able to have enough time for your loved one without being at the prying eyes of the boss.
6. Provides an opportunity for an eco-friendly office
Climate change is real and it is negatively impacting our planet due to the emission of the harmful greenhouse gases into the atmosphere. One of the culprits is the traditional office equipment. The Energy Protection Agency shows that most office equipment accounts for approximately in the USA alone accounts for approximately 1.5billion pounds of greenhouse gas emissions, equivalent to emission from 158,000 cars. And those emissions can be avoided if we buy Energy Star Certified office equipment. Unfortunately, that may not happen in your regular office where companies may be providing for many employees. Other considerations such as budgetary constraints usually carry the day. However, with a home office, it is possible to have a lean office where you can buy only the necessary environment-friendly types of equipment and still maintain a low cost.
7. Higher productivity
According to the US Census Bureau published on Washington Post, it takes an average of 26 minutes for every worker to commute to work every day. With 139 million workers commuting that is 1.8trillion minutes wasted on commuting to work. The grim reality can be mitigated by integrating telecommuting as a solution. Moreover, there are numerous other distractions found in the regular office that is unlikely to be found in your home office such as
Office politics

Decision-making bottlenecks

Unnecessary meetings
For example, researchers at the Havard Business Review found that the average middle-level managers take approximately 35% of their time in non-core value meetings leading to time wastage and low productivity.
8. You can leverage on technology
With the current level of technology, the world has become a real global village. You could be in Asia while you are working for a company in the US, and vice versa. This makes work from home even easier. Workers can hold meetings and file reports from wherever they are on the Globe. With software such as Skype, Ms meeting, and Zoom there is no excuse to spend hours on the traffic so that can reach meeting venues. Zoom alone has reported having 300 daily meeting participants as of April compared to 10 million last year. Which reduces time wastage increasing productivity.
Wrapping up
As you have seen it is very possible to work from home and have better output than those working in the brick and mortar offices. What you need to do is to leverage technology in order to enjoy the benefits and be successful. It is also important to avoid distractions, be sure to equip your office well. For example, investing in a good laptop, have a good Internet Service Provider, and power back up if you live in a neighborhood with unreliable electricity. Finally, if you will need to hold meetings you should have a reliable headset and audiovisual equipment. 
Video ads for product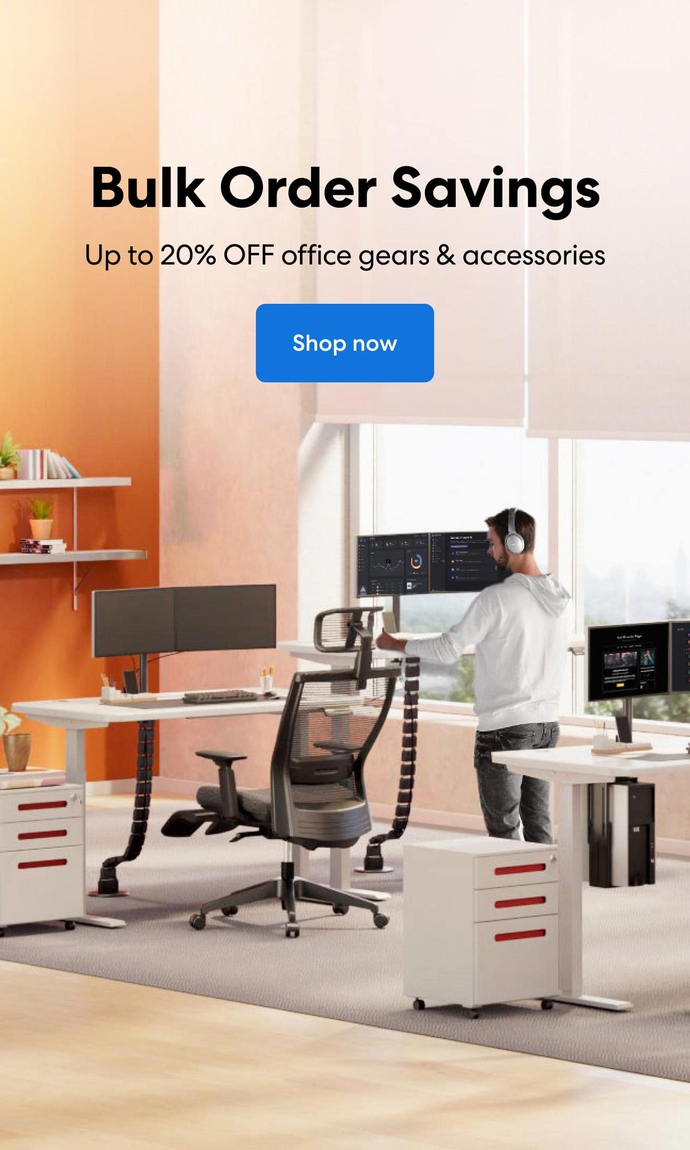 Subcribe newsletter and get $100 OFF.
Receive product updates, special offers, ergo tips, and inspiration form our team.