Black is a sleek color that goes with all styles and aesthetics. That is why many people continue to use them in their day-to-day life and their work-life as well. It is essential that office workers use black accessories because it goes well with their work environment and is not overly personalized. In some professions, having an excessively personalized accessory is looked down upon because people need more anonymity. 
Another reason why employers do not want personalized items is because they have a lot of black desk setups. Make sure to have the right accessories for all occasions, so you only need to buy one black phone charger. 
This list consists of nine black wireless chargers. These chargers can be used for many different electronics, so it is essential that you pick the right one for you.
9 Black Wireless Charger Pads and Stands for You
1. RapidX MyPort Power Bank
The RapidX MyPort power bank is the ultimate charging solution for the home or the office. This black wireless charger can charge iPhones, Androids, or any other cell phone with a QI. The power bank itself is in its standing position on its dock, it continues to charge, so whenever the user needs to take their charging bank with them – it is ready to go. 
Also, while it is charging itself standing up on its dock, the user can lean their phone against it, and they will begin to charge wirelessly. The RapidX has two charging options: 
Charge your phone or tablet by using a USB or USB-C wire. This will enable the fast-charging feature.

Rest your phone on the power bank for a wireless charging experience. 
This black wireless charger can also be bought in warm silver, so if you want a different color, then you can. Additionally, this black desk charger is sleek and practical for all office workers. It can be placed on your desk, and it will blend in nicely with any aesthetic. 
However, you should be prepared to spend $79.99 for this helpful device, but it is an excellent investment in wireless charging. 
2. Lexon Wireless Power Bank
The Lexon wireless power bank looks beautiful with its etched lines on this black desk charger. However, this design is elegant and practical because it can dissipate heat, so your battery is protected. This is essential with batteries because many of them can become ruined when using a black wireless charger without proper protection. However, this black portable charger is different from the rest. 
It is made with polycarbonate that is durable so that the matte black color does not dissipate over time. Additionally, this black wireless charger can fast-charge most smartphones within three hours. Another significant aspect of this wireless charger is that you can charge your wireless earbuds. This wireless charger will flawlessly match it if you have a black home office desk. 
With so many valuable features, it is no wonder why this Lexon bank is well-liked. It does cost $69, but it is worth it for those who want a black wireless power bank that looks different and still gets the job done right. 
3. Prismo RGB Wireless Charging Pad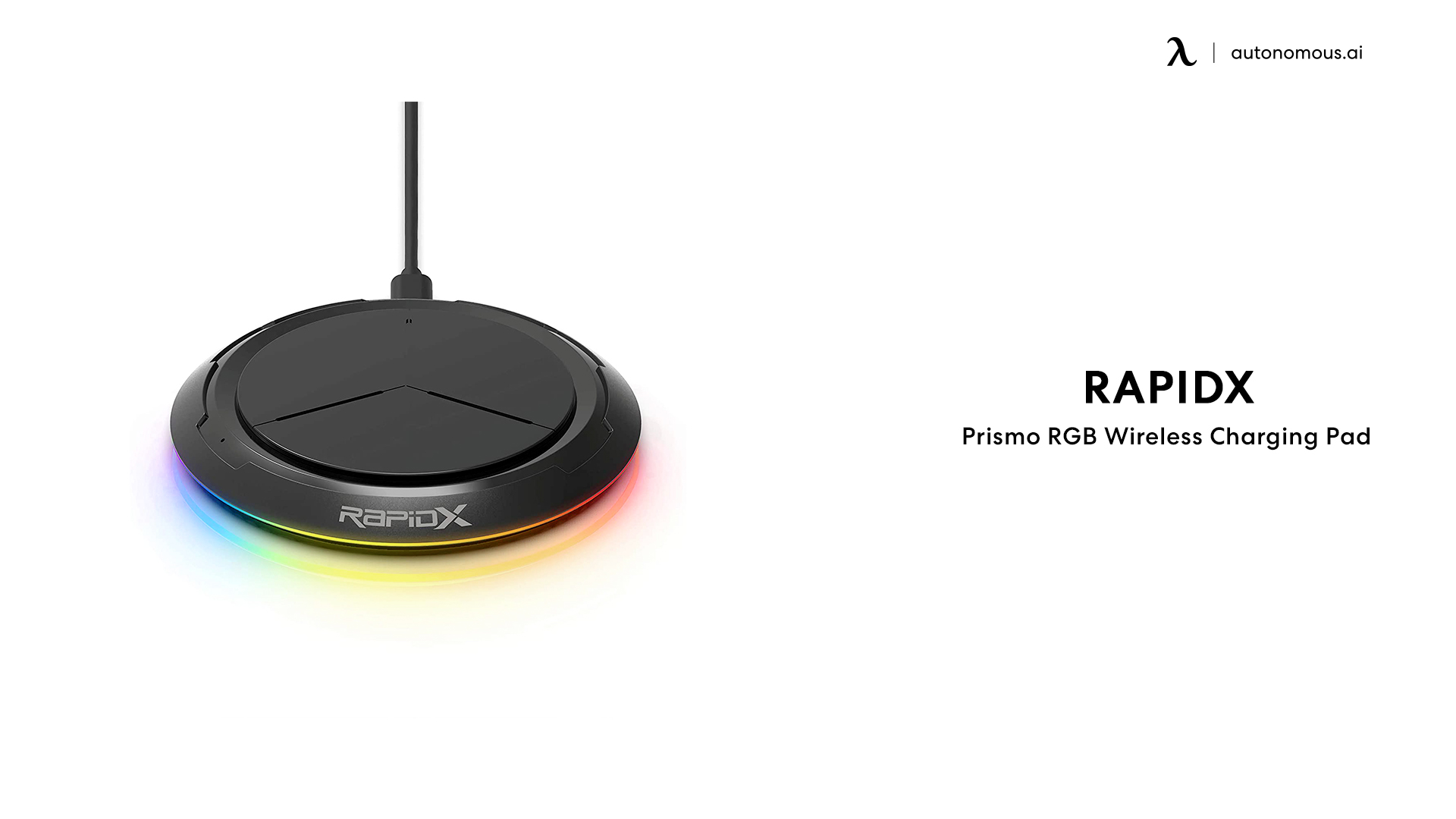 The Prismo RGB wireless charging pad is a helpful black wireless charger that is slim and compact for those office workers who like to take up less room on their desks. It can charge any Qi-certified device so that this black portable charger can charge most smartphones and wireless earbuds. Additionally, a smooth, non-slip surface provides enough grip, so the device will not slip off while charging. 
Additionally, if you like to have colorful lights in your space, the PRISMO charging pad is a great option. When in use, it does illuminate a rainbow of colors. Also, this is an affordable option for those who want a wireless charger but do not want to spend a lot of money. This charger can be purchased for $29.99, so it is an affordable product made with the highest quality materials. 
4. Lexon City Energy Charging Station
The Lexon City Energy charging station is great for those who want a black wireless charger that is sleek, stylish, and useful. It has a small footprint, so it can fit into any space without taking up too much real estate. Additionally, this black wireless charger can fast-charge any QI-certified device. That is handy for any person who needs their smartphone charged quickly. 
Moreover, if you want a black desk charger different from the rest, this is an excellent option because it comes with a built-in Bluetooth speaker and a microphone. This will allow users to play their music and make hands-free phone calls. With so many great features, it's no wonder why people enjoy this black wireless charger. 
It will cost $56 to purchase one, but it has so many exciting features that it makes the price worth it. 
5. Spruce Charger by Fledging
The Spruce charger by Fledging is a helpful black desk charger for a person who has many different devices. It replaced five chargers, so you don't have to carry around as many charging blocks. Additionally, Spruce can fast charge devices while staying cool so that all users will enjoy their Spruce charger today. 
Additionally, this Spruce charger has been made with safety and efficiency in mind. Since it charges up to five different devices at once, it is essential that this black desk charger is safe and will not overheat. Thankfully, the Spruce charger has been built with the latest technology and materials so that it can complete its job quickly and safely. 
It comes with three USB-C ports, one USB-A port, and a wireless charging pad, so everything can be charged with this block. Additionally, it comes in three colors, black, white, and space grey. However, this is the most expensive wireless charger on the list. It will cost you $124, but it is worth it if you have a lot of devices that need to be charged. 
6. Belkin Boost Up Wireless Charging Pad 5
One of the most affordable black wireless charging pads is Belkin. This wireless charging pad can be used with any QI-certified device. The Belkin wireless charging pad is excellent for those who want to charge their device throughout the day or overnight. Also, it has been made with the correct safety material, so every person can charge their phone knowing that it is safe. 
Additionally, there is a safety grid around the pad, so your device will not slip off. This is useful because no one wants their device slipping off and cracking. It is also lightweight, so it can be easily transported from the office to home if you need it to be. If you want a black wireless charger at an affordable price, you will like this product because it will cost only $13. 
However, just like with everything that is slightly more affordable, you may not receive the same quality product as some of the other previously mentioned chargers. This is because the materials used to make the product might be slightly different. 
7. Belkin 5000 mAh Pocket Power Ultra-Portable Power Bank
Another good black portable charger is the Belkin 5000. It comes in four different colors – black, pink, rose gold, and silver, so there is a color for every person and their charging needs. The Belkin device can quickly and easily charge any device. It has a slim and lightweight design to be easily transported from bag to desk. 
Also, it can charge smartphones, fitness bands, smartwatches, and any other USB-compatible device. It does come with a micro-USB cable, so it can be plugged into a wall and charged when you're not using it. Additionally, it comes with a temperature regulation system, so it will not overheat while charging your devices. 
This portable power bank must be safe because it could ruin your devices if it were to overheat. This is another good option for those who do not want to spend a lot of money on their power bank. It only costs $32.63, so it is reasonable for those who want a good power bank while not breaking the bank. 
8. ESR Wireless iPhone Charger Stand
The ESR wireless charger says it is an iPhone charger, but it is compatible with any QI-certified device. Users will find it helpful that this wireless charger can charge both in a pad and stand mode. The wireless charger can be shifted to lie flat like a pad, so a phone can be placed on top of it to charge. Another way people can use this black wireless charger is to put it in stand mode. 
When this wireless charger is in stand mode, users can place their phone on the stand and have it wirelessly charge. This is useful because users can also put the phone horizontally on the stand to watch a video while charging their phone. Many people who watch videos on their phones will find that very useful. 
When it comes to the safety features, it comes with overcurrent protection, overheating protection, overvoltage protection, and foreign object detection. These safety features are great for users because their devices will be kept safe. Additionally, ESR has been around since 2009 and is a trusted manufacturer of technology accessories. 
However, if you want to utilize the fast charge capabilities, you must buy the quick charge adapter separately. It is also sold at an affordable price of $24.77, so if you want a black desk charger for a reasonable price, this is an option for you. 
9. New Bee Headphone Stand with Wireless Charging
Another excellent black wireless charger is this one from New Bee. This is a perfect option for people who need to wear headsets in the office or headsets for gaming. You can place your headset on the stand when you don't need them and have your phone charging simultaneously. This is because it has a built-in wireless charger in the base for you to place your phone. 
It is compatible with all smartphones that are QI-certified. Additionally, the headphone stand is aluminum and has rubber support, so your headphones will sit safely. It supports many different-sized headphones like Beats, Sony, Koss PortaPro, Sennheiser, AKG, and Philips. Moreover, you will see whether your phone is done charging with the light system that the wireless charger has. 
A red light means that your phone needs to be charged, the blue light indicates that the phone is charging, and the light turns off once the phone is fully charged. However, this does not charge your headphones if they are wireless. 
This black desk charger has a lot to offer and can be purchased at an affordable price of $16.94. Many people will find this charger helpful in organizing their desks. 
Conclusion
There are many black wireless chargers that are sleek and useful to use. It is nice to have a black wireless charger because it will go with any aesthetic in a home or office. If this is going to be placed in an office, it should be black because it is not overly personalized. Some companies do not like employees having personalized items on their desks, so this is a good way to have what you want and still follow the rules. 
Either way, this will be useful for people because then, their electronic devices can be charged while working. However, it is essential to pick the right one for you because some may be better for your needs. We hope this small guide has helped you choose the best black wireless charger pad for your modern office setup and needs!
Video ads for product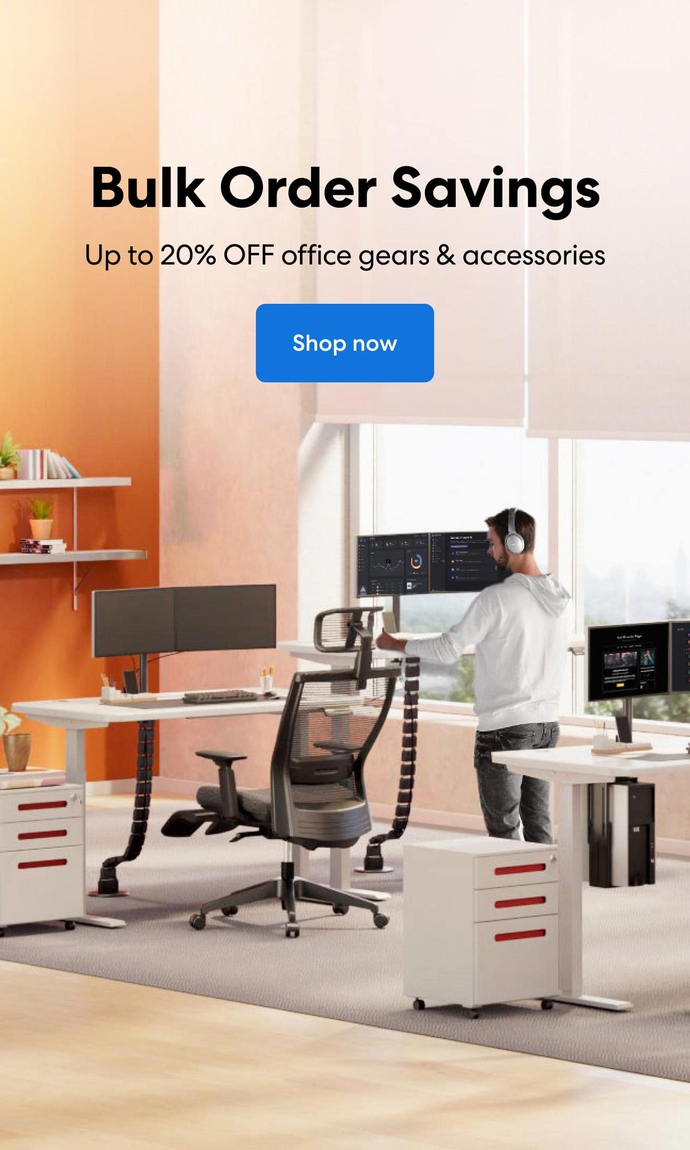 Subcribe newsletter and get $100 OFF.
Receive product updates, special offers, ergo tips, and inspiration form our team.