Workplace Inspiration
9 Home Desk Setup Ideas for Different Jobs: The Ideal Setup for Everyone

Autonomous
|
Feb 20, 2022
2,502 Views
Working from home has become the new normal since the Covid-19 pandemic struck the globe. There is nothing better than an office that promotes working in pajamas or sweat pants with a hot cup of coffee available at all times. This is the remote office, and many people have now become accustomed to their home desk setup. 
The remote desk agreeably has many perks when it comes to comfort but sitting hunched over at a small desk, typing furiously from your laptop, has a downside. The downside is certainly felt by your back and neck, and this is where an ergonomic work environment features. 
If you are on the hunt for the perfect home office desk ideas that support your pickiness, budget, and promote an ergonomic workplace, then look no further. 
1. A Standing Desk Setup
Imagine being able to work the way you want, in a unique way that doesn't involve sitting all day. People who work remotely often feel tension in their joints, because they are glued to a seat for long periods. 
Sitting at a computer without the right support for your body can often mean you are prone to backache and stiff joints, and it doesn't help burn calories either. The standing desk is a great alternative to sitting, and many manufacturers of standing desks claim that it has additional health benefits. 
Sitting at your desk is now a thing of the past with the thing on your feet standing desk. The standing desk comes in different wood finishes; from dark mahogany wood to white wood. Browse through various desktop styles to find one that catches your eye. If you're worried about standing all day then purchase an anti-fatigue mat to encourage micro movement and reduce tension
If you're someone who is brand conscious or not sure about the best standing desk, then the SmartDesk Core may be a desk worth considering. The SmartDesk Core is a sound investment, with its solid steel frame, four programmable settings, and 5-year warranty. It also has great graphic desktop designs to choose from. 
Pros
This desk is said to boost productivity

It keeps you alert because you're standing so there's no chance you'll fall asleep on the job

It makes it easier to stand upright and maintain good posture 
Cons
Standing for long periods can cause swelling in the legs, fatigue, and back pain 
2. The Outdoor Desk Setup
If you are blessed enough to live in a region with beautiful, warm weather all year round, then an outdoor home desk setup is perfect for you, and it's a minimalist approach to a work-from-home desk. 
Surely, nothing can be more inspiring than the flora and fauna of the outdoors, if you have a great WiFi connection then opt to escape the clutter of wires and busy spaces. 
The outdoor desk setup also works well for people on the go who don't have the time to stay permanently plugged into wall sockets. If you're someone who can work from a coffee shop or the comfort of your couch, then this setup is the ideal choice. 
This remote work desk setup is all about living futuristically in a wireless world, and by adding modern office accessories like a wireless power bank, staying recharged and connected is simple. Office accessories upgrade every home office experience; it's easy to find deals and low prices on must-haves like sustainable cork desk pad accessories and cable trays. 
3. The Creative Desk Setup
The creative desk setup is a universal favorite, not just for people with creative jobs. It may appeal to those remote workers who love to doodle in meetings or who enjoy drawing on the glass walls of meeting rooms when they are deep in an ideation phase of a project. 
Chalkboard walls are the main attraction for this home desk setup, and it's easy to achieve with a slick of chalk paint on a wall. The chalk wall offers a multi-functional workspace and a unique background for those virtual meetings. 
The best part about the creative desk setup is that it pairs well with a modern home office desk and a few accessories that can bring your creative chamber to life. The modern home office desk can be an L-shaped electric standing desk or a desk that's easy to fold up when your workday is done. 
Keep the space futuristic with monitor arms and a desk pad to finish off the look. The chalk wall also functions as a great space to write a to-do list or draw a giant monthly calendar, so you won't miss a beat.
4. The Double Desk Setup
In a world post-Covid, many couples now find themselves working in the same space or in proximity with each other. The double desk setup is perfect for any couple because it provides an opportunity for both parties to have their workspace. 
The setup is perfect for homes with limited space too, so using one long desk and dividing it into two, can give an office cubicle feel but accommodate both people who want to work comfortably. Place a filing cabinet underneath the table to divide it equally. 
The double desk setup is one of those work from home must-haves and makes coexistence with your other half bearable when you share the same space often. The work from home must-haves can also include; a privacy panel and sound-blocking headphones to drown out the furious typing of your next-door neighbor. 
This home desk setup works well for single people too, half of the desk can be strictly for your laptop, monitors, or other equipment while the other half can be used to set up a printer or uninterruptible power supply to give your desk a real home office feel. 
5. The Stair-Landing Desk Setup
The Stair-Landing desk setup is a quaint arrangement that accommodates those remote workers who don't have enough space for a traditional home desk setup. It is a small perch that allows for productivity without utilizing unnecessary space. 
A secretary desk works well for this setup because the desk itself has many little compartments to store stationery and other office essentials. Secretary desks come in a few different styles too, so you can find the style that best suits your home. It's best to create an airy and bright atmosphere for this small space by using pastel colors when decorating. 
The space itself may appear cramped, so a good seating arrangement is central to a remote work desk, and an ergonomic chair is highly recommended. The ergonomic chair is a sit comfy office chair that complements a home desk set up. It is completely adjustable, provides adequate lumbar support, and is super breathable for tight home office spaces. 
6. The Shelf Desk Setup
The Shelf Desk Setup is a home desk for people with a budget, but the word budget does not have to mean less tasteful or unappetizing. Bid farewell to the old and boring traditional desks and hang a piece of wood up as a floating desk instead. 
It's one of the simple home office desk ideas, and the space-friendly, rustic feel is a refreshing take on remote work. Existing bookcases also work well; the bookcase should have a shelf that is close to shoulder level when you sit and ample space to accommodate a laptop. Bookshelves without a backboard work best to drape cords behind your technical equipment. 
It's worth adding a few home office essentials to your new, sleek, floating desk. Home office essentials are important for a home desk setup because they create an ergonomic workplace that promotes creativity and avoids clutter, and an LED lamp is one essential to keep things lit and clutter-free. 
7. The Repurposed Desk Setup
The repurposed desk setup is another cost-effective home desk setup idea. It's also surprisingly aesthetically appealing for a desk made from pieces of wood that would normally be used for other purposes. 
This desk is created with an old wooden door and two 3-drawer file cabinets. It has an interesting modern-day look with the added benefit of recycling other materials in the house instead of throwing them away, and the filing cabinets are perfect to store files or other office equipment. 
It can be decorated to have an eclectic bohemian feel. You can achieve this by framing black and white photos above the desk or adding a faux fur rug at your feet, to bring your remote work desk to life. Since this work from home desk idea is relatively cheap, money can be spent on other office essentials. 
Pancakes and syrup, salt and pepper, are all perfect pairs. The repurposed desk and the ErgoChair Pro are also a perfect pair on the list. The ErgoChair Pro offers flexible lumbar support for any seated position and comes in delectable colors; red apple and evergreen, and its 100% earth-friendly materials add beauty to the eclectic design. 
8. The Glass Desk Setup
The glass desk is much like the repurposed desk; the glass desk setup requires three pieces to assemble. It's chic and classic and provides an executive's home office feel. Two trestles made from solid wood will help keep this office desk sturdy and a glass pane over the top for the desktop will finish off this remote desk setup. 
You can reuse a glass dining table if you're not sure where to buy the pieces to make up the desk. You can also add some potted greenery or candles to make the luxurious and catchy glass table stand out. 
The glass desk home desk setup is for people who want to spend more on the perfect office at home, and accessories like a lumbar support pillow or magnetic desk organizers are a great way to dig into your remote work desk allowance. 
9. The Clear Furniture Desk Idea
This home desk setup is modern and space-friendly because solid furniture seems to make a space look cluttered, the clear desk will give the impression of an invisible desk and create an illusion of space in those cramped apartments. 
The clear crystal Lucite desks are a popular trend and fit into even the tiniest apartments. The desks are big enough to comfortably fit a monitor, keyboard, and lamp. There is extra room to add trendy accessories like a desk planner or charging dock. 
The tiny remote desk setup should also account for ergonomics, and an ergonomic chair is a must-have. There are many ergonomic chairs on the market that help with working in small spaces, deep-diving the specs to make the right buying choice. 
Conclusion
In a post-pandemic world, working from home has become the new normal. It makes sense then for people who have adapted to the new normal to organize their space and office desks in a way that boosts creativity and promotes productivity. 
There are many ways to set up a home office desk and many materials that are already in the home can be used, so you can achieve a more cost-effective setup. Ergonomic support is also important because working from home often means being stuck to a desk for long periods. 
There are many desk styles and home office chairs that can assist with ergonomic support and their designs are aesthetically pleasing too. There are also many accessories and office essentials that are worth the investment. Office lamps are one such investment to keep small desk setups in corners well lit. Yet, office lamps are not the only accessories, desk pad keeps your keyboard and mouse protected while organizers keep sticky notes, pens, and paperclips within reach at all times. 
The home desk setup is essential for any employee who wants to be productive for longer periods. Separating work from home becomes increasingly difficult so having a good office desk setup that is easily distinguishable from the rest of the home is a must, not only to be more productive at work but for complete well-being.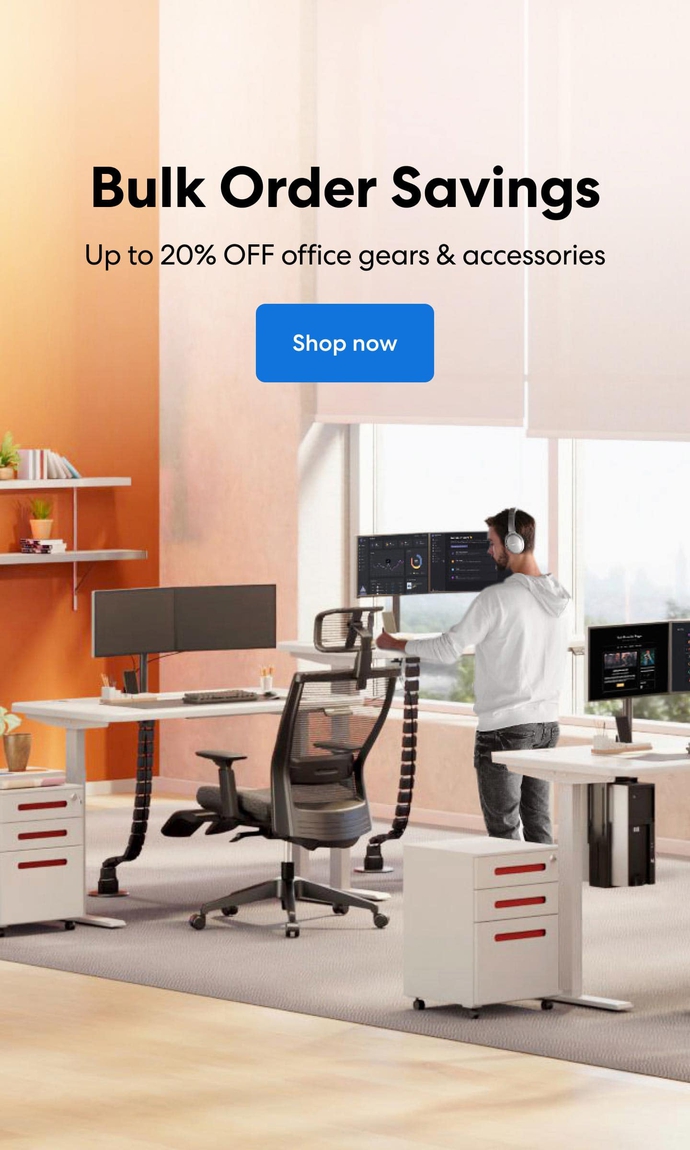 Subcribe newsletter and get $100 OFF.
Receive product updates, special offers, ergo tips, and inspiration form our team.