Smart Products
9 Pieces of Furniture for Business from Small to Big 2023
1,120 Views
In our contemporary work environment, it pays to invest in the best business furniture to ensure that the hours spent in front of a computer are as pleasant as possible.  
The greatest office furniture for business must be adjustable in addition to being comfortable. Because no two people are the same, business furniture should be able to adjust to your needs.  
Why Should You Buy Business Furniture in Bulk?
Buying commercial business furniture in bulk is much less expensive than buying it at retail prices. It allows you to purchase a variety of items for a fraction of the typical price. When you buy wholesale office furniture, you have access to a large choice of products from all the major manufacturers, such as bulk office desks and wholesale office chairs. Your company might be a big success when purchasing in bulk for the following reasons: 
Pricing - Bulk office furniture is generally the best solution because it offers you economies of scale. Most clients are always seeking ways to save money, especially when the amount is significant
Quality - When you buy in bulk vs retail, most orders are created from a specific 'batch' of raw materials, giving you similar looks/designs/wood desktop grains and more
Uniformity - One of the benefits of buying office furniture for business in bulk is the uniformity that comes with having all the pieces set up at the same time. You do not want your office to be filled with odd-looking furniture in little quantities
Storage and delivery - Inquire about customized delivery rates to your door. You do not need to rent storage space because you can schedule 'just-in-time' or 'on-demand procurement' delivery throughout the negotiating process 
Office Chairs
Office chair is one of the vital office furniture for business. Do not be shocked if you find a variety of product selections for different levels of employees while looking for office chair wholesale costs. These are some of the best office chairs the market has to offer currently. 
1. Autonomous ErgoChair Recline
The Autonomous ErgoChair Recline offers a world of comfort to its users. This piece of high-tech office furniture has an ergonomic design and breathable mesh back. The design of this executive office furniture keeps you cool and comfortable all day, and this is the most popular chair in its price range.  
The ErgoChair Recline includes a contoured seat with better upholstery and an adjustable footrest that reduces pressure on your legs. Autonomous is known for office chairs for back pain, the back support encourages proper posture and cures lower back discomfort, unlike many other chairs at this price. 
Even though the ErgoChair Recline lacks many of the features found in more expensive chairs, you may change the tilt and tension, as well as the armrest, headrest, and seat height, to meet your needs.
Pros and Cons of Autonomous ErgoChair Recline
The mesh backing allows for greater airflow, which is good for anyone who experiences back perspiration while at work.
Seat and armrest heights are simply adjusted.
Height-adjustable headrest and footrest.
Because the arms do not extend out like other chairs, this chair may not be ideal for taller people (although they can be moved up and down).
2. Gesture Chair by Steelcase
Steelcase is one of the top office chair manufacturers, with its award-winning Gesture chair. This chair may be a useful piece from executive office furniture to home office setups. 
This revolutionary office chair supports and protects the back and neck while allowing for a wide range of natural body positions and sizes. 
The armrests of the chair have been meticulously designed to accommodate a variety of positions. Many office chairs do not allow for much movement, which is one of its drawbacks. 
The human body, on the other hand, shifts positions frequently to maintain comfort. The armrests of this executive office furniture are moved further back to suit this natural restlessness, providing you more alternatives for where you can be supported. 
You may vary not only the chair's height but also the amount of strain it places on your back. This can help to firm up or soften the chair, ensuring that you are supported no matter how your body is feeling on any given day.
Pros and Cons of Gesture Chair by Steelcase
Due to its steel construction, this chair is extremely durable, and Steelcase backs it up with a lifetime warranty.
Arms can be stretched in and out, up, and down, providing for better arm placement regardless of torso width.
The core equalizer provides incredible lumbar support.
It may be difficult for people to raise it and move it to different rooms, and the higher price point may be prohibitively expensive.
3. Herman Miller's Sayl Chair
Herman Miller invented the first ergonomic chair, and this high-end firm is known for producing some of the best chairs in the world. 
The Sayl Chair is Herman Miller's most affordable office chair, putting it ahead of the competition in this price range. The Sayl chair is made in the United States using recyclable materials and comes in a variety of colors. 
The Y-Tower and ArcSpan are two unique developments. This magnificent "life unframed" chair blends ergonomics, design, and superior engineering to create a stunning piece of furniture.
The backbone of the business furniture is the Y-Tower, which stretches the fabric while giving support. The ArcSpan provides support for the back while also holding the suspension fabric in place. 
Because it is the most affordable Herman Miller chair, it lacks many of the adjustability and other features present in other of the company's models, yet it nevertheless impresses.
Pros and Cons of Herman Miller's Sayl Chair
The chair has a distinctive look.
It comes in a range of colors, allowing you to tailor the look of your office to your preferences.
The seat adjusts between 15.5 and 20 inches in height, and the chair is almost entirely constructed of recyclable materials, making it ideal for hotter climates.
A separate head/neck rest is not supplied (although a secondary neck rest can be purchased).
Office Desks
Eight big or small business office furniture cannot miss desks in their workplace. A decent workstation is essential for a productive remote learning environment. A business office desk can aid with concentration, organization, overall wellness, and even sleeping patterns. 
1. Autonomous SmartDesk Core
When it comes to choosing the finest standing desk, many customers prefer the Autonomous SmartDesk Core. This desk comes in a variety of heights, allowing it to be utilized by a wide range of people. 
The SmartDesk Core can be adjusted from 29.4 to 48 inches and is suitable for a variety of body types. You may adjust the desk to your preferred sit-to-stand position. 
Designed for added convenience and control, the SmartDesk Core has a programmable keyboard. You may save up to four different heights and easily switch between them. 
The desk of this business office desk incorporates a two-stage lifting column, emphasizing the importance of having a strong core. This standing desk can lift 265 pounds using the built-in motor. It moves 1.1 inches per second while carrying its maximum load and remains rock-solid throughout. 
It has an energy-efficient twin-engine and is supported by a sturdy steel frame. Around the world, UL, BIFMA, and EMC have all given it their seal of approval for strength and safety.
Pros and Cons of Autonomous SmartDesk Core
Great modern design that works in almost any office environment.
There is a large selection of frame and tabletop colors to pick from.
Each desk is finished using automotive-standard painting techniques.
BIFMA and EMC certifications are available for the SmartDesk Core.
Even when lifting a hefty load, it's surprisingly quiet.
There are few to no vibrations, which means nothing can fall off the table.
The motor isn't of exceptionally good quality.
The assembly process can be aggravating.
At higher elevations, there may be stability difficulties.
2. Coleshome Computer Desk 47
If you are looking for a sturdy business office desk, this could be the best option. The desk surface is made of medium-density fiberboard, which is waterproof and scratch-resistant. 
The business office desk is 47 by 24 inches and should fit into even the smallest of spaces. If you still need extra space, a C-clamp can be used to secure your monitors. 
The desk's frame was made of metal and was designed to hold up to 330 pounds.
Pros and Cons of Coleshome Computer Desk 47
Because the instructions are straightforward, you should be able to complete it in less than 20 minutes.
If your floor is uneven, you can adjust the legs of the desk.
Many buyers who received this student desk for home believe it is a great value for the money and that it looks modern and tidy.
The lack of a cable management system is the only disadvantage.
3. Standing Desk by Flexispot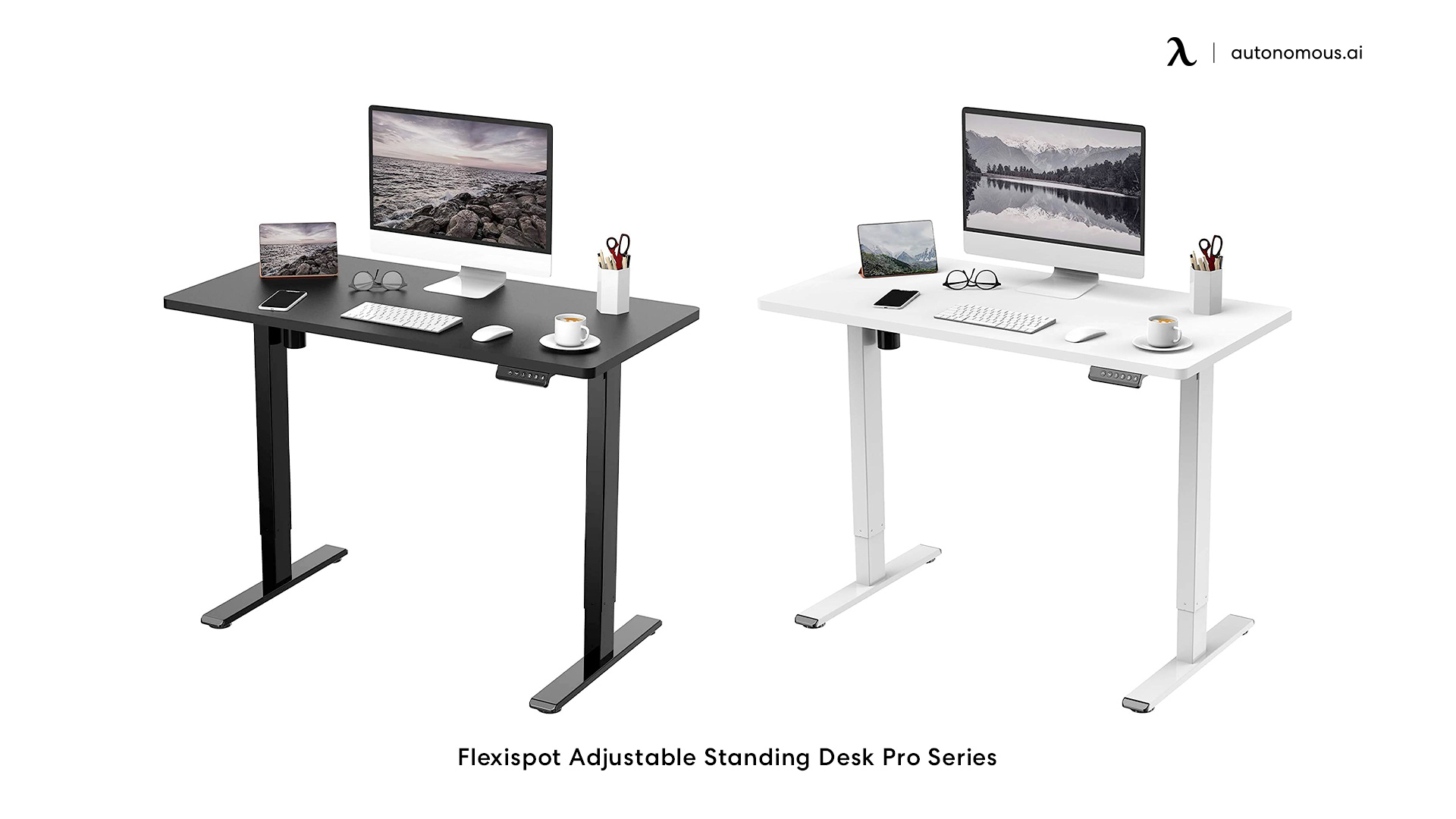 This is one of the most versatile height-adjustable business office desks available. Because it can handle both sitting and standing, the Flexispot is an excellent choice if you frequently alternate between sitting and standing. 
To perform smooth height adjustments, a two-button controller is used, which engages an electric mechanism that does the job fast and efficiently. 
The assembly is straightforward, and the printed instructions and instructional videos are both simple to follow.
Pros and Cons of Standing Desk by Flexispot
This business office desk is popular among customers because it relieves discomfort. As a standing workstation, the Flexispot mitigates the negative effects of prolonged sitting on your back.
Many people believe that this desk is well worth the money and that the price is fair.
There haven't been any serious complaints, and the desk is rather large and sturdy.
Filing Cabinets
Consider getting a file cabinet to maintain your workplace space and to always keep your vital documents within easy reach. This is another important commercial desk furniture for your business.
Thanks to a complete set of drawers, these items make it simple to keep documents effectively and properly, allowing you to easily retrieve the thing you require. This piece of small business office furniture is a must-have for any workplace. 
1. Autonomous Filing Cabinet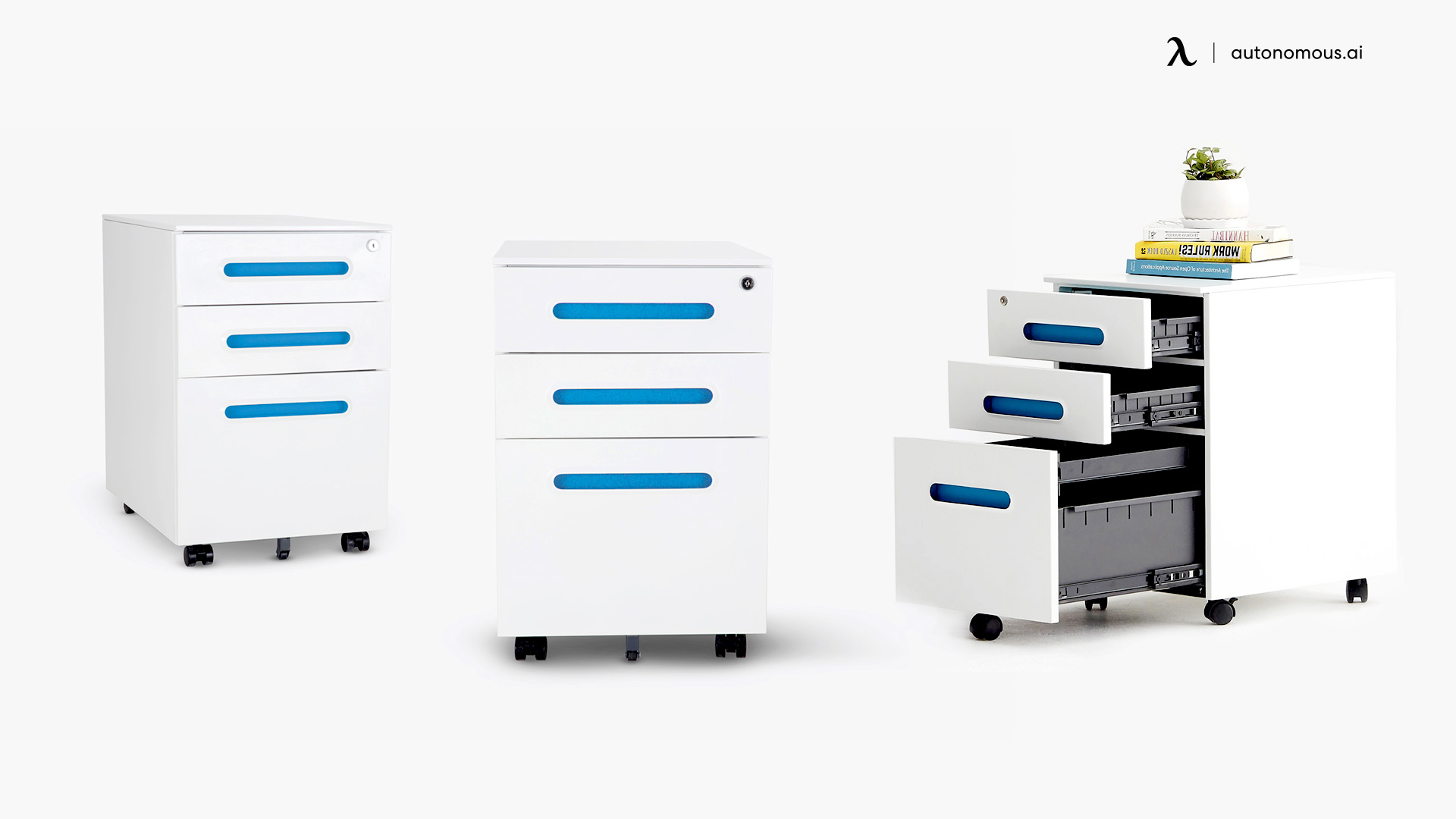 The Autonomous filing cabinet fits effortlessly below your SmartDesk and into your workstation. Spacious drawers for all your electronics, files, and paperwork, with a lock to keep everything safe.
This business furniture model is a long-lasting model and comes with a one-year warranty. The new filing cabinet is stylish and robust, and it fits nicely under your SmartDesk. Its metal storage cabinet is made of sturdy, long-lasting cold-rolled steel plates with an anti-rust coating. 
Storage that can be customized when purchasing this commercial desk furniture model. If you require sensible storage, the Autonomous filing cabinet is totally customizable. Its moveable drawer dividers let you customize the area to your needs, and its first-rate wheel system makes maneuvering and locking it into position a snap. 
You can choose this business furniture from four handle colors to complement your workplace space: red apple, baby blue, cool gray, or evergreen.
Pros and Cons of Autonomous Filing Cabinet
Three drawers.
Solid steel construction.
Dividers that can be customized.
Rust-resistant finish.
Drawers with locks and wheels.
275-pound weight capacity.
2. Devaise File Cabinet
The Devaise file cabinet has three lockable drawers that may be used to hold any document and is 19.7 x 11.8 x 22.8 inches. Two of these drawers are stationary, while the other may contain A4-size hanging file holders. 
This metal file cabinet has an interlock system, which prevents you from opening more than one drawer at a time. 
The cabinet from this business furniture brand is sturdy and can support up to 330 pounds. It may also be easily moved to owe to a set of five casters. 
Because this item is compact, it is ideal for use in smaller spaces. Except for the casters, the product is sent fully constructed.
Pros and Cons of Devaise File Cabinet
It is simple to relocate.
This unit is stable and sturdy.
Weight capacity is adequate.
It's possible that it's too small to hold larger papers.
3. Hirsh Industries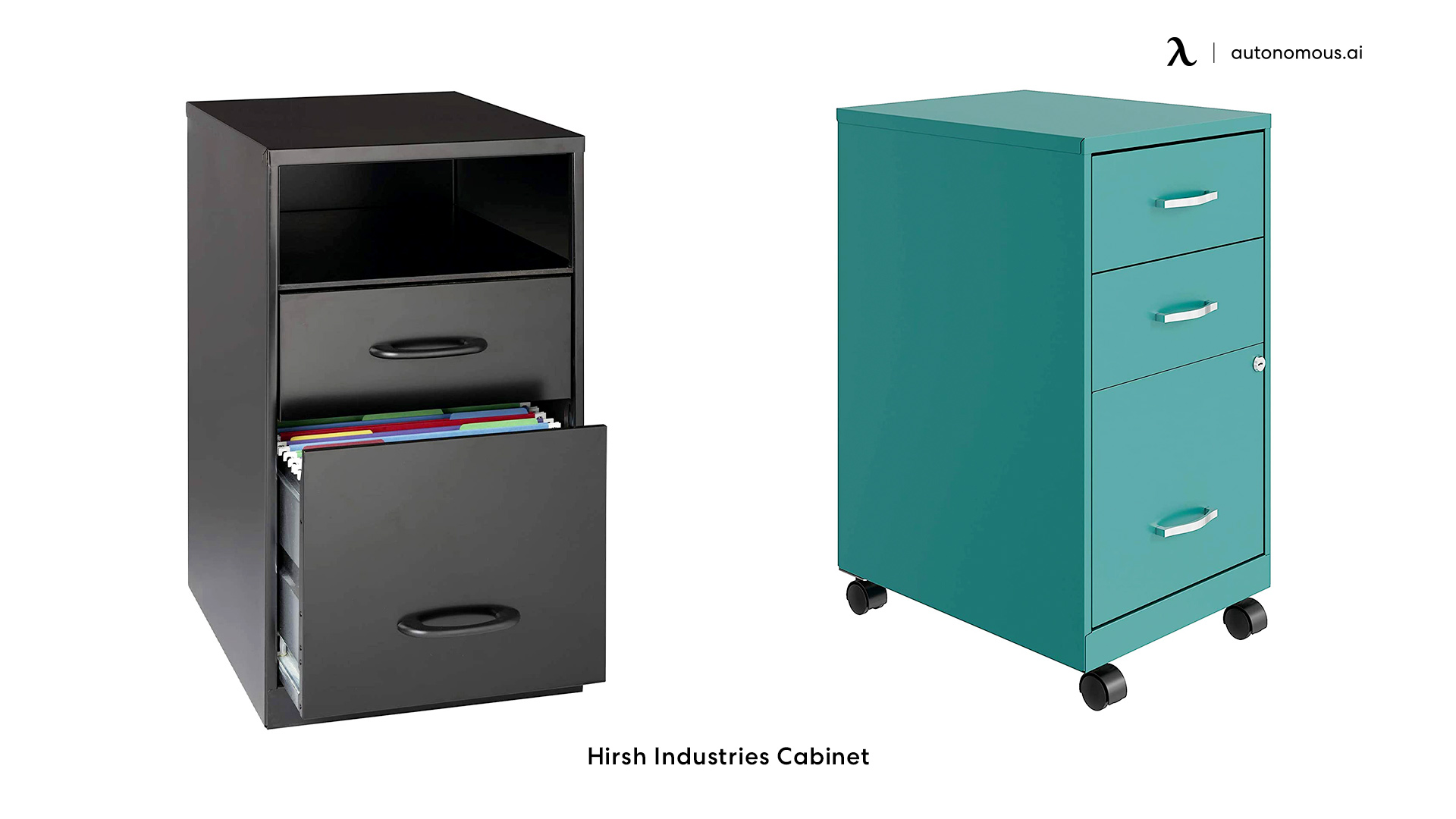 This business furniture features two spacious drawers that can hold A4-sized hanging file folders, while the top drawer is ideal for storing small items or office supplies. 
The first two drawers can be locked, and the three-quarter drawer extension keeps the cabinet from toppling over if one of the drawers is overly full and heavy. 
The cabinet is already constructed, but the purchaser must still attach the handles. The device is robust enough to handle a reasonable amount of weight without issue. 
The pricing is cheap, and the organization provides excellent customer service to its customers. Despite being composed of iron, it only weighs 25 pounds and is quite easy to move.
Pros and Cons of Hirsh Industries
It is easy to relocate.
The price point is reasonable.
A sturdy unit.
Only minor assembly is required.
Only one of the two large drawers is secured.
Final Thoughts
The advantages of quality office furniture choices and settings can provide a company with a holistic benefit. They benefit not only the people who work there, but the workplace and the organization can benefit from the improved image brought about by better business furniture selections.
Subcribe newsletter and get $100 OFF.
Receive product updates, special offers, ergo tips, and inspiration form our team.
WRITTEN BYAutonomous
We build office products to help you work smarter.