Desks are the central pieces of any workspace, as everything else is arranged based on their position. However, more than that, the ideal computer desk also contributes to your comfort and productivity by providing you with a surface where you can place everything you need, including your work materials, computer, and any other items you may want to keep. That's why it is important to buy a computer desk that provides you with a sense of security and style.
If you're finding it complicated to shop for a new PC computer desk, you don't have to worry about it anymore. Today, we'll explore the different options you can take into account for buying a new desk for your workspace.
Desk Types and Styles
There are different desk types that you can choose from, starting from the basic ones that only provide you with a surface area, while others provide you with more intricate features, like a standing desk.
Here are the options you may want to take into account:
1. Writing Desk
Writing desks are a basic type of desk that only provide you with a wide surface area. These can serve as your main hub as well, but you can't expect them to have intricate features. After all, they are meant for light use ("writing"). There is a wide-open space underneath it that allows more movement for you, and the height is typically higher than your regular desk to ensure an optimal writing position.
2. Foldable Desk
A foldable desk is exactly how it sounds: a desk that you can fold whenever you need it. It can be particularly useful for people who tend to move from one place to another very frequently but still would like to have a desk where they can work without problems. These desks tend to be lightweight and easy to carry for your convenience.
3. Computer Desk
A computer desk is more appropriate for office work, as these desks are meant to be specifically used by computer users. The desks often have enough space for you to place your monitor and peripherals; others include additions like bookshelves, cabinets, and even trays for your keyboard and mouse, among several other features.
You can't go wrong with a computer desk and an ergonomic office chair. This is a good combination if you're not very picky and would like to stay with the classic layout. However, if you'd like something a bit more maximalist and ergonomic, there are other desk types that you can choose.
4. Standing Desk
A standing desk is a desk that allows you to work while standing. While some were made specifically to use while you're standing, in the modern day, we now have access to height-adjustable desks that allow you to alternate between sitting and standing. Thus, it can be an excellent way to add more physical activity to your work day, among several other benefits.
Standing desks come with plenty of space for your computer and peripherals as well as several preset features and functions, like the SmarDesk series by Autonomous. You can explore the ideal standing desk height if you're not familiar with these devices but are still interested in purchasing one.
5. L-shaped Desk
An L-shaped desk is a desk with a layout out of the regular. It has an L shape that you can conveniently use to place in corners or to create a wide work area by taking advantage of the two perpendicular sides it has. Since both sides are attached to each other, you will be able to reach all the items you place on your desk very easily, making it a perfect match for people who tend to use more than just a computer when it's time to work.
Sometimes, you may also come across an L-shaped standing desk like the SmartDesk Corner by Autonomous. Hence, not only will you be able to create, for instance, a multi-display setup, but you will also be able to alternate between sitting and standing whenever you find it convenient.
Ergonomics and Workspace Efficiency
We've mentioned five of the most used desk types in the world. However, it is also important to take into account ergonomics when it comes to choosing the right desk.
An ergonomic workspace includes a comfortable desk that has the right dimensions for the space and your height. Furthermore, it should also contain the best office chair for long hours so that you can sit comfortably all through your work period.
It's crucial to take into account ergonomics if you want to ensure your efficiency. "Ergonomics" is a word utilized to describe the discipline that determines how the objects placed in a room relate to each other. When it comes to offices, all the items placed matter, but your desk and chair hold more importance than anything else, as these are the primary pieces of your hub.
An ergonomic workspace will allow you to work more comfortably, as your body will be fully supported. When you eliminate all the distractions and aspects that make you feel distressed while you're working, you'll see how your productivity levels start increasing without compromising your health.
Where to Buy a Computer Desk?
If you've already decided that your next step should be buying a computer desk, then your best option is the Autonomous store. This is one of the best places to buy computer desks. Not only will you be able to find different options – such as standing desks and traditional computer desks – but you will also find tons of other useful pieces of furniture, decorations, and even peripherals and additions to your office that may help you improve your comfort in the long run.
Plus, Autonomous also allows you to buy modern office furniture at bulk prices. Take a look at our wholesale office furniture page to learn more about what we offer and how we can help you equip your workspace so that all your workers feel comfortable throughout their workday.
Desks are one of the most crucial pieces of furniture on any desk. You should choose one that is appropriate for your needs and unique proportions.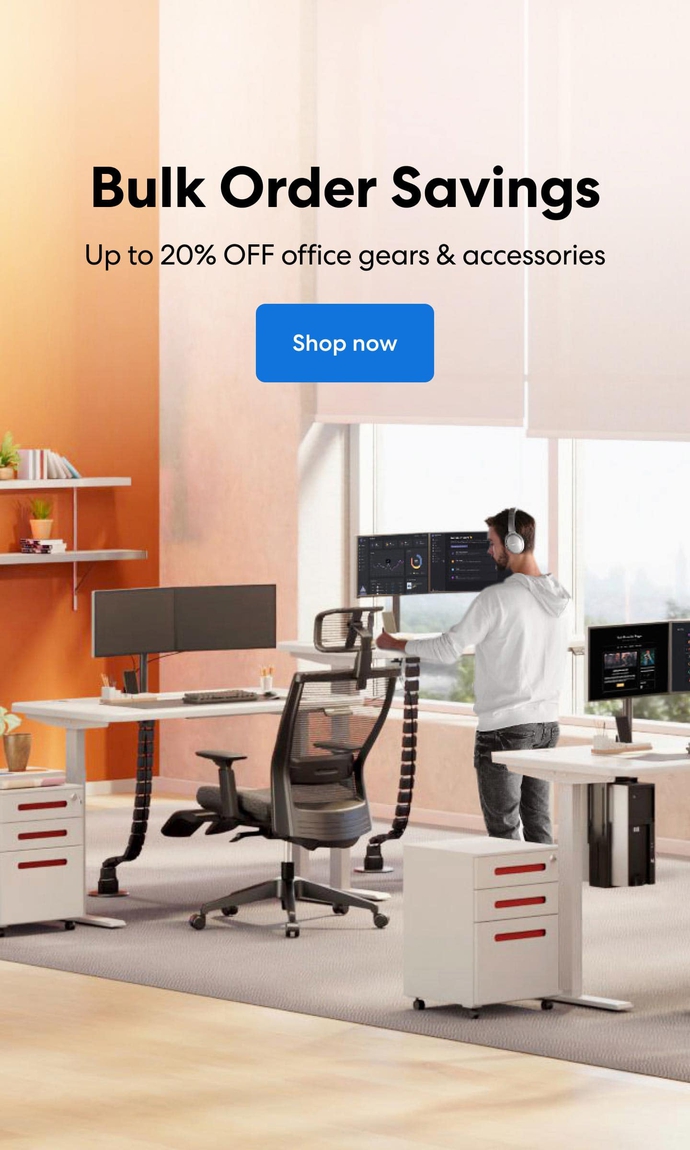 Subcribe newsletter and get $100 OFF.
Receive product updates, special offers, ergo tips, and inspiration form our team.