Whenever you think about executive work furniture, the first thing that comes to mind is probably a leather office chair. This type of material is a symbol of elegance and luxury, but what many people fail to understand is that there are many problems associated with it. 
In this article, we will go over the different issues with an executive leather office chair and some tips on maintaining your existing furniture. Read until the end as we will also explore the top four alternatives that are better and more durable. 
Let's get started! 
What Are the Common Problems with Leather Office Chairs?
Leather office chairs are often regarded as stylish and luxurious seating options. However, like any other type of furniture, they can come with their own set of issues. 
The following are the common problems associated with them: 
It Is Prone to Wear and Tear
Over time and constant use, an executive leather office chair can show signs of wear and tear, especially on the seat and its armrests. 
Some of the most common problems include scratches, creases, and color fading. Real leather office chairs may be more prone to these issues than faux alternatives.
It Gets Stained Easily
A leather computer chair is susceptible to stains and spills, and if not cleaned immediately, it can leave permanent marks. 
Liquids, such as coffee or ink, can penetrate the leather, which can make it challenging to remove the stains. It is essential to follow proper cleaning and maintenance guidelines to minimize the risk of staining. 
It Requires Constant Maintenance and Care
Real leather office chairs require regular maintenance and care. This includes routinely cleaning and conditioning the leather to prevent it from drying out and cracking.
It Can Cause Discomfort
While leather office chairs can provide a luxurious and comfortable seating experience, they may not be as breathable as other options. 
An executive leather office chair can retain heat, making it uncomfortable to sit on for long periods. This can be a problem for people living in warmer climates. 
It Is Expensive
Leather office chairs tend to be more expensive than chairs made from other materials. Those on a tight budget may have to explore alternatives.
It Can Cause Allergies
Some individuals may be allergic to certain types of leather or the chemicals used in the tanning process. This can result in skin irritations, discomfort, or allergic reactions.
What Are the Tips for Proper Care and Maintenance of Leather Office Chairs?
To ensure longevity and reduce wear and tear, carrying out proper care and maintenance of leather office chairs is essential. The following are some tips you should follow to help extend its lifespan and ensure that it looks great: 
Ensure Regular Cleaning
It's essential to regularly clean your real leather office chair as dust and debris can accumulate on its surface, adversely affecting its look. 
Use a soft cloth or vacuum cleaner with a brush attachment to remove the dust and dirt from the chair. Make sure you avoid using abrasive cleaners or harsh chemicals, as they can damage the leather. 
Invest in Cleaning Supplies
This tip is for you if you're one of those people who like to drink or eat on their executive leather office chair. 
Make sure you have a clean cloth with the appropriate cleaning solution nearby to wipe any spills or stains immediately.
Use a Conditioner to Restore the Leather
Leather can dry out over time which can cause cracks and affect its look. To help restore its natural oils, it's essential to condition your real leather office chair periodically. Make sure you purchase a conditioner that the manufacturer recommends and use a soft cloth.
Keep Away from Direct Sunlight
If left too long in sunlight or in a place with exposure to heat sources, the material can fade, dry out, or crack. You must keep your leather office chair away from windows, radiators, and heaters to improve its lifespan. 
Use Gentle Cleaning Solutions
Use a mild soap or a gentle cleaner to clean your leather computer chair thoroughly when required. However, before you do that, you should always test it on a small area first to ensure it doesn't cause discoloration or damage. 
Avoid Sharp Objects and Pets
Executive leather office chairs are prone to scratches or tears, which is why it is essential to avoid placing sharp objects near them or keeping your pets away from them.
Conduct Regular Inspection
To prevent further damage to your leather office chair, you must periodically inspect it for any signs of wear and tear. This can help you take prompt action and ensure that it remains in good condition. 
Ergonomic Mesh Chairs and Their Benefits
Since you need to maintain and properly care for a real leather office chair for it to last long, it's best to invest in ergonomic mesh chairs. This type of chair has gained popularity in recent years and offers a range of benefits, some of which include the following: 
It Offers Breathability
One of the key advantages of ergonomic mesh chairs is their excellent breathability. The material used in the backrest allows for enhanced airflow, which prevents heat and moisture buildup. 
It can keep you cool and comfortable and avoid the discomfort from heat retention associated with a real leather office chair.
It Provides Better Comfort
Ergonomic mesh chairs are comfortable and offer optimal support to your back. The mesh material takes on your body shape, allowing for a proper posture and reducing pressure points.
It Has Adjustable Lumbar Support
Unlike a leather office chair, most ergonomic mesh ones feature adjustable lumbar support, which you can adjust to provide targeted support to your lower back. This helps promote a healthy spinal alignment and reduces the risk of developing back pain or discomfort. 
It Is Flexible
Mesh chairs offer greater flexibility and freedom of movement compared to leather ones. It allows you to shift and change positions throughout the day comfortably. 
Such flexibility reduces the stiffness and rigidity often associated with a leather office chair. 
It Is Easy to Maintain
Compared to a real leather office chair, a mesh one is relatively easy to clean and maintain. You can easily wipe it with a damp cloth or vacuum to remove dust and dirt. This makes it a practical choice for office professionals.
It Is Cost-effective
Unlike an executive leather chair, an ergonomic mesh one is more affordable. This makes them a cost-effective alternative without compromising on comfort and functionality.
Although a faux leather office chair is more budget-friendly than genuine leather, it does not offer the benefits of a mesh one. 
It Is Environmentally Friendly
Mesh chairs are often manufactured using eco-friendly materials, such as recycled plastics. This reduces the environmental impact and makes them a greener choice than a real leather chair. 
Top 3 Ergonomic Mesh Chairs for Your Home or Office
Whether you're looking for a standing desk chair or an executive office chair, our list of the top four chairs has something for everyone. 
Autonomous ErgoChair Pro
With the Autonomous ErgoChair Pro, you can effortlessly adapt the chair to your preferences. It comes with an adjustable height, armrest, and other adjustability features, allowing you to get the perfect recline with five different lockable positions. 
Compared to an executive leather office chair, this one offers flexible lumbar support that can accommodate any seating position. It relieves pain and stiffness, making it a great option to consider. 
One of the key features of the ErgoChair Pro is breathability. It has a woven mesh back that ensures optimal airflow, keeping you cool throughout the day. 
Besides offering comfort, the ErgoChair Pro has a sleek and contemporary design. Combined with its versatility, this chair is the ideal choice for any office or home setting. 
To ensure durability, the ErgoChair Pro has undergone rigorous testing. It has a BIFMA certification and can support up to 300 lbs, making it a grea  office chair for a heavy person. 
With the ErgoChair Pro, you get the luxury and aesthetics of a real leather chair and the benefits of a mesh one. It is a fantastic product that will help you revolutionize the way you work. 
Dimensions
29"L x 29"W x 46" - 50"H
Seat height
18" - 20"
Materials
Polyester fabric with molded foam interior and durable nylon plastic frame; PU handrest pads
Colors
Cool Gray, Evergreen, All Black
Red Apple, Black & White, Baby Blue
Weight capacity
300 lbs
Warranty
2 years
Autonomous ErgoChair Plus
Designed for maximum movement and comfort, the Autonomous ErgoChair Plus is a fantastic alternative to an executive leather office chair. 
With a frameless construction, the ErgoChair Plus allows for unhindered movement. It doesn't make you feel confined or restricted. Instead, you can twist, lean back, and stretch without the fear of falling off. 
This ergonomic office chair focuses on natural mobility, enabling you to maintain an active posture all day. With great spinal support that adapts to your body, it offers the perfect amount of flexibility to cater to your spine's unique shape. 
You can customize the seating experience by adjusting the tension and recline across 26°. The ErgoChair Plus comes with 11 easily lockable positions that help you create your own optimal seating position. 
Unlike a leather office chair that traps heat, the thermoplastic elastomer strands on the ErgoChair Plus ensure a cool sitting experience. 
The adjustable tilt of the ErgoChair Plus plays a vital role in stabilizing your lumbar region. Its precise suspension system responds to your body's unique shape and movements, resulting in even weight distribution and improved circulation. It allows for unrestricted blood flow and optimal pressure distribution. 
Besides comfort, durability, and ensuring excellent posture, the ErgoChair Plus is BIFMA certified. You can buy this chair with confidence without worrying about its longevity. 
The ErgoChair Plus is an excellent alternative to an executive leather office chair. It exceeds expectations by embracing movement and providing support while ensuring comfort. All of this can help improve productivity. 
If you want to buy an ergonomic chair, this is a fantastic option to consider for your office or home.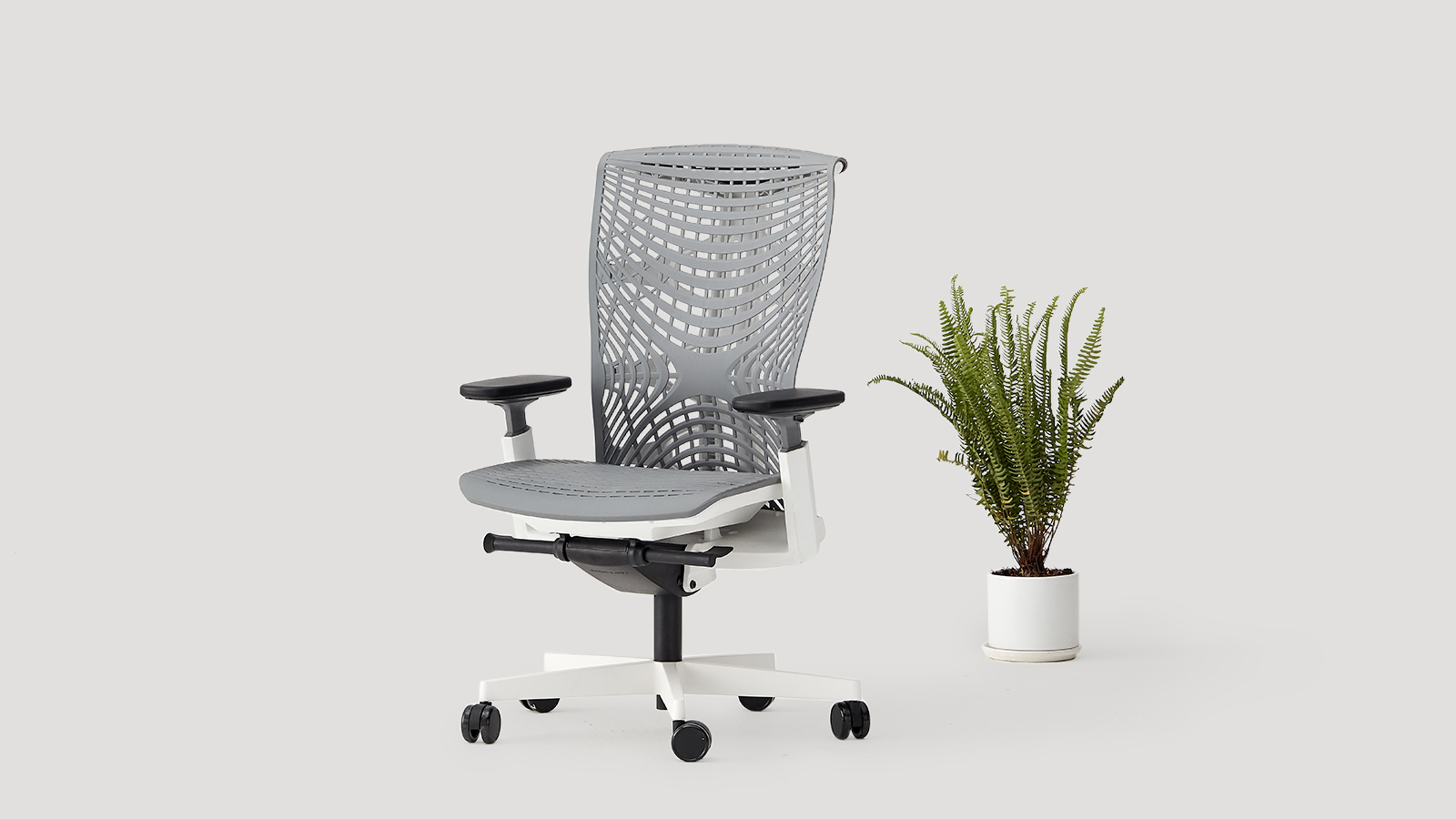 Dimensions
28"L x 28"W x 40" - 44"H
Seat height
17" - 21"
Materials
Naked TPE version: 100% TPE upholstery with ABS plastic frame.
Mesh version: 100% TPE and polyester fabric upholstery with ABS plastic frame.
Colors
Black Frame, Naked Black TPE
Black Frame, Naked Grey TPE
White Frame, Naked Grey TPE
Grey TPE with Blue Mesh
Grey TPE with Grey Mesh
Black TPE with Black Mesh
Weight capacity
300 lbs
Warranty
5 years
Autonomous ErgoChair Core
Suppose you're looking for the ultimate comfort. In that case, look no further than the Autonomous ErgoChair Core. 
With the ErgoChair Core's adjustable height, lumbar support, back recline, and other adjustability features, you can tailor the chair to your preferences. It allows you to find the perfect fit for any posture or task. 
Unlike a real leather office chair, the ErgoChair Core focuses on comfort that rivals your couch. The breathable mesh back maximizes airflow and provides fantastic ventilation. This keeps you comfortable even during extended periods of sitting. 
Built for strength and durability, this chair has undergone rigorous testing and is BIFMA certified. The build quality is fantastic, and it will last you a long time, making it an excellent investment for your office or home. 
The ErgoChair Core comes equipped with a lumbar support pad. This subtle yet effective feature supports the natural curvature of your spine. It promotes a healthy posture and reduces the strain on your back. 
Whether you're looking to lean back and relax or stay focused on your work, this computer desk chair is an exceptional seating solution that is a great alternative to a real leather office chair.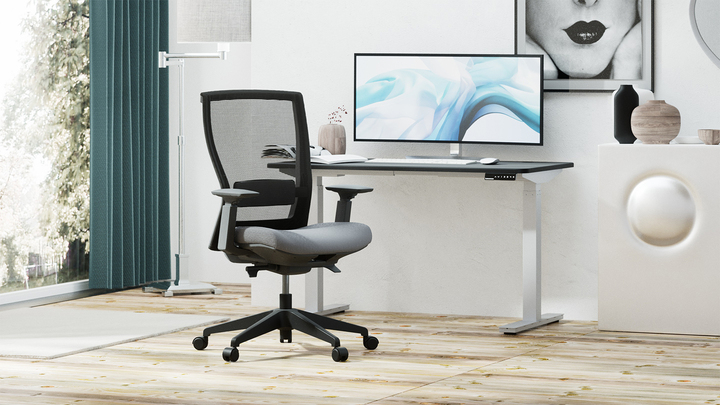 Dimensions
28" - 45"L x 28"W x 45" - 49"H
Seat height
18" - 21"
Materials
Polyester fabric with molded foam interior and durable nylon plastic frame
Colors
All Black without headrest and legrest
Cool Gray without headrest and legrest
Weight capacity
250 lbs
Warranty
1 year
Feature
Adjustable armrest, back tilt angle, seat height
Wrapping It Up
Although a leather office chair looks and feels great, it can be expensive and difficult to maintain. Ergonomic mesh sitting solutions are a fantastic cheaper alternative, easier to clean, and have many nifty features. 
However, before you purchase one from our list, it's best to check the chair dimensions and see whether it is the right fit for you!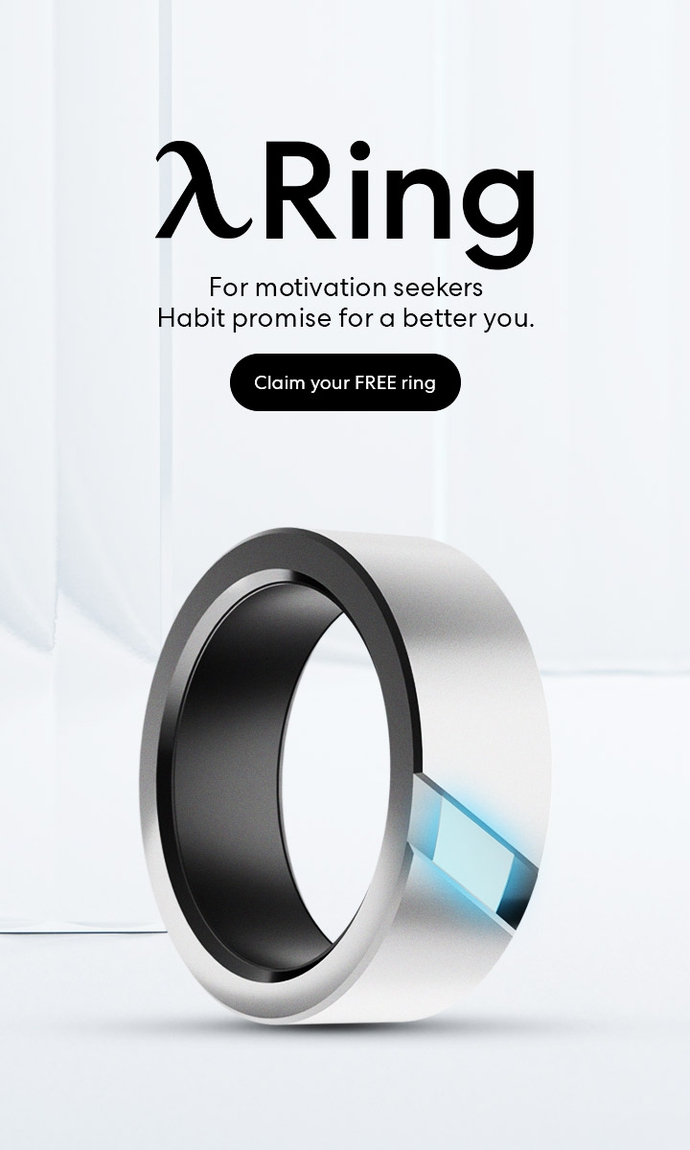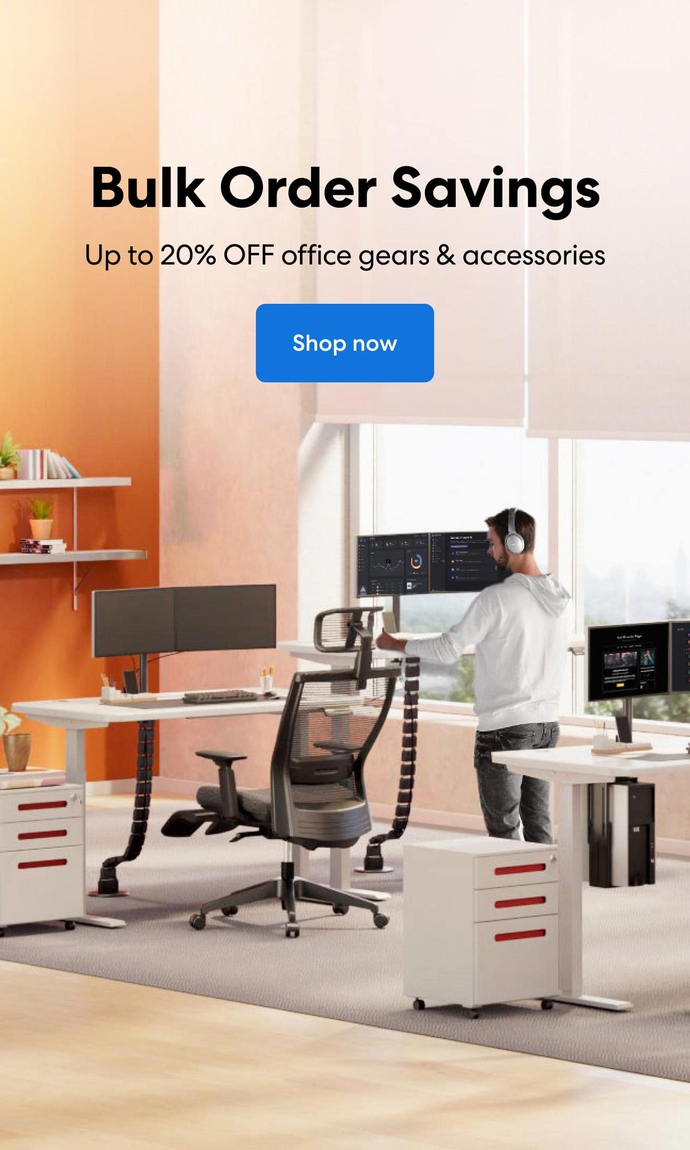 Subcribe newsletter and get $100 OFF.
Receive product updates, special offers, ergo tips, and inspiration form our team.