Modern workplaces are moving toward a flexible working style, which is why modern offices have more satisfied and happier employees. Another positive thing about modern workspaces is the focus on comfortable furniture and ergonomic placement of office desks and a chair. This means more and more office spaces are opting for ergonomic furniture and movable office desks, so they are not restricted to staying in the same space for hours.
Movable office furniture is extremely beneficial for office spaces following a hybrid work arrangement. A portable office desk for home can help you set up a workstation in any part of the home without going through the extensive and uncomfortable process of moving. This article will cover all the benefits of a portable office desk on wheels and the best movable office desks on the market.
Benefits of a Movable Home Office Desk
From the looks to functionality, durability, and strength, each factor of office furniture plays a vital role in making it an ideal pick for an office space. There are various benefits of choosing a certain type of furniture. Below, we have listed the top benefits of using a movable home office desk instead of a stationary one.
Improved Flexibility
Modular office furniture, whether it's office storage or larger workstations, is very adaptable to your needs. We've already stated how much easier it is to move than regular furniture, but that's just half of the story. Because modular furniture comes with a sleek, modern appearance as standard, you may easily change the style of your office.
Easy Relocation
Whether you have a hybrid work arrangement or an entirely remote office, rearranging furniture is a part of a flexible work routine. And truth be told, the relocation process is time-consuming in and of itself, but transporting furniture is the most difficult chore. Because the modular furniture provided is relatively light in weight, the moving procedure is smooth and straightforward.
Looks Appealing
When it comes to making the correct impression on outsiders, appearances are key, especially if you welcome customers and clients into your business regularly. You give the right image to those visitors by using high-quality modular furniture.
Luxury office furniture does not need to be enormous and heavy. Having light, efficient modular furniture in this segment will demonstrate that your company is confident in what it does and how it operates. Who doesn't want to work in a clutter-free environment where they can walk around and breathe freely?
Cost-Effective
Modular furniture, as opposed to traditional heavy furniture, can help you get the most out of your investment. Modular furniture saves money, but it also means you won't have to spend as much money on individual goods for each area of your business.
Improves Comfort
Thanks to modular office furniture, your staff will enjoy working in a pleasant and appealing environment. With a movable office desk, they can move anywhere near the window, away from the noise, or place their desk where needed. This will help employees feel more comfortable, and employees at ease will always achieve their full potential and perform better than someone who dislikes the office.
Top Movable Office Desks
Years into working from home and valuing flexible work arrangements, we have realized how an office desk or an office chair impacts the wellness and productivity of employees. This emphasis and relation of productivity to office furniture is why so many modern places are now thinking twice before buying the right furniture for their office setup. Here are our best picks for top movable office desks in 2022.
1. Rolling Stand up Desk by Mount-It!
This height-adjustable rolling stand-up desk by Mount-It! is easy to roll into any room or space, just as the name suggests. The desk has a compact size and design but offers plenty of storage on four shelves. It has a separate platform for the screen and a slightly lower platform for the keyboard and other desk accessories to ensure an ergonomic position while working.
The desk offers height adjustability for individual platforms, and the weight capacity per shelf is 33 pounds, making the whole desk sturdy to bear up to 132 pounds easily.
2. Rolling Computer Workstation by Mount-It!
Our second pick is the rolling computer workstation by Mount-It!, which is available in two exquisitely pleasant colors, black, and silver. The desk has similar features to the choice mentioned above, and it has four shelves, each one with a weight capacity of 33 pounds. You can also adjust the top shelf from 37 inches to 54 inches and find the best ergonomic work posture.
3. Electric Mobile Standing Desk
The electric mobile standing desk from Autonomous is a flexible work arrangement with smooth-rolling wheels at the base. The desk has a rather unique and compact design making it suitable for the majority of the rooms and even the perfect pick for tiny dorm rooms. The desk offers a wide range of heights from 31 inches to 50 inches, and it also offers a higher weight capacity than the options mentioned above. It also comes with a ten-year warranty.
4. Mobile Standing Desk with Retractable Keyboard Tray
This other mobile standing desk, slightly different from the previous one, offers a compact solution because of its retractable keyboard tray. It has a top platform measuring 32 by 20 inches, making it suitable for a laptop or even a large-sized desktop screen. The weight capacity of this desk is 99 pounds which is slightly lower than the other options, but this one is made for basic everyday work rather than heavy-duty monitor screen setups.
5. Large Adjustable Rolling Desk
This manual height adjustable rolling stand-up desk is a cheap option for someone who needs a height-adjustable desk but doesn't want to pay for the extra electrically powered motors. The desk has a 40 inches wide tabletop and easy-to-roll wheels that can be controlled with lockable casters. The desk has four different platforms, which you can use for work or storage, depending on your needs.
It also has a height range of 37 inches to 55 inches, and the desk comes with a ten-year-long warranty, so you don't have to worry about buying a product that doesn't meet your needs.
Video ads for product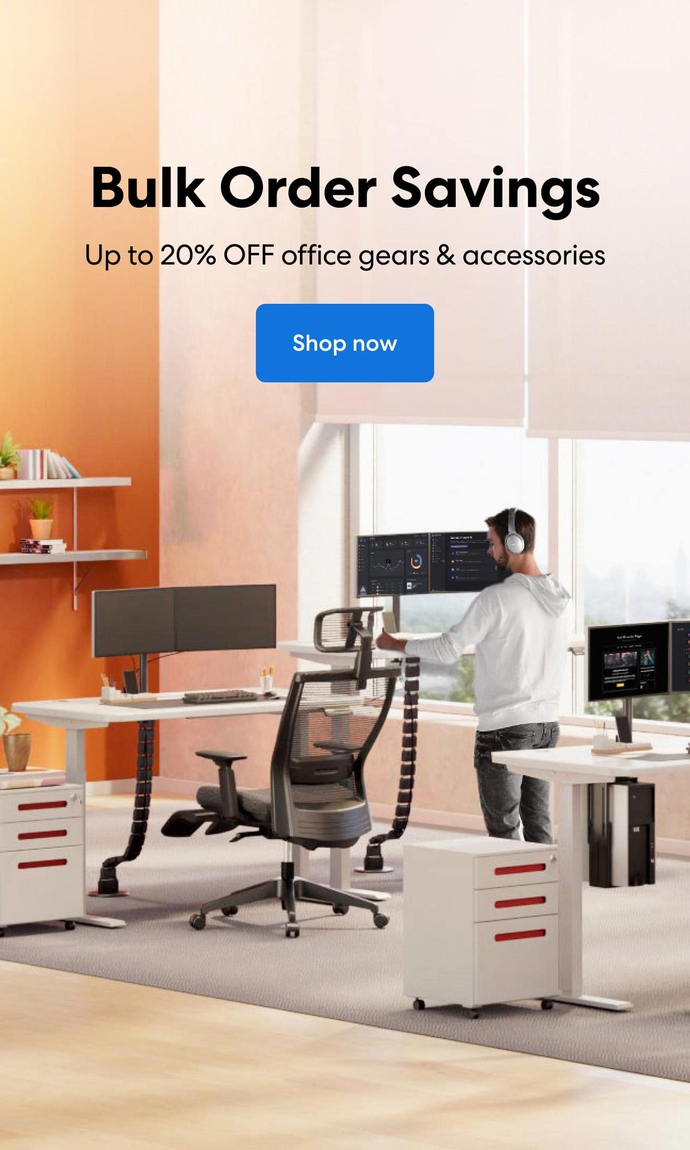 Subcribe newsletter and get $100 OFF.
Receive product updates, special offers, ergo tips, and inspiration form our team.