Regardless of your industry, you need to work in a creative environment to use the right aesthetic desk items to function at your best. From the colors on the walls to the intangible sense of cohesiveness, working aesthetic desk setups should facilitate innovation, collaboration, and comfort for business owners, employees (on-site and remote), and even customers visiting.
Remote workers define creative environments as the physical, social, and cultural environments in which creative activity takes place. Furthermore, they suggest that the best workspaces include concentration and absorption zones wherein people can become deeply absorbed in their creative work and reach concentration levels not possible in other work environments. 
It's not very complicated. You really just require good aesthetic desk supplies placed just where you need them. Some smart workplace aesthetic desk accessories choices can spark innovation and creativity.
1. Sustainable Cork Desk Pad
If you're looking for eco-friendly aesthetic desk stuff, then this is the item for you. Oak cork tree shavings are used for making this full-length cork desk pad. In fact, harvesting cork does not have any detrimental effects on the tree; it can actually prolong the tree's life. It protects your desktop surface while improving mouse performance and is made from 100% recyclable materials.
Cork shavings are recycled from cork oak trees to fabricate the desk pad's natural cork surface. This unique method of harvesting cork does not harm the trees at all; harvesting helps to extend the lifespan of trees.
It makes a flexible yet robust sheet by pressing flat cork shavings, drying them, and fusing them with a polyester backing. Using a damp cloth, you can easily clean it. Since this aesthetic desk item is crafted from natural materials; there may be some variations in color, texture, and marking. If you think the brown color is too bland for your taste, consider the Desk Topograph Deskpad featured on our site.
2. Microfiber Vegan Leather Desk Pad
A soft and smooth vegan leather desk pad will protect your desk and improve mouse performance. Utilizing non-woven technology to replicate the fibrous collagen structure of real leather with ultra-fine nylon yarns is twenty times thinner than silk. Using our non-woven technology, we can produce a fabric that is liquid-repellent, stretchable, soft, and strong, supporting all your desk items – even the bigger ones like a wireless charging desk pad. Some benefits that you get from this:
 A three-fold increase in resistance

One and a half times more durable

2.5 times more resistant to peeling

1.5 times the tensile strength of natural cow leather 
3. City Pen Cup by Lexon
It will upgrade the look of any office interior with its sophisticated design. This cylindrical pen cup is made from aluminum with just enough space for everything. It comes in a choice of green, gold, or gun. Quaglio Simonelli Creative Studio gave the common pen holder a poetic Art Deco makeover in France.
Dark Green, Metallic Grey, and Soft Gold colors are available. Its brushed finish adds a rich lustrous glow to any workspace, thanks to its solid aluminum construction in precious jewel tones. This stylish desk accessory maintains a minimal, organized, and chic desk environment. Work and focus more effectively with a clear mind with the best office accessories.
4. Home Office Work Smarter Set (2-piece)
In addition to the monitor and laptop stands, Enkel Studios provides high-quality pieces that are both functional and aesthetic—creating an ergonomic working position while maximizing your productivity with your laptop and monitor. You have more space for aesthetic desk items like our brand new rubbing alcohol personal fireplace when you clear up your desktop.
Create a seamless look by matching aesthetics. Combining the laptop and monitor stand results in the perfect ergonomic height for the screen. Relieves neck and back pains by raising the laptop stand. Some benefits include:
Enhances ergonomics by elevating the screen height.

Reducing neck, shoulder, and lower back strain.

Cooling and airflow improvements for laptops.

Materials are sourced sustainably. 
5. Rose Gold Desk Organizer
It adds a glamorous touch to your office desk or aesthetic gaming setup, mixing pink and gold. You can keep small aesthetic desk items at your desk each day by putting them in a desk organizer. A pull-out drawer and five compartments accommodate everything from scissors, to paper clips, to tacks and pins to sticky notes.
Underneath the organizer, four foam pads give the item some stability and prevent the metal frame from scratching your desktop. Despite the organizer's sturdy steel frame, its shimmer finish adds a lovely touch. Dimensions are approximately 5.7 wide by 8.7 high.
6. Gold Triangle File Holder
This compact metal triangle file holder is ideal for any desk layout color scheme, especially for those looking to add understated elegance to their desk. Now you can keep track of all those important documents, papers, notes, and files accumulated on larger and smaller surfaces. The rest of your accessories will be easy to find.
The roomy organizer stands out no matter where you place it on your desk; it even has nine vertical compartment slots for folders. This aesthetic desk item is surprisingly large; it measures 11.25 inches in length and 7.125 inches in height. Given those dimensions, you can use the holder for holding more than just files. Cables can also be arranged using them.
7. Office Oasis Magnetic Desk Organizer
Regardless of how many accessories you need to store, this magnetic desk organizer works for you. The magnetic base allows you to remove and reassemble the components. With its non-slip rubber feet, this desk organizer is designed not to slide around or spill your desk accessories.
In addition, the bamboo is solidly constructed, and the plastic is top-quality for long-term durability. It's made of solid bamboo and high-grade plastic, so it's designed to last a lifetime and suits your desk, bathroom vanity, nightstand, or any other area:
Two tall trays

: for scissors, pens, pencils, highlights, and other longer items you use.

Phone stand

: Holds most phone models at a proper viewing angle.

Medium tray

: For business cards, debit cards, erasers.

Post-It holder

: For notes and other memos

Short tray

: for loose items like clips, binder holder, paper clips

Bamboo Base

: with a magnetic grid, it's easier to move around compartments and snap them back into place.
Video ads for product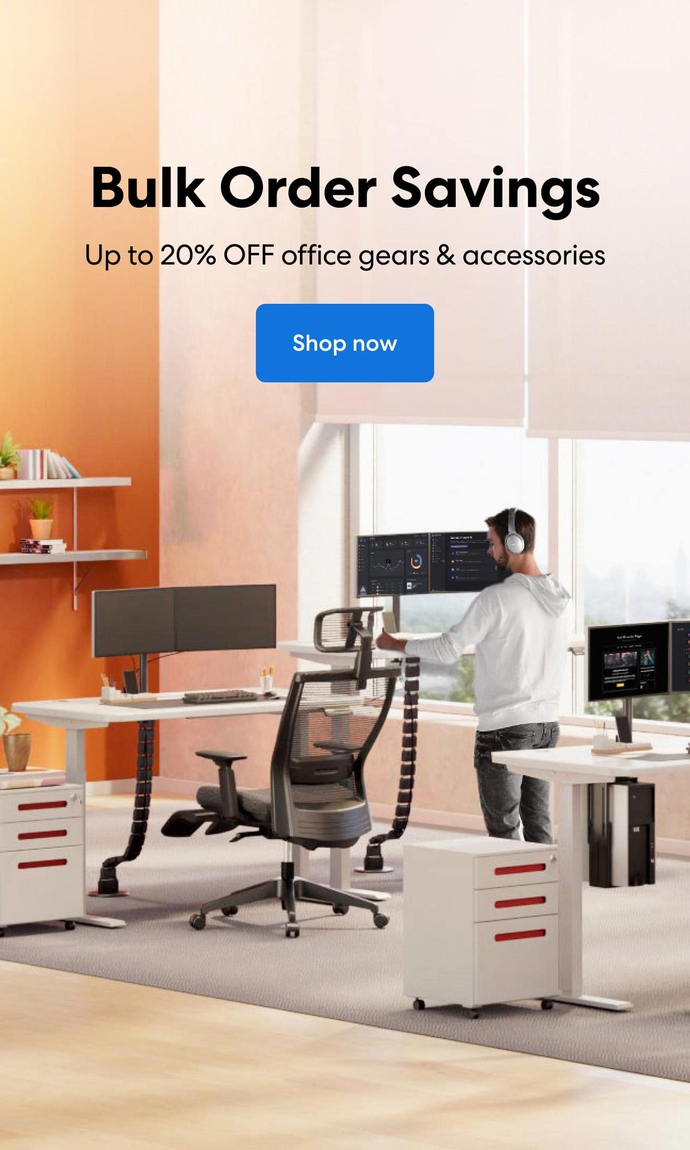 Subcribe newsletter and get $100 OFF.
Receive product updates, special offers, ergo tips, and inspiration form our team.