Workplace Inspiration
Aesthetic Gaming Room Setups - 2023 Gamer's Guide

Autonomous
|
Oct 29, 2021
1,809 Views
Now make the best of your gaming room, where you spend your maximum time.  If you already have a theme, perhaps it is time to consider a change?  If you are gaming alone or with a partner, ensure you have one of the most comfortable setups. As you create or redo an aesthetic gaming room, you can choose from a variety of options. For your furniture, select those that will give you good health and not aches and pains over a while.
Creating Your Aesthetic Gaming Room
What are the basics that you need to have a great gaming room setup? As you set up an aesthetic gamer room, keep your options open to manage changes in the ambiance and lighting of the room.  Why? As you change games, you may want to change the room's décor to give you that extra edge of feeling.
Many gamers find it helpful to set up an aesthetic gaming bedroom. You can lie down low on the bed as you creep into those cornfields with your gun ready to fire. Then, move slowly amongst those treacherous ravines to avoid being spotted. 
Gaming Desk
When considering a desk, look for an ergonomic desk for your aesthetic gaming room. Why? With an ergonomic desk, you are getting rid of a sedentary lifestyle of sitting and working. Instead, get those muscles in action as you switch positions to work between sitting and standing. Buy an electric standing desk which offers you convenience as you can switch desk height between sitting or standing by the mere flick of a button. Amazing, isn't it? Here are the top three desks:
1. SmartDesk Corner
Are you looking at placing multiple monitors for enhancing your gaming experiences? Now your search ends with this L-shaped gaming desk. With this L-shaped desk, you can access the entire desktop easily as you stand or sit and play games or design one. In addition, with so much free space under the desk, you have ample space for placing your feet.  The desk can be raised or lowered between 29.4" to 48".  The whisper-quiet triple motors raise the desk evenly for your convenience.  It has a load-taking capacity of 400lbs, managed by the sturdy steel-framed legs that take all the weight. They give you the highest stability as you don't want the table to be wobbly as you go from one terrain to another.
2. SmartDesk Pro
Here is a desk that offers one of the best height ranges between 26.2" and 52".  Now set your desired height levels using the pre-programmable console. You can save up to four settings. Get a smart desktop made from natural woods that finished classically.  Don't miss the sturdy and strong solid steel frames of SmartDesk Pro that can accommodate up to 310 lbs of weight.
3. SmartDesk Core
Raise your desk to forty-eight inches or lower it to 29.4 inches for your work.  Change position as you continue to play your games, either standing or sitting.  One of the best gaming desks, you have a choice of six different colors to choose from.  The sturdy SmartDesk Core has legs made from solid steel that keep your desk stable as you play. Your desk can take a weight load of up to 265 lbs.
Gaming Chairs
Now complement your aesthetic gaming room with an ergonomic chair that gives you one of the best reclines.  Rest your body as your chair does all the weightlifting as jumping the perimeter or bending down to kill the enemy.  Here are your best options.
4. ErgoChair Plus
Avoid any hindrance in your movements with the ErgoChair Plus, as it has a frameless upper back.  This chair is easy and comfortable to sit in. Are you caught in a tight situation in the game? Sit back, recline and relax as you make your decision with the back and seat of the chair made from mesh. The mesh gives you optimum airflow to keep your body cool. In addition, it has one of the best spinal supports. 
5. ErgoChair Pro
Here is another best alternative to the above option. Available in six different color combos, this chair reclines up to twenty-two degrees for your comfort.  You can lock the seat recline for your ease. ErgoChair Pro is made from 100% natural earth-friendly materials.  Wow, isn't it?
Monitors
As you set up multiple monitors in your aesthetic gaming room, do leave some between them for turning them for ease of viewing.  Go ahead and use a monitor arm to save space on the desktop.  These monitor arms are available for single or dual monitors.  They turn 360 degrees for your ease. Look where the enemy is crouching or have a fantastic overview of the Rockies as you search and narrow down your enemy.  Shoot that white car as you move the monitor front or back to enhance your viewing.
Best Three Aesthetic Gaming Room Setups 2022
Here is our top selection for one of the best aesthetic gaming setups.
Star Wars Gaming Room
Create a space station to control the space from your enemies. Arrange the multiple monitors to manage a single view. Jump from one view to another at the press of a switch.  Hang in a picture of star wars heroes in your room to add to the ambiance. Use gaming desk LED lights to create the space effect.
Nintendo Gaming Room
Create shelves to hold all your Nintendo game CDs and get yourself one of the most awesome gaming setups. With multiple racks filled with games, add the famous characters Mario, Luigi, Princess Peach, or Wario to your wall. Or keep them as minute 3-D models on your desktop. Then, hop into the space, fire those shots, or quietly explore with a multiple monitor setup.
Racing Station and PC Streaming
Race your horses, cars, and more with this setup. Use a multitude of monitors. Deploy a cable tray under your standing desk to keep your area clutter and accident-free. Stand up and play as you rev your car's engines. Or stand up on your toes and listen to those hooves stomping the dust under their feet. Hee-Haw! Beat the heat with a white gaming desk.
Wrap-up
With gaming at prime, avoid making a mistake with ordinary tables and chairs for your comfort. Instead, get an electric standing desk, an ergonomic chair, and some of the best gaming room accessories that help you play your games with ease. In addition, explore some of our aesthetic gamer room ideas.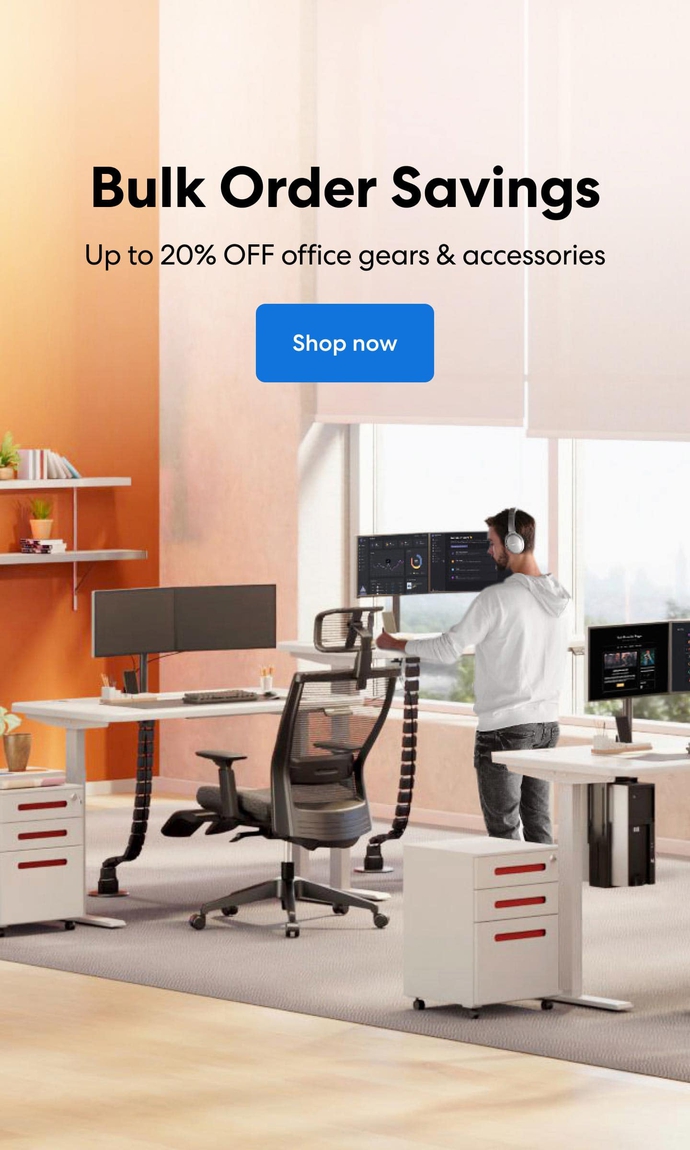 Subcribe newsletter and get $100 OFF.
Receive product updates, special offers, ergo tips, and inspiration form our team.