Latest Updates
Algolia Creates Hosted Search Solutions For Developers And Webmasters

Autonomous
|
Aug 31, 2021
1,614 Views
For Algolia, having a fresh approach to the industry means having a fresh approach to work culture.
Algolia, who originally emerged from the French tech scene, is now based in San Francisco and making waves with their powerful hosted search API, which brings better search functions for developers building apps and websites.
Earlier this month they made headlines on Techcrunch, Business Insider and made their way into the Financial Times for raising a generous new round of funding that sets them on a new track to even bigger horizons.
'Algolia is still growing like crazy, with its annual recurring revenue doubling every year. Algolia's goal hasn't changed — the startup wants to provide the best search experience to everyone building websites and apps out there.' - TechCrunch
'Algolia is announcing on Thursday it's received an additional $53 million in funding, led by returning investor Accel. All told, Algolia, which has 115 employees, has raised a little more than $74 million.' - Business Insider
'Algolia creates technology that allows developers to build a search engine for their app or website. Clients include Twitter's live-streaming app Periscope, Amazon's Twitch and luxury group LVMH among its clients. It now powers 25bn searches across 8,000 sites and apps monthly.' - Financial Times
Much like many companies you find in the tech and start-up scenes, they are setting new trends from the inside out. For Algolia, having a fresh approach to industry means having a fresh approach to work culture; this means looking at how they can build a workspace which serves their employees and helps them to work better.
Not only do they incorporate new technologies such as using Zoom for video conferencing and Slack for everyday communication (not to mention Autonomous products), they also actively encourage health in the office by offering a personal trainer once a week and fresh fruit deliveries every afternoon.
This is characteristic of the how startup culture is catalysing new approaches to workspaces. Starting with the outlandish office designs of Google which grabbed headlines across the globe now over a decade ago, the startup office aesthetic has become a must-have for tech heavyweights. Today everyone from AirBnb to Xiaomi is following suit (strictly without suits).
We went to talk to them about their product and how they keep their offices healthy, happy, productive and smart.
What is the vision of your company? What problem are you trying to solve?
Algolia's vision is to help connect intent with content. Concretely, we help product builders great consumer-grade search for their app or website. Google set consumer expectations for search unattainably high for individual product teams, until now. Algolia is laser-focused on consumer-grade search on web and mobile, meaning our users benefit from our collective search experience and get a product they can customize and make their own.
How is your solution an innovative approach for your customer?
Our customers traditionally either use turnkey solutions that don't allow for customization or they build search in-house using open source technologies that have long ramp-up speed and aren't designed specifically for consumer-grade search. Algolia comes out-of-the-box with lightning-fast, typo-tolerant results as well as a set of tools to help product builders create the perfect search for their users.
What's coming next in your industry or in your company that you can share?
We believe that, just like SaaS (Software as a Service) changed the way businesses buy software, so SaaS API companies like Algolia are changing the way businesses build software. Providing fundamental building blocks started with infrastructure (cloud hosting, content delivery networks), then commodities (text messaging, email) and now mission-critical features (payments, authentication, search).
What do you think is the most important quality for an office to have?
Community is at the heart of our office. Each office must have an open space that serves as a dining hall, all hands meeting space and community space for local meetups to use. If you want to build a community, you have to be a community.
How would you describe your company culture in three words?
Inclusive, Caring, Transparent
How do you promote health and well-being in your office?
We offer a personal trainer once a week, provide well balanced lunches twice a week, get fresh fruit delivered weekly as well as a variety of healthy snack options on hand!
Do you have any guilty pleasures in your office?
That would have to be the birthday cakes!
How do you encourage social aspect of your office?
We encourage social interactions and promote communication between different teams throughout the office by providing lounge areas, hot desks, and hosting a weekly happy hour for the team to name a few.
What is an office improvement you and your team has made to help everyone work smarter?
Integrating Zoom into our meeting rooms (and integrating our meeting rooms into Google Calendar) has made it easier to reserve rooms, organize calls and get everyone talking together.
Why did you choose to use the SmartDesk in your offices?
Ultimately our goal is to create a comfortable work space for our team, the SmartDesk gives them the freedom and flexibility to achieve that.
Do you have any particular practices or tools (eg. app's) for encouraging and enhancing productivity?
We use Slack for communicating with the team throughout the day, it is a great tool not only for work but for building relationships among the team.
What do you hope to see in offices in the future?
Serendipity by design: an office that promotes random interactions with people.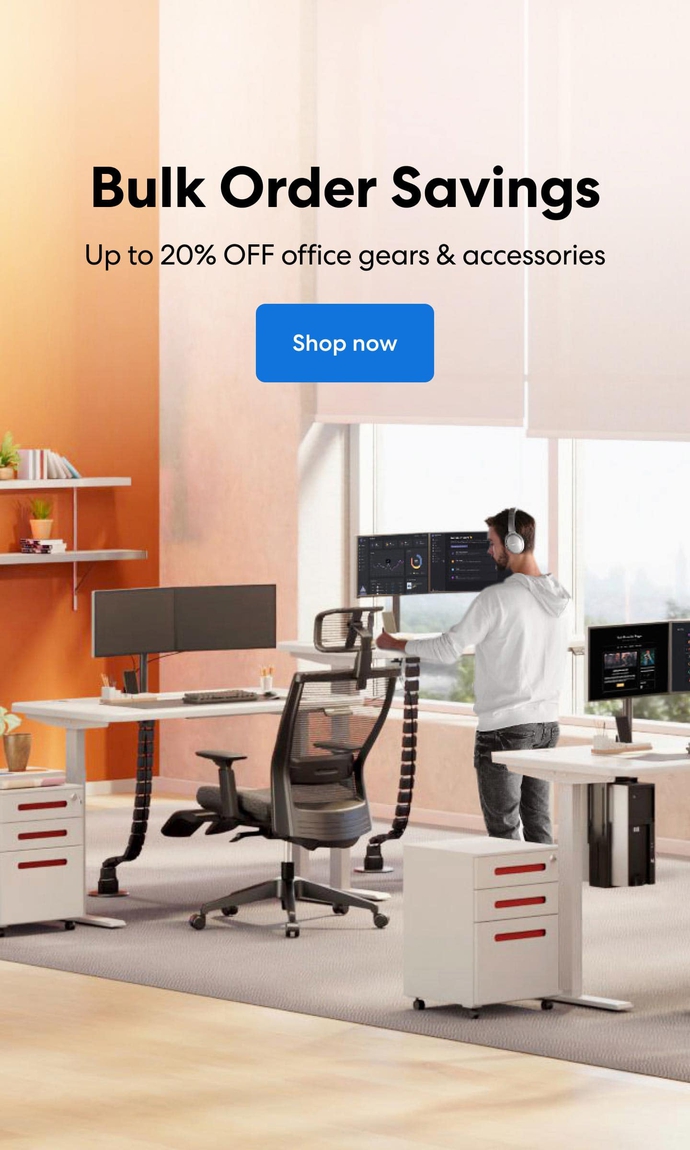 Subcribe newsletter and get $100 OFF.
Receive product updates, special offers, ergo tips, and inspiration form our team.