Workplace Inspiration
Art Studio Interior Design Ideas For Inspiration and Ergonomics

Autonomous
|
Dec 10, 2022
902 Views
Interior design aims to enhance the aesthetic beauty of different spaces by shaping their interiors. In addition to enhancing the indoor environment, it achieves a pleasing aesthetic look as well. The process of building the ideal art studio interior design environment includes research, efficient planning, conceptual development, and designing the environment. 
Architects today enjoy designing and creating the perfect spaces to work in - ones that they can be relaxed in and that are enjoyable for their clients too. Are you an art designer? Are you looking for ways to revamp your art studio interior workspace? Luckily, you already know a lot about key art studio design requirements, as well as knowledge of fabrics, colors, and furniture. But, you could definitely use our help in pulling together the perfect art studio look with these tips. The following are some of the best art studio interior design ideas.
L-Shaped Interior
L-shaped corner sofa seating helps make a room look bigger since it saves a lot of space when placed in the corner of your art studio. Try to find a study table or dresser in an L-shape and place it at different corners of the room if you are getting one.
The Flooring
A plain or light floor can make a big difference in the appearance of a large privacy pod area, such as a hall or main living room, while a wooden floor can make a dramatic difference in the appearance of a bedroom or study room or even a high-quality wood pattern vinyl floor mat. 
A wooden floor or flooring patterned with wood will instantly increase the appeal of any furniture used in your prefab studio shed. It's obvious when we look at the product pictures of any furniture displayed on furniture websites or online shopping sites. 
In addition to placing furniture and displaying it, many small prefab cabin furniture showrooms also install wooden flooring. It is very simple to understand this principle if you quickly search on Google for a picture of the furniture of your choice.
Try Texture
Any space can be made more interesting by adding texture. Make your art studio interior design cozy with a throw blanket, or use textured wallpaper in your living room.
Have At Least One Bedside Table In The Bedroom
It is possible to create a designer look in the prefabricated ADU by placing a side table with a lamp on one or both sides of the bed. The height of the side table should be the same as the level of the mattress. Additionally, it is very popular to have some artwork behind the bed. A wall shelf against the home office shed wall against which the bed is placed is highly recommended. Add elegance to the bedroom setup with some photos arranged in a collage style on your walls directly behind your bed headstand.
Indoor Plants
Not only does this add color, texture, and dimension, but it also acts as natural art. A room becomes more comfortable and cozy when it's decorated in this manner. A large one would be best, but adding multiple smaller ones in your prefab ADU wouldn't be a bad idea either. If you are not good at keeping plants alive, buy a faux one! 
Any space can be brightened up with plants, and they can also purify the air. Choosing low-maintenance plants that are easy to care for is a good idea if you do not have a green thumb. A succulent cactus or air plant is a good choice.
Layering Rugs
In this way, a space is given a little bit more texture and design in your StudioPod. It isn't necessarily functional, but it is adorable and interesting and looks intentional. The visitor might think, "I wouldn't have thought of that, but that looks great! "
Sofa Table
Intentional use of space, functionality, and dimension can be added through a skinny table placed behind each couch. With these tables, you can include smaller decor like plants, maps, decorative items, books/magazines, etc., that enhance the character of the room. And you can rearrange these smaller items frequently alongside a wall or in the middle of the room.
Artwork
Adding artwork to your artist studio design ideas adds so much to it and reflects your own style or interest. Don't forget to add any pieces to show off and revel in your talent! It's a great way to incorporate some color that you can coordinate with other things, like throw pillows!
Wall Treatments
You can treat dead walls by using texture, wallpaper, wooden panels, decorative pieces, etc. If you have large windows, you should take special care to dress them. Windows can be treated with a combination of curtains and blinds. You can make one or two corners of this area attractive by putting some special elements or thoughts in them.
Consider Your Lighting
The right lighting can greatly affect how your home looks and feels. Consider adding some new light fixtures or investing in a lamp with a dimmer switch if your home's lighting is unsatisfactory. Try opening up the curtains or blinds during the day if your home does not receive much natural light. You might also consider adding some mirrors to help reflect light.
Make The Most Of Natural Light
The right lighting can really make a big difference in your mood and your focus. Natural light simply amplifies that: it can penetrate your studio and directly enhance creativity. Since daylight synchronizes our circadian rhythm and improves our sleep-wake cycles. It also helps us to feel more focused and awake and boosts cognition too.
Find Inspiration In The Use Of Colors
Color is an influencing factor and when synchronized the right way, can work wonders. Bright colors can make you feel more at ease and stimulate imagination, a sense of adventure, and the creative areas of your brain. However, colors tend to have different effects on different people. So, painting your studio walls in one color can make you feel innovative. For example, green is supposed to help boost creativity, while blue helps you to calm down or boost focus.
Video ads for product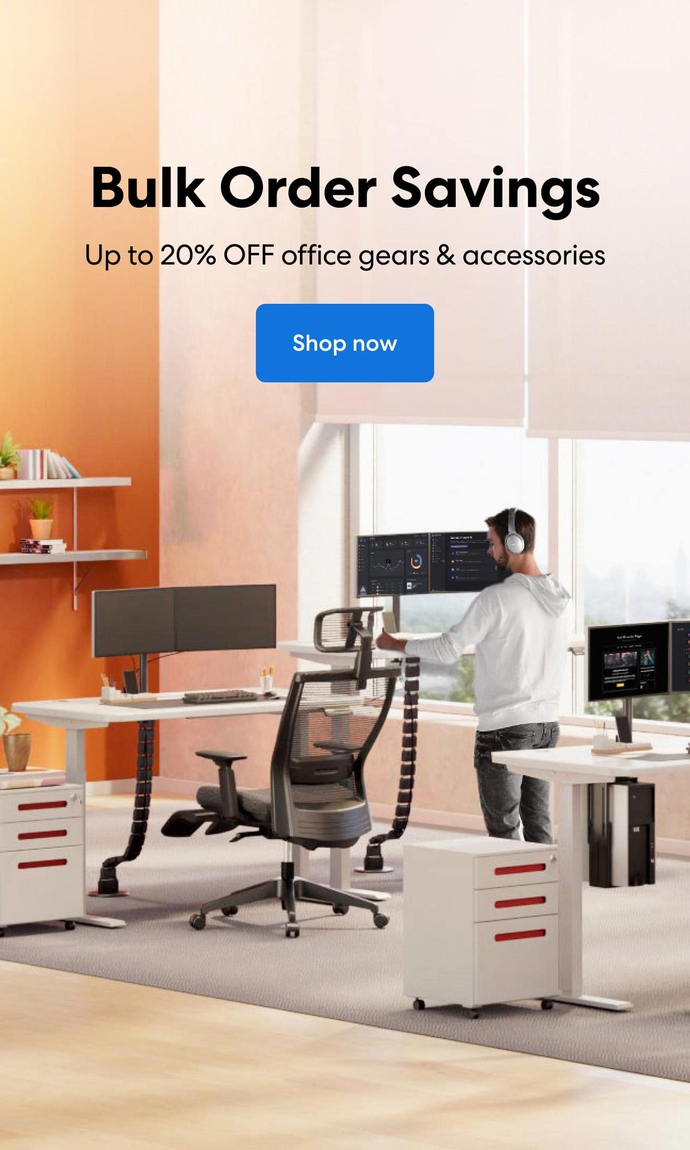 Subcribe newsletter and get $100 OFF.
Receive product updates, special offers, ergo tips, and inspiration form our team.