As a mechanical keyboard manufacturer, Royal Kludge focuses primarily on budget-friendly keyboards. Newer enthusiasts have been introduced to mechanical keyboards thanks to their great value products. A majority of their products also have enthusiast-grade features like hot-swappable switches.
It is no surprise that Royal Kludge has become the go-to brand for many budget-conscious enthusiasts. However, their low prices make them stand out while maintaining key enthusiast features like hot-swap switches. Their price makes them easy to overlook, even if they have their fair share of limitations that you can know more about in this Royal Kludge keyboard review.
As part of this article, we will examine the Royal Kludge brand in further detail. Through this comprehensive Royal Kludge review, we aim to assist consumers in deciding whether Royal Kludge keyboards are a good fit for them.
About the Brand - Royal Kludge
We own a complete set of automated production lines, which we independently designed and developed. We specialize in developing and manufacturing game equipment peripherals. The device is designed with the help of a senior electronic R & D team in the domestic industry and has been carefully crafted over many years. The product line of professional mechanical keyboards, gaming mice, headsets, and other products has been meticulously researched and developed.
In 2014, Royal Kludge was founded as a Chinese manufacturer of gaming peripherals. Their main focus was to provide high-quality products at an extremely competitive price. As of 2019, the RK61 has been available on the market.
In the years since the RK61 formula has been refined by the company and expanded into several new form factors, almost every size of a mechanical keyboard is available from the company now. Although Royal Kludge doesn't stray too much from its budget-friendly formula, they are still one of the leading budget-priced mechanical keyboard brands. Now, let's explore some typical products in this Royal Kludge review.
1. ANNE PRO Mechanical Keyboard with Gateron Brown Switch
A minimalist design that makes the most of what is available on the ANNE PRO keyboard . It provides easy access to all the functions while requiring less hand movement. Since it is portable and compact, you can easily move it around the office and save desk space. Fits right in your backpack and is perfect for at home, on the go, and at work.
Bluetooth connectivity allows wireless connections with up to four devices and seamless switching between them. OBINSKIT's starter software has been redesigned to simplify the setup of your lighting, key layout, and macros. When using the F1-F12 keys while gaming, on the Caps Lock button, you can use the "Magic Fn".
2. RK61 Wireless 60% Triple Mode Mechanical Keyboard with USB C Cable
Introducing the first of its kind Triple Mode Keyboard - the wireless mode features a stable Bluetooth 5.1 chipset, a hassle-free 2.4Ghz dongle, and a wired USB-C port. Suitable for smartphones, laptops, and tablets, the Royal Kludge RK61 review is the best option.
Gaming Mechanical Keyboard with 61 Keys: This compact mechanical keyboard gives you a tidy desktop. You might be interested in knowing that 60% of Bluetooth gaming keyboards without num pads are the top choice for FPS gamers, as there are more spaces left to move your mouse around.
With a hot-swappable PCB, you can easily swap out switches without dealing with soldering issues. Make your unique keyboard and enjoy the fun of it. Using the lightest backlight, the RK61 60% mechanical keyboard allows you to use it for about 13 hours continuously, and you can use it for up to 360 hours in standby mode. Despite the RK Royal Kludge RK61 review's single LED backlight, it is not dull due to the 17 dynamic backlight modes that keep the plain effect at bay.
3. Redragon K618 Horus Wireless RGB Mechanical Keyboard
The user experience has been upgraded with Redragon's innovative first-generation connection technology (3-mode), Bluetooth 3.0/5.0, 2.4Ghz wireless, and USB-C wired modes. The Dragon K618 offers a true wireless connection with no latency and lag for all devices in the market, thanks to its improved 3.0/5.0 Bluetooth along with 2.4GHz chips (wireless). With easy access to various wireless devices, there are no limits to what can be achieved on this and the Redragon K617 model.
Low-profile switches are used throughout the keyboard to minimize the distance to actuation, including the bottom board, the middle switches, and top keycaps. Another awesome feature discovered in this Royal Kludge keyboard review is the convenient way to record routinely used macros, play your next songs, or simply adjust the volume without software.
4. Mechanical Keyboard with Hot-swappable Switches
It may seem impossible, but this is the first Royal Kludge RK84 review where we've encountered a three-mode wireless keyboard on the market. In terms of connectivity, it has Bluetooth 5.0, a hassle-free 2.4Ghz dongle, and a USB-C wired connection.
With a 75% unique layout, this keyboard offers the same functionality as traditional TKL keyboards but has 75% less clumsy space. You can freely replace 3 pins/5 pins switches without soldering with the hot-swappable PCB.
Creating your keyboard can be a lot of fun. This keyboard will last up to 200 hours with nonstop use under backlight off status. It can be fully charged in just 6-7 hours. Two USB pass-through ports and a Type-C port are built into this wireless mechanical keyboard, so it has more options than other keyboards.
Autonomous Discount Program
Programmer purchase program
Programmer Desk
It doesn't make sense to suffer while doing good when an electric standing programmer desk can make things easier. It's impossible to imagine how much better your workday would be before using a standing desk like the SmartDesk Pro. Even if you don't have a developer desk at your workplace, you're probably aware of how popular coder desks have become. The option of customizing a motorized standing programmer desk from our programmer purchase program makes it even more appealing.
Programmer Chair
Having a programmer chair at a developer's workstation is nothing unusual, just like any desk layout. TIn this case; things are a little different. As you may have noticed, receptionists' chairs differ from programmers'. What's the reason? In contrast, developers do not need to stand in front of customers to greet them because receptionists do so repeatedly. It is common for IT workers to sit and work on technical issues in code for lengthy periods while their minds remain focused on the task at hand. Programmers don't take small breaks throughout their work, so they need comfortable ergonomic computer chairs.
Gamer purchase program
Are there any essentials when it comes to setting up your gaming space? You should remember that the mood and lighting of your gamer's room may change at any time while you are designing it. In order to make their gaming environment more appealing, many gamers decorate their gaming area with our gamer purchase program. The best way to sneak into the cornfields is to crouch low on the bed with your rifle ready to fire. Keeping your pace slow will help you avoid being discovered in the dangerous ravines.
Gamer Desk
Build an ergonomic workstation, like the SmartDesk Core, if you're building a gaming setup. It is possible to replace sitting while working with an ergonomic streamer desk to eliminate the sedentary lifestyle. Move between sitting and often standing to keep your muscles active instead of spending long periods sitting or standing.
Gamer Chair
It would help if you complimented your gaming room decor with an ergonomic streamer chair that can recline to the greatest extent. Whether you jump over the perimeter or bend down to kill the enemy, your gamer chair does all the heavy lifting.
Monitors
If you want a better perspective on your monitors, allow some space between them in your gaming area. Make your desk more space-efficient by using a monitor arm. With these monitor stands, one or two displays can be used. It is possible to rotate them a full 360 degrees for your convenience. Look where the enemy is crouching while you hunt or enjoy a beautiful view of the Rockies as you narrow down your target. If you move the display forward or backward, you'll be able to see the white automobile better.
Video ads for product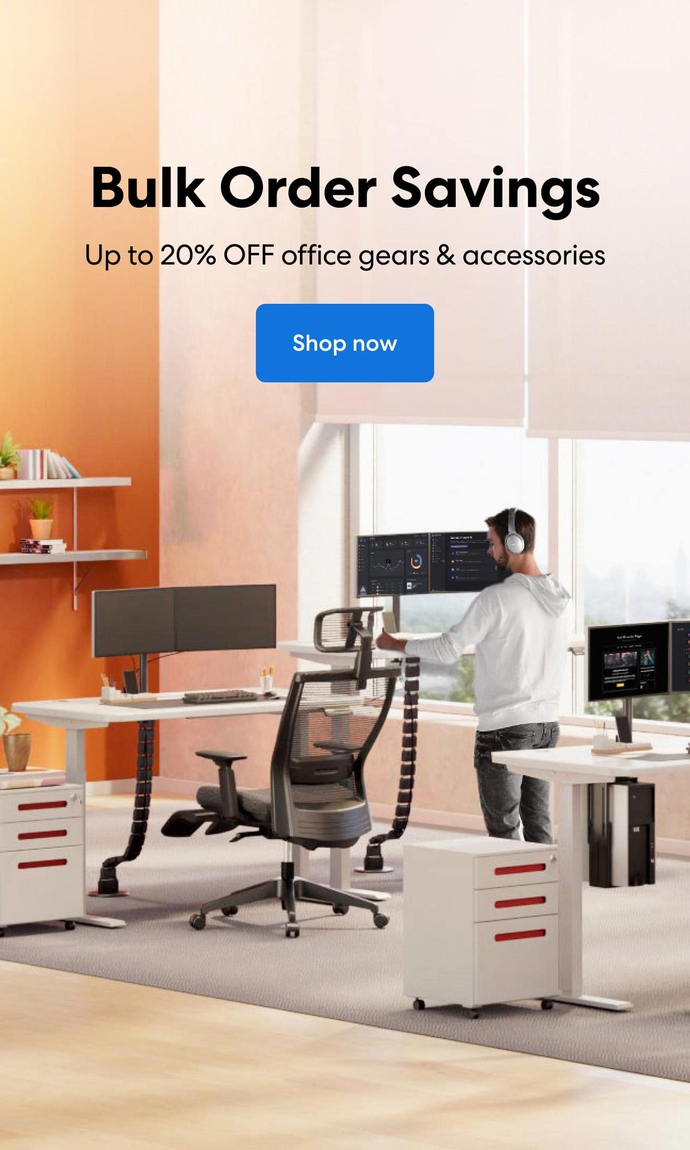 Subcribe newsletter and get $100 OFF.
Receive product updates, special offers, ergo tips, and inspiration form our team.