Smart Products
Autonomous Offer Wholesale Desk Chairs with Discount Price

Autonomous
|
Dec 30, 2021
1,457 Views
Ergonomic chairs can quickly alleviate back pain. This is because they help you properly adjust your posture. Regardless of what position they prefer when working at their desk, sitting in an ergonomic chair will allow them to have good posture. Find awesome, affordable wholesale desk chairs at our latest employer purchase program.  
Introducing the Wholesale Desk Chair from Autonomous
In addition to your back, the back support can have a profound impact on other parts of your body as well. We provide ergonomic office chairs and other bulk office furniture that are both comfortable and attractive. Minimal and timeless in design, the chairs offer excellent support for the lumbar, neck, arm, and leg regions. Office chairs are ergonomically designed to accommodate different body types across a wide range of workspaces.
Business Can Choose Wholesale or Employee Purchase Program
Employee purchase program
You can currently enjoy up to 10% off Autonomous products when purchasing bulk computer chairs through the program. Let your employees know that you care for them by ensuring they have everything to improve their job performance. Our wholesale office chair program was created to help anyone looking to improve employee wellness and enhance work performance at their company deploy employee perks after enjoying ergonomic chair wholesale.
We provide you with your own custom company bulk buy office chair purchase portal that streamlines employee purchase procedures. We offer height-adjustable standing desks, ergonomic office chairs, tech products, and office tools that everyone in your office will find ideal.
Take advantage of the Autonomous Employee Purchase Program for the best products for office work, ergonomics, gaming, fitness, electronics, software, and more that will improve your team's workspace.
Wholesale purchase program
With our Buy More Save More offer, you can save a bundle on furnishing your home office, business, or both. With our bulk office furniture volume pricing plan, we offer clear and progressive savings that are easy to understand. On every product page within your company store, you can find the "Buy more, save more" option.
Here's how to use Autonomous EPP - as more units are ordered, the price decreases.  Depending on the Quantity threshold that you reach, you will receive discounts automatically. You save the most if you order multiple units of the same product from this employer purchase program.
List of Autonomous Chairs in This Program
1. ErgoChair Pro
In this model available through our wholesale chairs program, you can alter the height of the seat, tilt of the backrest, depth, angle of the headrest, and tension of the backrest. The chair has a simple design, and its color can be changed. Under the seat, you'll find the controls; the mesh backrest keeps you cool in the summer. 
Because modern office furniture is designed in a curve-shaped manner, it can accommodate a variety of physiques. By doing so, it facilitates the core. Individuals can also customize their seats and armrests. In addition to its 62 springs, the chair features an elegant and comfortable TPE headrest.
2. ErgoChair Recline
It is easy to relax with the ErgoChair Recline. Lay back and put your feet up. It is designed to help maintain healthy spines and strengthen the body's musculature. With a mesh material that is responsive and breathable, this ottoman conforms to your body shape. Not all recliners can claim this ability. Because this wholesale desk chair  adjusts to your body weight, your spine is kept stable throughout your sitting experience. You can move freely and safely without having to worry about straining your shoulders, neck, arms, and back.
3. ErgoChair Plus
The ErgoChair Plus can easily replace your old office chair if it has become out of date. Besides its adjustable lumbar pad, the seat also has a lumbar pad for optimal comfort. Furthermore, the chair's back can be adjusted to a counterbalanced position while in a reclining position.
It is breathable and comfortable since it is constructed with mesh. The chair makes a great choice for those weighing 350 pounds with a wide seat and legroom. Depending on how your white desk for gaming fits, you can adjust the armrests on either side and raise or lower them as needed.
ErgoChair Plus is an ergonomic seat that is frameless and BIFMA-certified. Modern office furniture follows the contours of most body types so that this design will benefit most body types. In addition, the design supports and encourages your core. You can easily adjust the armrests and seats of this wholesale desk chair to suit your liking.   
4. AvoChair
The egg-shaped design of AvoChair's office chair offers four different color options for 300 lbs. weight capacity. Its ergonomic features, including tension adjustment, backrest adjustment, and height adjustment, are popular with users. For the remaining office chair parts weighing over 300 lbs., recycled polyester fabric is used in addition to nylon-plastic.
It is designed to hold 250 pounds of weight and is made from recycled materials. The backrest and seat of this wholesale desk chair have been mounted on an aluminum alloy base covered with patented elastomeric mesh.
The $299 price makes it ideal for classrooms, boardrooms, and smaller spaces, all of which are on sale for $284.05. The chair is well-designed, lightweight, comfortable, and has various nice features.
You can adjust the height, the legs, and the arms. Mesh backrests are composed of elastomers and encased in plastic grids. Besides, the AvoChair is constructed with a diecast aluminum alloy capable of supporting 250 pounds. The arms, backrest, and height of the chair can be adjusted. On the backrest is an elastomeric mesh attached to a plastic grid. AvoChair's diecast aluminum alloy base can support weights up to 250 pounds.
Mesh is used on the backrest to provide ventilation. No matter how long you sit in the office chair, your back won't sweat. Additionally, it's breathable, which is a bonus. It can be tilted to fit various seating positions by tilting the back. Diecast aluminum is used to construct the base. After adjusting your chair's height and recline angle to your comfort level, you can lock in your posture for long periods.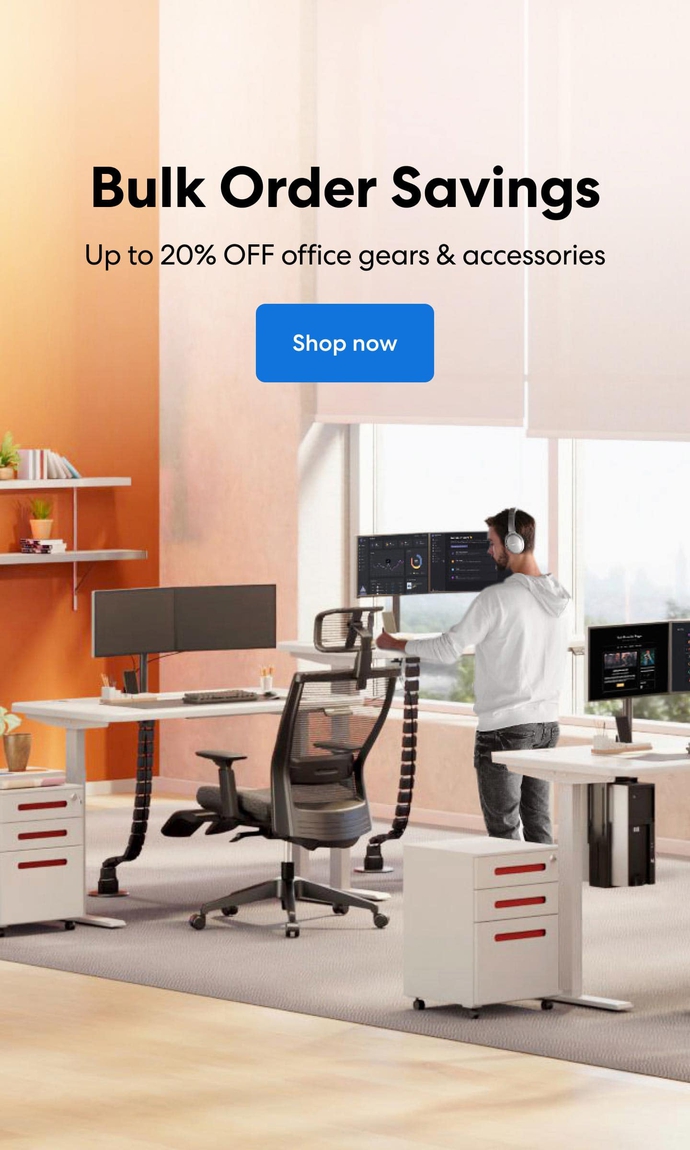 Subcribe newsletter and get $100 OFF.
Receive product updates, special offers, ergo tips, and inspiration form our team.