Smart Products
Autonomous Wholesale Standing Desk – Ergonomic Sit-Stand Workstation

Autonomous
|
Jan 6, 2022
1,637 Views
Since the Covid-19 pandemic, the number of people working from home has increased dramatically all across the world. Businesses that had never considered letting their employees work from home, even for one or two days a week, have been compelled to accept the transition to full-time remote employment. 
This doesn't look like it's going away anytime soon, and even if employers ask their employees to return, it is evident that many employees might value remote working more in the future. Therefore, investing in wholesale standing desks for employees could be a good idea for their comfort. 
Wholesalers are an integral element of the consumer product supply and retail chain. They could be manufacturers that sell their made products in bulk or retailers who buy products in bulk from multiple manufacturers and offer them to numerous stores or consumers at a discounted price. 
It is always a good idea to bulk buy wholesale office furniture for your company's needs so that you can get the greatest price on the market and sell these products to your customers for a profit. To maintain a competitive advantage in this race, it's critical to adopt new and inventive ways of doing business while keeping your costs at a minimum. 
What Is a Standing Desk?
You've probably seen someone at your workplace using a standing desk. Maybe you've used one before. Standing desks are the fastest-growing employee benefit in US organizations, according to research by the Society for Human Resource Management. One explanation for their appeal is because studies suggest that sitting for lengthy periods of time is harmful to your health, even if you get enough exercise when you're not sitting.
Any piece of modern office furniture that allows you to stand while working at your desk is referred to as a standing desk. It can be as affordable and easy as placing your computer display on top of a box or a stack of books or as complex and expensive as a customized platform that adjusts in height with the touch of a button. 
The price of an adjustable-height desk might range from a few hundred dollars to over $1,000. This might be a bit expensive for some, thus they should consider buying wholesale adjustable desks for a fraction of the price. 
Weight loss, less back pain, increased mental wellbeing, lower cholesterol, lower blood sugar, and longer life expectancy are all claimed by companies selling standing workstations. 
Why Should You Buy Employees Standing, Height-Adjustable Desks?
Essentially, standing desks, also known as sit-stand height-adjustable desks, have been around for a while but have only recently gained popularity in home offices. In recent years, several offices have invested in ergonomic standing workstations, with the Northern countries, widely using these desks for employee well-being. Here's a list of reasons as to why you should bulk buy standing desks: 
If questioned by authorities or if a claim from employees arises, make sure you meet your obligations under HSE laws and DSE criteria.

Standard workstations are only suitable for people of "average" size. All your employees are able to choose a comfortable sitting or standing position with height adjustable workstations.

Take an active role in your employees' health and happiness.

You can purchase anything on your shopping list, whether for personal use or for resale.

A wholesale shop is easy to find because they are widely distributed.

If you establish a friendly relationship with the wholesaler, you can negotiate the best deals. You can also get credit terms from them, which can help you stay on top of your financial flow. Also, you can negotiate exclusivity as the sole distributor for a specific product line.

When you buy in quantity, you save a lot of money since you can get large reductions on a product's price. You save money on shipping, handling, and a variety of other hefty charges that might otherwise be incurred.

 
Where to Find a Wholesaler?
Wholesalers can be found in a variety of ways. A smart place to start is your local community of commerce. If you have contacts with other business owners, sourcing information from your network is another wonderful way to learn about which wholesalers to approach and which to avoid.  
Manufacturers can also be found on sites like eBay and Etsy. While those marketplaces serve different consumers in general, there is some overlap. It's quite simple to communicate with suppliers from all around the world thanks to the messaging tools on both these platforms. 
Factors to consider before placing wholesale office desks from a wholesaler: 
Market Knowledge
You need to know how the wholesale furniture industry works before you start buying bulk furniture like standing desk bulk order. 
COVID-19 lockdowns are one of the reasons it has grown so huge. A lot of people are changing their living spaces because they are stuck at home and have nothing else to do. 
Many consumers have used some of their excess budget money to update their living space with new furniture and home decor. Furthermore, many people who work from home have purchased home office desks and office chairs from a wholesaler.
Furniture wholesalers have struggled to keep up with sales due to the quick increase in demand. Hence, before you go, bear in mind that many items may be out of stock, and you may need to shop around to get what you're looking for. 
Consider Design and Style
You should consider this in your wholesale sit-stand workstations. You should think about the design and style you want when everything is in stock. If you're buying a chair for a school, for instance, it can't be the same as a chair for an office. 
Moreover, you might want to purchase unique, modern, and stylish furniture. This style, however, may not stay in fashion, and it may be more practical to choose something comfier and more formal. 
When you're looking for a style, think about where the wholesale adjustable desk should be placed.
Set a Budget
You should also find out how much money you have in your budget. This is something to decide on before going shopping so you don't fall in love with something that is too pricey. 
With each category, create a budget. This should also help you in determining the styles and quality standards you can afford. 
However, as a result of increased manufacturing and scarcity, wholesale sit-stand workstations have become even more expensive. Nonetheless, if it is of high quality, it can be a wise investment that can benefit your home or business in the long run. 
One of the advantages of buying furniture in bulk like wholesale adjustable desk is that you can save money. Some sellers may want to bargain over the price, so find out what your limit is ahead of time. 
This could be a lengthy procedure, but it's definitely worthwhile in the end. 
Other Factors
When negotiating the price of furniture with a wholesaler, there are a few factors to keep in mind. As an example, the location you're at could affect the pricing. 
If you're shopping for wholesale standing desks for a company, examine where it is located and how much furniture it needs to be fully furnished. It is also said that if you live in New York City, furniture can cost you more than if you lived in Kansas. 
Think about how much you want to spend and how much shipping costs. This can include the cost of transportation as well as courier services. 
The cost varies depending on the weight, size, and location of the item being delivered. 
Think About Quality
If you want furniture that can last a long time, you should look for a high-quality furniture store. This is one of the most crucial factors because the quality of bulk purchases isn't always as good as it should be. 
It doesn't have to be that way, though. By conducting some research and reading testimonials on the company and the furniture, you can avoid purchasing low-quality products. Look into the furniture's construction materials to check if they're durable enough to fulfill your expectations. 
Figure Out How Many You Need
When purchasing furniture from a retailer, you almost always need to purchase a minimum amount. If you buy through a middleman, you do not have to worry about this. 
In some cases, you need to purchase hundreds of each item. However, you may have the option of getting them in a variety of colors and fabrics. 
Employee Purchase Program
Employee purchasing programs provide employees with a convenient option to buy products and services directly from the manufacturer or a third-party source using payroll deduction or at a discount. 
We suggest that you share the Employee Purchase Program with your colleagues and invite them to take advantage of the Autonomous discounts available. If you have a friend who owns a business or works for an organization that wants to update their team's workplace, let them know about the program so they can join as well. 
Types of Standing Desks
Now that you know what a standing desk is and what to consider before purchasing them from a wholesaler, here are Autonomous' best standing desks on the market: 
1. SmartDesk Core
This product is perfect for your wholesale sit-stand workstations. The SmartDesk Core is built on a steel frame with rounded corners. It's paired with a top that comes in classic and extra-large sizes. Starting with the frame, the steel type used is SPCC. When choosing a frame color, you have the option of black, white, or grey. 
Additionally, when picking a home office desk for your needs, the minimum and maximum heights are usually a key part of the decision-making process. You may not be able to go as low or as high as the desk allows depending on your height, but you should know that the height range that you need is within the desk's maximum range. 
2. SmartDesk Pro
One of the best wholesale standing desks under $800 dollars is the Autonomous SmartDesk Pro. It was designed to be a solid and cost-effective standing desk. 
The first thing you notice about this desk is that it's quite spacious. This Autonomous SmartDesk measures 53 by 29 inches. As a result, you have more room than you need with this desk. The desk is not only spacious, but it also feels solid and stable. 
3. SmartDesk Corner
Autonomous created this SmartDesk Corner with a steel frame and smooth corners. It's combined with a top that comes in two sizes: regular and extra-large. Along with the frame, SPCC is the steel type used. You can choose from black, white, or grey for your frame color. 
Additionally, while choosing a wholesale standing desk for your home office, the minimum and maximum heights are usually an important factor. Depending on your height, you may not be able to go as low or as high as the desk allows, but you should know that the height range that you want is within the desk's maximum range. 
4. SmartDesk Frame
The SmartDesk Frame is ideal for small workstations. It's also the smallest and lightest DIY standing desk on the market. The base of this wholesale standing desk is well worth its price of $449. It has made its way into many home offices as well as commercial offices and small call center workstations. You only need about 30 minutes to assemble this desk. 
Can Anyone Buy from a Wholesaler?
When it comes to buying a wholesale standing desk, the majority of consumers wonder if they can buy from a wholesaler without a business. Although most wholesale customers are companies or enterprises, some wholesalers also allow individuals to buy wholesale items for personal use. However, you should be aware that this is not a common practice. Most vendors require you to obtain a wholesale license. 
Conclusion
These are just a few pointers for buying wholesale furniture like a wholesale standing desk; there are many more to consider. We understand that purchasing furniture may be a stressful experience, but it doesn't have to be that way. With the wholesale network, you have more time and profit to save. Invest in doing business this way, and watch your business grow and develop in the years to come.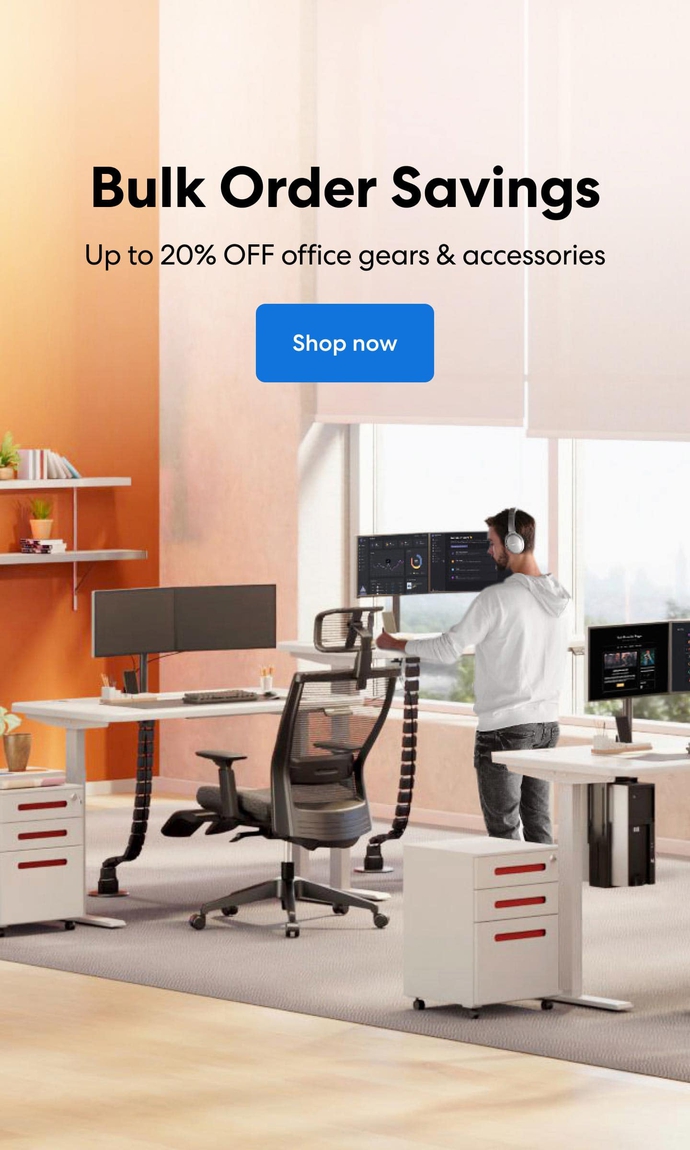 Subcribe newsletter and get $100 OFF.
Receive product updates, special offers, ergo tips, and inspiration form our team.