Productivity
Benefits of Working Outdoor & Tips to Practice Successfully

Autonomous
|
Sep 13, 2022
1,013 Views
In essence, working outdoors appears to be something every employee wants to do occasionally, regardless of whether they are an entrepreneur or an employee for people who appreciate the nice, bright weather and would prefer to spend additional time outside, spending a few hours indoors working might be quite exhausting.
Our attention is frequently diverted by the lovely springtime days, the sound of the birds chirping, and indeed the impression that nature is embracing us. Despite the advantages, working outdoors might be quite distracting for some people. Working indoors could be preferable for individuals who find it hard to concentrate due to neighbor kids' loud noise and the ruthless horseflies.
However, having an outdoor work-from-home setup has proven to be a wonderful technique for certain people to complete their tasks. Working outside boosts your enthusiasm, inventiveness, and efficiency while reducing stress.
Benefits of Working Outdoors
Adjusting your surroundings and landscape might be a welcome change of pace from your remote office or structure. Your attitude and well-being may significantly improve if you work outdoors in pleasant weather just several times a week. Frequent advantages of an outdoor working space include:
It boosts your happiness and disposition: Your serotonin levels might be affected by time spent outdoors in the daylight and clean air. Additionally, certain aspects of nature may often lower stress levels. Going for a stroll or working outdoors may help you feel happy when you're under the weather or overburdened.
Your energy levels will increase: You can feel much more concentrated and efficient all day long thanks to the clean air that comes from being outside that can exhaust the fuel stored in your blood cells and generate energy. Going outdoors can sometimes help you breathe more oxygen and provide a respite from the synthetic indoor air.
Significantly reduces stress: Getting sufficient fresh air outside has the added advantage of lowering stress. The chemicals cortisol and other stress-giving hormones are often reduced when you breathe clean air, which can lead to a more upbeat and less overburdened mindset.
Helps you take a mental and visual break: If you regularly take pauses from looking at a computer display and glance at other things near you for a couple of seconds, you can enhance your efficiency and attention. You can rest your eyelids while working outside by gazing at distant views of various natural items.
Tips to Set up a Functional Outdoor Working Station
It's nearly agony to work remotely during the summertime when you have a full-time corporate job and an external space. We've compiled a few useful tips for anything from using shade structures to weather-resistant materials to create the best use of your outdoor patio this season. You'll quickly get everything set up in your outdoor working station without fuss!
Include items with several uses
Nice outdoor earthenware stools are wonderful furniture items representing two purposes. They can be utilized as additional space for seating or when located closer to a seat. They could be used as a second surface to lay your laptop while you're working outside or to hold drinks and small dishes of food when you're having a party outside. Purchasing furniture with several uses is especially beneficial if you already have an outdoor working space.
Separate a work area
Try to create a "workspace" in your outside space, regardless of whether it's simply a hidden garden nook or a patio swing. It's the same as having a separate workplace within your home. The tiniest bit of solitude will enable you to accomplish a lot more.
Put up a curtain or sheers
Do you want your designated prefab office space to have even more anonymity? – To establish separation from the remainder of your area, use drapes on the veranda or screens on your deck.
Make sure your workspace is suitable
You'll need a sturdy worktop area and a comfortable chair if you intend to spend most of your day working outside. Generally speaking, an external dining table may be excellent. You could also block the excessive sunlight by utilizing umbrellas with shade-cloth coverings. Try those with flat weaves in soothing blue tones that offer good UV protection and filter sunlight throughout the workday.
Consider comfort when
If you work remotely, you undoubtedly have a workstation and a chair that are both ergonomically acceptable and comfy. However, when operating outside, you should forego your desk chair in favor of a lounger or perhaps a seat on the ground. Unless you're working outside, you wouldn't necessarily need to wheel your chairs out into the patio, but you'll need a seat and a desk to work comfortably and avoid getting sore legs or a sore back.
Be prepared for everything
In your remote workspace, you have access to your documents, office accessories, and other necessities. When your workplace is mobile, that isn't the case. Consider the sort of task you'd like to accomplish before venturing outside and the tools you'll need. Consider taking a rechargeable battery pack, such as the EcoFlow DELTA mini Portable Power Station or the EcoFlow DELTA Max 2000 Portable Power Station, so you can continue working even if your computer is completely charged since you don't know how soon several tabs can deplete the battery.
Avoid glare
You have everything you require to begin working outside, yet the sun is directly overhead, making it difficult for you to view the display without straining. Therefore, you should turn your laptop towards you while facing the sunlight to reduce glare or opt for a shaded area under a shrub. Even better, you may get a glass screen protector to help block some ultraviolet rays. Alternatively, adjust the intensity and display parameters on your pc.
Maintain contact
Depending on your Wi-Fi connectivity, your exterior working arrangement might succeed or fail. You could still get a signal, even if you're working very closely to your house, in a privacy pod connected with EcoFlow DELTA Pro Portable Power Station. However, you must ensure you can link to a Wi-Fi hotspot when operating in a much more remote location.
Hydrate
Irrespective of where you work, it's simple to become so focused on your responsibilities that you overlook replenishing. Although never a good idea, working inside means you're probably doing so in a cozy, climate-controlled environment. However, you are unable to adjust the thermostat while working outside. It's simple to become so immersed in your task that you start to sweat. Bring a bottle of water and some small snacks with you to prevent dehydration and feel refreshed.
Alternatively, through the autonomous' employee purchase program, you can buy a proper outdoor office space known as the Autonomous Pod at a discounted price. These work pods can also become an amazing companion for anyone who enjoys working outdoors.
Video ads for product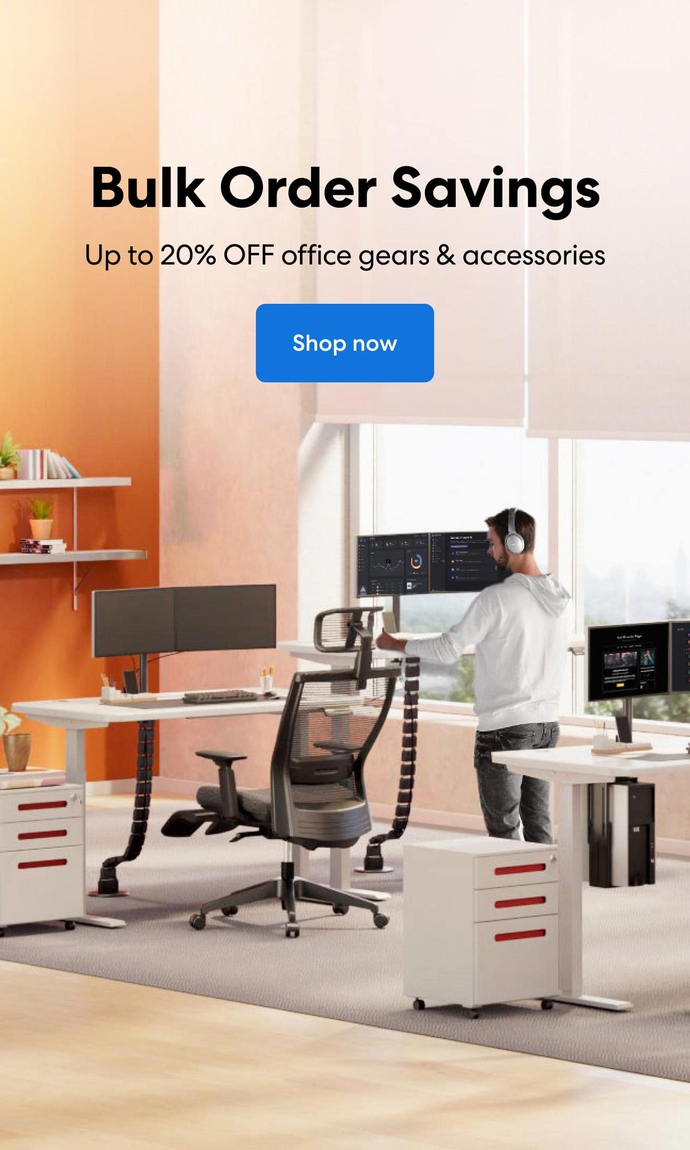 Subcribe newsletter and get $100 OFF.
Receive product updates, special offers, ergo tips, and inspiration form our team.