Latest Updates
Best Black Friday Furniture Stores 2023 for the Home, Office, and Gaming

Autonomous
|
Oct 22, 2023
1,082 Views
One of the most eagerly anticipated shopping days of the calendar year is Black Friday. It is amazing how this yearly tradition of clearing up the shelves for the festive season has grown into such a massive international movement in the past few years. 
If you are thinking of sprucing up your home or office décor, you need to find a Black Friday furniture store today! 
In the US, only a few occasions can get the entire country in a shopping frenzy as Black Friday. Some of the sales and discounts on offer are just too good to miss out on. It has become the norm for shoppers to hold off buying the furniture items they need until Black Friday arrives. 
This is why, if you are thinking of buying a smart desk for your office, you can save a lot of money by searching for the best furniture store Black Friday deals. 
This article will help you do that by discussing five great Black Friday furniture stores that you should consider in 2023. 
When Is Black Friday 2023?
Black Friday furniture store deals are usually offered close to the end of November and sometimes stretch into the early days of December. Officially, Black Friday 2023 will be held on the 24th of November. 
However, many furniture stores will run their promotions before and after the official Black Friday sale. Many retail outlets have converted this annual sale into a massive shopping weekend by combining Black Friday and Cyber Monday. This will give shoppers a lot of time to take advantage of some great discounts before the festive season kicks off.
Should You Shop on Black Friday?
Whether or not it is a great idea to shop on Black Friday is a debate that has been raging for the past few years. Some shoppers are convinced that this is the only day when they can get value for their money, while others would rather wait for things to settle down. 
However, it can be very difficult to overlook some of the sweet furniture store Black Friday deals that are on offer. If you are wondering whether you should take part in the Black Friday 2023 shopping frenzy, here are some pros and cons to help you decide: 
Pros 
Awesome deals, sales, promotions, and discounts to choose from
Can be an exhilarating experience
Is great as a fun family activity
Most furniture items will be in stock
Provides employment opportunities for many retail employees 
Cons 
Traffic can be hectic
Long lines and huge crowds at shopping malls
Can easily lead to overspending
Some deals are scams
History of getting violent
Tips for Black Friday Shoppers
If you want to enjoy the best Black Friday furniture store deals, you have to know how to navigate the hectic shopping experience that you are likely to come across at shopping malls around the country. 
Before you go out to look for the best ergonomic chair on Black Friday, remember the following tips: 
Do your research well so that you will be prepared when the time comes
Make sure the advertised deals are actually good and not just scams to lure customers
Try to leave as early as possible to avoid the traffic and the lunchtime crowds
Do not spend more than what you are willing to use
Avoid taking young children to Black Friday sales if there is a chance that things may get violent
Which Stores Have Black Friday Furniture Deals?
If you are going to benefit from this year's sales promotion, you have to choose the right Black Friday furniture store. Many people have lost their hard-earned money by putting their trust in the wrong retail outlet. 
If you want this year's Black Friday sale to be a memorable one, consider the following trusted furniture stores: 
1. Autonomous
Autonomous is one of the most popular online furniture stores in the US. With awesome brands to choose from, this should be your first stop when looking for a great furniture store. Black Friday deals on the website offer unbelievable discounts that you cannot afford to miss.
About Autonomous Office Furniture Store
Autonomous is well known as the home of great furniture brands that every home or office needs. If you are looking for high-quality furniture items, look no further than this great online outlet. 
The quality of material that is used to manufacture Autonomous products is unsurpassed. If you buy furniture from this supplier, such as a home standing desk, you can rest assured that you will enjoy using it for a long time to come. 
Autonomous has a website that is designed to be user-friendly. Even with all the frenzy surrounding Black Friday, you can sit back and relax while you browse the furniture items from the comfort of your home.
Which Furniture Can You Buy With Black Friday Deals at Autonomous?
A good Black Friday furniture store is judged by the diversity of the products it has on sale. If you only have a few products to choose from, you will not enjoy the full experience of this awesome shopping occasion. 
This is why Autonomous makes it a point of pride to have one of the most diverse selections of furniture anywhere online. If you visit the website, you will be able to pick and choose any of the following items: 
Enjoy a Sale of up to 70% Off! 
Even the best furniture store Black Friday deals around cannot compare to the massive "70% off" Black Friday desk deals that Autonomous is offering. Many other furniture items are also going to be sold at half the price, which is a great deal that only comes once a year. 
2. Castlery - Home Furniture
If you are looking for an affordable furniture store, Black Friday sale items at Castlery may appeal to you. This furniture store is well known for providing some of the best home furniture in the US, Singapore, and Australia. 
Such a global reach is a great sign that the furniture manufacturers at Castlery must be doing something right. Besides the top-quality furniture items that are available, the store also has all the accompanying accessories that you will need to complete your living room, bedroom, or dining room décor ideas. 
One of the things that most customers love about Castlery is that the store does not compromise on quality. Even when some of the items are being sold at ridiculously low prices on special occasions, such as Black Friday, you can be certain that you are getting the very best chairs, sofas, or beds for your needs. 
If you are having trouble picking out matching furniture for your room, Castlery offers great furniture sets to make life easier for you. Imagine buying a complete living room set on Black Friday and enjoying massive savings! That is possible if you visit the website and take a look at some of the items available on sale.
3. West Elm - Home Furniture and Décor
Among all the Black Friday furniture store deals out there, it will be hard to find one that is better than what West Elm will be offering. If you are looking for top-quality home furniture and décor, this is the best place to find it. 
West Elm has a massive catalog of furniture items to suit all tastes and styles. Simply browsing the website can be a lot of fun and inspirational if you are struggling to decorate your home. 
The furniture items are arranged according to the room they will go in, which makes it much easier to decorate your home room-by-room. After you buy the essential items, such as beds, tables, chairs, and sofas, you will find all the accessories you need close at hand. 
Shopping on Black Friday is usually a hectic experience because of all the promotions and sales that are being offered. However, even with great discounts on hand, you will find your shopping experience to be a lot more relaxing when you shop at West Elm.
4. Secret Lab - Gaming Furniture
Secret Lab is every gamer's idea of what paradise should be like. The furniture store is packed to the rafters with furniture that is designed specifically to fulfill the needs of an avid online gamer. 
When you visit the website, the first thing that will catch your eye is how modern and futuristic the furniture on sale is. Everything, from the gaming chairs to the desks, is designed to make a gamer feel right at home. 
Usually, gamers have to compromise by using furniture that is designed for the living room or office, but that is not the case with the items available at Secret Lab. 
One thing that most gaming furniture has in common is that it is very expensive, However, if you take advantage of the Black Friday promotions being offered by Secret Lab, you can finally get your hands on that awesome ergonomic gaming chair you have always wanted.
5. Outer - Outdoor Furniture
Most Black Friday furniture deals usually focus a lot on indoor furniture and neglect the outdoor options. However, this year is going to be different. Outer is preparing some great deals on outdoor furniture that you need to take a look at before spending your money.
Many people consider outdoor furniture to be an extravagance that they do not need, but if you can buy some great patio furniture at a discount, why not spoil yourself a little? If you love entertaining your guests in the backyard or having dinner under the stars, the Outer website should be your first stop this Black Friday. 
At Outer, you will find outdoor chairs, tables, fire pits, ottomans, sofas, furniture covers, and outdoor rugs to turn your backyard into the best place to hang out. With a little bit of research, you can get all these furniture items at a very low price this Black Friday.
Final Thought 
If you take the time to find the right Black Friday furniture store, you will be surprised at how much money you can save.
This year's sale is the best time to finally get that Black Friday office chair from Autonomous that you have always had your eye on. You can even shop online at the Autonomous website and avoid the large crowds and hectic traffic.
FAQs
Is Black Friday a good time to buy furniture? 
As long as you can find a reliable Black Friday furniture store, there is no better time to buy furniture. Very few deals offer cheaper prices than what you get on Black Friday. However, not all stores will be honest with their sales and promotions. Therefore, you need to make sure you do your research well. 
How can I stay updated about the Black Friday deals on office furniture?
If you go on the Autonomous website, you will find all the information you need about the products being promoted by the furniture store. Black Friday sale items will be highlighted for your convenience, and you can easily stay updated about price changes as Black Friday approaches. 
Are there any alternatives if I miss the Black Friday deals on office furniture? 
While it can be frustrating to miss out on the best furniture store Black Friday deals, it is not the end of the road. There are a lot more ways to enjoy massive discounts. 
If you visit Autonomous, you can take a look at the Bulk Order Program, which offers great prices for customers who buy their furniture in bulk.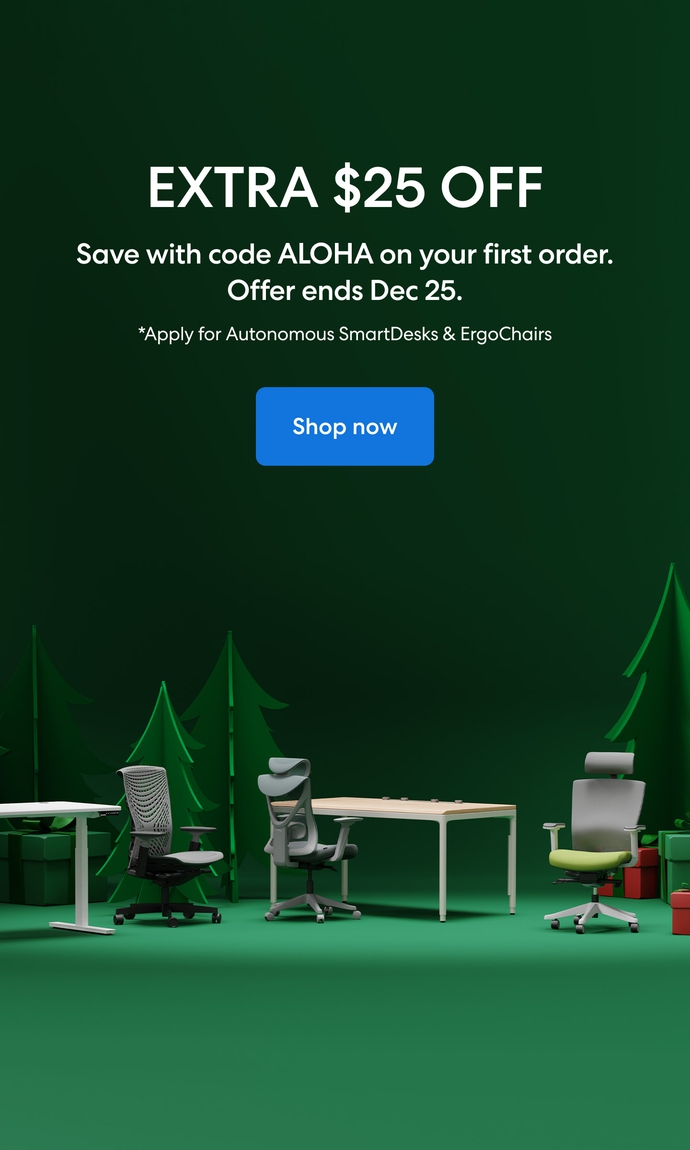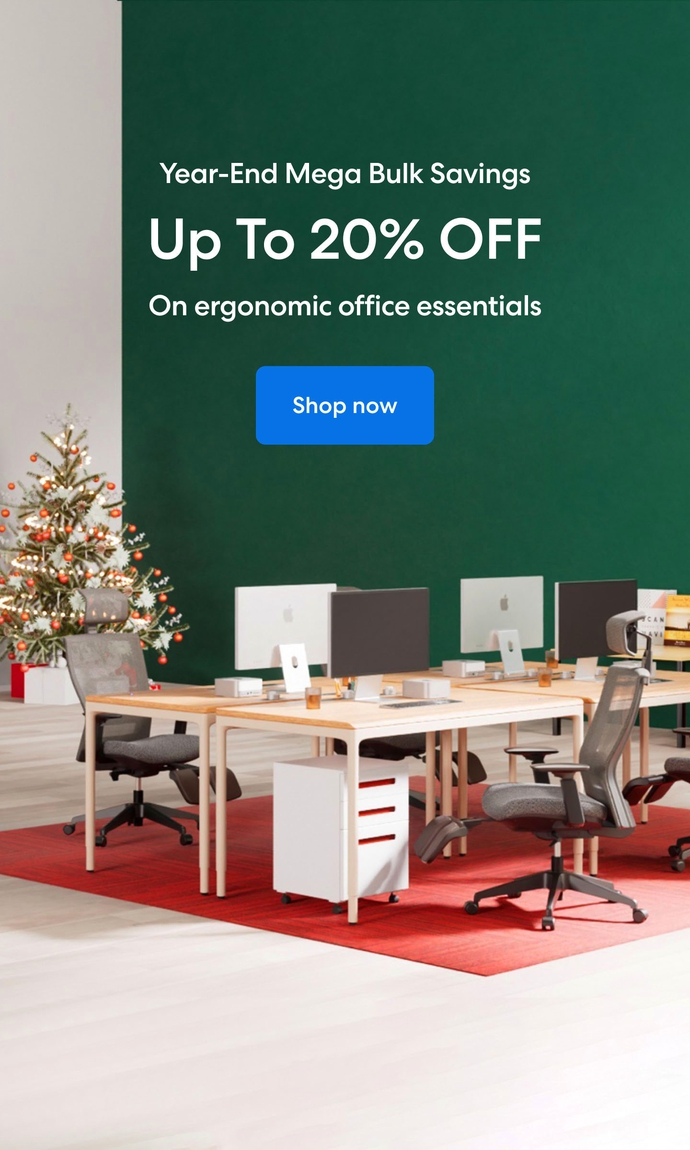 Subcribe newsletter and get $100 OFF.
Receive product updates, special offers, ergo tips, and inspiration form our team.