In the gaming industry, fall is traditionally when major publishers release highly anticipated titles. Gamers also look forward to Black Friday shopping for their savings. They try to find special deals on any Black Friday gaming chair and any Black Friday gaming desk. What better way to play a AAA game than with a gaming setup? With all those Black Friday deals, now is a good time as any. Before we talk about finding the right gaming desk on sale, it is crucial to discuss its benefits. An ergonomic office setup goes a long way to your overall health, so make sure to invest wisely in the right chair and desk.
The Benefits of a Gaming Setup
Games are proven to have a positive impact on your cognitive skills, but what about your body? With the right gaming setup, you can enjoy several benefits to your physical health. A healthy gaming posture requires a strategic position for an upright back, armrest, and feet on the ground. It is scientifically proven ergonomic design in desks and chairs significantly reduces health risks such as chronic back pain and stiff necks. With that in mind, you should consider a Black Friday gaming chair for your comfort, and a Black Friday gaming desk for your laptop.
20 of the Best Gaming Chairs and Standing Desks
This article lists 20 different types of gaming chairs and desks highly recommended in black Friday gaming chair deals and black Friday gaming desk deal 2020. If you want to save with deals on a Black Friday gaming chair, in addition to a Black Friday gaming desk, take a look for yourself and weigh in the pros and cons of each gaming setup. The list is in no particular order.
1. ErgoChair 2 with the SmartDesk 2
The ErgoChair 2 pairs very well with the SmartDesk 2 from Autonomous. You can expect Black Friday gaming chair deals with the ErgoChair, in addition to a Black Friday gaming desk deal for the SmartDesk. Autonomous offers sales prices just for you.
ErgoChair 2 discount from $369 to $339 for Black Friday
SmartDesk 2 - Home Office discount from $379 to $349 for Black Friday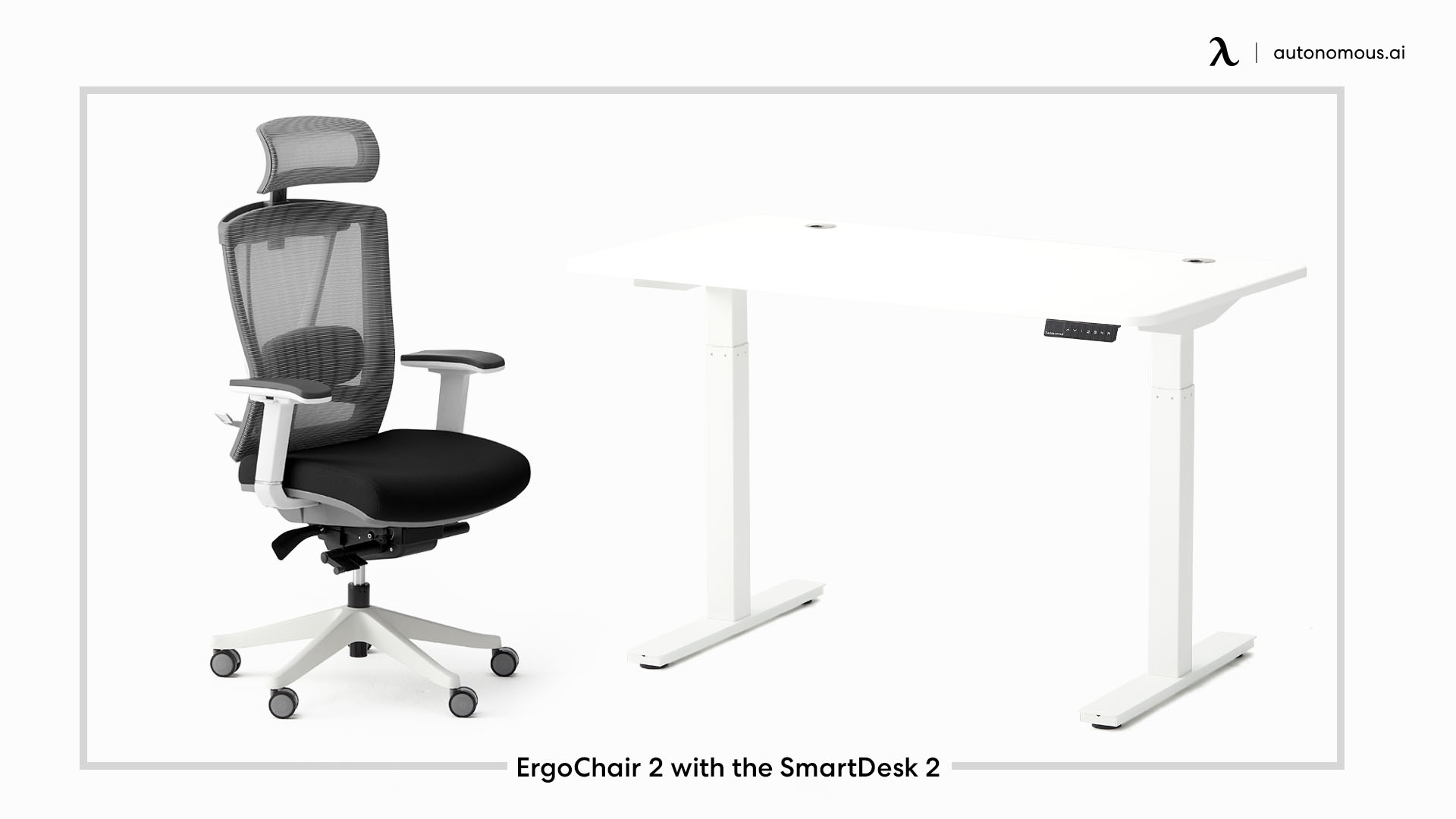 Pros:
● Fully customizable options
● The flexibility of desk allows free movement
● ErgoChair 2 provides correct alignment for your back
● Versatile armrest and lumbar support gives chair maximum comfort
● Heavy-duty steel gives desk resilience
● Two-year warranties
Cons:
● Slight stability issues with the desk
2. Kinn Chair with the SmartDesk 4
The Kinn Chair is a good choice with the new SmartDesk 4. They offer sleek designs with price cuts that range up to $100 in savings. It is a fair offer for a gaming desk on sale. The Kinn Chair is also one of the best ergonomic chair deals this Black Friday from Autonomous.
Kinn Chair discount from $419 to $369 for Black Friday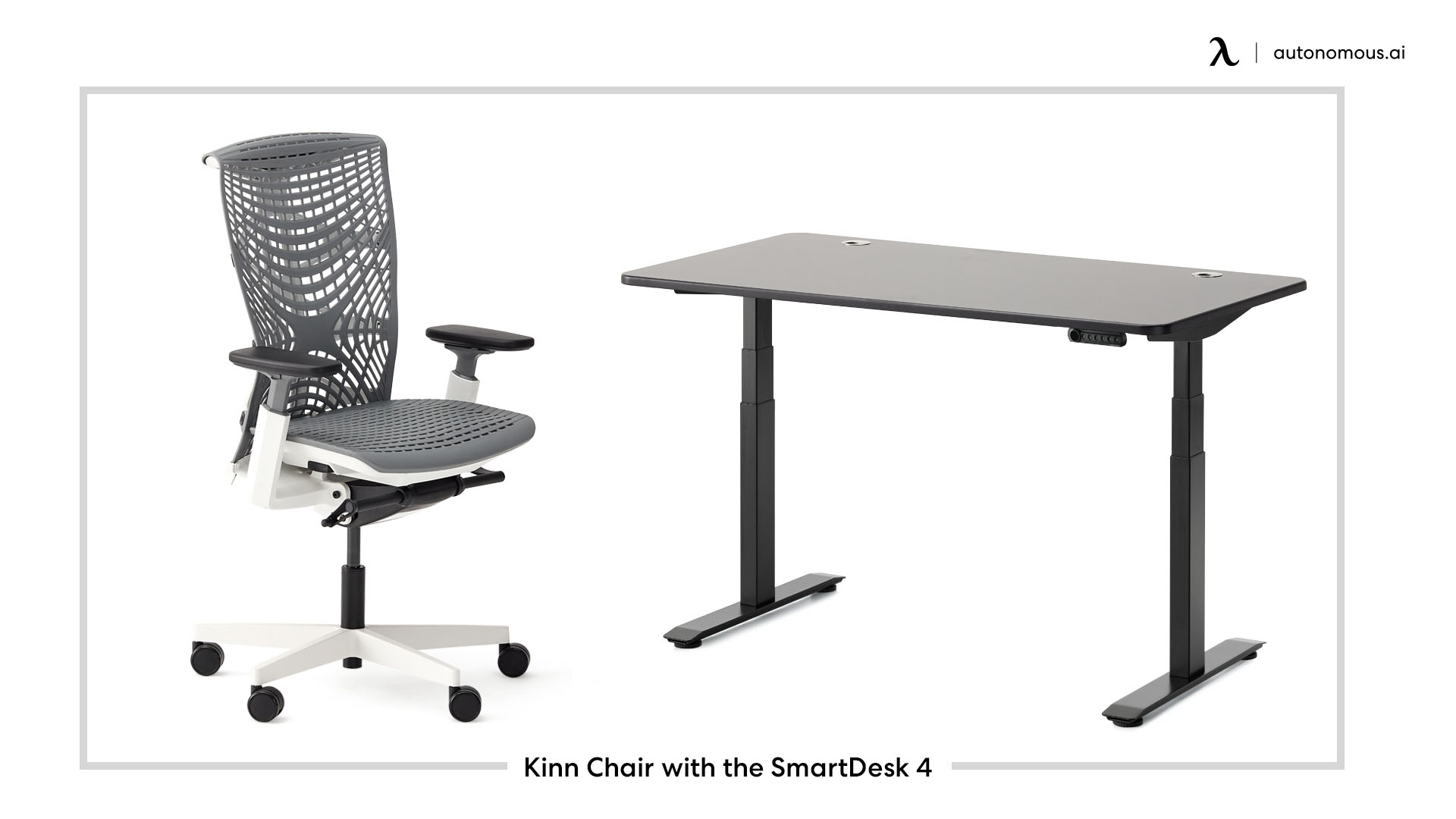 Pros:
● Advanced technology promotes work productivity
● Activity log for healthy breaks and workout intervals
● Autonomous App allows height adjustment and settings
● Kinn chair provides back support
● Materials are of premium quality
● Five-year warranty for the Kinn chair
Cons:
● Due to the advanced technology, it is costly
3. MyoChair with the Standing Gaming Desk
The Autonomous Standing Gaming Desk is arguably the best-suited desk for the gaming experience. A suitable Black Friday gaming desk, you can complete it with the cool grey MyoChair.
MyoChair discount from $179 to $169 for Black Friday
SmartDesk 2 Premium discount from $449 to $419 for Black Friday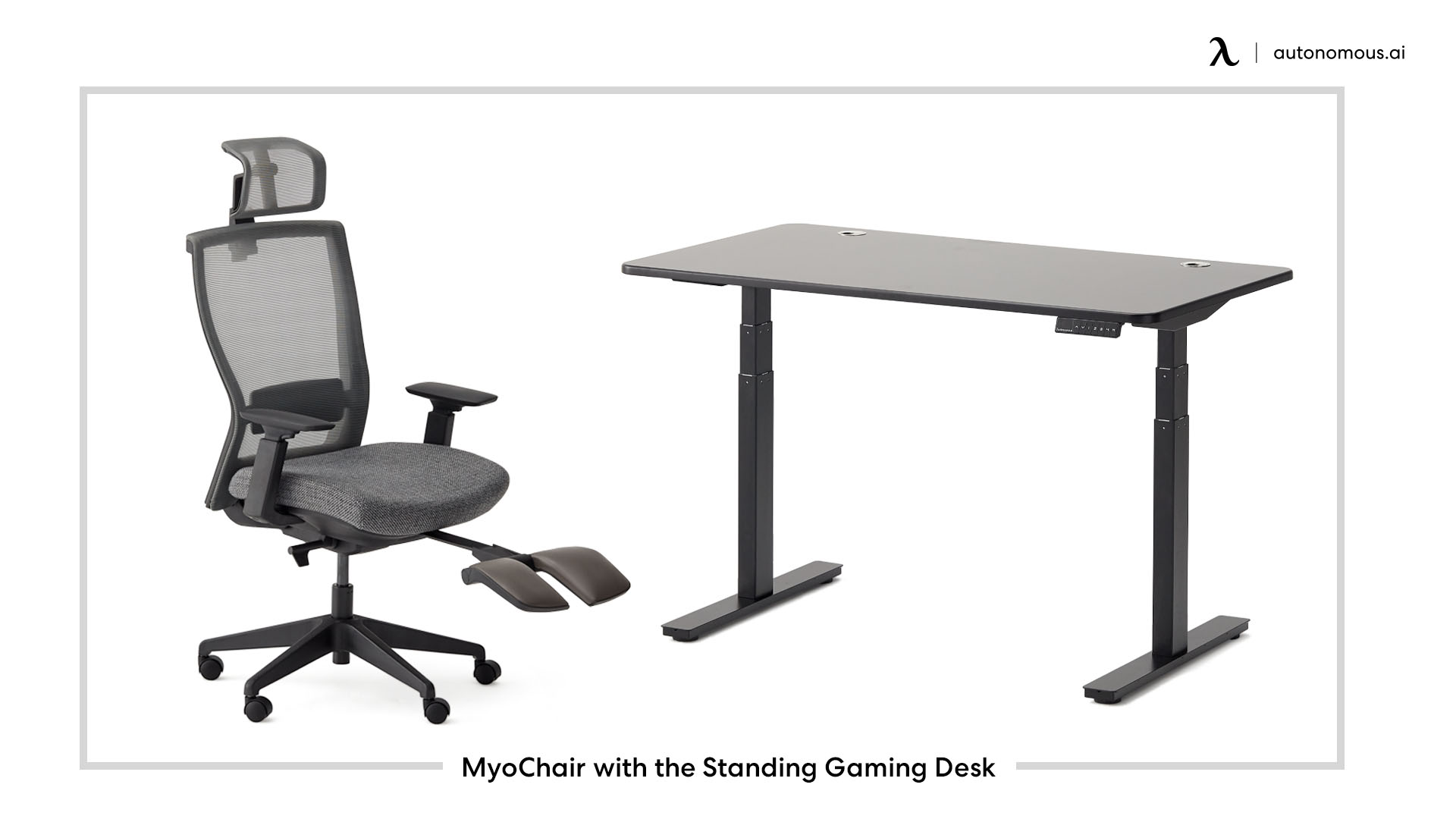 Pros:
● Desk is compatible with gaming laptops and accessories
● Material is strong and durable
● MyoChair has a headrest and armrest for gaming support
● Prices are quite affordable
● Height adjustability allows movement in between game sessions
Cons:
● Back of MyoChair not as adjustable
4. ErgoStool with an Art Desk
The ErgoStool is not a typical Black Friday video game chair deal you might consider, but it is a comfortable set up with the Autonomous Art Desk.
Pros:
● ErgoStool encourages better circulation
● Art Desk allows physical activities like exercise
● Height adjustability with chair and desk
● Evergreen stool compliments the titan black desk
● ErgoStool is lightweight and easy to move around
Cons:
● Stool not as suitable for back support
● Slight hardware issues with the SmartDesk
5. AvoChair with the L-Shaped SmartDesk
If you are an eco-friendly gamer who wants to save money with a Black Friday video game chair, then the AvoChair is a good option. It works with the L-Shaped SmartDesk thanks to its space.
AvoChair discount from $219 to $199 for Black Friday
L-Shaped SmartDesk discount from $739 to $709 for Black Friday
Pros:
● Environmentally friendly
● Avochair is clean with a minimalist design
● SmartDesk is fully adjustable
● Free-range movement due to ergonomic design
● Large surface area for your gaming computer
Cons:
● High price for the desk
6. SecretLab OMEGA with RESPAWN Gaming Desk
With a cookies-and-cream color scheme, the OMEGA chair pairs well with the black top RESPAWN Gaming Desk.
Pros:
● Chair has memory foam pillows for comfort
● Desk is durable and can hold a lot of weight
Cons:
● High price range
● Desk assembly is complicated
7. GT099-RED Recliner with the Arozzi Arena Gaming Desk
The simplistic red-and-black color scheme of the GT099-RED chair and Arozzi desk give it a stylish look.
Pros:
● Great color design
● Seat provides hours of comfort
● Plenty of desk space
Cons:
● They are expensive
● Desk is heavy to lift
● Chair material is prone to tears
8. Armen Living Century Office Chair with the Jarvis Standing Desk
If you want a natural wooden look, in addition to eco-friendliness, the Armen Living Century chair and Jarvis desk are a good option.

Pros:
● Environmentally friendly
● Wooden design gives a unique look
Cons:
● Tables are expensive given the material
● Wood is prone to scratches
● Leather might wear over time
9. GTRACING Gaming Chair with the Triple Motor Electric Desk
This black heavy-duty GTRACING chair and Triple Motor desk combination are sleek and stylish.
Pros:
● Desk offers plenty of space
● Chair provides a headrest, armrest, and footrest
● Strong metal frame makes the chair durable
Cons:
● Desk is one the most expensive on the market
● Chair leather wears down and is damage-prone
10. X Rocker Pro Series Chair with the Remi Standing Desk
It proves to be a simple but effective combination of minimalism with the X Rocker chair and Remi standing desk.
Pros:
● Table is height adjustable
● Simple design
● Low costs
Cons:
● Bulky and heavy chair
● Table support is not as sturdy
11. Herman Miller Aeron Chair with the Jamesdar 78 Desk
Cool grey colors invite a warm feel to your gaming area with the Herman Miller Aeron chair and Jamesdar desk. It provides an old-school style.
Pros:
● L-shape desk gives plenty of space
● Chair has adjustable posture support
Cons:
● Desk has unusual leggings
● Chair is expensive
12. Massage Gaming Power Recliner with the Eureka ERK-EDK-Z1S Desk
Try out a comfortable massage recliner with a modern gaming Eureka desk. The red-and-black colors give it a contemporary look popular within the gaming community.
Pros:
● Recliner has sleek red-and-black colors
● High comfort level
● Desk has a smooth design
Cons:
● Recliner is heavy to move around
● Table leggings lack spacing
● Limited color options
13. Faux Leather Manual Recliner with the Ebern Designs L60 Desk
Comfort meets conformity with this modern ergonomic design. Give a chance to the manual recliner and Ebern Designs L60 desk.
Pros:
● Chair has a massage feature
● High level of comfort
● Table has plenty of surface area
Cons:
● Leather is not authentic
● Chair does not absorb heat well
● Bulky chair size
14. HAG Capisco Chair with the Cougar NY7D0001-00 Desk
Both the Cougar desk and HAG Capisco chair provide ergonomic space design, which allows you free range of movement.
Pros:
● Plenty of room to move around
● Sleek black color scheme
● Adjustable height options
Cons:
● Material is not durable
● Levers may have difficulty with the operation
15. AKRACING California Chair with the Techni Sport Stryker Desk
Both the AKRACING California chair and Techni Sport Stryker desk offer a lustrous polish for your gaming experience. The arctic color scheme of the chair is relatively modern.
Pros:
● Great stylish design
● Body alignment
● Good quality materials
Cons:
● Weaker lumbar support
● Desk does not allow free leg movement
● Chair is expensive
16. Homall Racing Chair with the JIDI Glass Desk
Try out premium materials and a smooth look for your Homall chair and JIDI glass desk. Materials are premium-made for extra strength and durability.
Pros:
● Desk has durability through carbon fiber
● Ergonomic design provides chair comfort
● High-quality materials
Cons:
● Desk is expensive
● Chair metal rusts over time
● The chair design is relatively commonplace among gamers
17. BOSSIN Gaming Chair with Walker Edison Gaming Desk
The BOSSIN chair and Walker Edison desk combo work for all sizes, with its sleek black design and ergonomic comfort.
Pros:
● Desk offers multi-monitor support
● Large seat with thick cushions
● Armrests are firm
Cons:
● Table design is simplistic and small
● Chair wheels lack durability
18. TS42 Kawaii Colors Gaming Chair with the E-Win RGB Pink Gaming Desk
It is an excellent setup if you like vibrant colors, which stands out from the usual gaming setup. The Kawaii Colors gaming chair and E-Win pink gaming desk have a light color scheme.
Pros:
● Colorful aesthetic choices, mainly pink
● Reclines lean back very far
● Materials are soft and plush
Cons:
● Cushions might not offer much support
● Width of the seat could be bigger
● Desk is small in size
19. Cougar Armor One Gaming Chair with the Devoko Black Gaming Desk
Thanks to the Cougar Armor chair and Devoko desk's smooth ergonomic design, you have a fair amount of space to move around freely.
Pros:
● Premium leather quality
● Costs are rather cheap
● Offers a nice look with plenty of space
Cons:
● Chair and desk are small in size
● Armrests are somewhat narrow
● Lack of adjustability
20. Dowinx Gaming Office Chair with the ESF200 L-Shaped Gaming Desk
Try a contemporary feel with the sleek black Dowinx chair and ESf300 gaming desk.
Pros:
● Lumbar support with massage
● Large amount of surface area for the desk
● Highly adjustable swivel
Cons:
● Desk takes up a large amount of space
● Assembly takes time
● Desk is heavy to move around
Conclusion
Consider these choices when you look for a Black Friday gaming chair. The health benefits of ergonomic chairs and desks significantly improve your gaming experience. In addition to any Black Friday gaming desk, you might find, consider the costs, and how much you can save. Most chairs and desks should have price cuts around the end of November. With a gaming setup, you can enjoy other Black Friday sales for your video games. Just sit back, relax, and enjoy your new gaming experience. You can also check out for our best Black Friday office chair list to get the affordable price for your home office right away.
Get exclusive rewards
for your first Autonomous blog subscription.

WRITTEN BYAutonomous
We build office products to help you work smarter.
Coming at You Live from Autonomous' Social Media!
Please fill the information below.
Thank you!