Latest Updates
Best Black Friday Home Office Deals for Your WFH Setup

Autonomous
|
Oct 13, 2021
1,769 Views
Most folks have been working from home during the pandemic. Are you one of them? Did you have to make do with a temporary office set-up at home as offices were closed?
With Black Friday deals, it is now time to revamp your WFH set-up. Why? With the best Black Friday home office deals, you can choose a good WFH set-up for your home office. In addition, there is little uncertainty when you may have to get back to working from home again with the variants of coronavirus coming up globally.
Prepare yourself with these best deals as you prioritize your health. Choose from a range of ergonomic standing desks and chairs. You also get a choice of desktops that make you feel energetic, bright, and full of power. 
Furniture for Black Friday Home Office Ideas
Explore our selection of Black Friday home office furniture to redo your home office work set-up.   So, choose from our selection of the best Black Friday office furniture.
Standing Desks
Choose the best from Black Friday home office desk deals. Select a regular desk or an L-shaped desk depending upon your needs and the space available.
1. SmartDesk Pro
Choose a Black Friday computer desk that offers you good health over some time.  Now no more hunched backs that give you neck aches and back pains. No more worries as you choose to stand or sit and work with the SmartDesk Pro.
So go ahead and change your working position between sitting and standing as you change the desk height. This encourages your muscles to move and increases the blood flow. As your muscles move, they consume energy, avoiding blood glucose build-up. Else this blood glucose pile-up raises the risk of obesity and related cardiovascular diseases.
2. Corner Desk
Optimize the space at home using this Black Friday standing desk. First, get a corner desk that gives you a double workspace and fits perfectly in a corner. Get yourself the SmartDesk Corner electric standing desk.  This L-shaped desk gets its energy from a triple motor that is nearly noiseless.  Now raise and lower the desk height between a low of 29.4 to a high of 48 inches.
Got a client call? Don't want to get disturbed? Not a problem. Just press a button to one of the four pre-programmed height settings. See the desk being raised or lowered at a fantastic speed of 2.3 inches per second.
Hope you enjoyed our Black Friday desk deals.
Ergonomic Chairs
Sit upright, recline or lean forward as you select the best Black Friday home office chairs. No more back aches as you get the best support for your spine, shoulders, and back. 
1. ErgoChair Plus
Work from home with ease as you set up this executive chair made from earth-friendly TPE materials. Don't forget that these materials increase the chair's durability by ten times more than other chairs. This Black Friday office chair deal is one of our best.
What do you get? This chair offers adaptive spinal support as you move around unhindered.  With adjustable height, recline, adaptive lumbar support, this chair has fabulous mesh material that allows your skin to breathe through as you work. It takes a payload of up to three hundred pounds of weight.  
2. AvoChair
Get yourself a budget-friendly ergonomic chair that meets most of your requirements. Do your part for the environment as this chair is manufactured from recycled materials. This excellent minimalist designed ergonomic chair offers you an adjustable armrest, height, back tilt, and tension for your comfort.
This Black Friday ergonomic chair is the chair that you could use for visitors to your home office.
3. ErgoChair Pro
Work from home tirelessly as you use this ergonomic chair that offers you the best lumbar support. Made from 100% earth-friendly materials, its woven mesh back gives you high breathability. A child's play for this chair is all basic ergonomic features like an adjustable height, armrest, headrest, backrest, and seat tilt.
Now recline, sit up or lean forward to read that fine print with the ErgoChair Pro.  Recline up to a hundred and twenty-two degrees. Adjust your seat recline using the five lockable positions for your ease.
Amazing, Black Friday home office deals, aren't they?
Office Accessories
As you set up your remote working office, a desk and chair are just not it. So instead, complete your remote working office with filing cabinets, power docks, a cable tray, and a swivel tray.
1. Monitor Arm
Short of space at your home office? No worries, as you can save working surface space with a monitor arm.  Choose from a single or dual monitor arm to get easy mobility and the best ergonomic sitting posture. A C-type clamp makes it easy to install these on any desktop.
2. Filing Cabinet
Declutter your workspace! Get yourself a metallic filing cabinet with anti-rust paint. Use the flexible storage dividers to be meticulous at your WFH office. You even get lockable drawers and castors for your security and ease of mobility.  Ah! Storage? Easy! They roll in under most normal work desks and save you storage space.
3. LED Desk Lamp
Any work from home set-up is incomplete as dusk sets in and dims the ambient light. Keep your eyes healthy by resting your eyes time and again. Choose from four different light colors for a LED desk lamp. You get powerful ambient lighting with four-step lighting control. Save on your electricity bill with this easy-to-install led desk lamp.
4. Cable Tray
Are you tired of seeing the numerous cables coiled around? Want to get rid of them? Sure! Just help yourself to a cable tray and arrange all your cables under your desk. Bundle them up and store them neatly in this cable tray that you can install under your desk. Presto! Your clutter is gone!
5. Power Dock
No more going under the desks or behind the chest of drawers. Instead, use a power dock that extends on top of your work desk. Charge all your gadgets and keep them ready for work. Easy to operate with USB ports that save you space.
Wrap-up
It is time to cut yourself some slack as you redo your work-from-office set-up with above Black Friday home office deals. Make your health your priority as you go ahead and select from a range of ergonomic office furniture and office accessories. Ensure you are comfortable so that you can be productive at your power-packed home office.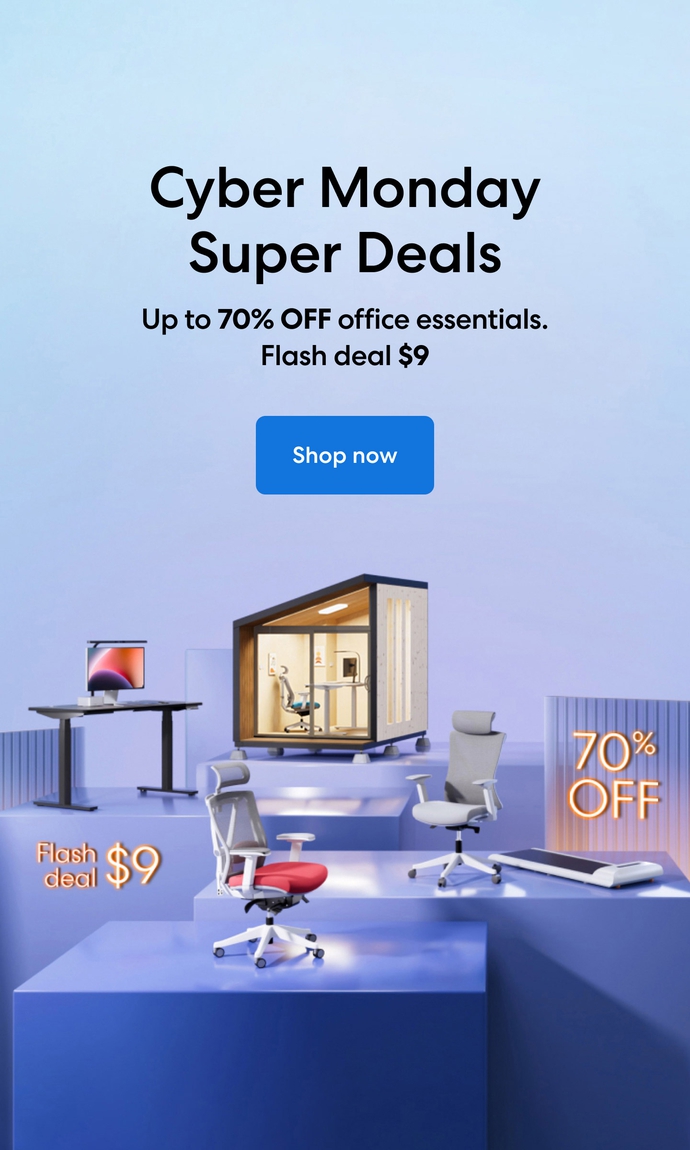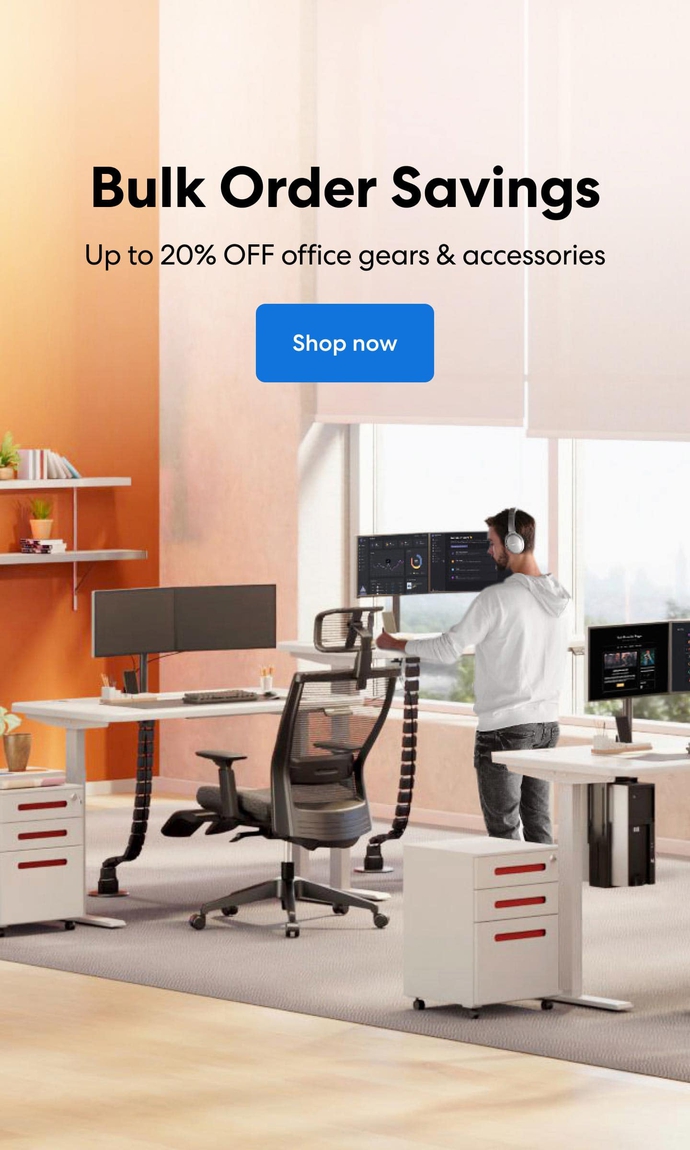 Subcribe newsletter and get $100 OFF.
Receive product updates, special offers, ergo tips, and inspiration form our team.