Transitioning to a remote work routine where your home is your office has not been easy for most of us. With limited space at home, not so vast a budget, and the expensive home office setup has cost us much more than just the money but a significant portion of mental health too. While having a proper work-from-home setup has indeed been a challenge, you can finally embrace the benefits of working from home with the right setup.
If you are lucky enough to have a proper work-from-home setup, or are still on the waiting list to revamp your home office setup or maybe even build one from scratch, then the good news is Black Friday office desk sales have finally come close. With many of the best Black Friday office desk deals and offers, you can now build elaborate and ergonomic work from your home office station and spend your days productive. But as we discover the best home office desk Black Friday offers, you must also know the best type of desks you can find this year. Read below to find all types of Black Friday office furniture sales and help choose the right desk for you.
Top Electric Standing Desks
Electric standing desks are advanced ergonomic desks that are a healthy work setup. These desks are controlled with the help of electric motors hence you can work while standing and sitting both. Electric standing desks are yet considered the healthiest solution in a workplace because switching periodically between sitting and standing is the only right way to work and attain productivity and numerous health benefits.
The electric desks are also pricier than conventional desks because of the electric motors and other features involved, but you will be able to find various deals during Black Friday. Here are some deals you should check out.
1. SmartDesk Corner
One of the best L-shaped standing desks, the Autonomous SmartDesk Corner is a higher-end pricier desk. The benefit of this desk is the minimum square footage with maximum surface area, all thanks to the tall legs and space underneath. The desk is available in black, white, and gray colors and is powered by three electric motors to control the height.
You also get cable grommets for a tidy workplace with an easy-touch control keypad and a smooth wooden surface finish. The desk is fit for corners and has enough space for your triple monitor setup.
2. Autonomous CompactDesk Pro
For work from home, having limited space is a common event. Hence a compact desk can be your ultimate choice if it covers all your needs. This compact desk pro by Autonomous comes in three colors: black, white, and gray, and looks smart for a professional work setup at home.
The CompactDesk Pro is height adjustable with 4 programmable settings and dual electric motors. Surprisingly, this desk is quieter at 40 dB, so the quiet motor makes it useful even in a busy workplace. It also has a load capacity of 310 pounds, much greater than one would imagine in a compact desk.
3. Eureka L-shaped Desk
A common category of users fascinated by L-shaped desks is gamers and programmers because they have large work or monitor setups. Fortunately, the Eureka L-shaped gaming desk Black Friday deal will suffice both. This desk has a large enough L-shape, a cable grommet, a sturdy frame, and a secondary monitor stand for you to place the screen at a safe eye level. You can also use the second platform as a shelf because the desk is adjustable for ergonomic screen placement.
4. Northread Compact Desk
One of the versatile glass tabletop desks by Northread has touchscreen and charger controls. The Northread smart compact desk is made with a high-quality metal frame with a weight capacity of around 300 pounds. The tempered glass top looks regal and is specially designed to fulfill the purpose of an office desk. You can find this Black Friday executive desk at an exciting price because the ergonomic features make this desk pricier on other occasions.
5. FENGE Ultra Long Compact Desk
Another one from the category of small electric desks is the FENGE ultra-long compact desk is space friendly and smart. This desk comprises aluminum, iron, particle board with a sturdy iron frame for durability. The desk has two buttons that operate the up and down movement, and it is height adjustable between 48 to 29 inches. Besides the desk surface, you also get a free monitor stand to provide a separate space for the screen.
Mobile Computer Desks & Standing Desk Converters
Mobile computer desks or rolling computer desks are desks that are applicable in industries where there is a lot of movement involved. These desks are especially useful for hospitals, schools, and jobs that might demand movement with all your desk gadgets and accessories. During the Black Friday sales, you can also find some exciting discounts on mobile computer desks.
If you are new to ergonomics and still thinking about a standing desk, then a standing desk converter is the right approach. With desk converters, you can make a much more cost-friendly investment and get a standing desk platform. Standing desk converters also offer portability and ease of use without demanding you to replace your old desk. Black Friday sales are a good time to check out the various standing desk converters.
1. Mount-It! Rolling Computer Workstations
Mobile computer workstations like the Mount-It! rolling desks are designed with mobility and versatility. This desk is no less because not only is it movable, but it also has multiple platforms for increased storage options. The compact dimensions make it suitable for tiny spaces, and despite its small size, the desk has a weight capacity of 132 pounds. It also adjusts in height and comes in colors black and silver.
2. Mount-It! Standing Desk Converter
The Mount-It! standing desk converter is one of the best decisions you will make for your workstation. This desk converter has a height range of 19 inches and is sized smartly to fit any desk size. The desk converter improves your posture and is also suitable for working in bed if you are having a bad day. Despite being a converter, the surface is enough to fit two large monitors, and the desk also comes with a 10-year-long warranty.
Video ads for product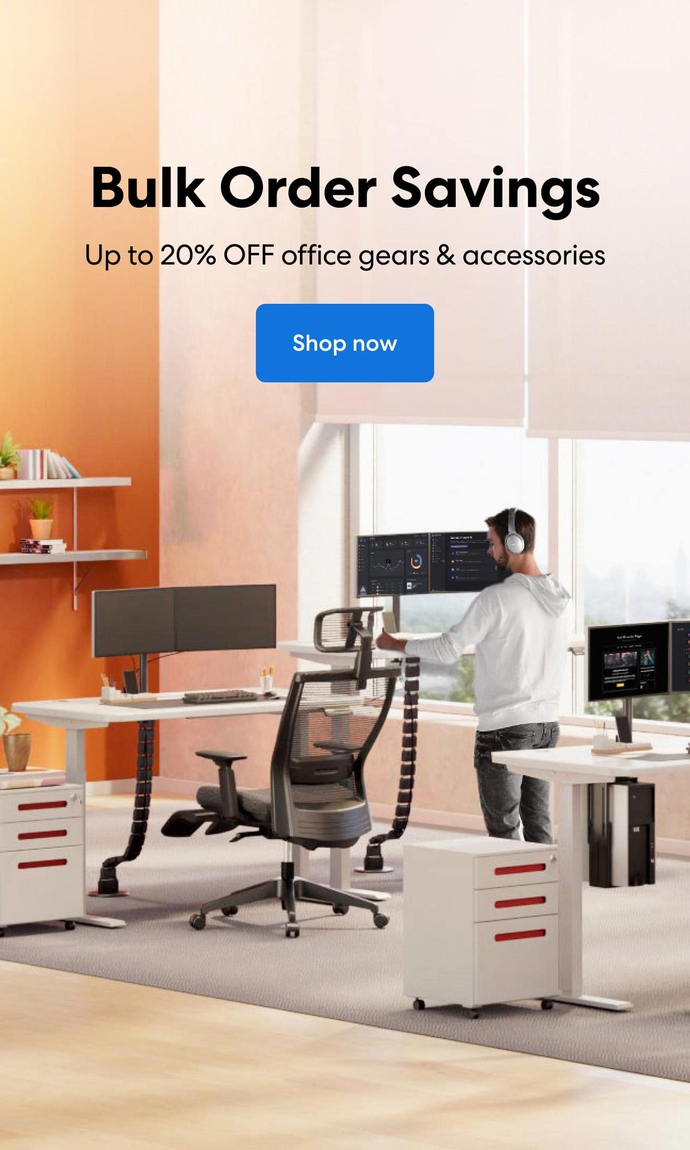 Subcribe newsletter and get $100 OFF.
Receive product updates, special offers, ergo tips, and inspiration form our team.