Latest Updates
Best Bulk Office Gifts for Your Staff That Can Boost Morale

Autonomous
|
Oct 3, 2021
1,478 Views
Welcoming your office workers with the best bulk office gifts would be a huge surprise for them. Every office worker likes a warm welcome, and getting treated with gifts is something which any one of them would desire. This sort of gesture helps you build a better relationship with other office workers and build a happy and healthy workplace where everyone collaborates better. In addition, employees feel uplifted and tend to perform better.
We know that all these benefits of bringing bulk gifts for office staff would make you think which gifts you can possibly go for here. Always remember that the best gift is the one that brings ease to someone's life, so set up your gift list while keeping your users' comfort in mind. This procedure might be a little tough for you, especially if you are a newbie.
However, there is no need to worry much as we have got your back. We knew that you might get confused in picking the right gifts; that's why we have shared some of the most creative and aesthetic bulk office gift ideas here for you. So, let's have a look at them.
Great Ideas of Bulk Office Gifts for Your Staff
1. Standing Desks
Think of following the bulk office desk buying guide and gifting standing desks to your entire team. A standing desk would increase the worker's movement, ensuring that they avoid sedentary behavior. In this way, they would stay more active throughout their work hours.
You are aware of how beneficial it can be for your team's productivity overall. Workers who are more active will have higher morale and would eventually give out better ideas and results in general. In addition to this, this active sitting would result in fewer health concerns in the future, ensuring that you have a mentally and physically healthy team. 
2. Ergonomic Chairs
Picking some high-quality ergonomic chairs from an office chairs wholesale would be the next best gift that you can give to your team to boost their morale. Thinking about Autonomous as a reliable store here won't be wrong. Our wholesale office chairs are as good as the single order chairs as the quality isn't compromised. However, the price is reduced to a highly reasonable figure. 
3. Desk Organizer
Gifting desk organizers or desk drawers for your entire team would be as good as gifting any new furniture piece. Imagine how easy you will make your employees' lives by giving them a permanent solution to avoid clutter.
Clutter is one of the major reasons why office workers are often stressed out and have lower morale daily. Their life will become easier once you give them a reliable storage spot like a dedicated drawer or a desk organizer. They would be able to organize their things way better and perform better. 
4. LED Desk Lamp
Here is another bulk office gift. If you think of lighting up your employees' life, think of choosing an LED desk lamp. Employees often feel dull during their work hours because their workstations are poorly lit. They end up performing half-heartedly, giving poor outputs.
In such a situation, when you think of gifting your entire team with LED desk lamps, your employees see this as a ray of hope to boost their morale. A happier team performs better as they see a positive change in the way they work. 
5. Privacy Panels
The chances are that your workers might like having a personal space from which they could work with greater ease. You can grant them this personal space with the help of privacy panels. Think of storing privacy panels on each desk as a bulk office gift. Your workers would get a less noisy workspace where they could focus on their work better and produce a faster result. As a result, their morale would stay high. 
6. File Cabinet
What else can be a better way to manage paperwork than a filing cabinet? Think of gifting file cabinets to your employees. This will not just make their life easier but will also ensure that they have more time to focus on their other important tasks and perform better. 
7. Office Stationeries
How sweet would it be to give certain office stationeries like pens to your entire team? Employees feel valued and happier when you give them such cute bulk office gifts. Think of gifting office stationeries to your team that you think might help them the most. This will make them believe how much you have been taking their care and encourage them to perform better. 
8. Customized Mugs
Another warm gesture would be to buy customized mugs for your office workers. Imagine gifting customized mugs having some small yet impactful quotes for every employee. These best bulk gifts for employees would give a major boost to their morale whenever they'd see the cup and show them that you believe in their efforts, making them perform much better. 
Wrapping It Up
May it be bulk office furniture, some small token of appreciation or some gifts as an employee purchase program for your team's hard work, gifts always boost your employees' morale. As a result, you have a more satisfied and productive team that is ever ready to give out their hundred percent. So, think of buying bulk office gifts for your staff today to surprise them and show them that you appreciate the efforts that they make.
Video ads for product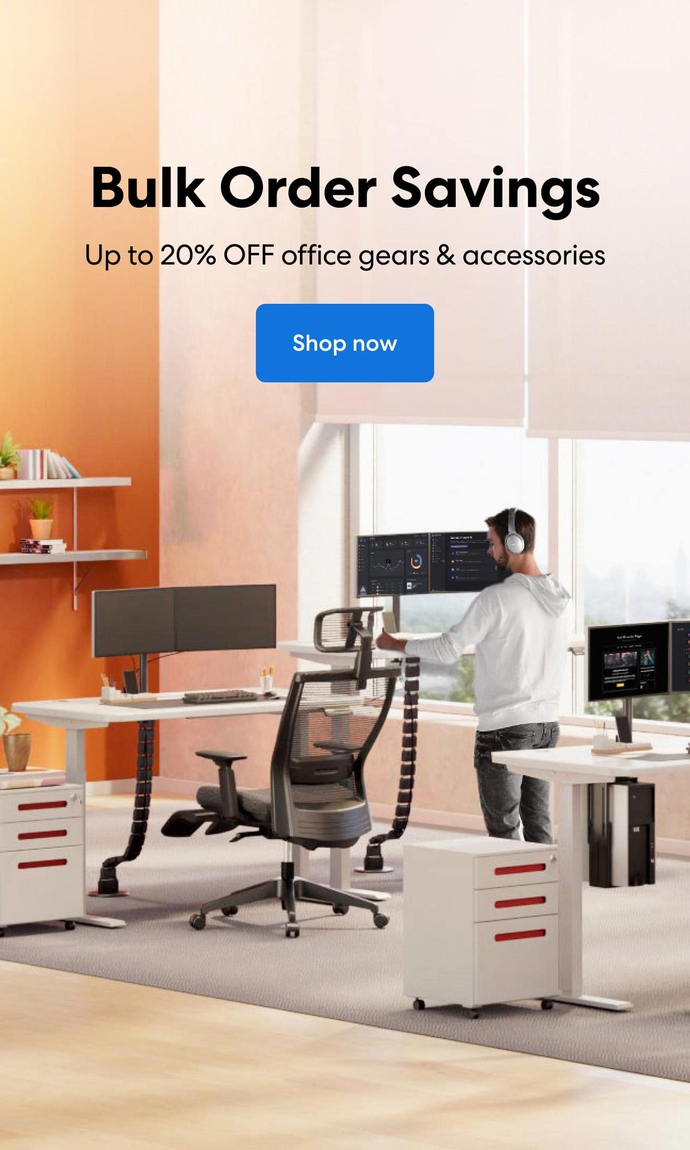 Subcribe newsletter and get $100 OFF.
Receive product updates, special offers, ergo tips, and inspiration form our team.