Latest Updates
Best Christmas Office Desk-Chair Combos from Autonomous

Autonomous
|
Dec 24, 2020
3,859 Views
A combination of an ergonomic desk and a comfortable chair is one of the best investments for the Christmas season. It's going to satisfy the home office worker and all those people who spend hours working in a sitting position. 
Since Christmas is on the way, you should update your house and office to suit the season. Colorful decorations, gingerbread people, and a Christmas tree is not everything. This season is about being comfy, but for Autonomous, comfort is a priority for the whole year. 
Whether you want to give an amazing gift to yourself, your coworkers, or loved ones, a Christmas office desk and chair combo is a great idea. There is no better way to show people that you care than by giving them a gift that can improve their health and release pain, turning everyday work into a time of joy. 
Here are the best Christmas office desk-chair combinations that are going to fulfill the dreams of even the most demanding person. 
1. Starry Night: SmartDesk 2 Premium + ErgoChair 2
This set perfectly suits any type of interior. The SmartDesk 2 Premium's top comes in many colors and material: white, black, white/black/green matte, walnut, bamboo, dark bamboo and white oak top. There are three colors for the frame: gray, black, and white. 
You can freely mix the colors of the frame with the top, so you get the perfect combination of ensemble that suits your personality the best. All the colors are universal and go well with any kind of interior. Thanks to this, you can easily fit it into your home office, but also your living room or bedroom. 
Thanks to a dual motor and a steel frame, the SmartDesk2 Premium is a great desk for sitting and standing work. There are four heights to which the table can be regulated. One click of a button is enough to lift up to 300 lbs, and smoothly change this desk's height. 
The desk is very easy to assemble. It usually takes 15-30 minutes to do it, so you can almost immediately enjoy your new gift after buying it. 
The ErgoChair 2 is a chair that you can customize to meet all your needs and improve your work. It provides full back support, reducing pain and tiredness. Combining this chair with a desk gives you maximum comfort and flexibility at work. 
This chair has much more than comfort. By mixing Italian technology with Korean design, the ErgoChair2 has become one of the finest choices on the market. When technology meets beauty, there is no chance that anything can go wrong. 
It has neck support, with adjustable height and tilt, which makes your sitting even more comfortable. You can modify the back tilt and its tension and adjust the seat tilt and back tilt angle. To increase your comfort even more, the ErgoChair 2 has adjustable armrests. 
While the pick of colors depends totally on your preferences, choosing a Black SmartDesk 2 Premium and a Black & White ErgoChair 2 offers a modern and formal look to your workstation. This Starry Night set comes at the price of $729 (save $289). However, you can update your desk and choose an XL top as an extra. 
2. White Addicted: SmartDesk 2 Premium + Kinn Chair
You can test the SmartDesk2 Premium for 30 days without any costs. You also get a seven-year warranty for the frame and a one-year warranty for the top.
With a height range of 26" - 52" and a length range of 40" - 73", this desk is perfect for everyone as it can be easily adjusted by height and offers a lot of space for your computer and documents. 
Mixing the White SmartDesk 2 Premium with a Kinn Chair is a perfect idea for those who need a little bit of back correction. The chair has a special fishbone design that helps you to keep your back straight during work. 
You can adjust the arms and move the seat back and forth to find your perfect position. By modifying the height of the chair, you can find an ideal outline for your body. Thanks to the adjustment of the back-tilt tension, you can set the chair the way that is the most comfortable for your back. A back-tilt of 25 degrees gives you a chance to relax and stretch whenever you need it. 
You can choose from a mix of six colors. You can choose a chair with or without a mesh. Without a mesh, options include a white frame with gray naked TPE, and a black frame with gray naked TPE or black naked TPE.
In the offer of chairs with mesh, you can find one with a black frame and gray TPE and mesh, another one all in black, and one with a white frame, green TPE, and blue mesh. 
This chair has a five-year warranty, and the seat can be adjusted by 17" - 21". 
The combination of the SmartDesk 2 Premium and the Kinn Chair costs $759 (save $409). Choose an all-white set to show your minimalistic approach and get those icy winter vibes. The white color also leaves a lot of space for creativity, so it's a great choice for your working place. 
3. Greenfield: SmartDesk 2 - Home Office + ErgoChair 2
The SmartDesk 2 Home Office is dedicated especially to people who are looking for a more economical solution for their home office. The desk has four heights that you can get in a few seconds by clicking a button. The mechanism works very quietly, so you don't bother any other users in the space. 
With an easy assembly, you can quickly prepare your workstation or dismantle the desk if you need some extra space at home. With a hole for cables, it's a great solution to keep your workstation tidy and in order. 
Round edges give you extra security and protection from unexpected injuries. You get five years of warranty for the frame and one for the top. If you want to check if that's a perfect match for you, you can get 30 days of a free trial. 
The height range is a little bit narrower in comparison to the SmartDesk 2 Premium, but it is still pretty impressive: 29.5" - 48" gives you a lot of space to adjust and is a good fit as a standing and sitting desk for most people. 
The standard size top comes in many colors and materials just the same as the Premium version. You can mix them with a white, gray, or black frame. 
The ErgoChair 2 gives you full-body support. It can help you keep the right body posture while working, relax your back, and prevent pain or even injuries. This chair creates a harmony of function and beauty. When combined with the SmartDesk2 Home Office, it gives you an extraordinary feeling of comfort. 
To give your home office a bit of a natural spark, mix a white top with an Evergreen chair. The connection of white and green shade is perfect for Christmas time, but also for any season of the year. Items that recall nature tend to relax people, reduce stress levels, and increase their productivity. 
This Christmas office desk-chair combo is the most economical choice. For a chair and desk, you only pay $659 (save $239). If you need additional space, you can add an XL top for an extra charge. 
FAQs for Ergonomic Desk-Chair Combo
1. What Are the Benefits of an Ergonomic Chair and a Smart Desk?
Nowadays, many people work in a sitting position. This is why so many people suffer from health conditions caused by this lifestyle. Sitting for long hours can cause back pain and neck stiffness, but also increase the risk of heart disease and diabetes. 
Choosing the SmartDesk, which can be easily adjusted from sitting to standing options, helps you protect yourself from the risks connected with long sitting. When you stand up during your work, even for a moment each hour, your back pain can be significantly reduced. By standing some time during your work, you can also decrease the risk of heart disease. As even the smallest movement can increase your metabolism and blood flow, you can feel more energized and have a lower risk of developing diabetes. 
With the SmartDesk, you don't have to interrupt your work to benefit from standing up. As Autonomous desks can lift their top with up to 300 lbs on them, you don't even have to remove anything from your desk. You click the button, change position, and enjoy healthy profits. 
Moreover, motorized standing desks are a great choice for people who don't have space for two types of desks or who value minimalistic interior design. Within seconds you can change your sitting workstation into a standing desk and vice versa. Thanks to this, you can enjoy the right position whenever you need it. 
An ergonomic chair can take your work to another level. A good chair that you can adjust to your body reduces the negative effects of prolonged sitting on your organism. When you modify the features of the chair to your posture, you improve your posture, keep your back straight, and your neck is not tense. 
It's not just about comfort and health. It's also about increasing your productivity. While you sit properly, and are not disturbed by neck stiffness, backache, and others, you are more likely to focus on your work fully and get better results.
2. Why Choose this Combo for a Christmas Present?
As it's Christmas again, you may wonder what you should get the person that is dear to you. Rather than buying another useless gift, invest in something that's going to last for years, be useful, and help your dear ones keep healthy. 
Maybe you are worried that you need to spend hours working even though it is Christmas. Creating a nice and comfortable space where you're going to feel good during work is crucial for you to get a bit of Christmas spirit. With the universal yet beautiful design, you can spark some joy in your home office. 
3. Is a Desk-Chair Combo Expensive?
An ergonomic desk and chair are always an investment. They are not the cheapest thing to get, yet they last for years. Treat it more like an investment that is going to serve the health of you or your loved ones. 
When you buy a combo of a desk and chair, the price is going to be lower than when you purchase these products alone. Autonomous also offers partial payments in very affordable monthly amounts. 
4. Is a Combo of a SmartDesk and ErgoChair for Me?
If you work from home, it's crucial for your productivity to have a space dedicated to your job. Especially if you work full time in a sitting position without many breaks, investing in a smart set is a great idea. 
Having a comfortable chair with the option to regulate the sitting position and an opportunity to quickly change your working place into a standing station can increase your working results and help you achieve your goals. Whether you work as a freelancer or at a company, the set is a great idea for those who spend a long time behind a desk.  
Summary
You don't need a huge office space to enjoy a SmartDesk. They are designed to create maximum comfort by using little space. With an Autonomous desk, you don't have to worry about the price, as you can get comfortable with affordable partial payments. 
Upcoming Christmas work doesn't have to be a pain. With accelerated comfort, beautiful design, and stunning colors, you can enjoy your home office with Autonomous Christmas Holiday Sale 2020. 
If you are planning to get a desk-chair combo as a Christmas present, you can be sure that it's the right choice. They are a perfect gift for people who work in a home office, but also gamers or designers. 
It's not a one-time impulsive expense, but an investment for years with a warranty that gives you the security that the products are going to work properly.
Cover image by Sweta Meininger via Unsplash
Video ads for product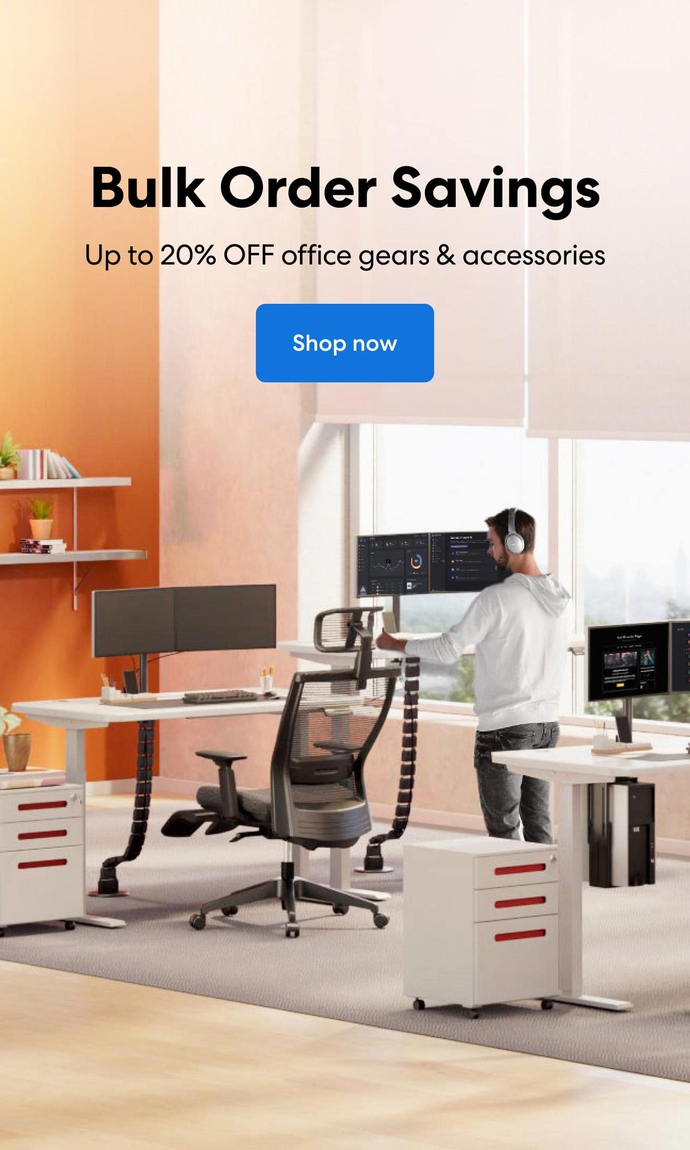 Subcribe newsletter and get $100 OFF.
Receive product updates, special offers, ergo tips, and inspiration form our team.