Working from home is no longer just a passing trend; you know by now that it is going to stay. As companies and employees have become comfortable hybrid working from home, managers are constantly looking for ways to enhance the remote work experience. One of the best ways to do this is by using high-quality remote collaboration tools to handle official operations.
These tools are essential for managing daily tasks, assigning tasks to employees, communicating, and getting the most out of the remote team. Our helpful guide will talk about the best collaboration tools for remote teams, which you can check out.
Importance Of Scrum Tools for remote teams
Scrum is a framework used for producing any product, which can be a consumer product or software. Thus, Scrum tools are used to implement this framework for projects within an organization correctly. Besides this, Scrum tools have many useful features that make them popular for managing remote teams in a completely remote or hybrid workplace.
These tools help managers and HR professionals to divide a massive workload into smaller tasks. Each task has a specific time or deadline to complete. That's why most Scrum tools have features to assign and schedule tasks. These tools also enable managers to track remote team performance and how they're handling the assigned tasks.  
Scrum tools are also remarkable for any company for increasing collaboration, easing communication, transparency, and productivity among employees. As they enhance communication, they are prevalent for handling remote teams. Managers can tackle the workload and also reduce the communication gap created between remote teams.
Virtual team collaboration tools  
As technology makes it easier for managers to communicate and interact with their remote workforce, picking the right tools and software is crucial. Below is a list of the best remote collaboration tools.
Trello
Trello is one of the most straightforward remote collaboration tools to use while handling remote teams. It's popularly called a Kanban board application, as it's used for coordinating, assigning tasks, tracking activity, and managing projects. You can break down large projects into simple steps and tasks. Then, you can post these tasks among employees on their respective Trello boards.
You can handle task ownerships, assign labels on tasks such as "Urgent," and oversee everything on a granular level using Trello. Your employees will find it very easy to use due to its simple interface.
Trello allows you to share task boards with other collaborators and also stay connected during the entire process.
Pros
Simple, flexible interface with drag and drop features

Available as desktop and mobile apps
Cons
No time-tracking or Gantt charts
Microsoft Teams
This is another powerful tool for remote work and one of useful virtual meeting platforms. It's an excellent tool for Microsoft users as it has many Office 365 integrations and other unique features. You can use this platform to chat personally or within a group, create groups, and broadcast messages across multiple channels. The tool allows you to share pictures, documents, pdf, links, and videos with ease, just like a messaging app.
The best part about this tool is conducting video calls and virtual conferences with excellent efficiency. You can also record audio or video calls with Microsoft Teams. Furthermore, there's a great screen sharing facility which is very effective during video calls.  
Pros      
It can be easily integrated with other Microsoft Office apps

Fully customizable and flexible
Cons
Getting accustomed to the layout takes some time
Zoom
Many consider it the numero uno for video conferencing and effective virtual communication in a remote workspace. As face-to-face communication is crucial to stay connected, this is one of the top remote collaboration tools you can use to enhance your existing communication processes. It is a great scrum tool for remote teams, which can be easily used to communicate with many employees.
Zoom allows you to record meetings, raise hands during a session, conduct polls and webinars. You can make high-quality video and voice calls with this app.
Pros
Can handle around 10,000 webinar viewers and 1000 meeting participants

The team can interact with video webinars, instant messaging, and virtual conferences with ease
Cons   
Some users have complained about security concerns
Google Docs
How can you forget about Google Docs when talking about remote collaboration tools? Anyone can use this silent and powerful, freely available document editor. Is your remote team bored with virtual presentations? Arrange a quick online brainstorming session using Google Docs for employees to come up with new project ideas right from their home office standing desk.
Its simple but effective real-time editing features enable employees to create documents on the go, even if they don't have Microsoft Office on their systems. They can work on a project or document together while tracking their edits in real-time.
Pros
Easy to use directly from your web browser

Freely available, and lets you create MS Word documents in a jiffy
Cons
You can't edit documents offline without installing a Chrome plug-in
Loom
You may sometimes feel frustrated while explaining official matters and concepts over a video conference. If you're struggling to teach workflows to a remote team, making a simple video might be an easy way out. For those looking for a free application for video creation, Loom is the one for you. It also helps you to combat virtual meeting fatigue. 
Loom is one of the best collaboration tools for remote teams as it allows you to create shared screens, record videos, audios and send them quickly to remote team members via a link. It's that simple! The app allows you to create videos using your webcam or screen cam. Furthermore, it's free to use on all platforms such as Android and iOS.
Pros
Easy to use and share videos among multiple employees

Create high-quality videos for free
Cons
Poor internet connection will affect video creation
Wrapping Up
Along with ergonomic chairs and cool office equipment like monitor arms, remote collaboration tools make working from home a breeze. As a manager, you have to remember that the tools you use directly reflect your workforce's efficiency. So, you can try out various tools before selecting the best for collaboration.
You can also ask your teammates how they're enjoying the software and virtual tools. This way, you can change them and implement new ones.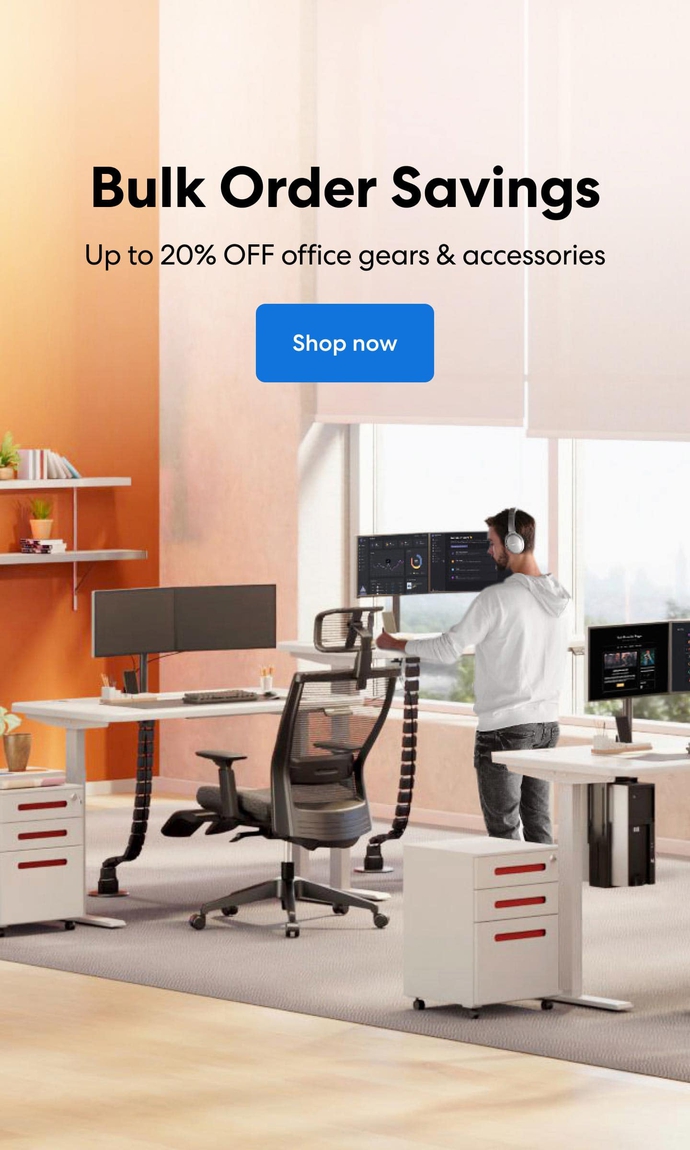 Subcribe newsletter and get $100 OFF.
Receive product updates, special offers, ergo tips, and inspiration form our team.