Which office chairs are perhaps the comfiest? That is a reasonable query that we have been asked, although it can be tough to respond to. Special elements and styles are more pleasant for some persons, unlike any others, though. The chair's intended use will typically determine which armchairs are by far the most durable and comfortable. We pondered whether we would emerge with a means to quantify certain characteristics of armchair satisfaction that are arbitrary to the individual who uses the chair.
To find out, several office armchairs were just hauled in and examined by us. Our experts calculated the results for three key aspects of ease: seat contentment, arm convenience, and lumbar support. The total figure for every category was calculated by averaging the scores. This list contains the durable computer chairs that made the biggest impact on our workplace comfort assessments.
List of the Most Comfortable and Durable Office Chairs
A great office armchair will make you comfortable not only for the day but for decades. Due to the significant detrimental impact a bad desk chair could have on your general wellbeing, it's tough to underestimate the value of having the correct one. It isn't like trying on a pair of sneakers; you can't even try one on for a short moment and determine if it suits.
To address this problem, you'll need an armchair that you can adapt and adjust to your preferences. Your chairs should serve you, but never the other way over. Here are some of the best durable desk chairs that we found.
1. Autonomous ErgoChair Pro
This is one of the best ergonomic chair from Autonomous. Autonomous chairs have a lot of excellent user reviews and photographs on their website, which is fantastic. The ErgoChair Pro includes a customizable backrest padding and feels great on people's tailbone area. It was simple for us to get into the proper posture. The ergonomic chair leans back and features a balancing mechanism that keeps the back from lowering too far and too quickly and keeps it in place when relaxing. It is an incredibly comfortable chair that can last for ages.
2. Autonomous ErgoChair Core
The ergonomically designed chair is more comfortable than a sofa and healthier than a desk chair. This customizable computer ergonomic chair is recognized for providing users with comfortable, personalized back support in the first place. This chair will also last for years due to its durable formation.
3. Autonomous ErgoChair Recline
This reclining desk chair means competition when it comes to accomplishing tasks, so when it's time to chill, easily recline, unwind, and relax your legs by bringing them upwards. The durable computer chair has several customization options for you to rest and work efficiently, including maximum comfort, suitable back support, as well as appropriate reclining settings.
4. Karnox Slate Dark Gaming Chair
With a large seat, broad back support, and cushioned headrest, this gray fabric durable computer chair is designed for optimal comfort. It is the best fabric office chair available in the market today. It provides the durability and portability you'll need for lengthy periods of gameplay.
5. Karnox Leather Gaming Chair
This plush PU leather gaming chair has a smooth reclining position that enables gamers to relax while dominating the virtual age. That makes it the most durable desk chair. It features a striking metal frame contributing to the chair's unique appearance. In addition, the metal structure is guaranteed to endure a lifetime. For e-sports fanatics who enjoy the luscious, sophisticated look of rich leatherette, the dark gray ergonomic style gaming chair offers Synthetic leather upon both side and back sections.
6. Gesture Chair by Steelcase
It's amongst the most luxurious, accommodating, long-lasting as well as among eco-friendly office chairs we've yet evaluated: all about it has lasted the ravages of time, first from lumbar support towards the high-quality material to the trustworthy adjusting knobs. The Gesture also has the most fabric and perhaps other customization options of any armchairs we reviewed, allowing you to personalize it for your workstation.
7. Aeron Chair by Herman Miller
It is a good choice if you primarily want a durable computer chair that supports you mechanically and is pleasant for lengthy working periods at a workstation. However, because the Aeron's handlebars aren't as flexible as the Gesture's, it's less useful for various applications that require execution and delivery, such as reading a tablet.
8. The HON Ignition 2.0
It is the most comfortable and durable office-chair which offers all of the basic modifications we look for in a chair, such as a seat alignment modification, incline tension, incline lock, seat elevation, as well as customizable armrests. We thought of it to be relaxing to use the whole day, with customizable back support; be sure the merchandise description mentions "adjustable backrest" to ensure you get the ideal furniture with that feature.
9. Steelcase Leap Chair
The chair has a well-cushioned seat, making it the best ergonomic chair. When you sit on the durable computer chair, it does not keep you warm as heavier padding would, but it does provide a nice and supportive seat. There are no sharp edges on the seat, and the seat berate is flexible. That lets you utilize the whole seat and it also provides you with a wide range of motion because the seat bends.
Your workplace chairs are the single component of workplace furniture that sees far more wear and tear. Bear in mind that the vast majority of your workers will spend forty hours or over each week at their workstations, putting a lot of strain on your seats. A well-equipped office desk chair must endure between seven and ten years as just a general principle. Your office chair is among the products that would let you know the moment to change it. It's a decent choice that you'll have to change that chair whenever the upholstery starts showing signs of wear or the material starts to disintegrate.
FAQs
Question: What is the best material for an office chair?
Answer: Leather has been one of the greatest seat covers that everyone prefers; leather seats are regarded as the greatest alternative for people who seem to want their businesses to have a sturdy and sophisticated appearance. Other alternatives include polyester, velvet, and mesh fabric, which allows you to stay cool without overheating because the textiles' air pockets allow easy airflow.
Question: Which chair is the most comfortable?
Answer: The Autonomous ErgoChair Recline remains the most comfortable chair since it provides the user with excellent comfort.
Video ads for product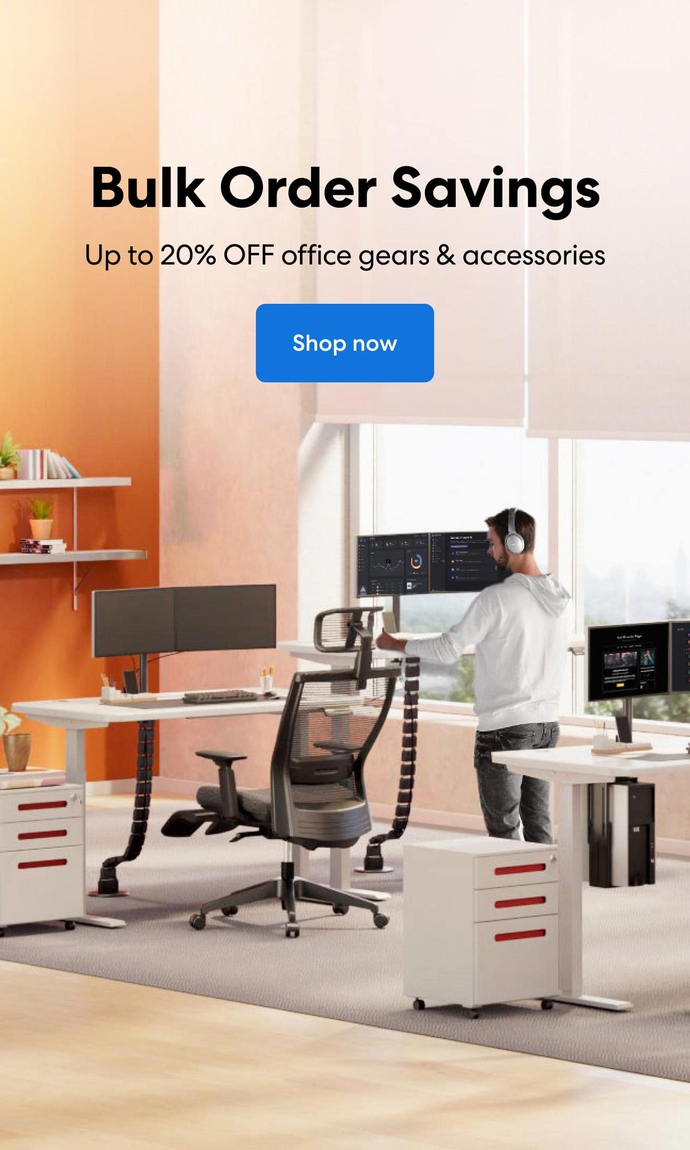 Subcribe newsletter and get $100 OFF.
Receive product updates, special offers, ergo tips, and inspiration form our team.