Computer desks for offices come in all shapes and sizes. They are constructed from different materials, offer unique features, and help create an ergonomic workstation. The right choice of computer desk is a one-time investment hence you need to be careful when putting your money down on a certain kind of desk for home office.
A home standing desk is an ergonomic solution for modern places that allows you to switch between sitting and standing, but what kind of standing desk is ideal for a Mac office setup. An apple computer desk is simply different from the rest, and the right desk for iMac has certain qualities which are quite necessary. In this article, we will discover some of the best computer desks for Macbook that can improve the performance of your work setup.
The Best iMac Office Desks
This list includes the classic, standing (adjustable) desks large and small desks, all of which were chosen for a specific reason. They're a wonderful match for the iMac.
1. Pillar Desk
This pillar desk from Autonomous has to be on top of the list for best work desks no matter what workstation or desktop type you wish. The pillar desk, also known as a compact desk from happen, boasts a two-minute assembly, and we love this feature about the product.
With foldable legs, you can use this desk when needed and fold it away under your bed to save space. Portable and lightweight, this desk comes with modern technology to connect a macbook to a monitor. It is one of the most popular and all-rounder desks for home office needs.
2. Standing Desk Converter
Motorized standing desk converters have been up and running in the market for a while now, and they are preferred over a standing desk for many reasons. The same is the case with this standing desk converter by mounting it, which is a popular product for users' choice.
With leading technology and the ability to support and connect with various devices, the smart desk converter from autonomous is height adjustable. It allows you to adjust your screen and keyboard to a safe height and wide enough to host two screens simultaneously. This standing desk converter is known to substantially improve the posture while working.
3. SmartDesk Core
Office desks come in different designs, but not all of them are well qualified to last you long and worth every penny you invest in them. But what if a single desk offers you multiple options to choose whatever aesthetics you like? That's why we have this SmartDesk Core from autonomous on our list. One of the most popular standing desks with the latest ergonomic functions.
The Apple computer desk is height adjustable for working both while sitting and standing. It has over four programmable settings and comes with a preset memory setting. The desk allows you to boast XL desktop options and is easy to use, thanks to the dual-motor height lifting mechanism.
4. SmartDesk Corner
It is important to have enough space for elaborate setups as an iMac Computer setup, so none of your accessories are dangling by the edge. Thankfully that is possible when you purchase this smart desk corner from autonomous.
SmartDesk Corner is a sophisticated L-shaped desk specially made for multiple monitor setups. This desk is also height-adjustable, so you can switch between sitting and standing hassle-free.
The desk has a quiet dual motor operation to ensure the height adjustment doesn't disturb anyone. It also has a pre-programmed memory height setting to ensure your optimum values are always saved and remembered.
5. Bon Augure Home Desk
This Apple computer desk is quite large, measuring 60′′ x 23′′ x 30′′. That's plenty of room for your iMac, speakers, desk lamp, and other accessories. It can also easily accommodate two monitors. The tabletop's oak finish contrasts wonderfully with the silver iMac. That tabletop is quite sturdy, with no wobble or movement and the ability to support a substantial amount of weight.
A little cable grommet is located on the back of the table and is used to organize your cables. This is a convenient feature that keeps everything neat and tidy. The only drawback is that it is sharp, so keep that in mind.
6. SHW Adjustable Computer Desk
With the popularity of height adjustable computer desks and their benefits for the users, the SHW Computer desk is also a great choice. The best thing about this desk is that it is right in your budget, and if you are worried about money after buying that Macbook, this desk will give you a helping shoulder.
Even though it's cheap, in no way does the SHW adjustable desk lack features and quality. You will have to choose from the two different sizes depending on your need, and we think this is also a pretty great option from manufacturers. The desk is also available in four different colors so that you can find the best pairing with your iMac.
7. Yaheetech Modern Office Desk
Yaheetech minimalist-looking, the roomy desk is another low-cost option on this list. This desk's Beige hue will complement the iMac wonderfully. The frame is composed of high-quality metal and has a solid feel.
Protective footpads on the bottoms of the four legs keep the desk from scratching the wooden floor. For an Apple computer desk at this budget, the quality of this desk is solid and well-made. The assembly is simple and should take 20 and 40 minutes to complete.
8. Vari Electric Standing Desk
The Vari Electric Standing Desk is the most durable and well-made on our list. It comes in two sizes, allowing the user to select the most appropriate desktop size for their needs.
This computer desk for a Macbook can move up to 50 inches thanks to the two motors that operate quietly. You may also alter the height with four different settings. The desk can support up to 200 pounds.
Vari Electric Standing Desk is available in five different color combinations for those who want to play around with their tastes.
Bottom Up
The iMac is unquestionably the most well-known and widely used all-in-one desktop computer globally, and with good reason. It's a high-performance PC with a stylish design. As a result, you'll need a desk that matches the iMac's aesthetic. That's not a problem because we've got you covered. The list above will help you have a productive and attractive Apple computer desk option.
Video ads for product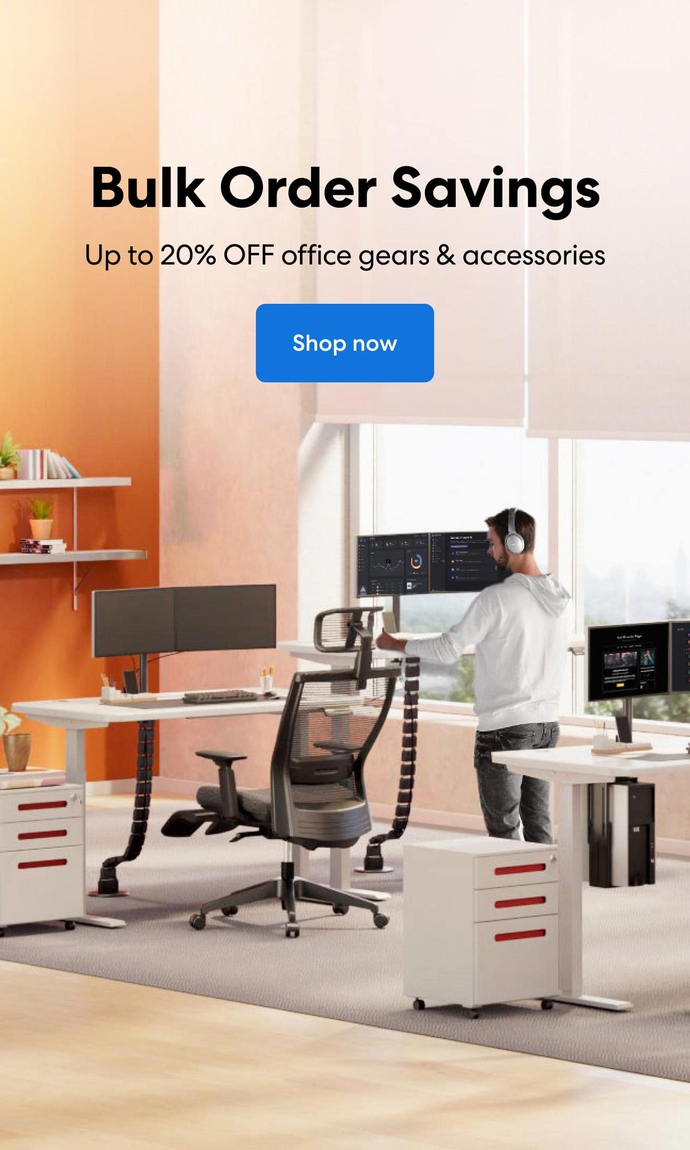 Subcribe newsletter and get $100 OFF.
Receive product updates, special offers, ergo tips, and inspiration form our team.