Smart Products
Best Curved Monitor for Programming 2023
3,781 Views
A professional programming career starts with a good LED programming monitor. If you don't have the right monitor, it can be challenging to program and code for longer hours. If you do not have the perfect monitor setup and do not have eye care technology, it can cause eye irritation headaches or prevent you from concentrating on your work. It can be tricky to buy a high-end curved monitor for programming, so we reviewed some of the best-curved monitors for coding products available on the market to make your decision easier.
When Should You Use a Curved Monitor for Programming
Is programming possible with a curved, ultra-wide monitor for programming? For those planning to use their monitor primarily for programming, curved monitors are not a good choice. It is more expensive and does not provide any real benefit for computer programmers. It's better if you take a look at a few ultra-wide monitors for programming differences we've mentioned below.
If you need a high-definition monitor, you should invest in a bigger one. It's one instance where we recommend a curved monitor for programmers if the screen is more than 40 inches. Gamers use curved monitors to offer a wider viewing angle when playing 3-D video games.
Your eyes will be more comfortable with this size. You should not focus your attention on the curvature of your monitor; the resolution, size, and type of IPS panel should be your primary concerns.
Curved monitors are not just cool because they look cool. Curved monitors look appealing from an aesthetic standpoint. Choosing a curved monitor over a large, flat one should not result from that. You could use the additional money to upgrade your monitor's size to allow for ultra-wide viewing angles instead of getting a curved monitor.
Curved vs. Flat Monitor for Programming
| | | |
| --- | --- | --- |
| Benefits | Flat Screens | Curved Screens |
| Immersive experience | Good | Excellent |
| Monitor Curvature | Screen is flat | Curvature angle measured in R mm |
| Cost | Affordable | Costly |
| Gaming experience | Good | Superior |
| Vision Field | Normal View | Bigger, wider immersive view |
List of the Curved Monitors for Programming
1. Pixio PXC327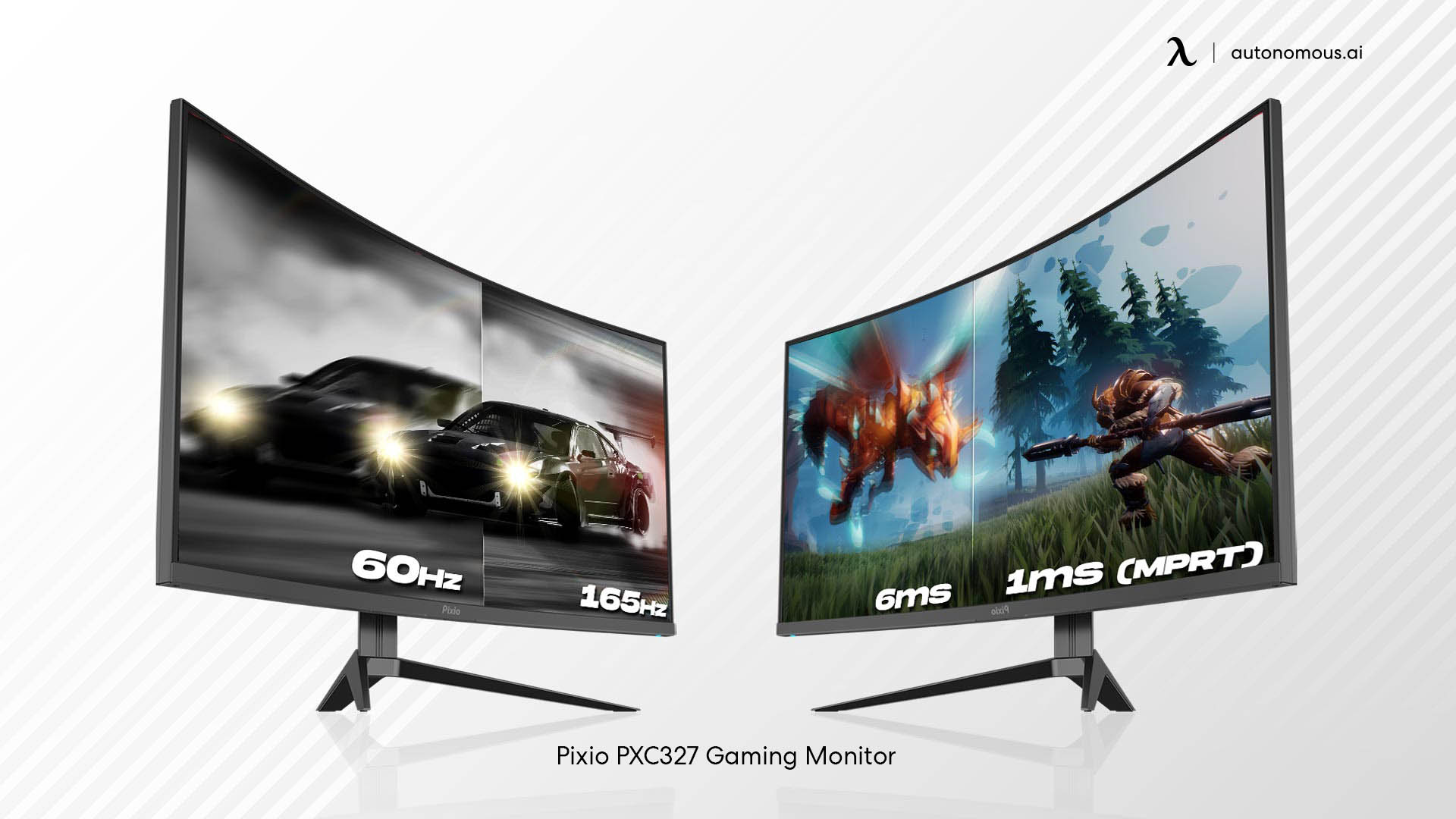 A screen like this one will allow you to find a balance between price and performance. A Pixio gaming screen, the PXC327, gives you an excellent display and AMD FreeSync Premium technology so that you can play your games faster.
It is possible to enjoy a bezel-free curved panel without breaking the bank at an affordable price and allows you to experience the screen from every angle. Despite the low pixel density, 2560x1440P delivers smooth performance, even on low-power GPUs. Compared to standard HD (1080p) displays, you will get up to 77% more screen space in your computer setup room.
With AMD FreeSync technology, you can play fluidly at virtually any frame rate without choppy gameplay and broken frames. Moreover, flicker-free technology ensures flicker-free operation at all brightness levels.
With 98.2% of the display's color gamut being DCI-P3, the curved gaming monitor 165hz can display the full spectrum of HDR content. You can play your favorite fast-paced games to the fullest extent using a 165 FPS refresh rate and 1ms response time. Reducing the monitor's blue light emissions alleviates eye strain, and viewing is more comfortable.
2. Pixio PXC325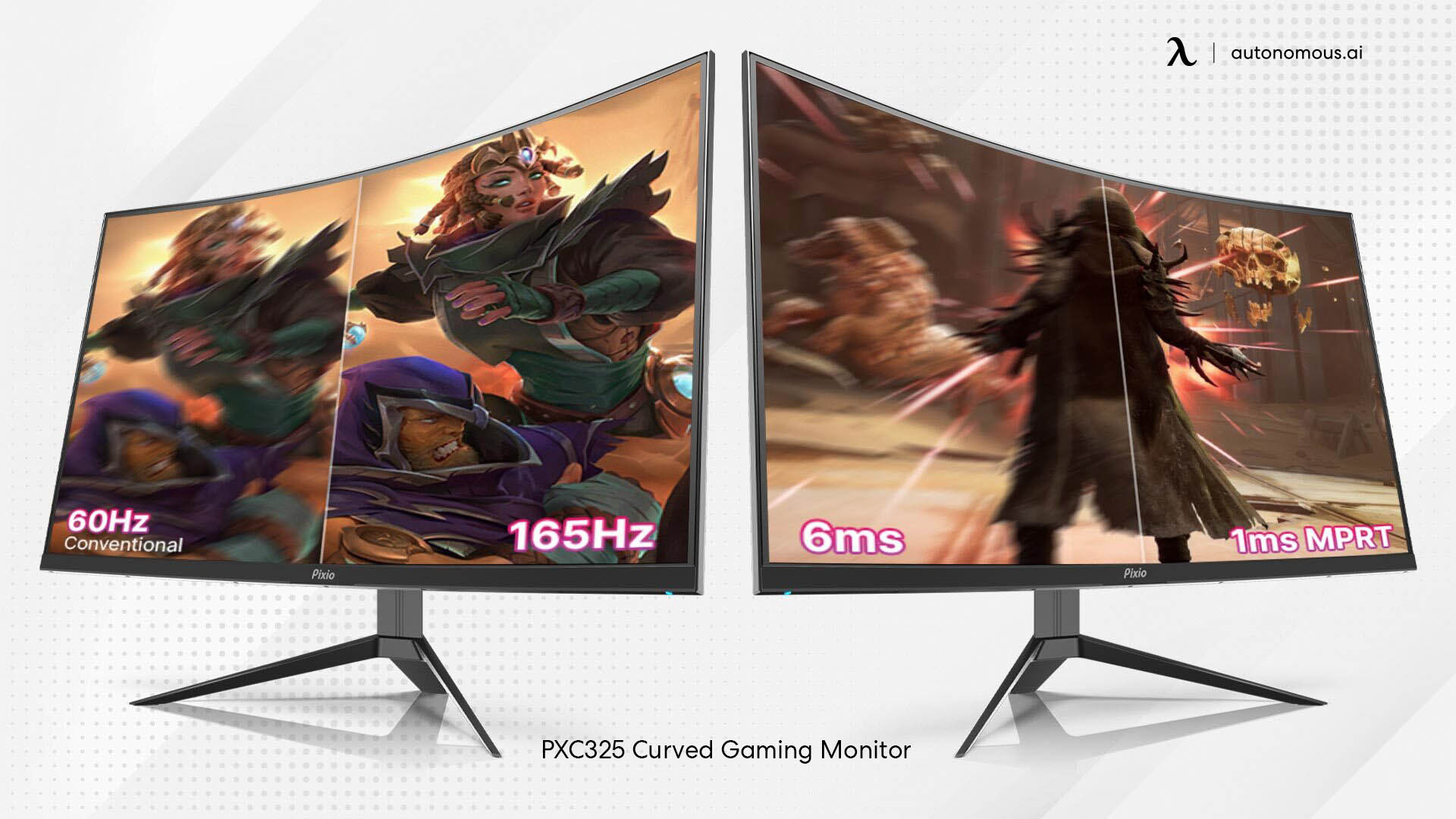 A curved VA Panel with 165Hz and 1500R enables the display to provide an exceptional viewing experience while maintaining a thin, bezel-less design. A curved gaming monitor 32-inch display that achieves a maximum brightness of 400 nits while running at 1080p resolution and a contrast ratio of 4000:1, weighing just 13 pounds, is framed by razor-thin bezels.
In 1920 x 1080p, pixel density is high while performance remains smooth, even on low-power GPUs. With AMD FreeSync technology and flicker-free technology, you'll experience smooth gaming performance and artifact-free images.
165 FPS and a response time of 1ms for smooth gaming with the latest hardware let you enjoy fast-paced games. You'll enjoy vivid and accurate colors with the PXC325 display, which supports HDR content with an extended DCI-P3 color gamut of 97.58 %. This reduces the blue light emissions for a more comfortable viewing experience.
3. Dell P4317Q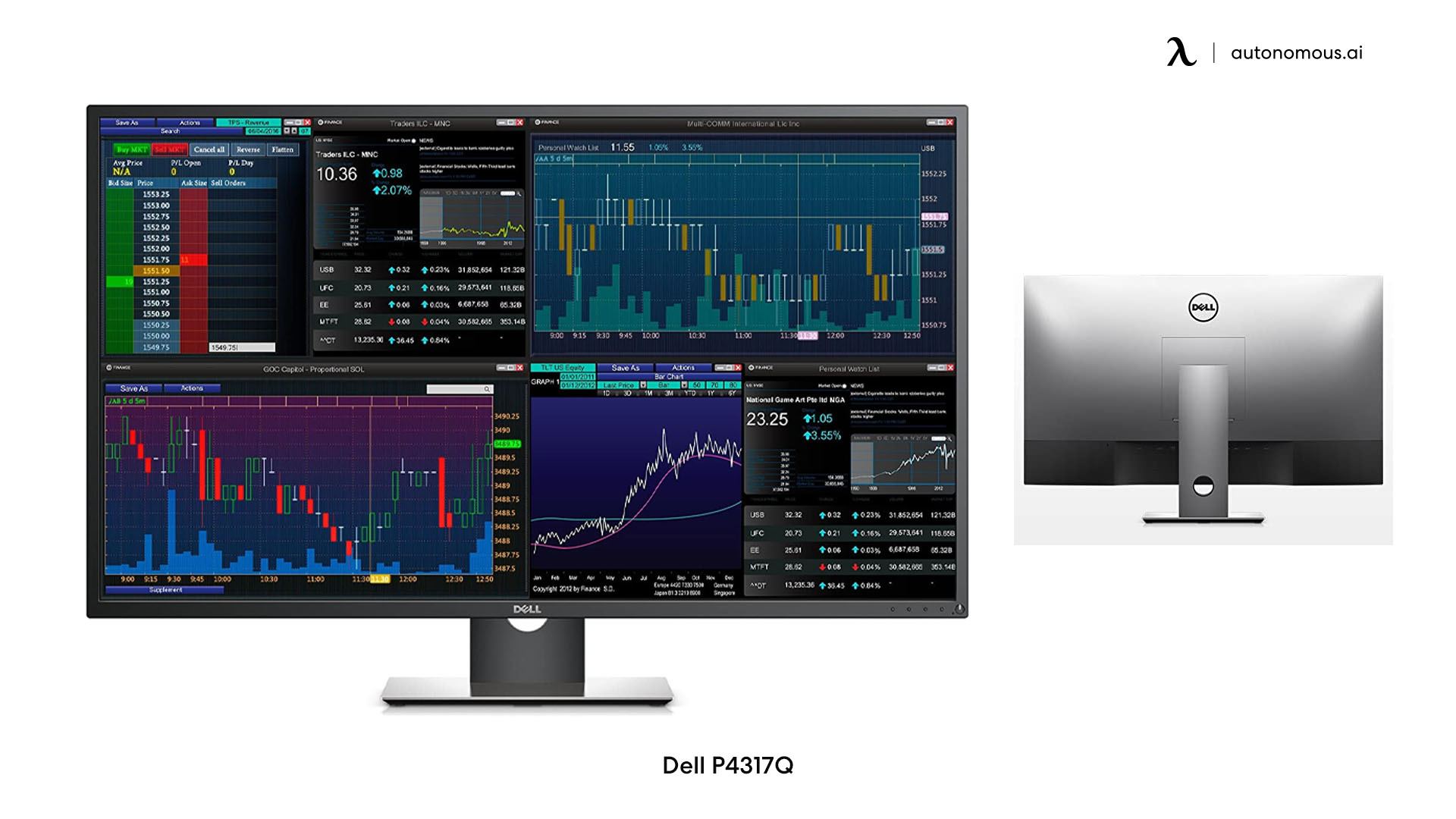 With Dell's P4317Q desk for dual monitors, you'll get a soberly colored and elegantly crafted display that looks right at home on your desk. One out of many customer needs, which is a clear view, is satisfied by this laptop's 43-inch screen, which offers an ultra HD 4k display.
It is possible to adjust the screen resolution on the Dell P4317Q quad screen monitor according to your needs, increasing your work efficiency. Different windows can be displayed side by side or in a single large laptop and monitor setup depending on what you want
Several cables pass through the neck of this monitor to connect to it. It is easy to install. This feature keeps your room from looking messy and keeps it neat and well-organized, which also reflects your personality. It is still a good choice for a one-time purchase and long-term use despite its price.
4. LG 34WK650-W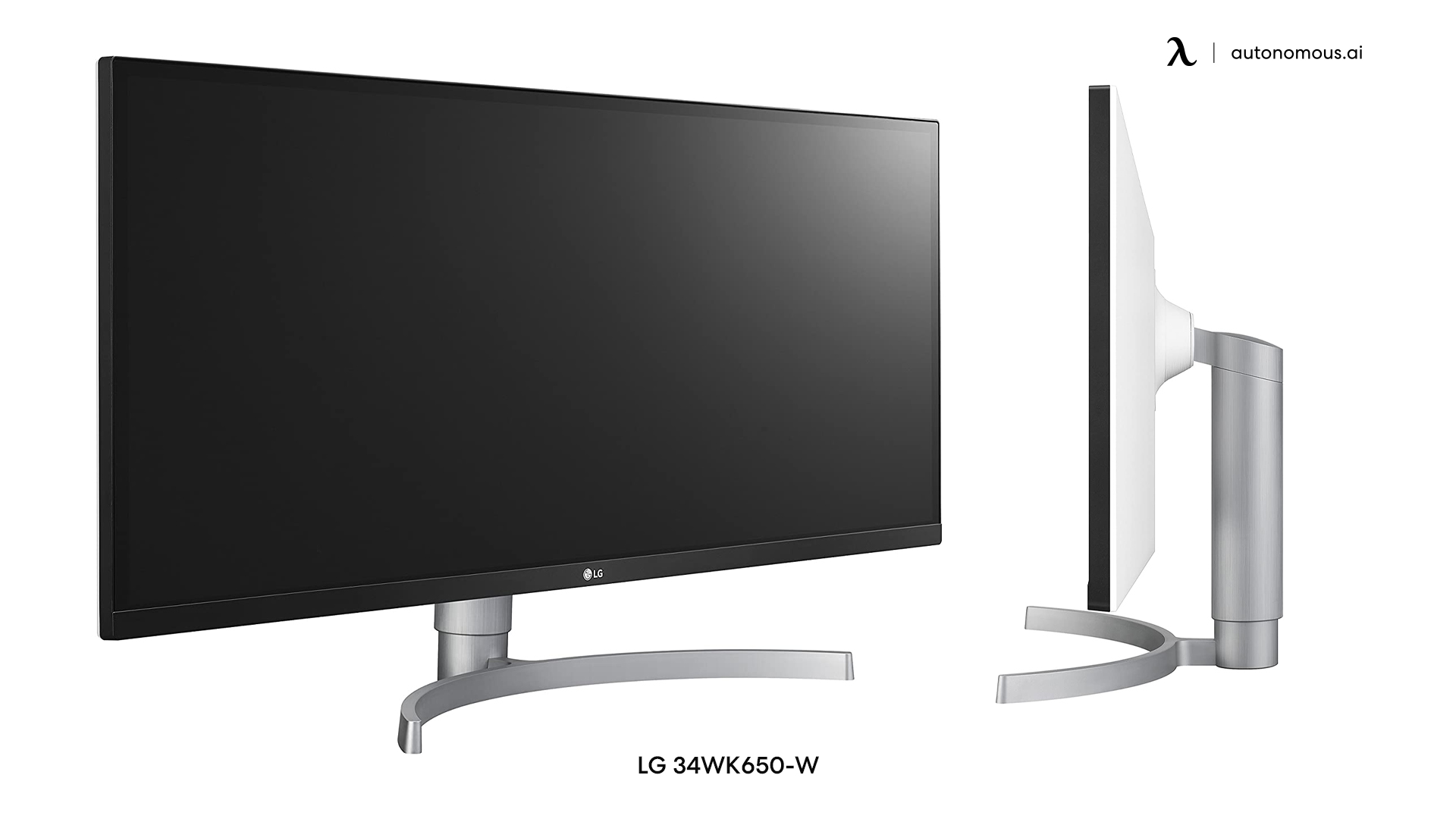 Due to its widescreen display and accurate color representation, this curved monitor for coding is suitable for office work and gaming. You can tilt or swivel the monitor so that the screen is in the position you desire and even turn it vertical if you want to.
The office desks can be easily moved and placed on almost any table because of their lightweight and normal-sized stand. Even though it comes with a 5-watt built-in speaker, its performance and quality are not impressive. As such, additional speakers will be required.
There are 2560*1080 pixels on this monitor. The screen's clarity makes this product more attractive, and people are more likely to choose it. Anyone who wants to accomplish several tasks simultaneously can find the multi-purpose computer extremely useful. You can carry your entire office around with you everywhere you go, thanks to its high memory space.
5. Samsung CHG90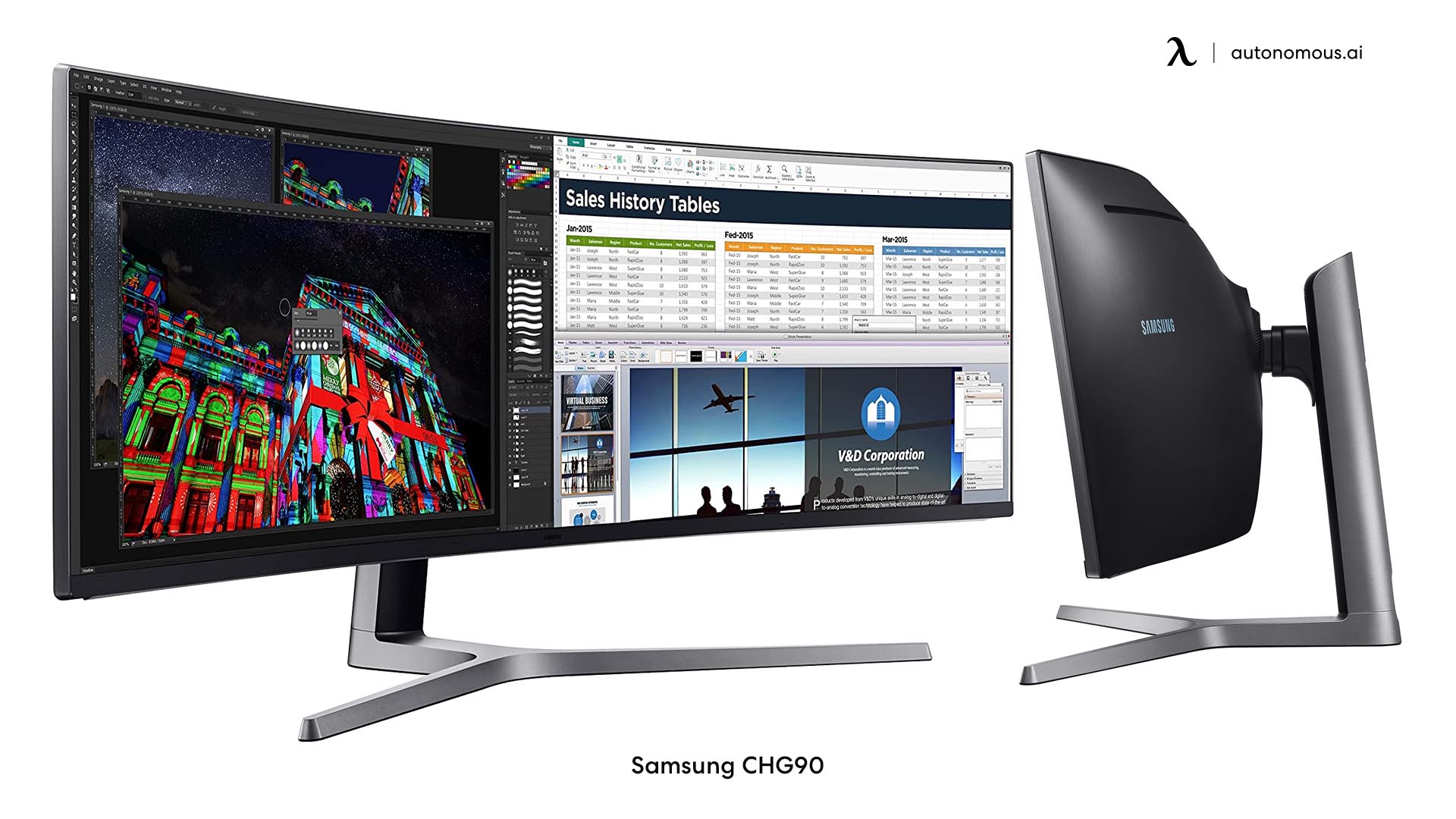 Unlike a flat-screen, Samsung's CHG90 has a curved screen, making viewing the screen easier. In terms of screen size, the ultra-wide 49-inch screen equals two 27-inch monitors.
Featuring two monitors and a clean back, this simple and modern-looking curved monitor for programming is neat. You can easily multitask with this monitor by opening more than one window simultaneously, which increases your productivity.
The product is more comfortable and user-friendly using the eye-saving mode, with less blue light. Stereo speakers with a power output of 7 watts deliver crystal-clear sound for audio recordings and videos. This monitor has a built-in KVM switch, making it easy to control the monitor using a keyboard and switch.
Hey, you have special pricing through your company.
Get exclusive rewards
for your first Autonomous blog subscription.
WRITTEN BYAutonomous
We build office products to help you work smarter.