Work Wellness
What Are The Best Desk Top Materials For Your Choice?

Autonomous
|
Nov 14, 2021
3,471 Views
Office desks can also be purchased in various styles – from L-shaped and treadmill desks to standing desks, corner desks, and corner desks with adjustable monitor mounts. Different designs, sizes, and desk top materials are available for these desks. Hence, it isn't easy to decide which desk material will suit your home office, as the desktops of these desks come in various materials.
This article is your guide to choosing the best computer desk for your home office, as it breaks down the various types of desk materials, features, and offerings you should look out for!
Common Desk Top Materials
1. Wood
Desks today are made from high-quality natural wood desk top materials that use nature to provide you with a welcoming and cozy feel. Wood is also price-effective and is considered the best desk top material due to its durability and strength. The next step to enhancing your space is wooden workstations that add a sense of dignity and charm to your workspace. Furthermore, you could choose grains, textures, species, and cuts in office desk materials to complement any decor.
2. Bamboo
Bamboo is a highly durable variant of natural wood that resists everyday wear and tear. As a result, bamboo desk building materials are ideal for daily use. They don't suffer from swelling or rot because of minimal water absorption, which would otherwise cause the desktop surface to warp.
In addition to being lightweight and portable, a bamboo table top is also priced reasonably and is cheaper than hardwood. Despite its 40% hardness, this bamboo desk surface is easy to maintain and quite durable, making it one of the best wood for desktop.
3. Walnut
It's not surprising that walnut wood has a natural tendency to be hard, dark, tight-grained, and dense. However, due to their ability to be polished easily to a smooth finish, these natural wood desk table tops are highly prized by woodworkers. Sapwood is generally creamy white, but brown hues are also available in dark brown hues, is resistant to wear and tear, and comes with attractive wood grain textures.
4. Powder Coating
MDF, or medium-density fiberboard, is certainly one of the most commonly used materials for wood standing desk tops. The material is made up of small pieces of wood that have been ground up and bound together with glue or resin.
The particleboard comprises multiple layers of laminate that are protected from harmful elements while being under high pressure. The result is a durable, light, and durable particleboard. Easy to carry around or re-design for a unique appearance, the lightweight design is easy to use.
5. Pressurized laminate
Multilayered tissue-engineered laminates created from the cellulosic fibers of young wood variants are known as high-pressure laminates. Polyphenolic resin is then used to bond the fibers together. High-pressure laminate is subjected to high pressure and temperature to form a compact, durable material.
6. 3D laminate
There is no doubt that laminates are popular because of the unique manufacturing process, yet 3D laminate desks enjoy this popularity at ten times the level. Instead of being a top layer, these laminate desktops are wrapped around MDF planks as a film. Due to their ability to adhere perfectly to the customized wood shape through grommet holes, these laminates are perfect for corner edge bandings. The laminates are also visually appealing and don't require plastic strips to adhere to the wood. The surface has a smooth texture that is not abrasive.
7. Reclaimed wood
Someone who cares about the environment, such as an environmentalist, will find reclaimed wood desktops a great option. Old planks of wood were used to construct these home office desks, which are great for recycling. There is something unique and lovely about reclaimed wood tabletop designs. They are categorized based on their comfort level, price, longevity, ability to change positions, and damage resistance.
How To Choose The Best Desktop Surface
The workspace you occupy reflects your work habits, productivity, style, and occupation, regardless of how much time you spend at the desk each week. A desktop is an obvious and aesthetically important component of office spaces, but it is often overlooked.
Tops are available in different types of desk materials, from particle board at a lower price to reclaimed wood. Several sellers offer standing desks online, and each seller has their design curated to go with his or her standing desk base. These are some suggestions on how to choose the right desktop for your needs and taste.
Natural wood or hardwood
Dicot trees are the only ones capable of producing hardwood. They typically grow in temperate and tropical forests with broad-leaved foliage. Tropical and subtropical forests are mostly evergreen, while temperate and boreal forests are mostly deciduous.
Regardless of the kind of wood, it is vitally important for any buyer to understand how it is made thoroughly. There is either a highly sustainable species or one that is being harvested beyond its growth rate. From raw materials to precision-machined, sealed, finished tabletops, where it comes from.
Solid or engineered wood
Unlike glued planks or layers of veneer, a solid wood desktop is made from a single piece of wood. These are expensive pieces of wood since a single tree's wood has a few defects. Finding them elsewhere is usually impossible when edge-gluing planks of real wood, this term is usually used to describe a full slab.
The planks are usually 4 to 6 inches wide, with four to seven distinct grains. Additionally, these tops are less likely to warp and crack than comparable tops. This makes engineered woods very different from comparable woods.
Planks are constructed by gluing thin veneer layers with alternating grain directions, sometimes 1mm thick. Woody fibers are transformed into thin planks of bamboo instead of real wood. Bamboo desktops are generally bonded with thin sheets of bamboo in an alternating grain direction to give them some strength. 
Maintenance
Disinfection is only possible with tops laminated in 3D. The most vulnerable desktop surfaces to damage from harsh cleaners are powder-coated, bamboo, rubberwood, and reclaimed wood. To know how to protect desk surface, solid natural wood must be treated according to its manufacturer's recommendation.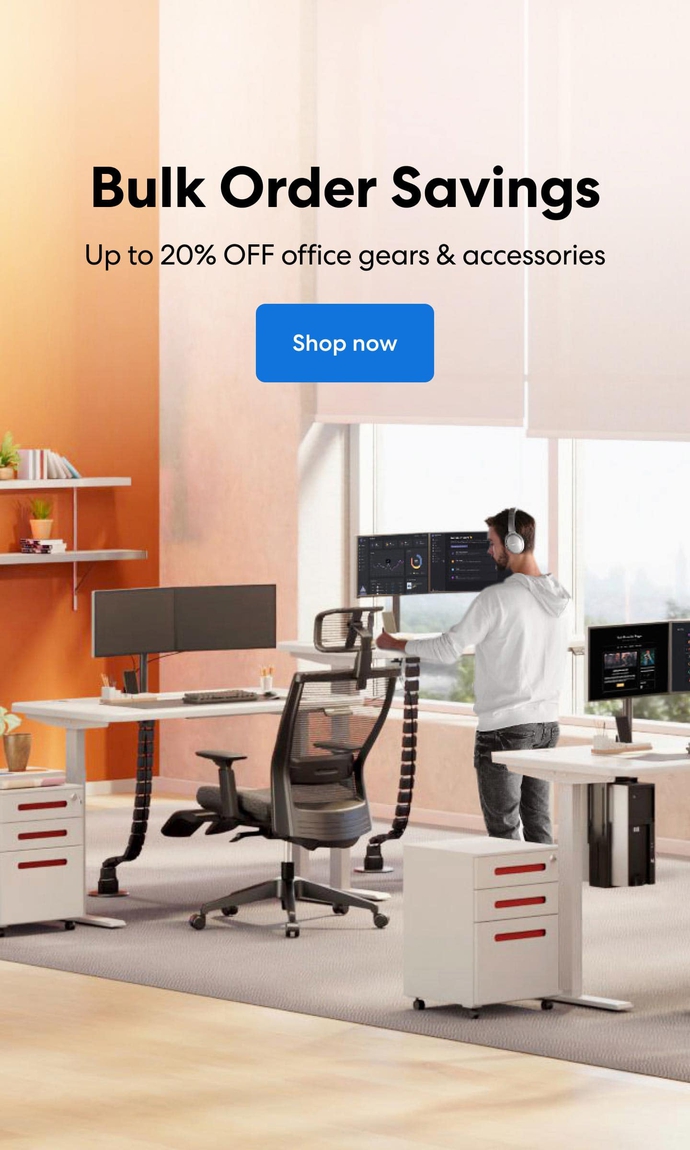 Subcribe newsletter and get $100 OFF.
Receive product updates, special offers, ergo tips, and inspiration form our team.