Workplace Inspiration
Get Crafty with These DIY Butcher Block Desk Ideas

Autonomous
|
Jun 19, 2023
1,224 Views
Building a DIY butcher block desk can bring you significant utility as it can fit in several places, such as your kitchen, office space, studio, etc. A butcher block desk top can be a durable furniture option as it has a solid and sturdy build that can hold many items.
You can customize your desks based on your taste and preferences. If you are provided with clear instructions, the desk can be built easily and conveniently. This type of desk can be used as a home office desk, a kitchen counter, a small corner desk, and many other ways. We have mentioned a series of block butcher desk ideas in the given article to inspire you. So let's check them out.
Great DIY Butcher Block Desk Ideas
1. Floating Butcher Block Desk
A floating butcher block desk can be used in your office space as an effective butcher block pc desk for your office space. A floating desk is mounted onto the wall and has no external legs to stand on. Such tables only take up a little room and can be built in any corner. These tables also have a sturdy build and are easy to install. You can use a floating butcher block desk as a small computer desk, a showcase, or an extra storage outlet for your space. Floating desks can also add to the aesthetic appeal of your space as they add a contemporary touch and provide considerable functionality.
2. Butcher Block Gaming Desk
If you are a gaming fanatic and want to create a gaming setup, you can install a butcher block gaming desk. Such desks are a perfect fit for a gaming room, and you can customize them with LED lights and various other gaming accessories. These tables are built to last, hence are always a reliable choice for your space. This desk can easily adjust your monitor screen, gaming console, speakers, etc. Enhance your gaming room by installing an aesthetic and durable butcher block gaming desk.
3. L-shaped Butcher Block Desk
This type of desk is the perfect choice for someone seeking an efficient L-shaped standing desk. L-shaped desks can offer great functionality as they have considerable space and can fit many different things. L-shaped desks can also help modernize your space as they have a unique design that aligns with the new trends. An L-shaped butcher desk can contribute to the beauty of your space.
4. Butcher Block Standing Desk
This is an excellent adjustable desk option, which can be made into a butcher block computer desk. Standing desks can go well in an office space as they allow you to remain active as you work. A standing desk allows you to work while standing, which prevents you from feeling tired or lethargic. You can adjust such desks based on your comfort level and add a desk chair if necessary. Standing desks have recently gained popularity as people prefer to sit in one position only during the day.
5. Butcher Block Office Desk
Having a practical and durable office desk with drawers is an essential requirement when you are looking to create a stimulating work space. A butcher block office desk allows you to work effectively as you can place all your work belongings on the desk, such as your computer, files, stationary, etc. These desks are also good for beautifying your space as they have a modern, wooden look and are an appreciable option for office furniture.
6. Butcher Block Desk with Drawers
If you want to add a small desk with drawers to your space, you should consider a butcher block desk with drawers. Such desks make for an effective storage unit as you can utilize the drawers for your belongings and use them as an office desk. These desks can be used in many different spaces as they are not limited to a workstation. You can choose different designs for your desk based on your personal preferences.
DIY Guide: How to Build a Butcher Block Desk
Several steps must be followed to build a proper butcher block desk. If instructions are followed correctly, you can easily build a desk in the least amount of time. Some important steps required to build a butcher block desktop have been listed as follows:
1. Choose Your Materials
The first step is to choose what kind of material you want to make your desk out of. Most butcher block desks are made of wood and have wrought iron legs attached. Choosing durable and high-quality materials is imperative so the table is reliable and not easily damaged.
2. Measure the Size
The next step is to measure your space and decide on the appropriate size for your desk. You want a desk that is just enough for your space. Therefore, you should consider clear measurements such as length, width, and height before entering the building process.
3. Mount Legs onto the Wood
Once you have picked your material and cut it according to the right size, you can attach the legs to the table. You will need tools such as a screwdriver, screws, measuring scale, etc. All these tools can be bought easily from any hardware store.
4. Tidy up
After finishing the primary steps, you should smooth out any rough edges, remove excess sawdust and splinters, and place the table in the intended space. The given steps can be followed easily and leave little room for error.
This DIY guide offers a step-by-step approach on how to build a butcher block desk that can help you enhance your space. Get yours now and enjoy the experience.
Video ads for product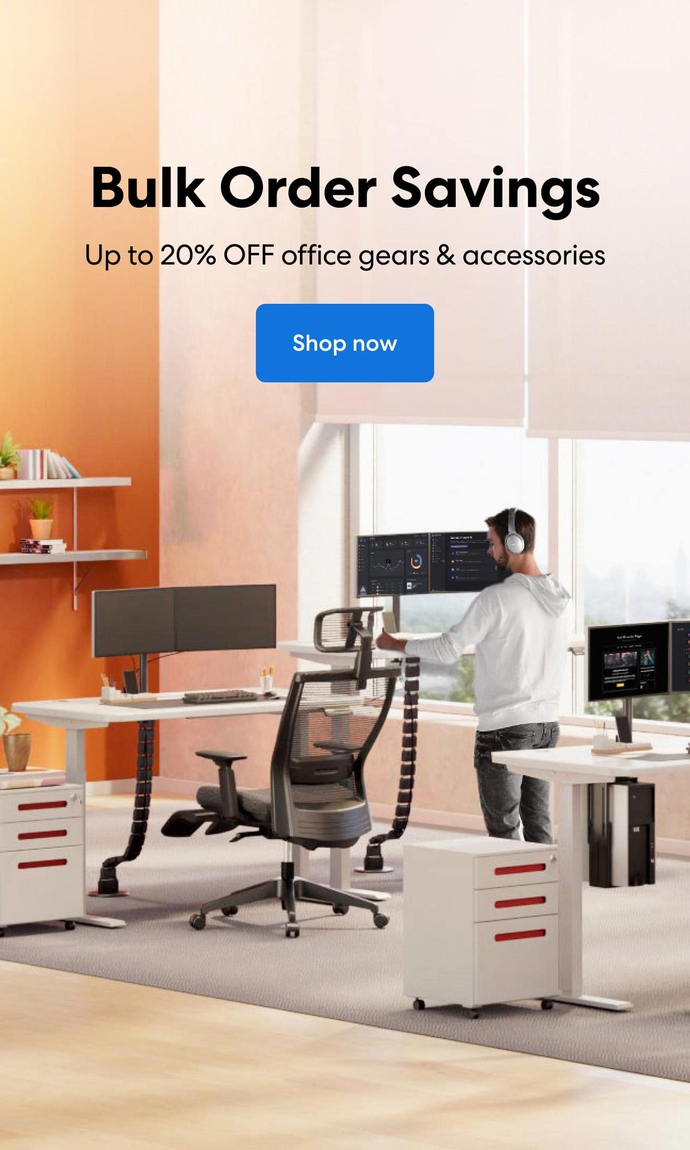 Subcribe newsletter and get $100 OFF.
Receive product updates, special offers, ergo tips, and inspiration form our team.