Productivity
Best Employee Perks for Companies to Implement in 2023

Autonomous
|
Oct 24, 2021
1,301 Views
Many employers are looking forward to implementing the best employee perks in their companies to boost the workforce's morale and keep them in the right mindset for their respective obligations. After all, providing someone with a salary isn't enough to keep them at the workplace, especially if you want to maintain the most talented individuals at the workplace.
It can be quite tricky to draw the line between your actual life and your work life, and if you find it hard as an employer, imagine how it can be for your employees. Workers are now making their issues visible and requesting their employers to provide them with better work conditions. That's where the top employee perks come into play.
Interesting Facts Regarding Employee Perks
According to studies, at least 48% of employees take into account the perks that their potential employer is offering while applying for a new job. It is a tendency that has been slowly increasing over the years, especially in the younger generations.
The employee benefits trend isn't going to stop at any time soon. Most people have been working remotely for over a year, but things are starting to change slowly due to the advancements we've achieved regarding the pandemic, such as vaccines. Due to this, many people have been given to work from home or stay at the office. Although the perks for work from home are evident, other employees prefer staying at the office - and that's respectable. Being able to choose between options is one of the best employee perks at this point, especially after all the controversies that have been surrounding Apple and Google regarding their remote work policies.
Now that you're in context let's move on to what you can do to offer better perks to your employees. There are small business perks and other benefits that may work better for bigger companies, as an employee purchase program. Either way, here we have listed some of the best employee perks an office can incorporate to increase employee satisfaction and make their company a more pleasant place for the workforce. Let's read on to know what are the best employee perks!
Top Employee Perks For Any Company
1.  Employee recognition
Let's start with something basic. It's hard for any individual not to feel joy when their hard work is recognized. Everyone feels good when someone says "thank you" after completing a task for them, now imagine ." However, what if you could make this a real perk at your company? Well, don't think too much, it is possible.
One of the best employee perk programs can be a recognition program, and there are tons of tools around the internet that can help you with that.
For instance, big enterprises like Huli or Headspace are using "Bonusly." This tool allows you to link your values to recognition. This way, you will be providing one of the best employee perk programs while at the same time you're promoting a healthy company culture that matches your values. Plus, all the data Bonusly generates is trackable. Nothing will get lost.
2.  Parental Perks
Millennials are the leading generation in the workforce as of now. Thus, parental-related perks are one of the best employee perks companies can offer as millennials are currently in an age range of 23 - 38. Many of them are already parents or are planning to do so in the future.
There are many ways to implement this perk. We're not saying this is affordable for all companies, but Facebook is currently offering a $5,000 stipend for new parents. It doesn't stop there, though - other powerful perks may include fertility treatments and college admissions support.
3.  Wellness program
Most American workers follow a sedentary lifestyle, which has led them to have health conditions that follow them even at advanced ages due to lack of attention or inability to seek medical treatment. As sitting for too long can lead to major problems in the body - which range from a slight headache to bigger issues like type-2 diabetes - a wellness program doesn't seem like a crazy idea.
If you'd like to promote healthier behaviors at the workplace, Nectar is a good software for that purpose. It offers several customizable wellness programs that you can use to encourage a healthier lifestyle while keeping track of everything that happens at the workplace. It has a mobile app that integrates all the content from the desktop version.
4.  Mentorship programs
One of the best employee perks you can offer to new employees is a mentorship program, especially for the younger generations.
A survey that took into account about 5,000 Gen Zs found out that 37% believe that health care benefits are essential at any workplace, while 33% believe that mentorship programs are equally important. There's a small difference between both opinions.
The numbers are expectable as this generation is currently facing a brand new workforce that is completely different from the way we worked two decades ago. Most workplaces have become more cognitive and complex, which means that a mentor can help new talents to unlock their fullest potential and pursue the right career path in the future.
Conclusion
You have many options on the table. It is your duty to study them and determine which one is more viable for your company and how you will implement it. Incorporating new policies at a company is never an easy process, so you should always take some time to analyze the ups and downs of each option.
In the end, no one would want to stay at a workplace only due to the salary unless they're in an extremely desperate situation. Thus, implementing some of the best employee perks can help you promote a healthier work culture and keep your employees happy simultaneously. For instance, many employers are considering or already have implemented student loan assistance, especially because more than 44 million Americans possess student loans.
Make sure you're implementing new perks that your company can afford so that you can continue developing your business and expanding your horizons.
Video ads for product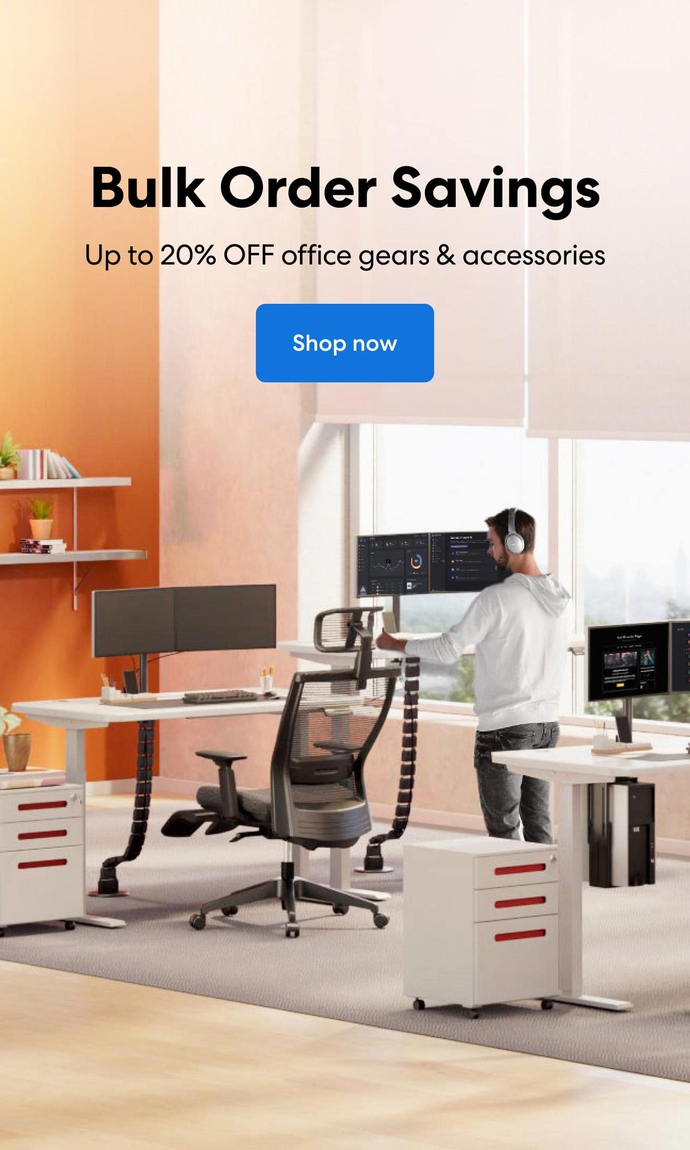 Subcribe newsletter and get $100 OFF.
Receive product updates, special offers, ergo tips, and inspiration form our team.