Are you looking for an ergonomic chair for a tall person and wondering how to find the right fit? It can be just as difficult to find the best office chair for plus size individuals as well.
By their very nature, ergonomic products should accommodate your unique shape, no matter your body type. There is no shame in using specialized equipment or furniture to meet your needs!
The best way to know if a chair suits your body type, of course, is to try as many as you can and find the chair that feels right. But in the absence of that luxury, with the pandemic keeping a lot of people home and opting to shop online instead, there are still some key metrics you can consider to find ergonomic chairs for big and tall people, as well as gaming chairs for big guys.
Office chair for a tall person - Ergonomic factors
When sitting in an ergonomic chair, your posture is crucial. Here are some key factors to consider:
The base of your spine should meet the base of the back of your chair. This way, the lumbar curve support mechanisms are most effective and will follow the natural curve of your back.
Your arms should be placed parallel to your side, bent outward at a 90 degree angle where they should rest comfortably on the surface of your desk.
Feet should rest flat on the floor, with your legs bent at a 90 degree angle. The chair should be adjustable up to a height that matches the length of your lower leg, from your knee to the bottom of your feet. Most adjustable chairs have a height range of 18-23 inches.
The headrest should be tall enough to cradle the back of your neck for added support.
Know your measurements for suitable Ergo chair
Of course, before you start looking at chairs, you should know your own body measurements as well. Most of us know our height, but that's only the beginning. You'll also want to measure these to have a best desk chair for tall person:
The height of your back from the base of your spine to your shoulders (Measurement 1).

The length of your thighs from waist to knee (Measurement 2).

The length from your knees to the bottom of your feet (Measurement 3).

If you are a plus sized person, you'll need to measure the length of your waist to know if the chair you're considering can accommodate the extra space you'll need. This is important since you'll be looking at not only maximum seat height, but the width and depth of the seat as well
If you haven't already, take some time to take your measurements and note them for your own reference.
Look for detailed chair measurements
When you're considering an ergonomic chair for a tall person, be sure to look up the specific measurements of the chair. They can usually be found on the product page, but you may need to click through a link to see all the dimensions in more detail.
The ErgoChair Pro from Autonomous is one example of a chair that includes detailed specifications on its product page. You'll want to look at the maximum height, as ergonomic chairs are highly adjustable and can be raised or lowered according to each individual's needs.
Is the ErgoChair Pro right for you?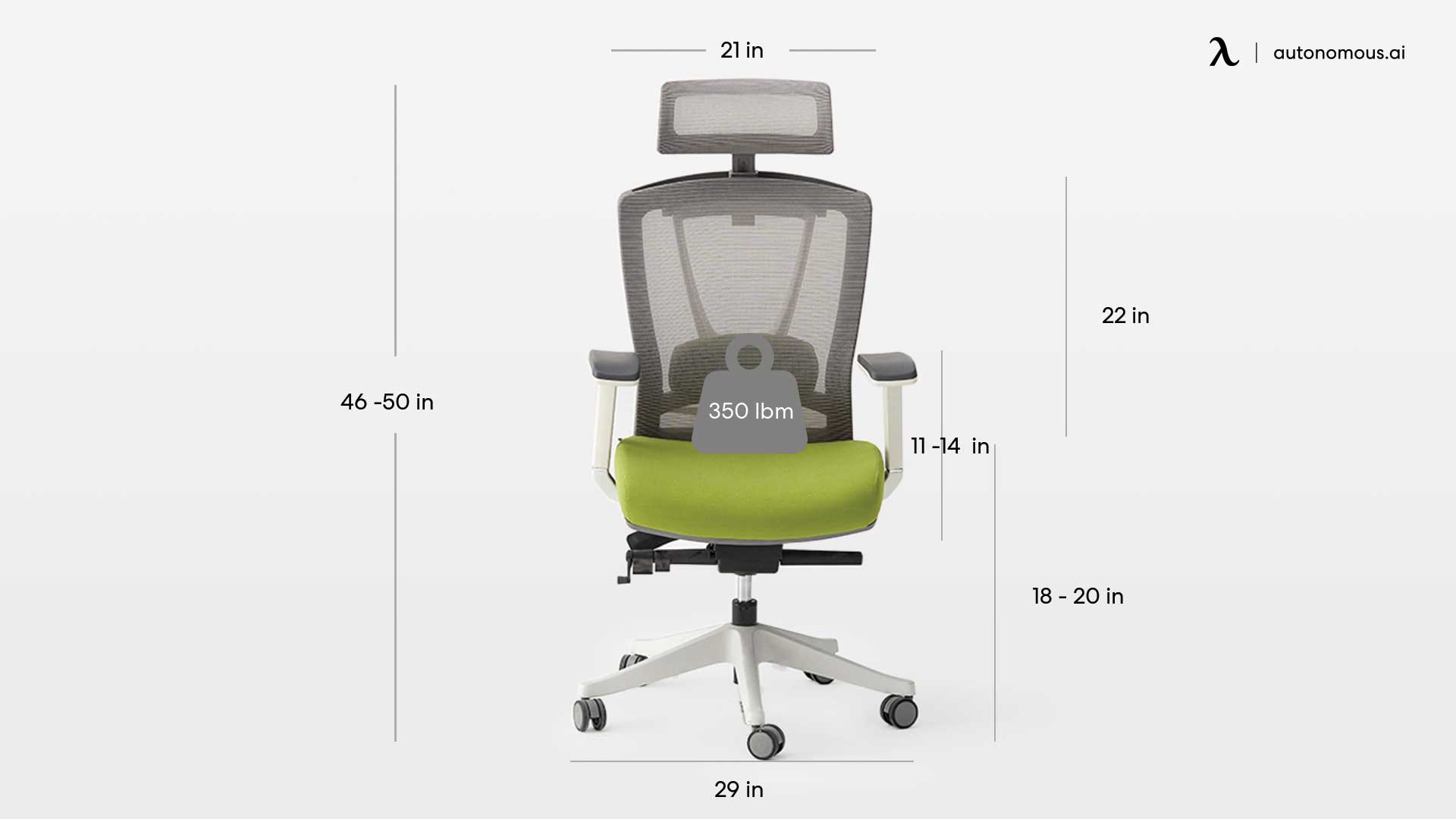 Now for the tricky part. Is the ErgoChair Pro, or another office chair or gaming chair, the right fit for you? You'll need to go back and check those measurements you made at the start and compare them to the chair specifications on the product page.
The height of your knees should match that of the seat from the ground. The max height for the ErgoChair Pro is 20 inches, so if your legs are longer, you may need to consider a taller option.
When you consider the seat width, it should be wide enough to accommodate your waist measurement, but close enough for you to make use of the arm rests. The width of the seat and back of the ErgoChair Pro is 21 inches. Take this into consideration to determine whether the width is sufficient and whether you will be able to make use of the arm rests.
The height of the back of the ErgoChair Pro is 22 inches. Compare to your own back height and you'll know whether the length of this chair is tall enough for you. If it is, you'll no doubt find the adjustable headrest able to meet the back of your neck easily.
Finally, an ErgoChair Pro can support weight up to 350 pounds. If your weight exceeds this amount, you will need to look for a chair with greater load capacity.
Added note: Ergonomic Chair for short person
If you are shorter than average, you may have different concerns. While all the above advice applies to you, you'll need to consider whether a chair can lower itself sufficiently for your height. If your legs don't touch the ground or your feet can't rest flat, you may be able to fix this by using a stool. Just be sure your feet can at least skim the ground so you can get in and out of the chair independently.
The back of the chair can't be lengthened or shortened, so if your back height is shorter than the back of the chair, you won't be able to make use of the headrest. You may find an ergonomic headrest pillow used for car seats to be a suitable alternative.
Conclusion
Knowing how to sit ergonomically will guide you in understanding which measurements to take and what to look for when you search for an ergonomic chair. And if you find that extremely difficult, you may need to seek help from an occupational therapist or physical therapist to find equipment that works especially for you.
To our tall readers, we ask you: what are some of your favorite ergonomic office tools and chairs? What have you found that works for you? Be sure to share in the comments below, and hope that this article will help you find the suitable Ergo chair for tall person.
---
Read more...
Get exclusive rewards
for your first Autonomous blog subscription.

WRITTEN BYAutonomous
We build office products to help you work smarter.
Coming at You Live from Autonomous' Social Media!
Please fill the information below.
Thank you!