Smart Products
What Is the Best Ergonomic Chair Germany Has to Offer?

Autonomous
|
May 30, 2021
7,367 Views
A high-quality office chair is a vital piece of furniture for anybody who is spending extended hours sitting at their desk. That's why all office workers should buy an ergonomic chair. In Germany, there are various choices, but not many people understand why these pieces of furniture are so beneficial or how to choose the right one.
We have constructed this article with the numerous advantages these chairs can offer and a detailed buyer's guide to ensure you pick the most suitable option for your workspace. We also included our top 10 picks for the best ergonomic chair in Germany available to make your search easier. Continue reading to find out more. 
What Makes an Office Chair Ergonomic?
Office chairs are typically classified as ergonomic when this furniture is designed with lumbar support, seat depth, and seat height. The goal of any ergonomic furniture is to offer maximum efficiency and comfort. Having an office chair with adjustable seat height and depth with an effective lumbar support system helps align with this objective.
This is because users can adjust the chair's height to ensure their legs are perpendicular to the floor for enhanced back support. Additionally, the seat pan is included for added comfort while working. The incorporation of a proper lumbar system offers ample support to the lower back. This encourages healthy spinal alignment, which reduces the risk of users suffering back pain.
Why Should You Include an Ergonomic Office Chair in Your Workspace?
Numerous advantages come with including an ergonomic office chair in your workspace, which is why it's an exceptional idea to invest in one. Here are some of the most prevalent benefits of purchasing in an adjustable desk chair:
Enhanced Productivity
An ergonomic chair can greatly impact your life in the office. Several studies have shown that comfortable and ergonomically designed furniture play a massive role in enhancing productivity levels.
This is a relatively straightforward theory, as you're likely to work with more focus and for longer if you're in a comfortable work environment. However, the opposite is likely to happen if you're in pain. Thus, implementing an ergonomic chair that enhances the comfort offered in a workspace can have a positive effect on your efficiency and productivity.
Posture Support
Your posture is what you need to worry about the most when you're sitting for extended periods. Using ordinary office chairs that lack the right ergonomics doesn't offer effective support, which can cause you to lean forward while promoting unhealthy spinal alignment. This is why many office workers suffer from back, neck, and shoulder pain.
When buying an ergonomic chair in Germany, you get optimal posture support for a more comfortable seated experience, even when you're at your desk for long hours. The full-length design and inclusion of a lumbar support system can enhance your posture and negate the adverse effects of sitting for extended periods.  
Reduced Hip Pressure
Your hips bear the brunt of your body's weight when you're seated. This can lead to lower back aches when you're working at your desk for long periods. However, an ergonomic chair in Germany helps cushion this pressure through suitable seat depth, thus, offering more support to your hips.
Decreased Pain
Neck and lower back pain are some of the most frequent complaints in an office. This is generally because traditional office chairs are equipped with an insecure design that doesn't allow them to sit for long hours.
Additionally, this traditional design leads to ineffective support of the spine. Nonetheless, an ergonomic office chair in Germany is equipped with a high-performance design that reduces back and neck pain, as the most important pain points are correctly supported.
How to Choose the Right Ergonomic Chair in Germany?
If looking for the best ergonomic chair, Germany is home to many options. There are a few crucial features that need to be considered, though. When looking through the various options available, you should pay careful attention to:
Adjustable Height
Most office chairs are equipped with an adjustable height feature, which is important. This is because your chair should allow you to adjust its height, as you're required to position your feet flat on the floor for optimal support. Additionally, this adjustable height ensures that you can customize your chair to receive optimal comfort.
Armrests
One feature that's often overlooked when choosing an ergonomic chair in Germany is adjustable armrests. This is an incredibly beneficial feature for those who spend long periods at their desk.
The office chair with adjustable armrests enables you to customize your chair, helping relieve any stress on the shoulders or wrists while working. It's also an excellent addition for helping to maintain a healthy seated posture, as armrests adjusted to the right height prevent you from leaning forward and slouching.
Adjustable Back
An adjustable back feature allows you to customize the support offered to your spine. This is a great addition to your office chair, as it ensures you remain comfortable and supported while sitting in various positions. You can easily relieve any pressure you might be experiencing when seated at different angles.
A Lumbar Support System
The purpose of a lumbar system is to help support your back while maintaining the natural curvature of your spine as you're working at your desk. Without this proper lumbar support, your body is likely to compensate by slouching or leaning forward. This ultimately leads to back pain, poor posture, and reduced blood circulation. However, the inclusion of this lumbar support in an ergonomic chair in Germany ensures your muscles don't get tired and reduces the risk of backaches while you're seated.
What Is the Best Ergonomic Chair Germany Has in 2022?
The market is overly saturated with products that could be considered as the best ergonomic chair in Germany. This can make it daunting when you try to buy an ergonomic chair. Luckily, we have searched the market for you. Here are our top 10 picks:
1. Autonomous ErgoChair Recline
Are you looking for an Autonomous ergonomic office chair in Germany? The ErgoChair Recline can be rapidly and conveniently shipped to Germany and delivered to office workers looking to revolutionize their workspace. It's equipped with the most customizable and user-friendly chair with two intuitive levers to tailor your support for any seated position.
The ErgoChair Recline responds to your body's weight and keeps your spine secure while you work. Thus, you move freely without placing strain on your back, arms, neck, or shoulders. Additionally, the inclusion of a breathable mesh back offers maximum airflow to keep you cool while the woven strength of this fabric enhances durability.
2. Autonomous ErgoChair Plus
This ErgoChair Plus is designed with a frameless construction, which offers unhindered movement without sacrificing your comfort. Additionally, the build includes thermoplastic elastomer strands for maximum breathability.
Furthermore, including this material makes the chair 10 times more durable than traditional fabric and foam options. This material is also a welcomed addition, as it's 100 percent earth-friendly. Thus, you can purchase this Autonomous ergonomic chair in Germany with peace of mind.
You also receive excellent comfort and support with its adjustable tilt, which stabilizes the high-performance lumbar system. This feature offers precise suspension that responds to each movement and shape for even weight distribution and enhanced circulation.
3. Autonomous ErgoChair Pro
Each element included in the ErgoChair Pro's design is engineered to eliminate back pain while increasing mobility. It's equipped with adjustable tension and a reclining feature with five key lockable positions. These additions ensure your spine and the lumbar area is supported and stable.
Additionally, this ergonomic chair in Germany features ultra-breathable woven mesh fabric while offering a gentle yet effective posture-perfecting resistance. It also helps prevent fatigue, as you can effortlessly recline and stretch without placing any pressure on your thighs, legs, and lower back. Thus, boosting your productivity levels. 
4. SIHOO Ergonomic Desk Chair
This SIHOO swivel chair is equipped with an adjustable armrest, headrest, height adjustment, lumbar support system, and rocker function for added customization. Additionally, this ergonomic office chair in Germany offers a load capacity of more than 300 lbs and a warranty period of one year. You also have the luxury of an easy assembly process.
One of the most well-liked features included in this chair's design is the W-shaped padded seat design, which ensures you sit in the middle of the seat pan for enhanced comfortability. The inclusion of mesh fabric increases airflow to ensure you remain refreshed while working for extended periods. Furthermore, customers also like the high-quality design, making it an incredible long-term investment. 
5. Herman Miller Embody Chair
This Herman Miller product is recognized as being the first chair constructed with a health-positive design. The objective of such a design was to encourage blood circulation while making sitting for extended periods easier on the spine and back. This was undoubtedly met with the inclusion of a unique exoskeleton that offers pixelated support.
Moreover, you can adjust this chair to the natural contours of your spine and back. The inclusion of adjustable armrests also helps promote healthy spinal posture, which reduces the risk of back and shoulder pain. However, it's one of the most expensive options on the market while not offering individual neck or head support.
6. Serta Mid-Back Ergonomic Chair in Germany
Even though Serta is best known for its mattresses, you shouldn't underestimate its ergonomic furniture. This company already offers exceptional comfort in its products. Matching this with an ergonomic design makes for an amazing seated experience, even during those long hours at your desk.
It's equipped with ergo-layered body pillows and padded armrests that can easily be adjusted at the push of a button. Finally, you can use the levers to control the lock-out and lift features of this chair for tailored support. However, the inclusion of leather decreases the breathability offered.
7. Steelcase Leap Fabric Chair
One of the most well-liked features about this desk chair with footrest features is it's equipped with LiveBack technology. Meaning, this chair conforms to your back's shape and offers effective pressure relief and support. These features ensure that you remain comfortable while working at your desk for extended periods.
Every part making up this ergonomic chair Germany has to offer is flexible. The lower and upper back, the seat height and depth, the armrests, and the edge of the seat can all be adjusted to fit your exact needs. However, the base of this chair is known to lack durability. 
8. Herman Miller Aeron Chair
This ergonomic chair for back pain is constructed with the biomorphic principles of the human body in mind. Thus, the inclusion of these principles offers unmatched comfort while combating lower back pain. You gain a high back design and a head cushion to help relieve pressure while maintaining a healthy posture. Furthermore, it boasts a professional appearance that can fit into any office space.
Additionally, you gain an entirely customizable chair. You can tailor the chair's support with its fully adjustable height and armrests, which can be effortlessly lowered and raised for optimal pressure relief. However, this product doesn't offer any dedicated office chair with neck support.
9. Steelcase Gesture Chair
This Gesture ergonomic office chair in Germany is one of the finest you can purchase. Its revolutionary design accommodates various natural body positions and sizes while protecting and supporting the neck and back. This chair includes LiveBack technology, which automatically adjusts to the body's weight and mimics your spine's natural curvature.
You also gain a steel construction that enhances the product's durability while the core equalizer offers exceptional lumbar support. Thus, you can work at your desk with unmatched support without experiencing pressure or pain in your lumbar region. 
10. Eurotech Ergohuman
Another exceptional option for those looking to buy an ergonomic chair in Germany is the Eurotech Ergohuman, which boasts a unique design. This construction features eight ergonomic adjustments to maintain the proper back, neck, and spinal alignment while working. You should buy this ergonomic chair Germany right now!
The inclusion of breathable materials helps promote circulation while the arm height, synchro tilt, tilt tension control, tilt lock, height, back angle, and seat height and depth are all adjustable. Meaning, you can tailor this chair's support to your exact specifications.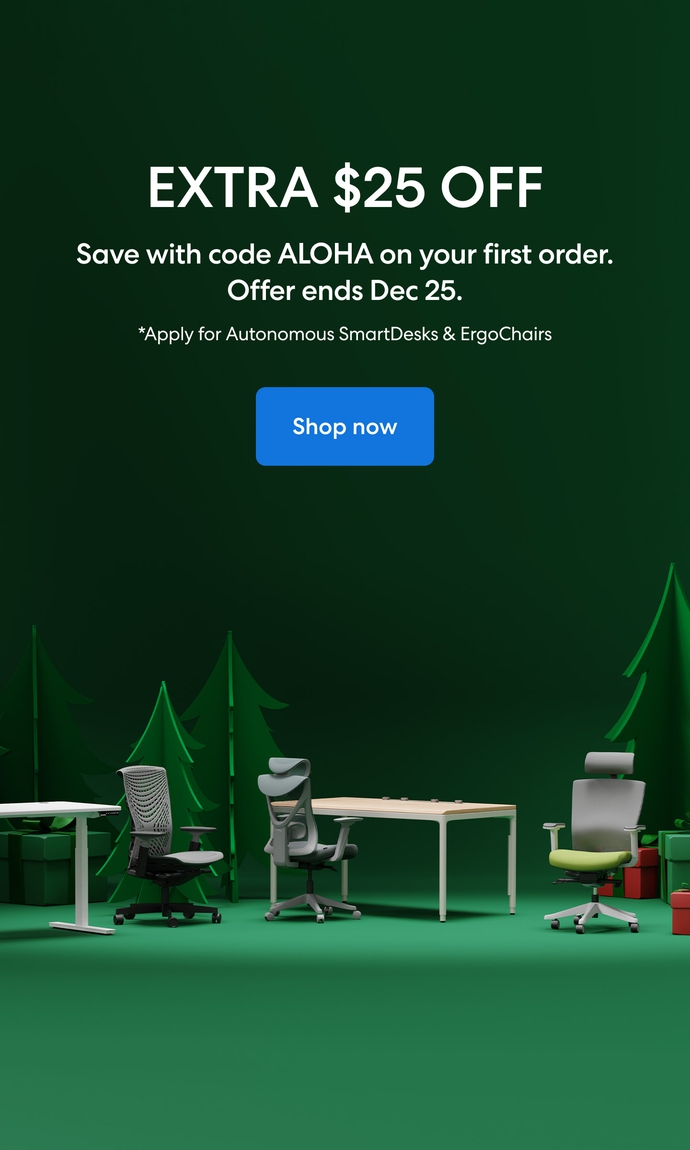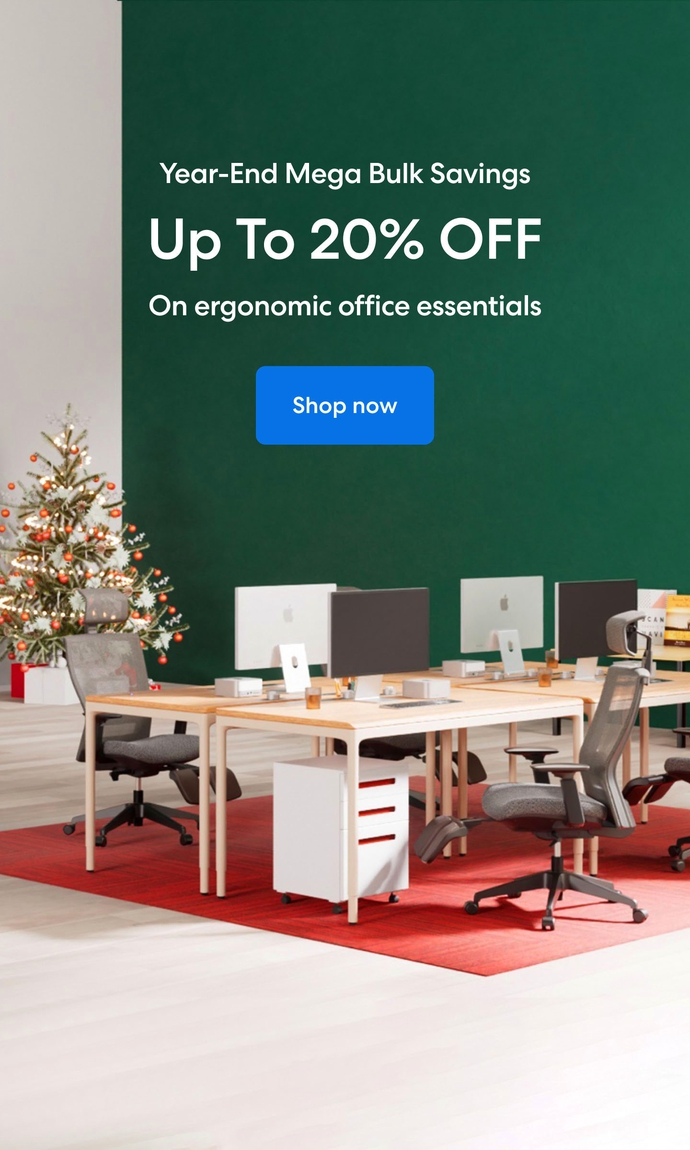 Subcribe newsletter and get $100 OFF.
Receive product updates, special offers, ergo tips, and inspiration form our team.