A good office chair should be one of your main priorities if you're working from home or your current job requires you to remain seated for prolonged periods, and upholstered office chairs can be an excellent option for that purpose.
Fabric office chairs have tons of benefits that make them appropriate for an office environment, such as a robust build, comfortable padding, and a wide variety of design options. Although they can be pretty heavy, you can still be sure that they will last for a long time if you provide them with enough maintenance.
If you're a programmer looking for the best chair for programmers, then your choice is somewhere in between all the comfortable upholstered office chairs that are available in the market.
We know that the search can be quite challenging and exhausting, which is why we have compiled this list with the best-upholstered office chairs you can acquire in today's market. We'll be discussing these chairs' pros and cons, as well as giving you a few tips you can take into account to make sure that your chair will last for a long time.
Upholstered Office Chairs – Top 5 Options
Here we'll include the top five options you can choose for a fabric upholstered office chair. Some will include additional material for the backrest, like mesh, so the list becomes a bit more varied.
1.  ErgoChair Pro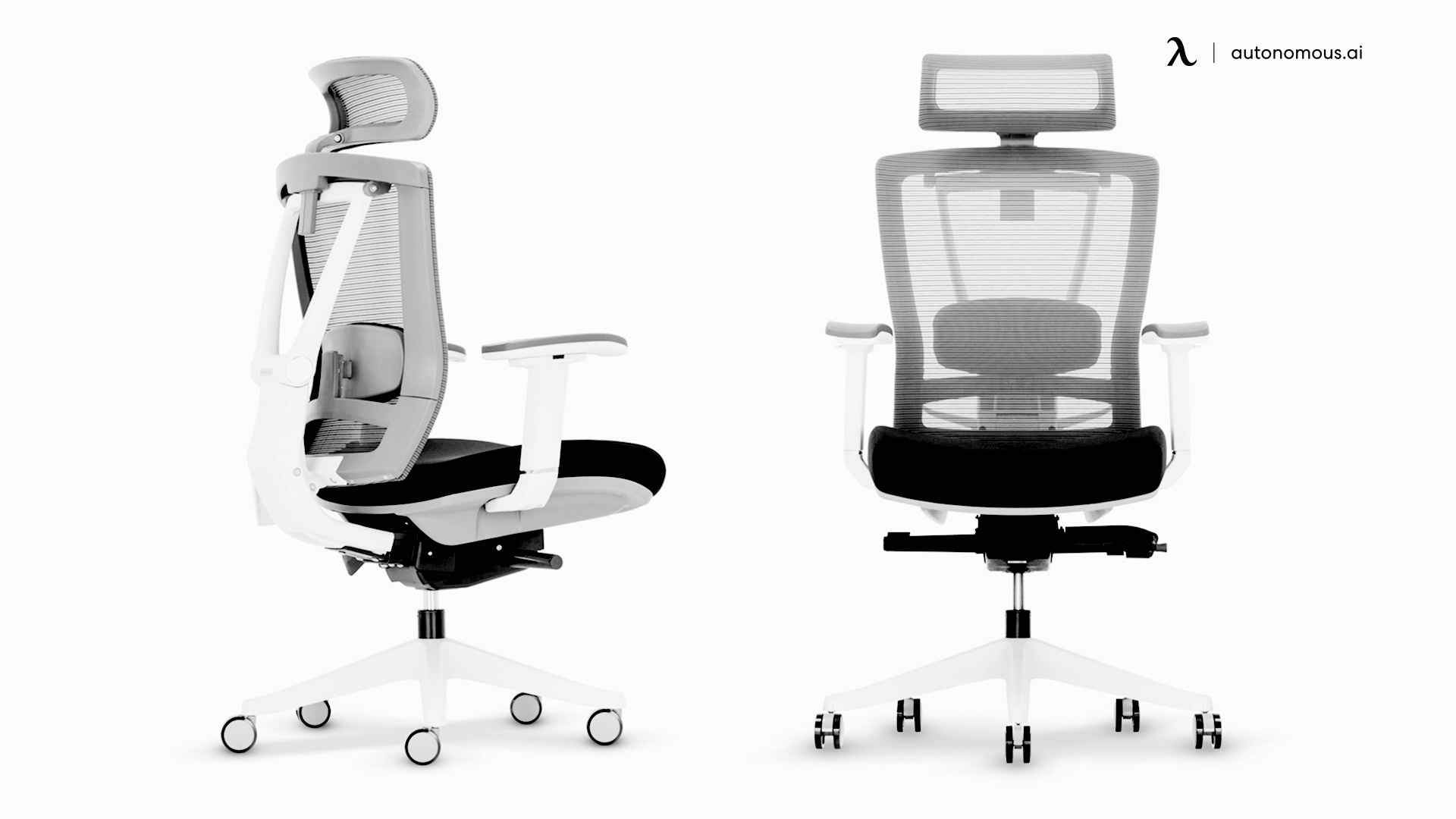 The ErgoChair Pro has been one of Autonomous' best sellers for a long time. Not only is it fully adjustable, but it also combines high-quality foam for the seat with a woven mesh back to keep your body comfortable and fresh as you continue with your responsibilities.
Furthermore, the recline allows you to choose from five different positions for better comfort. Thanks to its strong architecture, you can be sure that this upholstered home office chair will be your best companion during the most stressful days of the week.
Pros and Cons of ErgoChair Pro
It's fully adjustable, allowing you to adapt it to your body's measurements easily.
You can choose five lockable positions for the recline to make sure you're comfortable at all times.
It supports up to 300lbs.
Thanks to the mesh backrest, you will be able to continue working freshly, even during the hottest summer days.
It may not be suitable for plus-size users.
2.  ErgoChair Recline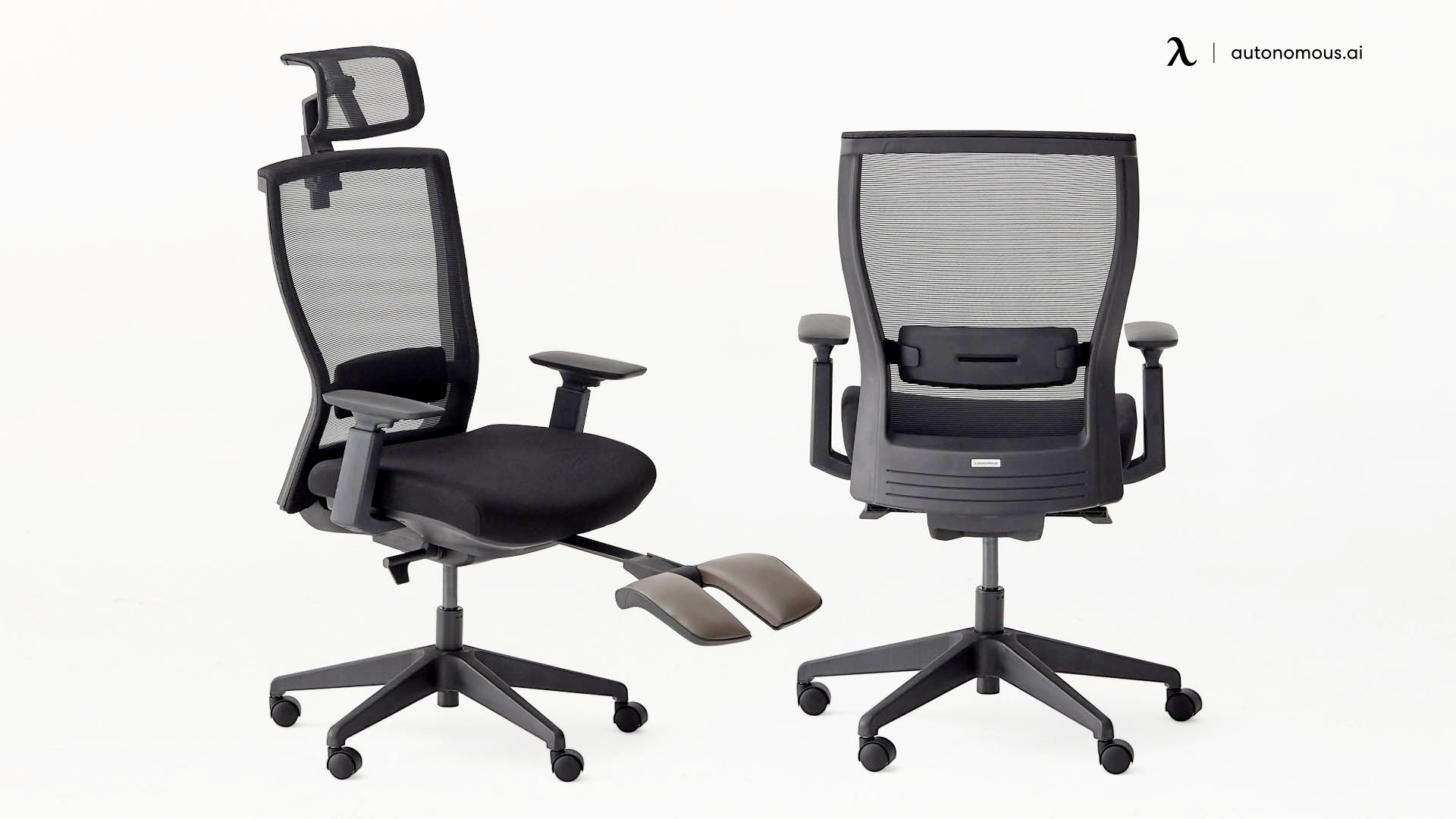 Last but not least, we have another budget option. The ErgoChair Recline allows you to adjust every feature it includes to make sure that you're comfortable at all times. Plus, you can choose to add a headrest and a leg rest for more comfort.
It also includes a reclinable mesh back, which makes emphasis on the lower back area. Hence, it's a good office chair for long hours.
Pros and Cons of ErgoChair Recline
Everything about the chair is adjustable.
The seat is extremely comfortable and supportive.
It only supports up to 250lbs.
3.  Steelcase Gesture Chair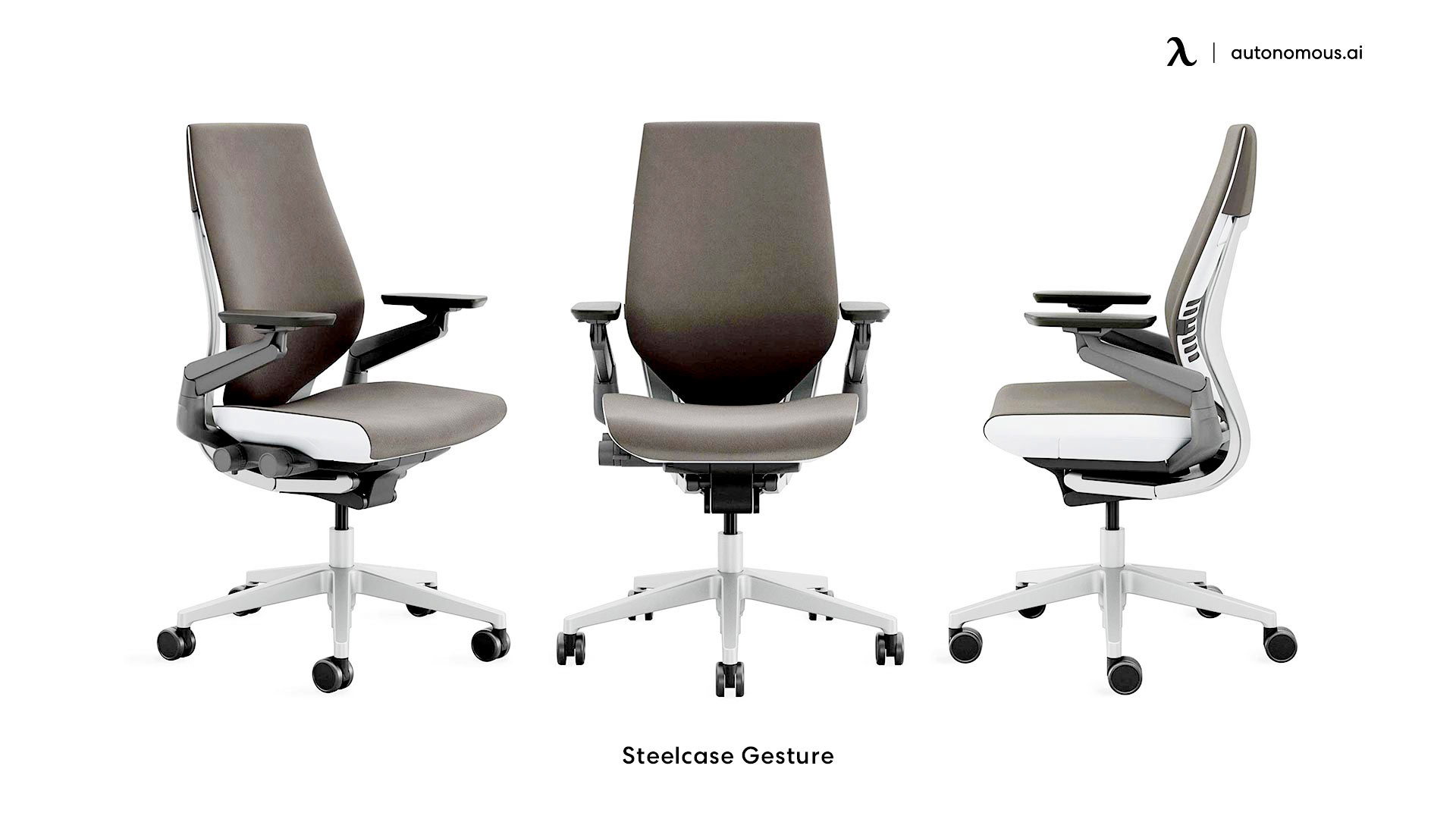 If you'd like to make sure that your office chair keeps you comfortable at all times, adjusts to your body, and helps you prevent body aches, then the Steelcase Gesture Chair is for you.
The chair's padding material is polyester fabric, which grants the chair a soft and pleasant surface. Furthermore, unlike most upholstered home office chairs, this one is breathable and allows you to maintain your body as fresh as possible throughout your workday.
Pros and Cons of Steelcase Gesture Chair
It adapts to your spine's natural curve easily and will keep your lower back area supported at all times, thanks to the core equalizer system.
It allows you to move freely.
It has a weight capacity of 400lbs, making it suitable for plus-size individuals as well.
Most of its features are adjustable. Therefore, you will be able to make the chair adapt to your unique proportions.
It's very expensive!
Despite its appearance, this chair weighs a lot. However, it comes fully assembled.
4.  Eckard Task Chair
If you'd like a cheap ergonomic chair, then the Eckard Task Chair will certainly be the best option you can choose if you're also looking for a comfortable upholstered office chair. Not only is it good-looking, but it is also functional enough for you to focus and be comfy throughout your workday.
It comes with additional padding in the base area. Also, its high backrest will keep your back fully comfortable even during prolonged work sessions.
Pros and Cons of Eckard Task Chair
It's affordable.
It has a fancy aesthetic.
It allows you enough freedom of movement for you to be comfortable while seated.
Its backrest is higher than many other upholstered office chairs.
You can only adjust the height of the chair.
The design can be a bit outdated for picky individuals.
5.  Vinsetto Executive Office Chair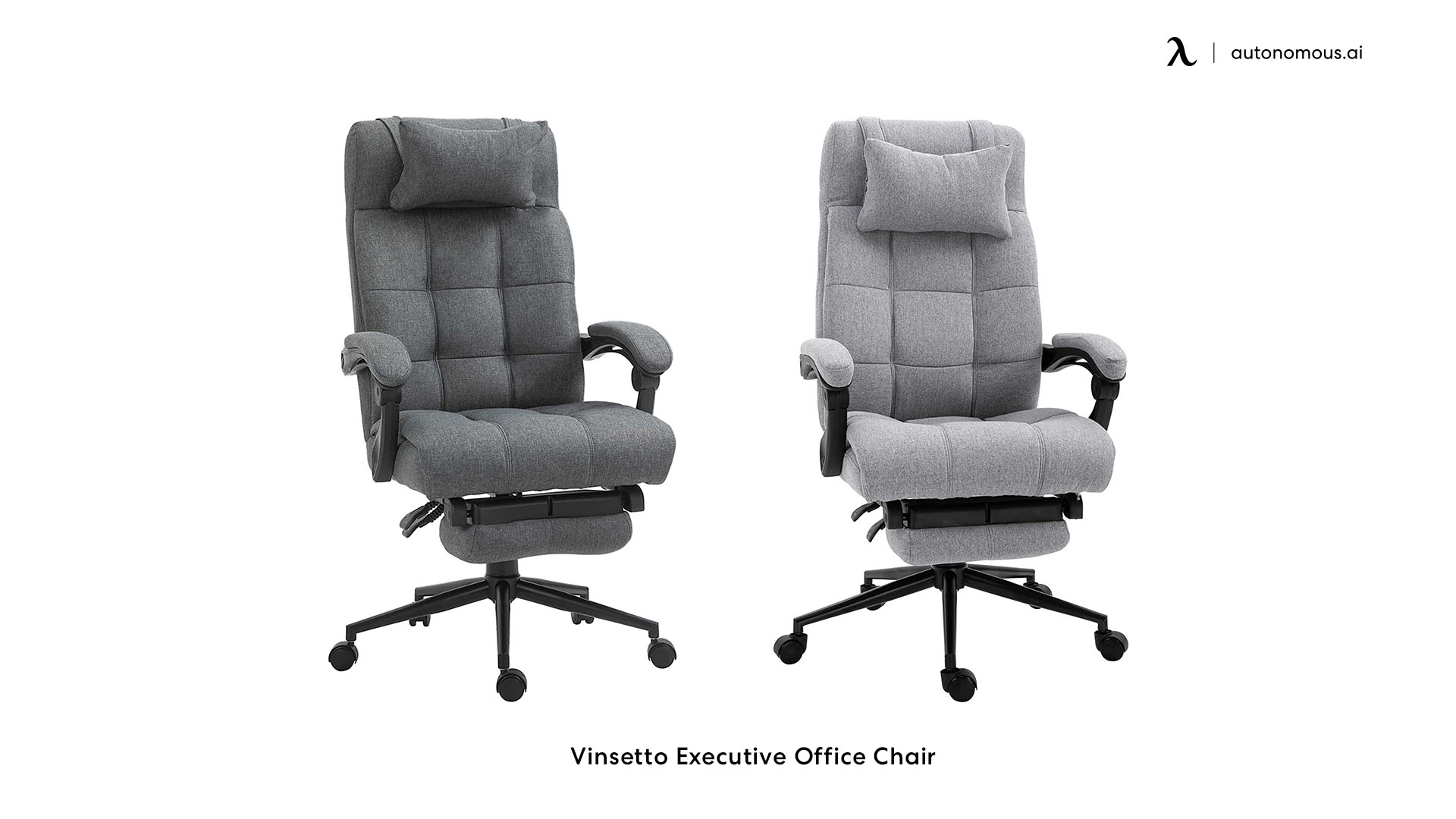 Upholstered executive office chairs can be found in the market, and this one happens to be one of the best budget options you can choose. It offers everything you need in an office chair for an affordable price: below $200.
At first sight, this chair can look a bit heavy. However, it is easier to move than other options listed here. Furthermore, it offers you enough freedom regarding its adjustments so you can adapt it to your body proportions easily. Everything is thickly padded, and it also includes a footrest.
Pros and Cons of Vinsetto Executive Office Chair
The backrest has a tilt of up to 170 degrees.
You can adjust the seat height, so it matches your desk setting and your height.
It includes lower back support. You can now forget about your lumbar pain.
It has one of the best designs we've seen in upholstered office chairs.
You can't adjust the armrests.
FAQs
What is the best material for an office chair?
It depends on your preferences. While upholstery assures your comfort, it can get quite hot due to the lack of breathability of most options. Contrary to this, a mesh office chair can assure enough airflow to keep you fresh, but it will sag over time.
Can you get office chairs reupholstered?
Replacing the chair's padding is necessary sometimes. Thus, it is possible to change it if you think the padding has gotten too old or if you can get rid of a strange smell.
Is it complicated to provide maintenance to an upholstered office chair?
It's not complicated, as all you need is a cleaning brush and dish soap. However, it is important to provide regular maintenance to it if you'd like to avoid odors.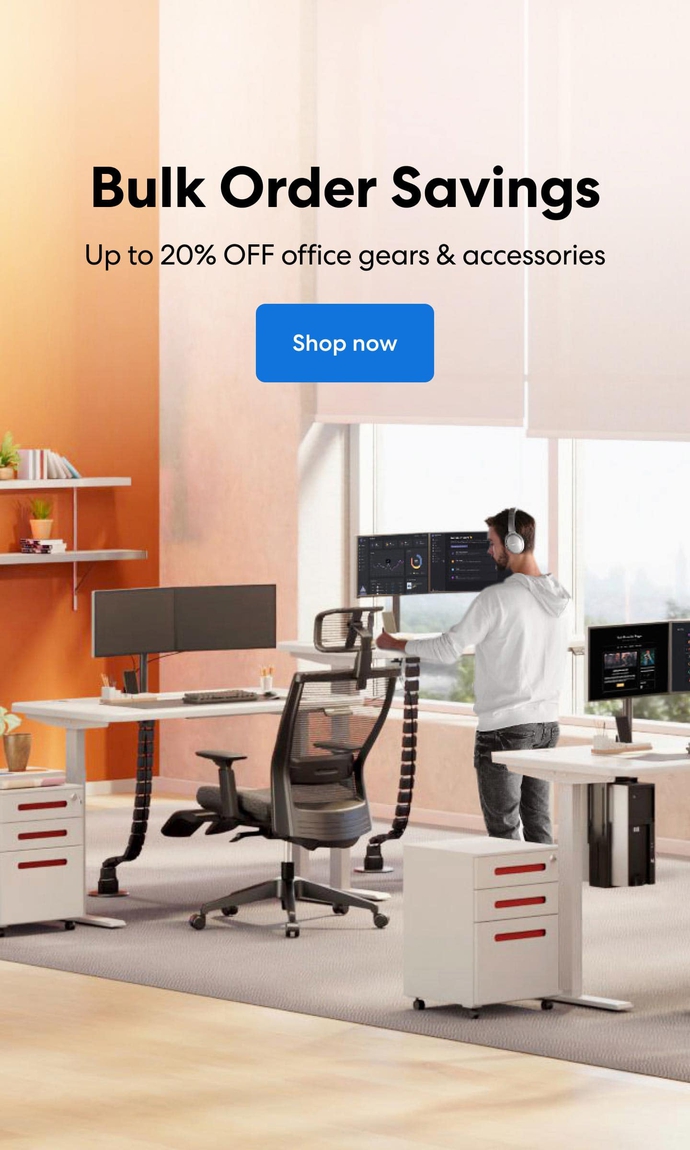 Subcribe newsletter and get $100 OFF.
Receive product updates, special offers, ergo tips, and inspiration form our team.