Did you know gaming is a million dollars industry with people spending hundreds of dollars on not just games but on ways to create a proper gaming setup? A gaming setup is essential with gaming accessories, a gaming desk and a gaming computer desk chair. A person who loves gaming cannot simply do without a proper gaming setup; hence people spend hundreds of dollars every year to make their experience realistic and more enjoyable.
After all, gaming is all about fun and comfort, and what comfort will you get without an ergonomic gaming computer chair for a desk. An ergonomic desk chair or office chair is essential for workplaces, but when it comes to gaming, the need for ergonomics further increases because gamers are more prone to excessive sitting and poor posture. Hence buying the best gaming computer office chair is one step closer to achieving a healthy gaming station.
This article will cover the best gaming chair for a computer desk based on customer reviews and the wonderful features they offer.
Best Gaming Computer Desk Chair for Gamers
1. Gaming Chair by Karnox
The fabric gaming chair by karnox is pretty and aesthetically upright. The chair speaks volumes about straight posture and has a build made to last you for years. Available in two colors, light gray and dark gray, the chair is made to match many of the gaming setup's themes. You will also find support for your head in the form of a head pillow. When it comes to cushioning, the chair actively supports the lumbar region.
Another great thing about this chair is the adjustable height and seat tilt so people of all ages and heights can sit peacefully, and the sit tilt allows you to enjoy the recline. The 4D armrest technology is one of the latest, making the experience worth millions. Though reasonably priced for the features it offers, the chair gives a contoured shape to support the body.
2. ErgoChair Core
Whether it's a list for office chairs or the best chairs for gaming, you will find ErgoChair Core making too many of them. This computer chair is all about versatility, and you will love how this affordable piece of furniture fits most of the crowd flawlessly. The chair is completely ergonomic and comfortable at most, with the best degree of back support you will find in the market.
It is marked as comfier than your couch, all thanks to the contoured seat support. The chair has a weight capacity of 250 pounds, and it is balanced with the action of a five wheel caster for swift movement. This gaming computer desk chair also comes with a 1-year warranty, although you might never need to use it.
3. ErgoChair Recline
If you love a reclining chair, you probably are aware of your back needs. Gamers need to rest before a big battle, and the ergo chair recline can go back till you are in a napping position.
Not only this, but the armrests are also equipped with all the rotation you could imagine, and the chair also comes with footrests for when you need to extend those legs and relax. Available in two colors, black and gray, the chair has a lumbar cushion that doesn't take up a lot of the back body but covers your spinal region flawlessly.
4. Vertagear Gaming Chair
The Vertagear gaming chair is completely adjustable for gamers. The gaming computer desk chair is a result of ergonomic engineering combined with flawless looks. Yes, that's the simplest way to describe it. This computer gaming chair is made for PC users and Xbox players because the design cushions your body at all possible points.
The adjustable tilt tension with the locking system makes it stable at all angles. The aluminum base is the epitome of strength. The vertagear chair has 330 pounds and comes with a long reliable 10 years warranty.
5. Steelcase Gesture
So many lists love to have Steelcase gesture as their top-rated candidates, and so do we. What do we say? This gaming computer desk chair is one of the best, timeless and flawless pieces of engineering. First, look at the design; whether it's a gaming chair or a serious office chair, it keeps you wondering. The chair is comfortable and made for people with sensitive backs or those who have an urge to sit uncomfortably.
The seat cups your butt, and the back supports your spine actively. Anyone who spends a lot of time on a chair should consider investing in this item. The high price gets you a lifetime warranty and the most comfortable embrace your butt will ever have.
6. Neue Office Chair
The Neue Chair is a good choice if you value practicality over flair. This isn't to say the Neue Chair isn't elegant; it comes in sleek, subtle gray or a bright copper or silver finish, both with bold, lovely curved back supports and an attractive black mesh. But, more crucially, the Neue Chair is made to last with a robust industrial design. Even the chair's weight in the packing suggests a well-made piece of industrial art: serious and robust.
Besides the two-minute assembly process, the chair is all about adjustability and comfort. You will love sitting in it, and the lightweight body ensures you are free to move, thanks to the support given by five stable wheel casters.
7. Secretlab Titan Evo
This is one of the best computer desk chairs for gaming. If we talk about modern gaming computer desk chairs changing the norms then Secretlab titan Evo chair definitely tops the list. This chair is excellent both in terms of comfort and features. You will get a smart wide back support, a magnetic headrest and armrests with 4D rotation. One of the greatest finds about this chair you will have is that it is fully yet easily adjustable.
Other than that if we talk about the fabric of the chair it is made with the latest technology smart hybrid leather. The new hybrid leather material is not sticky, unlike usual leather, nor too rubbing against your skin, unlike a hard weave fabric.
Conclusion
Not all people are up for buying the loud big gaming chair; hence they look for ways to make do with their office chair. Since office chairs are more often than not for upright positions, they are not so suitable for long hours of gaming. But some computer desk chairs can be the best pick as a gaming chair, and above we have listed a few. Now, let's pick the best one for your room and shop for it!
Video ads for product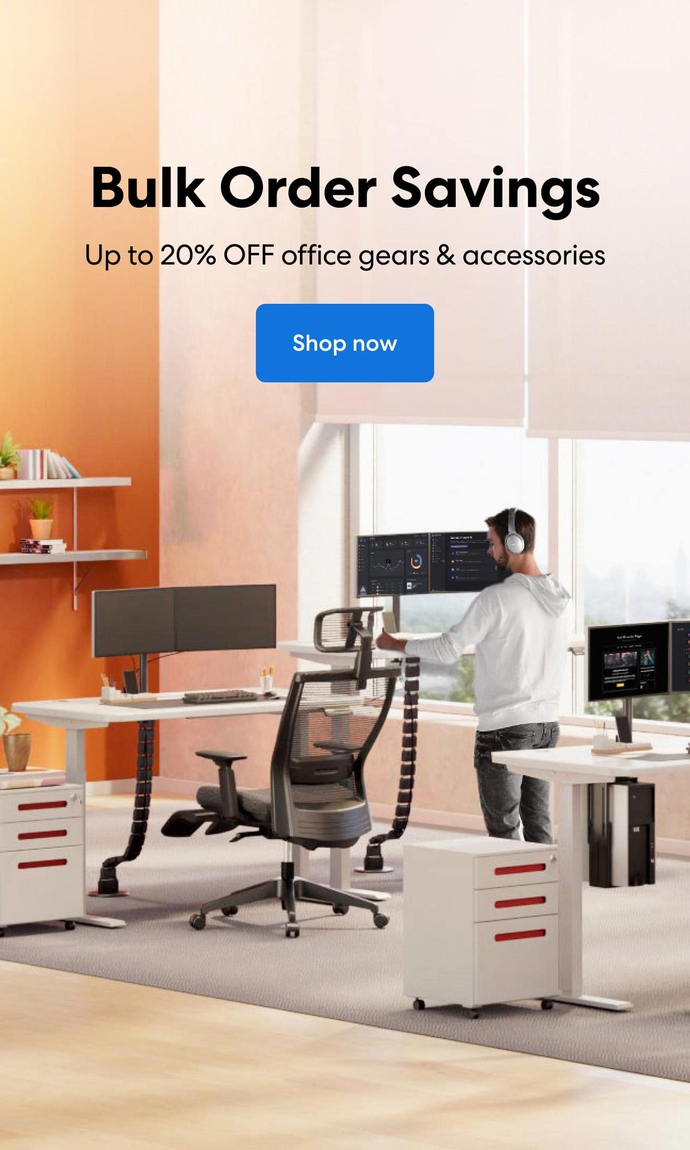 Subcribe newsletter and get $100 OFF.
Receive product updates, special offers, ergo tips, and inspiration form our team.