Smart Products
Best Gaming Footrest of 2023 (Review & Rating)
2,409 Views
A good chair is essential to any gaming setup. Getting in a chair designed for gaming is like stepping up over your competitors, with everything you'll need at your fingertips. However, many gaming chair models go a step further by including a gaming footrest, so you'll always stay comfortable whether you're playing for a few hours or all night.
The best footrest for gaming chairs can handle all sorts of ergonomic combinations to find the best position for whatever you are doing, whether you're a gamer. We recommend taking the following factors when shopping for a gamer footrest-equipped chair.
List of Gaming Footrests This Year
1. ErgoFoam Footrest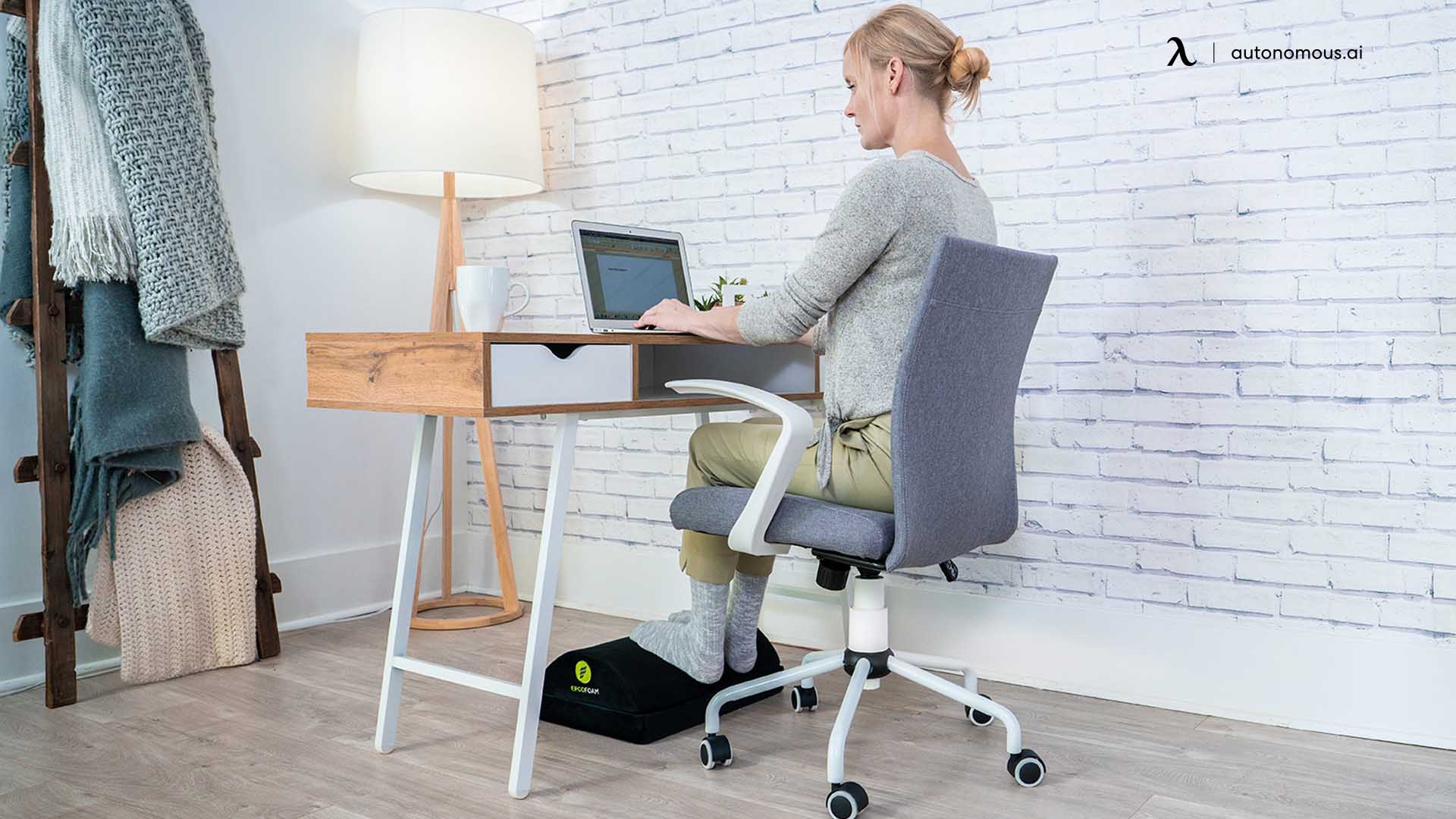 At your desk all day long, the ErgoFoam Adjustable Footrest gives you firm, comfortable support. Chiropractors in the United States only recommend ErgoFoam footrests. Keep cool and dry all day with the premium mesh cover that wicks moisture away from your feet. Additionally, it's pet-friendly - much easier to clean than other fabric footrests.
Our high-density ErgoFoam adjustable footrest provides better ergonomic support than "pure memory foam" footrests, which flatten during use and provide little support. Flip over your footrest as a rocker, keeping your feet moving for improved circulation. Does your footrest need to be taller because your legs are shorter? The ErgoFoam can be adjusted up or down by inches to deliver maximum comfort. 
2. Mount-It! Adjustable Footrest with Six Height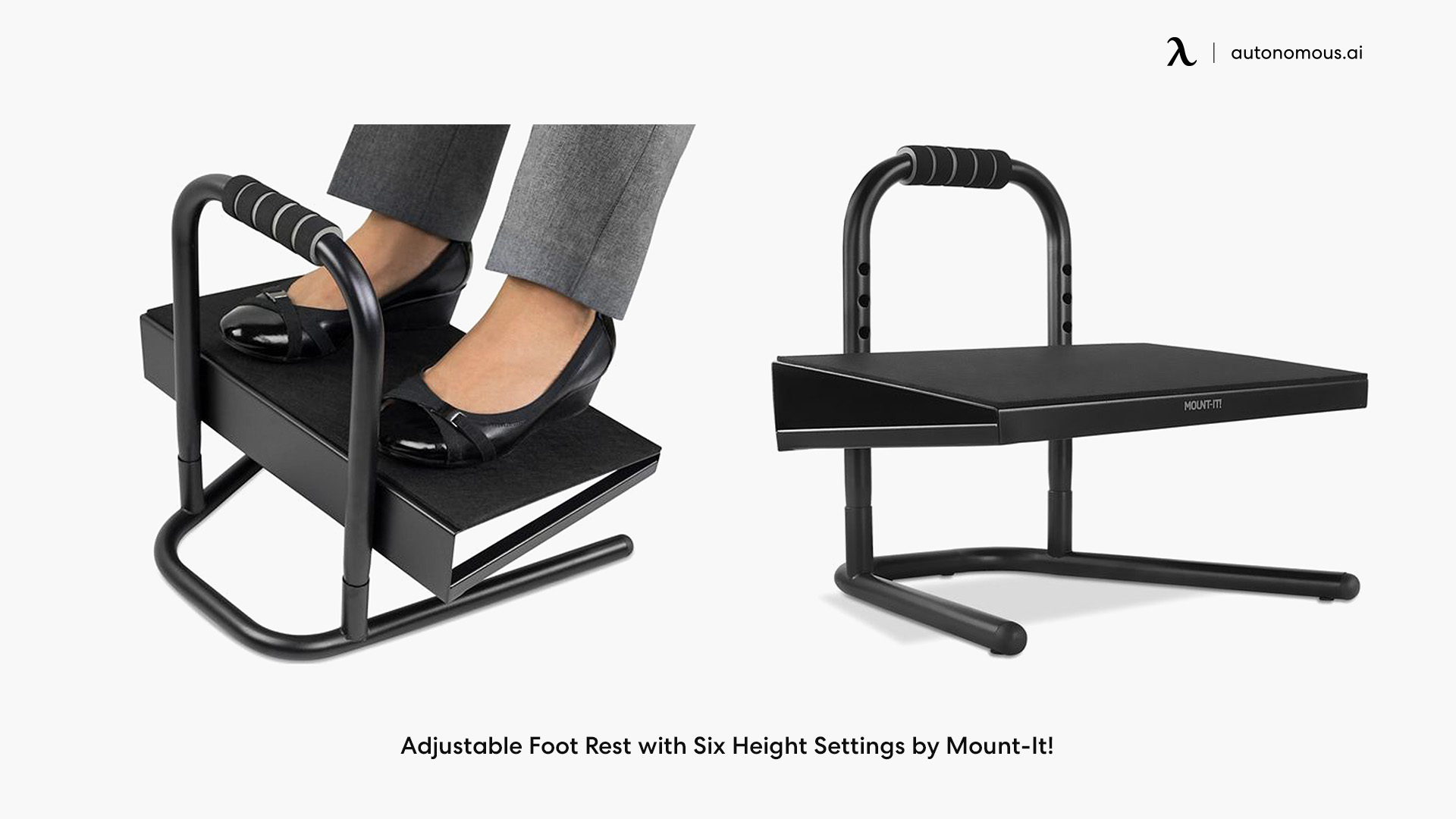 The height-adjustable footrest, MI-7807, will ensure your body moves throughout the day to relieve fatigue and improve circulation. With its padded surface, this metal footrest prevents slipping. Rubber pieces are on the legs to keep the stool standing when used.
The height of the adjustable footrest under the desk is adjustable using six different settings to accommodate any leg length, and the padded surface prevents slipping. It is possible to sit with your feet raised or stand with one leg resting on a footrest that can support up to 55 lbs.
3. ComfiLife Footrest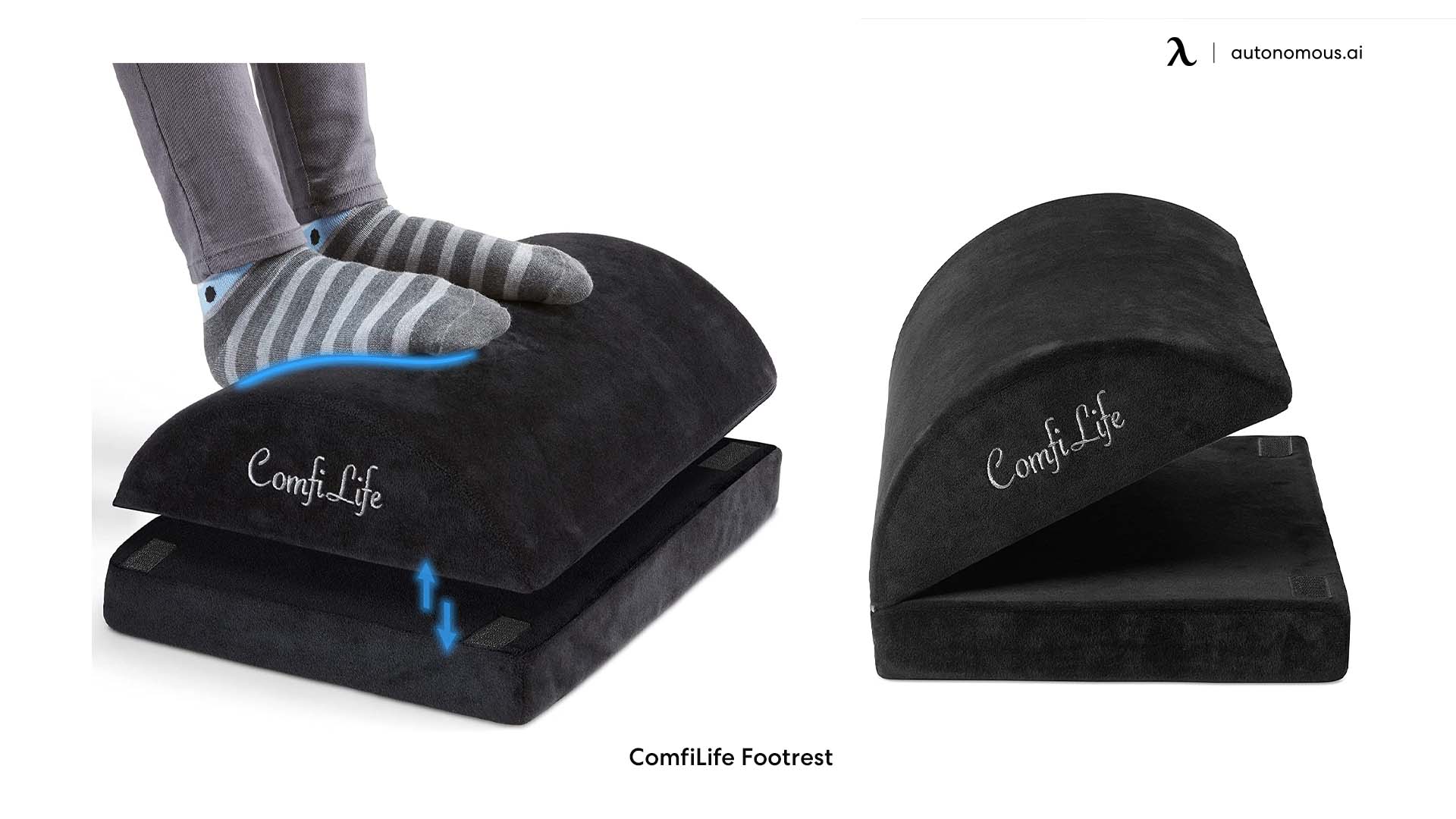 The ComfiLife footrest is constructed of foam, unlike plastic footrests, which usually feel cheap and clunky. The cushion's plush surface on the office chair recliner is soft and will make you stretch your ankles and bury your feet into it. It's also flippable so that you can rock. The footrest has a detachable base, allowing it to be used at the height of 3.9 or 5.9 inches. The ComfiLife stays in place on both carpeted and hard floors, and its cover can be washed in the washer (use the gentle cycle).
4. Max Smart Footrest
Next, we will look at Max Smart's ergonomic footrest, which is great for stretching your entire leg out while relieving back, tendon, and hip pain when you're seated or standing.
Using the four different lock angles and the four height adjustments of this office chair footrest, you can find the position that keeps your feet relaxed while you work. With the knobs on either side of the footrest, you can change the height and tilt angle.
The platform has a 7.7 x 13.6-inch foot support area where your feet can move freely without slipping off the platform, but please note that the area is hard, and you won't be able to press your feet down. It is ergonomic and helps relieve lower back pain no matter how designed.
5. HiHydro Adjustable Footrest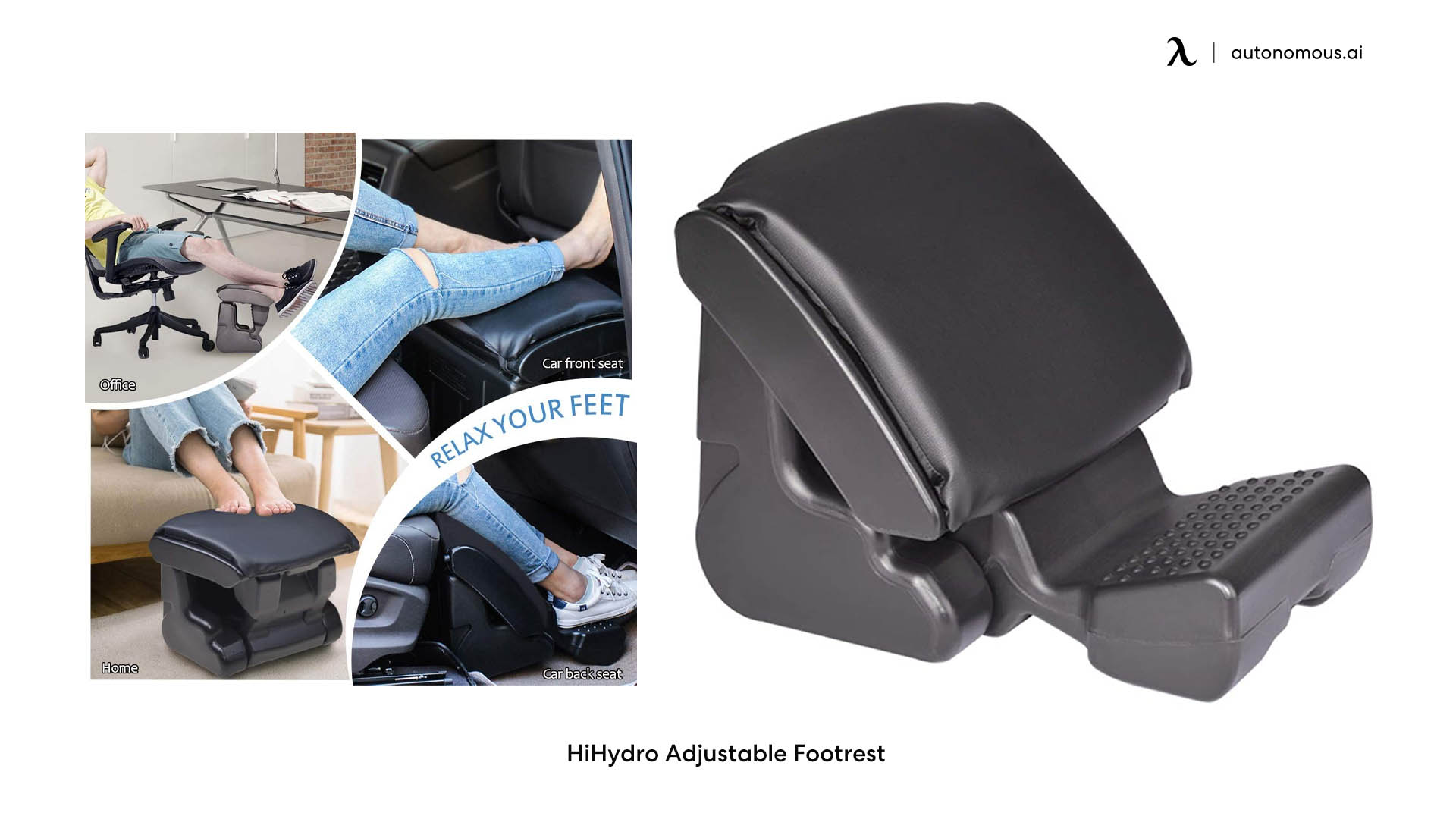 Despite being among the most expensive options on our list, the HiHydro adjustable under desk footrest can support up to 120 lbs, unlike other products that can only hold 60 lbs. Due to its size, it can also be used with office chairs that can accommodate people of larger dimensions.
The gaming footrest has four height levels to choose from, with the highest height being 11 inches. The footrest is also built with durable and sturdy materials. As well as modifying the angle, you can also change the front angle and the back angle, or vice versa. In addition to black, this footrest is also available in brown or gray if you're looking for something different.
6. FR3000 Foot Rocker from Humanscale
It is listed on Amazon as the FM300, the Humanscale FR300 Foot Rocker. Ball-bearing rollers on the metal frame allow the wood platform to glide easily. These non-skid strips on top keep your feet in place, making the footrest more suitable to use with shoes than with socks or bare feet. The FR300's solid construction makes it a world apart from cheaper plastic footrests, justifying its higher price. You can also engage your legs and ankles by gently rocking as this footrest encourages.
7. AboveTEK Ergonomic Footrest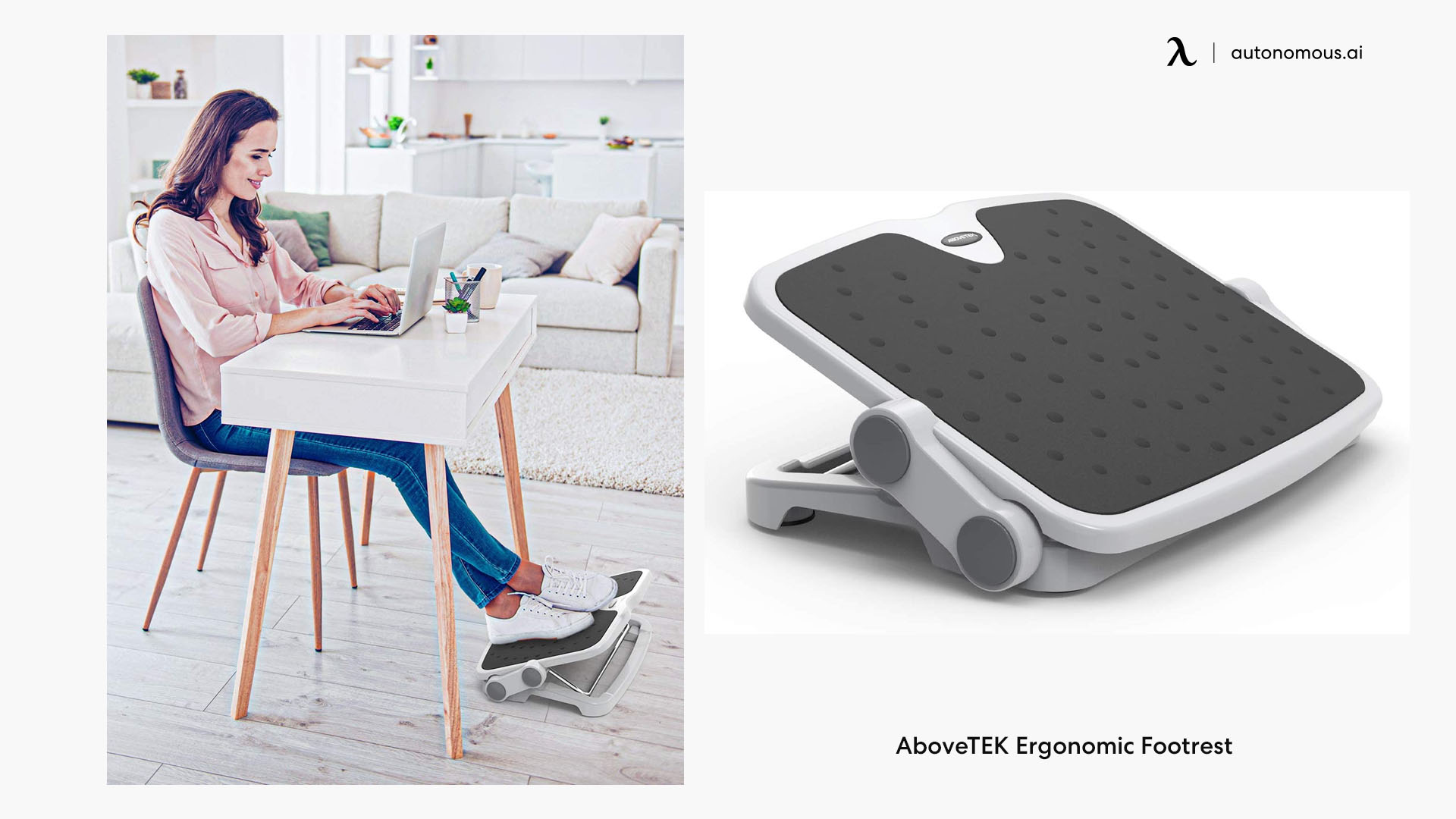 Despite this, the product's ergonomics and comfort remain unaffected. With AboveTEK's gaming footrest, your feet are elevated while maintaining good posture and circulation, improving comfort.
Even when seated on an office stool, the user can adjust the footrest's height from 4" to 5" to find the most comfortable position for themselves. Furthermore, the angle can be easily adjusted between 0° and 30° so that your legs can be better supported.
This gaming footrest design can also promote blood flow and reduce swelling by rocking back and forth. The footrest will fit seamlessly into your office, featuring an on-trend design and simple material.
8. HUANUO Adjustable Footrest
As you sit for long periods, HUANUO's product can elevate your feet while improving posture and blood flow with its massage beads. The pad's height can be adjusted by hand in three steps: 4.3 inches, 5.5 inches, and 6.7 inches.
Angle-wise, the gaming footrest can tilt from -30° to 30°; however, it cannot be locked so that it will rock back and forth. The rocking motion will help the body to get more oxygenated. Moreover, the product comes fully assembled and has a non-slip surface. In addition, it is only 4.18 pounds, making it easy to transport wherever you are.
9. StrongTek Footrest
The StrongTek gaming footrest has this great under-desk ergonomic design that gently elevates your feet as you work. It goes a long way in reducing the fatigue and pressure on your legs and feet, restoring energy, and improving posture and focus on the job. You can rock your feet back and forth as you work to support your work.
A well-balanced rocker structure and non-slip surface on top make this item ideal for preventing slipping, featuring rubber grip patches. Designed with durable Lauan plywood, the under desk gaming footrest has a weight capacity of 350 lbs to support the full weight of a person standing. Despite the higher price, this footrest was designed to be reliable, sturdy, and long-lasting.
Conclusion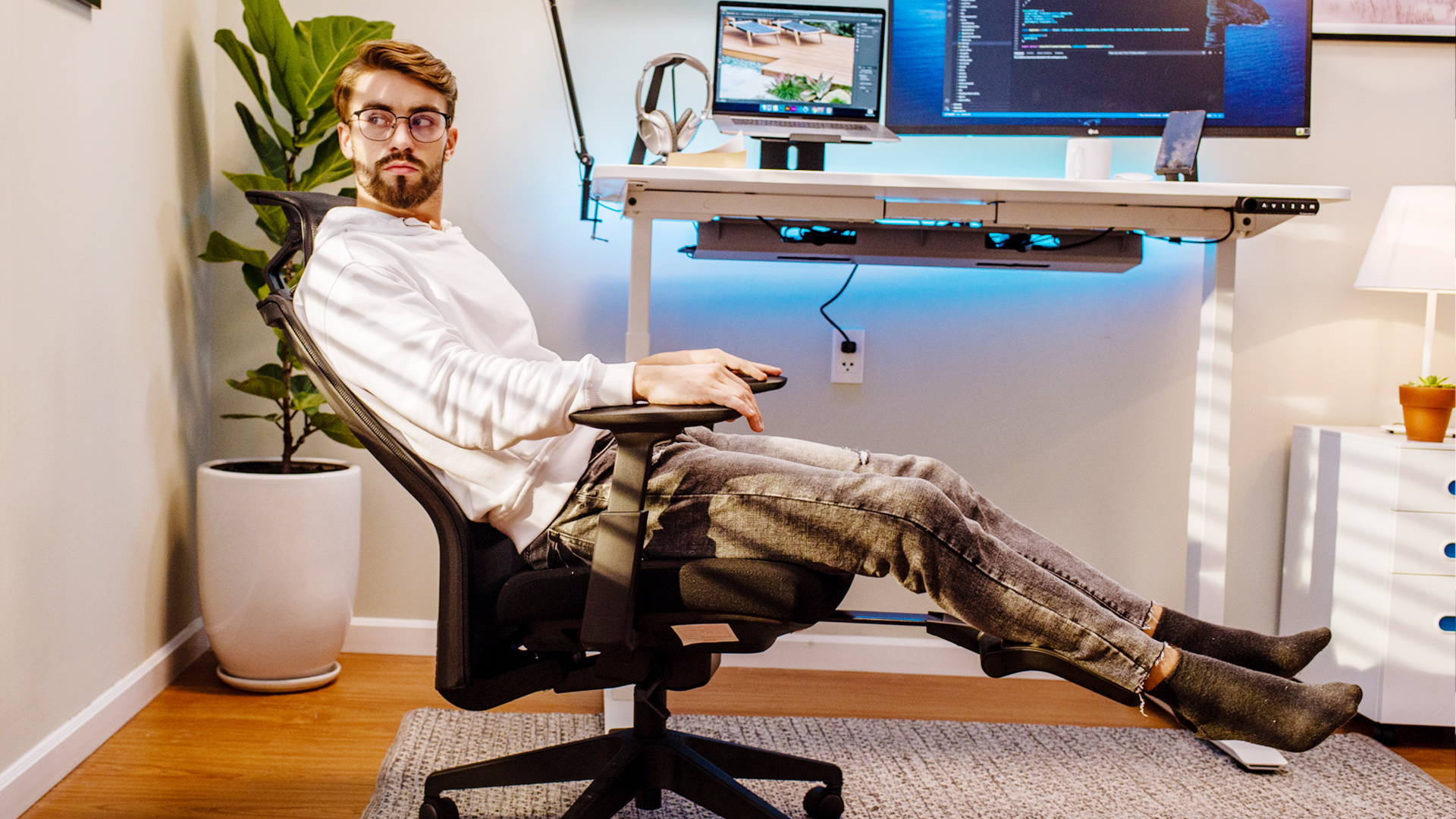 Some gaming chairs even come with an on board footrest for chairs that allows you to relax while playing. Gaming chairs are incredible pieces of furniture that improve any player's gaming experience. Today, the market offers a wide range of gaming chairs with the best footrest for gaming. Above are our top 9 recommendations for you. Now, let's pick one and go shopping with us!
Subcribe newsletter and get $100 OFF.
Receive product updates, special offers, ergo tips, and inspiration form our team.
WRITTEN BYAutonomous
We build office products to help you work smarter.