Be it a home office or a standard computer workspace, having a good desktop arrangement will help you be more productive. All you need is a computer desk that is appropriate for your configuration. But, with so many various varieties, styles, and sizes of desks to choose from, how will you know which of these you require? Rectangular and L-shaped computer desks with filing cabinets are common examples for homes and offices and computing workstations.
When planning the layout of your workplace, you'll want to be certain that perhaps the workspace is configured so that the colleagues can work efficiently and comfortably without seeming confined. It was one of the reasons why you might design your furniture pieces carefully so that you could divide the space in a way that is both functional and appealing to the eye.
Benefits of Investing in an L-Shaped Desk with Filing Cabinet
L-shaped desks provide a broad, versatile work area and storage space. They're a highly regarded corner workstation option for corporate and private offices. L-shaped corner desks with file cabinets, executive desks, reception desks, and group workstations are all available from the market. But to determine which the best brand to get one from is, read our guide to get your hands on the best L-shaped desk with filing drawers.
So, why do all people think this is the ideal workstation design? An L-shaped desk with filing cabinet has numerous advantages.
An adaptable workplace
An L-shaped desk, often known as a corner desk, can be used as a school desk, corporate desk, or computer desk. These workstations are designed to allow you to effortlessly convert between two workspace alternatives with just a swivel of a chair, giving you more area to research, meet with coworkers, or assist your children with homework while working remotely.
There is plenty of extra storage
An installed cupboard or storing cabinets are available on a few L-shaped workstations. Other new designs use a modern frame with clean lines, allowing you to customize storage choices like a document drawer to tailor the workstation to your specific needs.
Enhance the area available on the floor
Do you have to work in a narrow area? You may effortlessly place an L-shaped desk against the wall to create the ideal corner desk.
Computer workstation
An L-shaped computer desk with file cabinet gives you a designated space for your office supplies storage as well as a computer desk. Many of these office furnishings also include a keyboard drawer, which enables users to access a computer keyboard when they need it while maintaining an appealing, clean look when they don't.
Options for standing desks
There is a height-adjustable rising desk with one side among some L-shaped desks, where employees can work while sitting or standing.
List of Some of the Best L-Shaped Desks Manufactured by Best Brands
L-shaped desks provide unrivaled effectiveness to your workplace or organization, and professionals who want to maximize their space to work while maintaining the least potential dimension frequently choose the L-shaped standing desk. The L-shaped desk has become a point of pride in many organizations and is frequently employed by senior managers and staff who have wider offices or need a broader horizontally designed work area.
The greatest L-shaped desk with a filing cabinet would be a great fit for your remote offices or business. These desks offer adequate storage for any necessities and fulfill your stylistic desires. We want to make sure you bring a worthwhile purchase that will benefit you in the long term considering you sit in an office at least 5 days per week. We've put up this checklist to assist you in finding the best L-shaped workstation for your needs, along with some of our absolute favorites to get you begun.
1. Autonomous Smart-Desk Corner & Filing Cabinet
This L-shaped desk with a filing cabinet is perfect for an executive suite. It offers a lot of extra areas to articulate yourself and get everything completed. To increase more space for storage, you could add Autonomous Filing Cabinets to your desk corners. For an improved professional experience, users may want to purchase an L-shaped desk setup that can convert to a standing desk.
2. Series C L-Shaped Desk with Cabinets by Bush Business Furniture
This conventional, sturdy workstation is well-made and appropriate for a home office or commercial workspace. The carbon black base contrasts nicely with the Hansen mahogany worktop, made of solid thermally-fused lamination. It comes with an appealing storage cupboard and is obtainable in left-handed and right-handed directions. It might be the weightiest desk on our checklist, and it's a massive, gorgeous piece of office equipment that'll last a lifetime.
3. Boss Office Merchandise Holland L-Shaped Workstation
This elegant, 71-inch executive-style L-Shaped desk from Boss Office Brand is ideal for those looking to bring sophisticated elegance with a design aesthetic. These gorgeous office desks are ideal for the high housing office or just for chief in your corporate offices, thanks to their spatial design, minimalistic lines, and warmer maple wood gloss.
4. L-Shaped Desk by Sauder Palladia
It is elegant and is made of great wood. This L-shaped desk is well-suited for a remote office, featuring a file cabinet and a keypad station with a flip-down panel. You can keep your workplace nice and organized with well-placed desktop vent ports and a hidden desk drawer spot for your Computer base, and its old oak veneer complements a variety of décor designs. You can also convert it into an L-shaped standing desk.
5. Sauder Harbor Vista Edge Worktop
This compact but conventionally structured desktop is ideal for corners with its symmetrical design and proportions. The setup is heat, moisture, and abrasion-resistant, providing a fantastic alternative for employees who are subject to unusual spills or office disasters. This L-desk features two glide-action cabinets, a hidden CPU section, and a very well plug slot for easy wire management. A budget-friendly solution for individuals who desire a classic desk. Moreover, one can always add a magnetic desk organizer to their L-shaped desks for optimal storage.
6. The Whalen Décor Newport L-Desk
It is remarkably strong for a desk that only weighs, and the unusual contemporary aesthetic seems to be something we particularly liked. It's ideal for tiny offices with limited space and professionals who demand a sturdy L-shaped corner desk with file cabinet that can withstand extreme usage. Solid wood frames and stylish metal braces anchor this lovely workstation and accent the incredibly simple, clean black glass back tabletop. The accompanying pieces (bookcase, TV brace) look great, which is an infrequently overlooked characteristic that we loved in this modern office furniture piece.
Video ads for product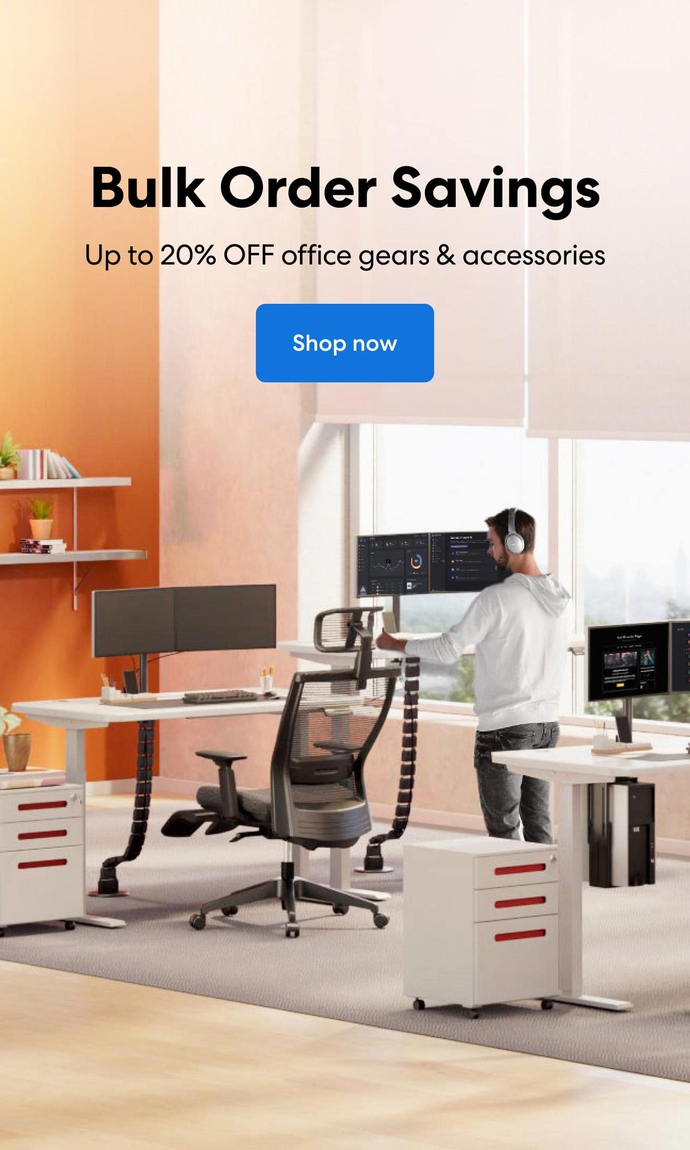 Subcribe newsletter and get $100 OFF.
Receive product updates, special offers, ergo tips, and inspiration form our team.